Gnu RC C3 2021-2023 Snowboard Review
| | |
| --- | --- |
| Riding Style | All Mountain Freestyle |
| Riding Level | Advanced - Expert |
| Fits Boot size (US) | 8-10, 10-12 |
| Manufactured in | USA by Mervin |
| Shape | Asymmetrical Twin |
| Camber Profile | Mostly Camber |
| Stance | Centered |
| Approx. Weight | Feels Normal |
| Split | No |
| | |
| --- | --- |
| On Snow Feel | |
| Turn Initiation | |
| Skidded Turns | |
Where To Buy
No obligation, but these links & ads support the site.
Gnu RC C3 2023 - 2021 Review by The Good Ride
Turn Ons/Swipe Right: Strong Edge Hold, Amazing Switch. Butters well for almost full camber.
Turn Off/Swipe Left: Not for intermediates. Heel side edge grabs a little more in softer snow. Not much float in powder. Pops less than other C3 boards.
Summary
The Gnu RC C3 is a mellow almost full camber take on the C2 Riders Choice. It isn't super poppy for C3 but its less catchy and still easy to butter.
Ethics Statement: We don't get paid by the manufacturer to write these reviews.  We do make money from the "Where To Buy" links, but this is our best attempt at an honest and objective review from an average riders' perspective.
Gnu Rc C3 2021-2023 Snowboard Review- How it rides and who it is for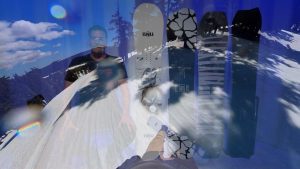 How This Review Happened: We had a few laps at a demo.
Size: 157.5
Days: 5+
Conditions: Everything from hard mixed conditions to good mid-winter snow to varied spring conditions.
Riders: James (Size 9, 5'10" 185-190lbs)
Boots: Burton Kendo, Adidas Tactical ADV, Adidas Tactical Lexicon
Insoles: Sandsole Custom Insoles,  Footprint Insole Technology Gameghangers Low Profile
Bindings: Nitro Phantom Carver, Union Atlas, Union Contact Pro/Union Superpro
Similar Boards (but not the same): Never Summer Protosynthesis, Yes Greats, Stone Message, Prior Wildcard, Marhar Darkside, Lib Tech Box Knife, Capita Outerspace Living, Yes Basic,
Rossignol Jibsaw, Yes Jackpot, Never Summer Protoslinger, Ride TwinPig, Signal Park.
Set-Up:  21.5" Wide 15 front -15 back.Centered.
Approximate Weight
Feels pretty normal. Not heavy, not light. Just normal.
(I don't put in the exact weight because with wood cores there is no consistency in a boards weight)
Sizing
The 157.5 Felt pretty good for my specs listed above. I wouldn't want to size down and definitely wouldn't want to size up.
Here are some ideal US boot sizes for these boards. You can of course go bigger or smaller but these work best for not turning the board slower than it should be and not having the dreaded Toe & Heel Drag.
The 154.5: 8-9 US boots
157.5: 9-10 US boots.
158w: 11-12
162w: 11-12
Camber/On Snow Feel/Ability Level

The Gnu RC C3 has a semi-catchy feel which isn't bad for the tip/tail touching the snow. The really mellow camber height along with the passive bend in the middle make it feel less like full on camber than many other C3 boards out there. It still isn't forgiving because the tip/tail still catch pretty easy if you get too off your game.
Flex/Pop/Buttering
With this camber feel we thought the Gnu RC C3 would be more challenging to butter. It wasn't. The Medium flex between the feet transitioning to a medium/soft flex in the tip/tail feels pretty easy for camber. The pop was easy to access and we had a good time generating our own little bit of air.
Speed
One thing we didn't talk about in the video review was how the Gnu RC C3 could point it. It is very competitent when you pick up speed. The camber gives it a level of dampness above the regular Riders Choice. It's not bomber but it is fine on a straight-line or two.
Uneven Terrain
You can ride all day with the Gnu RC C3. You can feel chatter but if you have decent shock absorbing boots/bindings it doesn't reverberate into your joints.
Edge Hold

In our initial review we didn't feel the asym edges. After I rode it in a lot of different conditions
Turn Initiation
Borders on being fast edge to edge and just a shade behind the regular Riders Choice.
Turning Experience/Carving
Carving with the Gnu RC C3 is really good for this mediumish flex and this mellow but full camber profile. You can feel the camber resist into and then spring out of the turn. There is a pretty balanced turning experience like most Mervin Twins/Asym Twins.
Powder
I didn't even want to try this in powder. It might be a little better than full on camber but its still a centered camber twin. If you can rip a camber twin in pow you can rip this. That being said you probably don't need our reviews either.
Switch
The Asymmetrical twin shape of the Gnu RC C3 is not only good for really symmetrical turning but it also makes switch riding easier for people like us. Having the heel and toe side edges match up to your duck stance angle makes it even better than a true twin.
Getting Air/Park
My friends thought it was better for jibbing than expected. When broken in and the flex softens up the Gnu RC C3 shouldn't be bad. Still it is no Space Case. It really shines in the pipe and on jumps. Some riders might prefer a board less turny with a little more spring for using this as an all day kicker lapper though. However, it tracks well enough for me into the micro kickers . If you want a technical pipe rider then the Gnu RC C3 is the call. It drives hard wall to wall and also can turn quickly for an adjustment in the flats so you can hit the wall properly. It's just not forgiving anywhere in the park so technical/advanced to expert riders only.
Conclusion
So overall, the Gnu RC C3 was a fun board to ride. For me personally there are other asym twins that tickle my taint a little more but this does a lot of things wright. This is a fun park to mountain freestyle ride for those that see a lot of hard to icy snow.
If this review helped, we'd appreciate if you:
If you can't buy through the links above, you can support the site with: