Gnu Banked Country 2022-2023 Snowboard Review
| | |
| --- | --- |
| Riding Style | Freeride |
| Riding Level | Advanced - Expert |
| Fits Boot size (US) | 8-10, 10-12 |
| Manufactured in | USA by Mervin |
| Shape | Tapered Directional |
| Camber Profile | Mostly Camber |
| Stance | Setback over 20mm |
| Approx. Weight | Feels Normal |
| Split | No |
| | |
| --- | --- |
| On Snow Feel | |
| Turn Initiation | |
| Skidded Turns | |
Where To Buy
80% of outdoor sports products are not listed or sold online.
Our team has relationships with hundreds of local snowboarding and outdoor sports shops.
We'll call the shops and email you a list of stores along with pricing and availability.
---
Not sure what to buy?
Get custom advice from Good Ride editors James and Steph.

Get Advice
Gnu Banked Country 2023 - 2022 Review by The Good Ride
Update 2023: The Gnu Banked Country I reviewed here was the same as the 2022/2023 model but then they did an early release of the 2023/2024 model in early 2023. I didn't ride it but talking to Gnu it seems that they just did a slight tweak to the tail to round it out but kept the rest of the specs/shape of the board. So this is fully relevant for 2023 and mostly relevant for 2024. 
Turn Ons/Swipe Right: Poppy hard carving fun turning ride.
Turn Offs/Swipe Left: Unforgiving.
Summary
The Gnu Banked Country seems to have a lot of what we loved from past Cummins family boards and tweaks it into a new really fun turning ride.
Ethics Statement: We don't get paid by the manufacturer to write these reviews and this is our unfiltered opinion. We do make money from the "Where To Buy" links, but this is our best attempt at an honest and objective review from an average riders' perspective.
Gnu Banked Country 2022-2023 Snowboard Review- How it rides and who it is for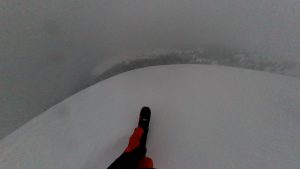 How This Review Happened:
Precious Good Ride dollars were spent to buy this and review it.
Size: 159
Days: 5 and more to come.
Conditions: Everything from late summer snow at Mt. Hoot to foggy but fun mid winter snow, sunny mid winter firm groomers, and an early morning slackountry run in some thigh high powder with Drift Boards & Union Rovers
Riders: James (Size 9, 5'10" 185-190lbs)
Boots: Burton Kendo, Burton Tourist,
Insoles: F.I.T. Gamechangers, F.I.T. Gameghangers LP
Bindings: Union Atlas
Jacket: Burton AK Gore-Tex Pro 3L Tusk Jacket, Volcom TDF Infuse 3L Gore-Tex Jacket, Burton Banshee Gore-Tex Jacket
Pant: Burton AK Gore-Tex Pro 3L Hover Pant, Burton AK Gore-Tex 2L Swash Pant, Burton Gore-Tex Ballast Pant
Helmet: Smith Maze
Goggle: Smith 4D Mag
Gloves: Burton AK Guide Glove, Burton AK Clutch Mitt, Burton AK Clutch Glove, Burton AK Tech Leather Glove,
Similar Boards (but not the same): Yes Pick Your Line, Burton Flight Attendant, Jones Flagship, Rossignol XV, Lib Tech BRD, Burton Cartographer, Burton Instigator
Set-Up: 21.5" Wide. Sance Angles +18/-3, +18/+3. Close to Reference and Set all the way back.
How It Was Tested
I rode this and compared it on the same day as the YES Pick Your Line, Rossignol XV and Lib Tech Bird on a sampler one day. On another day I rode it on the same day as the Lib Tech Orca and Golden Orca but it didn't really compare well there. I compared it in powder against the Lib Tech Dynamo. Then I rode it solo a few days with my Union Atlas on most days.
Approximate Weight
The Gnu Banked Country is a pretty normal bordering on light weight ride. (We don't put in the exact weight because with wood cores there is no consistency in a boards weight)
Sizing
Here are some ideal US boot sizes for these boards. You can of course go bigger or smaller but these work best for not turning the board slower than it should be and not having the dreaded Toe & Heel Drag.
151: 7.5-8.5
155: 8-9
159: 8.5-9.5
162- 9-10
160w- 10.5-11.5
Shape/Camber/On Snow Feel/Ability Level
So I talked a lot about how the Gnu Banked Country is tapered and directional in the video. It is and it does need back foot weight but it doesn't need a ton to keep the tail from washing out. It's only a few mm of taper which isn't massive. It still is a pretty directional ride.

The camber is pretty much full camber from tip to tail with only a passive bend in the middle that is only a little lower than the highest points of camber. To me this is full camber and it's pretty technical. Not for those who like to skid their turns or like to keep it mellow.
Flex Personality
There is a pretty medium stiff flex with the Gnu Banked Country between the feet. The nose is a little softer and the tail about the same as between the feet. It's not an easy board to butter but man it pops easy for being so unforgiving. It's got such spring and a lively personality underfoot without that ultralight chattery feel that many boards with this much pop have.
Speed
So the base glide of the Gnu Banked Country is not exceptional but when well waxed, like I did on the pow day I had, it is pretty good. I think that if you like an ultra-fast base you might want to look somewhere else but most will be fine with it. This will point it if you feel inclined and it will take a lot of speed to not get squirrely.
Uneven Terrain
So even though the Gnu Banked Country has a lot of pop it could still handle micro bumpy hard mid day/mid winter snow and not fall apart on mid summer messy wet snow. This is a really good all conditions ride.
Edge Hold
The Gnu Banked Country is just a little behind boards like the Gremlin and others with the more aggressive magnatraction but this is still very competent in hard to even icy snow. I'd rather be on the Gremlin but this is great for a one board quiver and grabs less in softer snow.
Turn Initiation
Fast and springy edge to edge without being hooky or twitchy.
Turning Experience/Carving
So all this camber really springs you out of every turn and the Gnu Banked Country is an incredible carver. What I really like about this sidecut is how it can do everything really well from circle carves to longer drawn out s-turns. It is really balanced and it's just a pleasure to turn.
Powder
So with a 22.75" stance width all the way back you can get -2.25" back from center of board. This isn't very far back so I didn't have high hopes riding it in powder. That being said The Gnu Banked Country Surprised me in powder and did pretty well for what it is. I thought
Switch/Pipe/Jumps
Pretty doable switch even though it has a little taper (2mm) and a much smaller nose than tail. When it comes to getting air the Gnu Banked Country can launch and I'm looking forward to riding this in the pipe when it's up.
Conclusion
So overall the Gnu Banked Country is a really dynamic snappy turning fun ride that I chose not to sell after I finished reviewing it. I want to keep it in my quiver and keep riding it.
Gnu Banked Country Images
Gnu Banked Country User Reviews
If you can't buy through the links above, you can support the site with: