Burton Custom Camber 2010-2023 Snowboard Review
| | |
| --- | --- |
| Riding Style | All Mountain |
| Riding Level | Intermediate - Expert |
| Fits Boot size (US) | 8-10, 10-12, > 12 |
| Manufactured in | China |
| Shape | Twinish |
| Camber Profile | Traditional Camber |
| Stance | Setback -12.5mm |
| Approx. Weight | Feels Normal |
| Split | No |
| | |
| --- | --- |
| On Snow Feel | |
| Turn Initiation | |
| Skidded Turns | |
Where To Buy
No obligation, but these links & ads support the site.
Where To Buy
80% of outdoor sports products are not listed or sold online.
Our team has relationships with hundreds of local snowboarding and outdoor sports shops.
We'll call the shops and email you a list of stores along with pricing and availability.
---
Not sure what to buy?
Get custom advice from Good Ride editors James and Steph.

Get Advice
Burton Custom Camber 2023 - 2010 Review by The Good Ride
Burton Custom Camber 2023 Snowboard Video and Written Review
Welcome to the Burton Custom Camber Snowboard Review from an average riders perspective. 
Turn Ons/Swipe Right: Such a springy full camber ride.
Turn Offs/Swipe Left: Not much float in powder. Unforgiving. Base Glide is good but not as great as it used to be.
Summary
The Burton Custom Camber is not the one board quiver it used to be for most riders like it was but it still is such a fun springy ride.
Ethics Statement: We don't get paid by the manufacturer to write these reviews and this is our unfiltered opinion. We do make money from the "Where To Buy" links, but this is our best attempt at an honest and objective review from an average riders' perspective.
A Breakdown of How the Burton Custom Camber rides and who it is for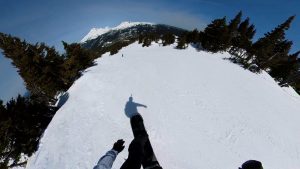 How This Review Happened:
Borrowed this for an extended demo and sent it back.
Size: 156
Days: 4
Conditions:
Riders: James (Size 9, 5'10" 185-190lbs)
Boots: Burton Kendo, Burton Photon Step On Wide
Insoles: F.I.T. Gamechangers
Bindings: Union Atlas, Burton Genesis Step On
Jacket: Burton AK Gore-Tex Pro 3L Tusk Jacket, Volcom Guide Jacket, Burton Gore-Tex 3L Treeline Jacket, Jones Peak Bagger Jacket. Anon
Pant: Burton AK Gore-Tex Pro 3L Hover Pant, Burton AK Gore-Tex 2L Swash Pant,
Helmet: Smith Maze
Goggle: Smith 4D Mag
Gloves: Burton AK Clutch Mitt, Burton AK Tech Leather Glove, Burton AK Tech Mit.
Similar Boards (but not the same): Korua Otto, Lib Tech Terrain Wrecker, Capita Mercury,YES NSB, Endeavor Pioneer, Jones Mountain Twin, Endeavor Ranger, K2 Manifest, Yes Typo, Jones Frontier, Ride Algorythm, Ride Wild Life, Borealis Tundra, Tahoe Labs Directional Twin, Yes Basic Uninc,
Set-Up: 21.5" Wide. Sance Angles +15/-15. Close to Reference.
Approximate Weight
The Burton Custom Camber feels on the light side of medium bordering on being pretty light weight. (We don't put in the exact weight because with wood cores there is no consistency in a boards weight)
Sizing
I found the Burton Custom Camber 156 to be a little on the small side for my 185lbs but just right for my boot size. I think going to the 158 would still be more than fine for my boots and handle my weight a little better. 162 might be a bit much but I think I can handle that too.
Here are some ideal US boot sizes for the Burton Custom Camber boards. You can of course go bigger or smaller but these work best for not turning the board slower than it should be and not having the dreaded Toe & Heel Drag.
150: 7.5-8
154: 8-9
156: 8.5-9.5
158: 9-10
162: 9.5-10
154w: 9.5-10.5
158w: 10-11
164w: 10.5-11.5
166w: 11-12
170w: 12-13
For weight I would stay below Burtons max recommended weight range because this model is a little light and poppy so it likes a lighter rider.
Shape/Camber/On Snow Feel/Ability Level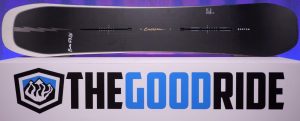 The Burton Custom Camber has a twinish/almost directional twin shape to it that is ½ inch back on the side cut so it feels pretty centered and it can take weight from the front foot, back foot or center.

This is full on camber and even though the flex is mellow/medium the consequences are not. This is for expert riders or very confident/competent advanced riders. The Burton Custom Camber Tracks soo well and it has all the benefits and drawbacks of full on raging camber.
Flex Personality
The Burton Custom Camber is a medium flex, but it is soo dynamic. It has soo much pop. It is only topped by the Custom X but you sacrifice some dampness to have it. The full camber makes it a little more difficult to butter compared to many boards with early rise in the tip/tail or a bend in the middle. The flex is pretty even throughout as well. So if you know how to ride camber well this will sing for you.
Edge Hold
The Burton Custom Camber is a little behind when it comes to grip these days. If you know how to ride really well you probably won't care.
Base Glide/Speed
When it comes to base glide the Burton Custom Camber isn't what it used to be. Don't get me wrong. It still has good base glide. It just doesn't have that special super easy glide anymore. They use a recycled sintered base that prefers really good Burton Wax. It seems to be a little better than some bases were in tests years before. They don't say recycled
base in the company info here but they do for others with the WFO base so maybe that is why it felt pretty good most days I rode it. When it comes to pointing it the Burton Custom Camber isn't bad if you are a lighter rider. For me it bucked a little and I lost my edge from time to time trying to hold a high speed carve.
Turning Experience/Carving
So, this 156 The Burton Custom Camber turned really fast edge to edge. Even if I went to the 158 it would turn really fast. Wherever I needed it, It went. When I got this on edge It had this very dynamic turning experience. This medium flex isn't ideal for people that like to carve hard but it does way more than most boards like it. I had a blast making all kinds of turns. There is a very balanced turn that can circle carve well or make down the line turns pretty well too. Its got a little something for every kind of turn. It has this cheater magic to it that feels like it is helping to set you up for your next turn.
Powder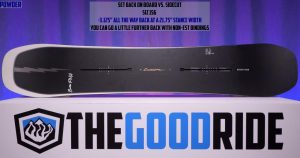 The Burton Custom Camber shines when it comes to camber spring but it just doesn't have that same magic in powder. It is full camber and that is only for a few people these days who know how to make camber work. At least there is a good set back on board of -3.125" at a 21.75" stance width. That is better than the Custom X 158 at -2.5" with a 23" stance width. I would still choose something like the Territory Manager 154 over the Custom's even with a -1.5" set back at a 22" stance width just because it has early rise in the nose and taper in the tail. So the Burton Custom isn't bad for camber but it still is camber.
Switch/Pipe/Jumps
The Burton Custom Camber is really special for getting air and if you size it right you have a very special jump board. It is a little too bucky/poppy for me to want to jib with but a ripper will for sure like it. If the pipe isn't too hard, I really like the Burton Custom Camber there.
Conclusion
So if you want full on raging camber and all that glorious pop and know how to deal with the consequences you have a great board here. The Burton Custom Camber isn't the perfect one board quiver any more but it still shines over it's competition in many ways.
If this Burton Custom Camber review helped, we'd appreciate if you:
 

Burton Custom Camber Past Reviews
2018-2020 Burton Custom Vs. 2017 Burton Custom
The 2018-2020 Burton Custom has had a reboot from past years.  It still has that Custom ride and feels underfoot like the 2017 and many past years' Customs but they widened the board a little bit/increased the volume and blunted the nose.  It's not the well rounded one board quiver it used to be but it's still an amazing turning board that loves to get air. Its got strong appeal for the technical rider that knows how to make full on old-school camber work for them.
The 2020 Burton Custom is pretty much the same as the 2019 and  2018 so this review still stands. It's just been updated a bit to reflect what's happening now.
Ethics Statement: We don't get paid by the manufacturer to write these reviews.  We do make money from the "Where To Buy" links, but this is our best attempt at an honest and objective review from an average riders' perspective.
2018-2020 Burton Custom Vs. 2017 Burton Custom
The most visible part is the blunted tip/tail that makes the board look more contemporary when lined up with its peers and also adds a little bit more float compared to the old round nose custom.  It's not going to be a lot but still, a slight improvement is better than nothing.
 The 2018 Burton Custom has a shorter effective edge so it can stay the same size with a bigger nose/tail.  Didn't' really notice any difference.
 The sidecut is almost the same but just a touch deeper.  We didn't notice any difference.
There is a -12.5 mm set back up from -10mm so that's a little better when it comes to floating but not anything mind-blowing and still very much a full camber ride.  Not sure on the set back on board now.
The width of the board is ever so slightly increased.
It's got a more eco-friendly top sheet.
The weight recommendations are more big rider friendly than in past years.  Didn't seem like there was a change in the core but not 100% sure.
2018-2020 Burton Custom Review
Size: 158
Days:  1 with the 2018 model but 100's of days with our crew over the years. I (James Biesty) have been riding a Custom since the early 2000s and so have many of our riders.
Conditions: Pretty wet snow falling a bit with some rain at the bottom.  Normally we wouldn't go out on a day like this but we were glad we did.  The snow was much better than you would think.
Riders: James (Size 9, 5'10" 185-195lbs), Jimbo (Size 11, 5'11" 160lbs), Peter (Size 8, 5'11" 185lbs), and Tim
Boots: Burton Almighty, Adidas Tactical ADV, Burton SLX,
Bindings:  Burton Cartel
Set Up: Close to reference stance, 15 front, -15 back approx 22.5″ wide
Recommended Boot and Binding: Man this board works great with the Cartels and it seems like they were made for each other….even though there is a Custom binding.  We like Re:Flex better because you can use them on non-Burton boards but we also like the feel of the Re:Flex better these days on Channel System boards like Burton as well.  The Union Atlas, Union Strata (new for 2019), Genesis-X and Genesis or any medium to med-fast response binding all work well too.  Any medium to med-fast response boot works well for us like the Adidas Tactical ADV, Imperial, Ion or Vans Infuse. It really comes down to personal preference but these work for us.
Approximate Weight: Feels like it borders on being light but it's just another normal feeling board. We don't weigh boards because wood weight can vary from board to board.
Flex/Buttering: It's got a medium flex for what feels like the whole board. It's hard work to butter and you have to have some old school camber strength to make it happen.
Sizing: The 158 felt pretty good for Peter and I.  The 156 might be a little better for Peter's size 8.5 and my 9 US boot size but the little extra bit of length/surface area was fun to have.  With the Custom, there seems to be a size for almost every rider's boot and most weights.  I think Tim would have been better off with a 162 for his size 11.5 boots and 220lbs but Jimbo would have loved the 154w or 158w with his size 10.5-11 boots and 160lbs.
On Snow Feel: So the Burton Custom isn't a super stiff aggressive board but the reason why it's called Aggressive all mountain is that it's an old technical camber board that's locked in so it will catch an edge and slam you if you are off your game.  The Burton Custom also likes to go pretty big.   It's the kind of board that advanced to expert riders still really like when it comes to all-mountain play.  It's not for everyone these days but it is a great groomer board for those that love to turn.  It's pretty locked in and even though the Custom X is stiffer the camber from tip to tail can slam you equally hard into the snow if you get off your game.
Edge Hold: We didn't get to try this that much in hard snow.  There were only a few patches near the top but what little we tried felt like standard Burton camber edge hold.  It's good in medium to soft snow.  It can hang a bit in hard snow but it starts to let go a lot easier than other boards in its peer group.  Still, it's better than the Burton Custom Flying V.  You can tune the edges to grip better but it makes the board more catchy which isn't ideal. To us, the Frostbite edge hold technology, a 1/2 x 1/2 mm extension at each binding isn't really enough to change up the ride too much.  We wish they would do more here to make this grip more in harder snow.
Turn Initiation: The Burton Custom has a relatively quick turn initiation that's medium to medium fast edge to edge.  It can work rather well in tight spots. If you don't know how to make turns the turn initiation of the Burton Custom can be hard but if you do it's super fun.
Turning Experience: The Burton Custom is all about turning and in our opinion one of the best in the game.  A lot could look past its lack of float, lack of edge hold for camber and catchy edges to enjoy good groomer turning. Short, medium and wide radius turns all have this super fun springy feel to it that makes the thing you do most on the hill the most enjoyable.  It's for sure the best quality about this board and why after so many years it's still fun to get out on.
Carving:  If the snow is good you can make really powerful super fun carves. It really springs out of the turn and then set's you up for the next one.  It's not quite as special as the Custom X but it's pretty close and if you carve switch it's better with the Custom. This is where old school camber really shines.
Skidded Turns: Not the board you want if you skid your turns a lot. It could really punish you if you catch an edge. This is straight up old school camber.  It's not Pure Pop or Directional Camber that Burton offers or anything like that.  It's what most of us at The Good Ride learned on and got injured on.
Speed: Burton has softened the flex over the years but the dampness at speed is still the same.  A lot has been done with the flex technology over the years and the Burton Custom of 2019 is massively more dynamic underfoot than the Burton Customs we rode in the past. It's a fast board and most people won't need any more speed on wide open mountain runs. If you do you have the Custom X.
Uneven Terrain: It's not bad for its size and camber profile.  Burton does great things with their flex to help you absorb shock on messy crowded resort runs. If you are a weekend warrior then the Burton Custom will handle a crowded Saturday well.
Powder: Here is one place that the Burton Custom has not kept up with the rest of the All-Mountain world. You pay a big price for that springy super fun camber in the deep stuff. It's still an over the handlebar kind of ride if you stay diligently on the back leg.  The blunted tip/tail are an improvement over the rounded but it's still a camber ride. If you can afford to add a board like the Burton Custom Flying V then you would have a much better powder ride.  Or go with something even more directional and set back like the Stun Gun or Skeleton Key or even one of the flat to rocker boards like the Bottom Feeder that would be a better 2 board quiver.
Switch: The twin flex and twin-like shape make for a pretty good switch ride.  It's just a little behind your average directional twin and very doable.  It still favors directional riding a bit though.
Jibbing: It's not ideal for serious jibbers, which I am not, but instead it's good for the wide box and not technical stuff you might see on your way to the pipe or kickers.  Jimbo could get after it with the Burton Custom but I would much rather be on something softer.
Pipe: I've had great times in the pipe with the Burton Custom over the years.  It's a really fun board for technical pipe riders who love that camber drive from wall to wall. If it had more edge hold it would own it but as it stands, the Custom does a great job.
Jumps: Probably the second best feature about the Burton Custom after turning.  It's really got some pop off the tip/tail that keeps up or does better than most Pure-Pop boards in Burton's line.  Once you get used to its slightly twin-ish shape it's the kind of board you can lap the kickers with all day.  If you can handle all this camber the ollie power is amazing. It's another feature that made the Burton Custom so special back in the day and still shines now.
So all in all the Burton Custom is still a great board.  It's not the one board quiver it used to be for all conditions riding but it still is one of the best all mountain boards when it comes to a really joyful turning experience and getting air. If you are a technical rider that doesn't often see harder conditions and have a second board for powder then this could be a great choice.
2012- 2017 Burton Custom Review
The Burton Custom has been around forever and a few days. It's actually an easier ride than it was in the past but with the addition of so many catch free easy floating hybrid profiles in the market these days this old traditional camber version has become a bit obsolete when looking for a one board solution. Still it's a fun board to turn and if you love traditional camber rides this won't disappoint.  Other than a few minor tweaks not much has changed for 2017.
So the Burton Custom is still probably one of the most well known snowboards in the industry.  As the world of snowboarding got easier with these hybrid camber and hybrid rockre catch free profiles it made the Custom Camber seem more aggressive, more catchy and less of a versatile all conditions ride. So even though it's not the all conditions ride it use to be it's still one of the better camber boards out there. This would be a good compliment for someone who already has a Custom Flying V for powder. I personally think it would be really cool to see it as a hybrid camber board. Maybe even take PurePop Camber to a new level by adding more rocker. I think it would bring back a lot of that all mountain love I had for this board back when everything was camber.
Days: 15+
Conditions: Anything you can think of.
Riders: James Peter, Jimbo, Kyle and many others
Boots: Burton Ion, Burton SLX, Burton Imperial, Nike Kaiju, DC Judge, Nike Zoom Ites
Bindings Used: Burton Cartel, Burton Cartel Limited, Flux SF45, Burton Genesis, Burton Diode
Set Up: Many stances
On Snow Feel:   It feels very stable between the feet and offers a good ride for accomplished riders who understand the benefits and consequences of camber. This is a great board for directional groomer riding and carving but if you know how to handle camber you can take an aggressive switch/all mountain freestyle approach to the mountain as well. It's a board that helps you get the most out of turning.
Powder:  This use to be a pretty good powder board and nothing really changed about the ride except for hybrid shapes have made powder riding easier.  If you like camber in powder you will be happy but if you are use to hybrid shapes like the Burton Custom Flying V you will find this a lot more work on your back foot.  You also might find that if you lean forward too much you will go cartwheeling.  Again I'd love to see a little early rise rocker and maybe even a more powder friendly nose/tail added to the Custom's design.
Turn Initiation and Carving:  Nothing beats camber when it comes to carving and the Custom 2012-2017 has close to the great spring out of a turn as the first Custom I tried in the early 2000's.  Back in the day the Custom was more directional like the Custom X but today it's twinish shape is still really fun. Burton really figured out how to make edge to edge transitioning more fun than almost any other board in it's class. You do this the most when riding the mountain so why not make it as rewarding as possible.  It's not super quick edge to edge but its springy and rewarding. Short radius to carving turns are really fun with the custom. The addition of the newer tech like squeeze box which tools out the core gives this a fun feel and has improved over past models.
Speed:  The Custom can bomb if you want.  It's not as good as the Custom X but it can handle higher speeds pretty well.  The Custom has a nice blend between speed and a more forgiving nature (for camber) when conditions start to change for the worse throughout the day.
Uneven Terrain: You can ride with good shock absorption from first thing in the morning on a crowded day to the last chair and the board won't pass the varying impact up to you.  Not many boards can offer this at this flex level.
Edge Hold:  The addition of Frost Bite or what use to be called pressure distribution edges helps the Custom hold a better edge and it borders on great. It's got good hold for most conditions people want to ride in but it still excels in medium to softer snow over firm to harder snow.
Flex: Since the introduction of squeeze box the flex has become a little more playful without loosing it's ability to stay aggressive on the mountain. It's still no easy task compared to the Burton Custom Flying V to butter but it's easier than it use to be. If you are a stronger old school rider you might really like buttering around on this board.
Switch:  The twinish shape isn't bad but it's definitely different riding switch. Even though the Custom Flying V has the same shape the hybrid rocker profile makes the ride switch easier than the Custom.  Still the Custom isn't bad after a little time with it.
Jibbing: Not really as easy as the hybrid shapes these days.  This is more of a pipe and Jump board.
Pipe:  If you keep the edges sharp the Custom is a really fun board to drive from wall to wall but it's more for the technical pipe rider than the guy just looking to give the pipe a try and try to have fun.
Jumps:  One thing that is hard to duplicate with the hybrid and rocker shapes is the pop you can get from the camber model of the Burton Custom.  This is a great board to generate your own air with and a fun board to look for stuff to ollie off around the mountain. The 2014 and above model has a bit of an advantage over the previous years but all are really poppy.  A perfect set up would be to use the Cartel EST with hinge tech or the Genesis EST with hinge tech as well to get even more pop. Even though I'm personally not a fan of EST bindings proprietary tech I can't argue that it doesn't add extra pop.
The Custom didn't sit still while everything moved around it but instead continued to refine the way old school camber works and feels. If you want a great all mountain board that leans on the aggressive side in today's world of snowboarding the Burton Custom could make you pretty happy.
The General ride of the Burton Custom doesn't change much year to year but every year Burton's design team is working on introducing new tech that continues to enhance the original ride. So the 2012-2016 Burton Custom has changed enough to make it a different ride than before.  It began with squeze box and continued to evolve. The 2014 added some carbon fiber to the flex and it makes for a little extra snap in the tip and tail of an already poppy ride. The 2015 Burton Custom seems unchanged and it's not much different from the 2014.
The Custom has many different models in 2014 and here is a quick breakdown. The Burton Custom (twinish camber), the Custom Flying V (directional/twinish hybrid rocker), the Custom Flying V Twin (Twin Hybrid Rocker) and the Burton Custom Twin (camber twin). With all these boards there could be some custom confusion going on. Of these boards the Burton Custom is the solid camber All mountain ride for the old schooler in a land of hybrid shapes.
2010-2011 Burton Custom Review
The Burton Custom use to define the all mountain category and it is still one really fun All Mountain camber ride. The Burton Custom comes in many models this year.
Burton Custom Sizes Tried- 156, 163
Days: 100+
Conditions: Anything you can think of.
Riders: Mary (owned it), James (owned it)
Boots: Burton Ion, Burton SLX, Burton Ruler, Salomon Synapse
Bindings Used: Burton Cartel,Burton Co2, Burton P1
Set Up: Mary was 21 inches wide almost centered 18 front and 6 back.  I tried centered 12 -12, set back 18 -6 and a bunch of other stances.
The custom is also a great board for those that still love the feel of camber when it isn't dumping and have a hybrid or rocker shape for powder riding. Even though many hybrid shapes have passed up the Burton Custom Camber when it comes to all Mountain/All Conditions dominance the Burton Custom is still a great board for the right rider.
On Snow Feel: This board is pretty catch free for a camber board but it's not consequence free. You can definitely catch an edge if you want to treat it like the flying V. It's better with a more technical rider at the helm.
Powder: In the past we would say the Custom Camber board does well in the powder but these days it can't keep up with the rocker or hybrid shapes out there.  It still does well for camber but it can't come close to the Burton Custom Flying V Rocker when it gets really deep.
Speed: This board does very well at slow to medium speeds but can't haul ass like the Custom X at high speeds. The base is pretty fast and the board has a medium flex. We'd say it's border line excellent.
Uneven Terrain: The custom has a medium flex but really understands how to make a board flex well under foot for all types of terrain.  It does much better than most boards of this design and flex.
Approximate Weight- This is a pretty light board. It's not going to break any records but it does reside comfortably in the pretty light category. You might notice this on your front foot when riding up a chair but you're not going to say Fu$(when is this lift over.
Turn Initiation and Carving- This is probably the Burton Custom's best quality.  It still leaves a little work for you to do if you want to lay into a turn.  It is fun to make big turns or short tight turns and it will never let you down in a tight spot.  When it comes down to laying a serious carve the Burton Custom isn't as good as the Burton Custom X but pretty close.
Edge Hold: This board has good edge hold considering it has a traditional shape and a medium flex.  It's not anywhere close to the Burton Custom X with its pressure distribution edges or now called frost bite edges between the feet but it will hold an edge in most hard pack conditions and in most pipes.
Flex: This is a soft to medium flexing board. You can butter and press with some strength/effort but it's not effortless and easy like it's hybrid rocker model but there is a little bit of a change with the squeeze box tech that thins out the core where it's not that necessary.
Switch: Even though this board is directional it's twinish shape still can ride switch pretty well. It does feel a lot different than riding regular. You will get use to it but it's nowhere near as fun as a twin or even many directional twins.
Pipe: This board does pretty well in the pipe. It has enough edge hold to climb most walls.
Jibbing- Not terribly jib friendly because this is a cambered board with a medium flex.
Jumps: It's a good board for jumps and can handle most anything you throw at it. These days the Camber shape is a little more technical aka less forgiving than the newer rocker shapes.
 

Burton Custom Camber Specs
 

Burton Custom Camber Images

We try to get as many images of the Burton Custom Camber, but forgive us if they're not all there.
2023
2020
2019
2018
2017
2016
2015
2014
2013
2012
2011
2010
Burton Custom Camber User Reviews
Burton Custom Camber 2010-2023 Snowboard Review
SKU
UPC
Model
Super versatile!
Jul 03, 2021 
by
Jon Brown
Ability Level: Expert • 
Riding Style: Freeride • 
Days You Ride A Year: 60+ • 
Height, Weight And Boot Size (for Boards, Boots & Bindings): 6'0, 210, size 11.5. cartel x est/imperial..step on/ion 
I think you guys made some good points in this review. I understand why Burton offers the fv version, but think that a pure pop or camrock option would be a better fit with the board. I agree with Peter on the camber version. If you want a camrock style ride...get something like the mountain twin. That said, I disagree with your assessment of how the custom camber's edge hold and pow riding abilities. I've never had an issue with it on hard snow and it's floated amazingly well in up to 20 inches of pow...with no additional stance set back. Granted, I ride the 162w and grew up on old school camber. I think the big thing with this board is to get the right size; the trend in the industry currently is to size down...but with the custom camber I'd say think about going up a size. Given that it's pretty light and has really good energetic flex with good torsional give, I'd have zero issue trying the 166w. It's super nimble and very stable...so if you're thinking of a 156....look at the 158 or even a 158w( better float/deeper carves). For reference I have previously or currently own: arbor iguchi pro, ride warpig, lib swiss knife, flight attendant, and the niche story...and I prefer the custom camber to all of them. Just my opinion though...for what it's worth...which isn't much.

---
Still great
Apr 12, 2019 
by
albert calsina
Ability Level: Advanced • 
Riding Style: All Mountain • 
Days You Ride A Year: 45 • 
Height, Weight And Boot Size (for Boards, Boots & Bindings): 1,76cm 75 kg 10,5 boot 
Review from an european who rides mostly in Andorra. I don't owe a Custom, Ive got a varied ¨modern¨ quiver but I try the Custom every time I get the chance (every year) and I have to say that I like it every time. It's a turning machine, great edge hold and excellent for jumps and pipe. In here I compare to a Volkswaggen GTI, its a standard that does almos everything well.
It's a board that you can come back and feel like at home (if you have been riding for 15-20 years). I understand it is not the all mountain board that you recommend to kids these days but, still a reference for most of us. Plus this new look is sick.

---
'19 Burton Custom 166W
Oct 14, 2018 
by
Craig
Ability Level: Advanced/Goofy • 
Riding Style: Freeride/Powder • 
Days You Ride A Year: 20 • 
Height, Weight And Boot Size (for Boards, Boots & Bindings): 191cm/96kg/US13 Imperial/Genesis X Large 
Just got back from a few weeks down the Australian "Alps???" riding my new '19 Burton Custom 166W and '19 Endeavor Archetype 162 so I thought I'd share a few thoughts on the Custom.

So in my time (37yrs exp) I've had a few generations of the Burton Custom as my go to board for Australia. Never had a problem with any of my Customs finding Burton's build quality to be 1st class.

I unloaded my '16 Custom 165W at the beginning of the year as I really liked the look of the '19 model. It's slightly longer but no real different in ride. However the big difference you notice straight away is in the outline. Burton has gone for the more blunted nose from its '18 models and onwards. In my view, this looks pretty sic'.

Anyway mounted her up with a set of Genesis X EST. Had them dialed back at around -20mm front and rear from reference as I'm quite into this set up now in my old age...., just love a bit of this freeride directional setback. Stance width is 560mm. Pre-waxed up with Hertal FC739 with the base and side edges dialed in at 1/89 degrees. So I got this deck really setup for speed now.

Unfortunately down here, we don't have metres and metres of snow and are generally left smashing it about on groomed man made slush. Well......, it's not really that bad....., but sometimes it feels like it. So conditions were generally slightly overcast on groomed to later mucked up piste at around +0 to 1C. Every now and then I'd find a little powder pocket hidden away.

Well what can I say here folks, no real surprises...., this board just absolutely rips. Felt so comfortable charging around the mountain flat out under my 96kg kitted up weight. The Custom can dial in a carve and it slots in with rail like confidence. Turns edge to edge with so much ease. Plenty of pop out of the tail. The 45° Carbon highlights through the board keep the nose chatter free. As an all mountain board it would be hard to find a better ride.

I love this board so much........, it's just so damn solid.

Such an easy 5 Stars *****

---
If you can't buy through the links above, you can support the site with: