ThirtyTwo Jones TM-2 Snowboard Boot Review
Where To Buy
No obligation, but these links & ads support the site.
ThirtyTwo Jones TM-2 2022 Review by The Good Ride
Swipe Right: Great boot for split boarding or drift boarding but still good for resort riding. Good shock absorption for a split boot.
Swipe Left: Large footprint, Hard to get on and off.
Summary: The ThirtyTwo Jones TM-2 isn't easy to get on/off and it has a big footprint but it is an excellent boot for those that split but ride the resort a lot too.
Ethics Statement: We don't get paid by the manufacturer to write these reviews.  We do make money from the "Where To Buy" links, but this is our best attempt at an honest and objective review from an average riders' perspective.
ThirtyTwo Jones TM-2 Snowboard Boot Review: How It Rides And Who It Is For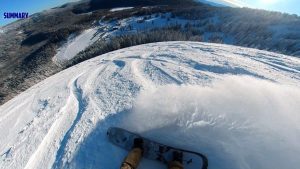 How This Review Happened:  Precious Good Ride dollars were spent to buy this and review it.
Size: 8.5 & 9
Days: 6+
Conditions:    and an early morning slackountry time with Drift Boards & Union Rovers
Riders: James (Size 9, 5'10" 185-190lbs)
Insoles: Footprint Insole Technology Gamechangers
Bindings:
Union Atlas, Spark Arc
Boards: Jones Mountain Twin Split, Cardiff Powgoda Pro Carbon Split, Drift Boards & Union Rovers
Jacket: Burton AK Gore-Tex Pro 3L Tusk Jacket, Volcom TDF Infuse 3L Gore-Tex Jacket
Pant: Burton AK Gore-Tex Pro 3L Hover Pant, Burton AK Gore-Tex 2L Swash Pant,
Helmet: Smith Maze
Goggle: Smith 4D Mag
Gloves: Burton AK Guide Glove, Burton AK Clutch Mitt, Burton AK Clutch Glove, CG Habitats Work Glove, Drop Tahoma Mitt,
Similar (but not the same) Boots:  Burton Tourist
James' Foot Specs
Foot Size: 9 US
Foot Width: E
Arch Length: Right 9.5 and Left 9
Calf Circumference: Top of boot 17" & Bottom of boot 12"
Fit
The ThirtyTwo Jones TM-2 size 9's were pretty comfortable and fit true to a touch long. I feel that after a few weeks of riding I'd have to add boot fitting foam to keep em snug. The 8.5's were too short and narrow to work with my size 9E feet. The 9's where just barely wide enough and I would love to see them make this in a wide. I wish the toe boxes on these boots were a little wider.
Flex/ Flex Retention/Construction
There is excellent Flex Retention happening here with the ThirtyTwo Jones TM-2. There is a stiff spine and a very well built articulating cuff. The days of ThirtyTwo boots lasting for 32 days is gone. These seem like they can handle 100+ days no problem.
Uphill Travel
Having a touring mode and a stiffer side panel really made uphill travel easier. Especially with my Drift Boards that have little ankle support. Sidehilling was a good bit better with my ThirtyTwo Jones TM-2 vs. my Burton Tourists. The Jones MTB's are a good bit stiffer than that and have those plastic reinforcers to stiffen up the sides on the up. I love that.
Response
There was pretty quick response but it wasn't overpowering. I didn't feel like the board got too twitchy.
Lacing System
The ThirtyTwo Jones TM-2 has excellent adjustability but it is not easy on and off. There are tons of straps and laces so it can be a bit cumbersome getting these on in the morning. Same getting em off.
Shock Absorption
I wish more split oriented boots had this kind of shock absorption that the ThirtyTwo Jones TM-2 has. It is still has a stiffer sole than most ThirtyTwo boots but it is still massively softer and more shock absorbent than most split board boots I've tried.
Heel Hold
The heel hold is good with the ThirtyTwo Jones TM-2 and if you need more you have two different thickness inserts to tighten it up.
Traction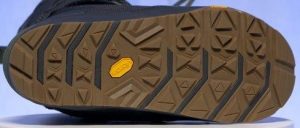 Vibram insole…no need to say more.
Reduced Footprint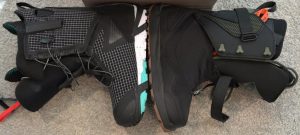 I was pretty disappointed here. The ThirtyTwo Jones TM-2 was like a full inch plus longer in footprint vs. my Size 9 Vans and Burton boots that I had at the time. I took a pick with the SLX but it was the same with my Kendo's, Burton Tourists, Vans Baldface and Infuse. All were significantly shorter in footprint.
Conclusion
So other than the large footprint and cluttered lacing these are excellent boots for those that want to split, Driftboard, and Rover around but also want to ride the resorts.
ThirtyTwo Jones TM-2 Images
ThirtyTwo Jones TM-2 User Reviews
If you can't buy through the links above, you can support the site with: