Ride Lasso Pro 2021 Snowboard Boot Review
Where To Buy
No obligation, but these links & ads support the site.
Ride Lasso Pro 2021 Review by The Good Ride
Ride Lasso Pro 2021 Snowboard Boot Video Review Fast Forward Markers. 0:00 – Intro 0:25 – How we reviewed it 0:59 – Summary 1:19 – Sizing/Fit 2:32 – Adjustability/Heel Hold 3:12 – On & Off Ease 3:52 – Flex/Response 4:12 – Flex Retention 5:04 – Shock Absorption/Board Feel 5:33 – Traction 5:38 – Reduced Footprint 6:02 – Conclusion 6:12 – About Our Review
Swipe Right: Great boot for reducing heel hold. Light. Seems light but still well built.
Swipe Left: No upper & Lower adjustability
Summary
The Ride Lasso Pro lacks in adjustability but excels in locking in your ankle and this medium flexing light boot works with a wide variety of boards.
Ethics Statement: We don't get paid by the manufacturer to write these reviews.  We do make money from the "Where To Buy" links, but this is our best attempt at an honest and objective review from an average riders' perspective.
Ride Lasso Pro Snowboard Boot Review: How It Rides And Who It Is For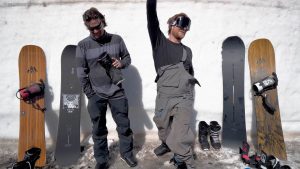 How This Review Happened:  We borrowed this for an extended demo and then returned it.
Days: 8+
Size Tried: 9 US
Riders: James (Size 9, 5'10" 185-190lbs), Peter (Size 8, 5'11" 185lbs)
Insoles: Footprint Insole Technology Gamechangers, Footprint Insole Technology Gameghangers Low Profile
Bindings: Union Atlas, Union Strata, Ride C-8, Ride C10
Boards: Gentemstick Mantaray 156, Jones Hovercraft, Yes Hybrid, Burton Flight Attendant, Jones Flagship, Endeavor Pioneer, Ride Wild Life,
Similar (but not the same) Boots: Adidas Tactical ADV, Burton Kendo, Burton Imperial, DC Judge, Vans Implant, Vans SQL, Ride Lasso Pro, Adidas Tactical Lexicon, Adidas Response,
James' Foot Specs
Foot Size: 9 US
Foot Width: E
Arch Length: Right 9.5 and Left 9
Calf Circumference: Top of boot 17" & Bottom of boot 12"
Weight
Size 9 was 2.0lbs. A good bit lighter than most boots.
Sizing/Fit
The Ride Lasso Pro runs almost ½ size large so best to size down ½ size to get a snug/responsive fit. I'm a true size 9 but would buy an 8.5 instead to get it to fit true. As far as width is concerned the Lasso Pro just barely fit my size D width. If you run really wide then they do make a wide which is really cool.
Construction/Flex/Flex Retention
Seems really well built and the Ride Lasso Pro should keep its medium flex for a good amount of time but we can't say for sure. The boot also feels really light in comparison to many boots we have tried.
Adjustability/Heel Hold
There is no Upper/Lower adjustability here. The Ride Lasso Pro has just an outer BOA for the shell and an Inner BOA for the liner. This boot is mainly made for those who like their ankles locked in and have heel lift issues.
Response/Turn Initiation
The response matches the medium flex and the Ride Lasso Pro matches up with a wide variety of boards.
Shock Absorption/Board Feel
The Ride Lasso Pro has average shock absorption but pretty good board feel.
Traction
The sole of the Ride Lasso Pro always gripped well when we needed it to. Great to have rubber throughout the sole.
Reduced Footprint
I would like to compare an 8.5 Ride Lasso Pro to a Burton size 9 and an Adidas 8.5 which all fit a true size 9 really well. It seems like it would be more reduced and close to Burton which is good for fitting into a slightly narrower board or smaller binding.
On & Off Ease
All in all the Ride Lasso Pro is a well built medium flexing boot for those that want to really lock in their ankle. We preferred the Fuse and 92 a little better for what we want in a boot but you could be the opposite.
Ride Lasso Pro User Reviews
If you can't buy through the links above, you can support the site with: