Adidas Tactical ADV 2017-2018 Snowboard Boot Review
| | |
| --- | --- |
| Riding Level | Intermediate - Expert |
| Lacing Type | Traditional Lace |
| Manufactured in | China |
Adidas Tactical ADV 2018 - 2017 Review by The Good Ride
The Adidas Tatical ADV snowboard boot that we instantly fell in love with. The major stand out is the next level shock absorption and although the fully articulating cuff is very well liked.  2017 was a turning point for Adidas Boots and 2018 brought them to the top. If you can get past the traditional lace and the fit is right then the 2018 Tactical ADV could be a great fit.  For me (James Biesty) the 2018 is one of the best fitting boots I've had in a while.
Just to let you know in the vids this was a size 9 boot reviewed last spring and after trying an 8.5 I realized that all the little problems I'm talking about in the video aren't there with the size 8.5 production model and the fit/comfort was much better. 
Size Tried: James- 9 and 8.5, Peter 8.5, Jimbo 11.
Days 60+
Riders: James, Jimbo and Peter, 
James' Specs Relevant to Boots
Shoe Size: 9 with most boots/active shoes and 10 casual.
Calves (Widest Point): 17"
Calves (At top of boot): 12"
Foot Width at Widest Point: 4"
Mid Foot Width: 4"
Heel Width: 2.5"
Foot Height (Highest Point): 3"
Widest Point Arond My Ankles 11.5"
Fit: The fit is just like a Burton that's on the wider side of regular in the toe box so there is room to use the toes. The size 2017 size 9 felt about a 1/4 size large and with the change to the liner the 2018 feels like it's up to a 1/2 size large so that's why the 8.5 fits so well now.  It actually fits better than the 2017 Size 9.
Flex:  It's pretty medium stiff and seems like it will stay that way for a good while.
Comfort: I had some issues with the 2017 in size 9 but none with the 2018 size 8.5. I haven't felt that instant comfort in a long time and it's not easy to do.  So if you can go with the 2018 because the fit is soo much better.
The 2017 is not 100% love at first try but it's probably more around 80% love.  There is a little mellow pressure on the roof of my foot just below the ankle which is I thought might be a big issue but instead it faded throughout the day as I rode it and conformed much better to my feet.  Now it's a very comfortable boot to ride and my only suggestion is to take it slowly on breaking it in like I described above in the video.
Heel Hold:  Very good heel hold and I don't feel the heel lifting at all.  I have slightly thicker ankle joints so I don't often have heel lift but this felt pretty good.  I would like to see an option on the inside of the shell or outside of the liner with Velcro for J-Bars but many will stick to the liner material so it's not a super big deal.
Adjustability:  Traditional Lace Boots still have an advantage over all other lacing types except hybrid set ups that have something extra along with traditional lace. It takes more work but if you can tie a mountaineers knot you can really dial out your boots to fit your foot better than any other lacing system.
Flex Retention:  This is the best in the Adidas line when it comes to flex retention mainly because of the fully articulating cuff and the sturdier material on the outside.  The liner isn't anything to write home about and it would be nice to see some reinforcement in the areas with the most flex but still overall it's on the higher end of the flex retention spectrum.  This is a great choice for the 100 day a year rider.
Turn Initiation/Response: The tactical is pretty responsive if it's tightened up but a nice smooth medium response if the upper rungs are left a little loose.  That's one of the reasons I love the versatility of traditional lace boots with an articulating cuff.
Traction:  There are soft rubber spikes places throughout the boot so it will hold well in almost any kind of snow.
Shock Absorption:  This shock absorption is really next level and I can't say that I've experienced anything like it. It's not just cushy but really springy too so it doesn't really feel like you are loosing response.
Footprint: Very reduced just like the rest of the line and it's at the top of the industry.  It's the kind of boot that can really help reduce toe drag. This is a comparison between size 9 boots.  As the sizes get larger we have noticed less of a difference when it comes to footprint size but Adidas is still a little bit smaller.  You can also see like it seems Adidas will be less likely to have heel or toe drag by the way the sole tapers up in the heel and toe. Here is a pic of the 2017 boot which is almost the same as the 2018. The only thing is an 8.5 seems more the equivalent to the 9 Burton so it's a little smaller.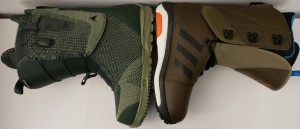 On & Off Ease: Traditional Lace isn't that bad and it's much easier than people think.  Yes it's slower than Speed Lace or BOA but not by much.  It's almost as fast as BOA if you are one of those people who are constantly micro adjusting because when a BOA is undone it opens up pretty quick.
Adidas Tactical ADV Past Reviews
Adidas Tactical ADV Images
Adidas Company Information
Adidas Tactical ADV User Reviews
---
---
Adidas Tactical ADV 2017-2018 Snowboard Boot Review
SKU
UPC
Model
Adidas is doing big things
Mar 16, 2017
by
Steve Maxwell
Ability Level: Intermediate + •
Riding Style: All Mnt / Freestlye •
Days You Ride A Year: 20ish •
Height, Weight And Boot Size (for Boards, Boots & Bindings): 5'10", 162 lbs, Size 10
I also agree, love these. Great review James, totally agree with everything. Except my calfs are small and I had no issue with the velcro. These inner boots are very nice. Nice materials, great heel hold. I didn't replace my the insoles and they still felt amazing. The footprint is unique on the insoles. Might not fit the shape of your already cut custom insoles. mine didn't. Adidas did an amazing job on these. These fit true to size for me. So glad I snagged these.

* no break in - so comfortable from the very first ride.
* comfort galore - the boost tech on these is amazing.
* tiny footprint - might be smaller than Burton.
* grippers - these soles are great, amazing grip.
* quality - construction and materials is quality
* flex and support - the flex is great and everywhere else is solid. Felt really solid in the binding. Never felt so good on my board. The stance feels low to the ground its great. The outsole is so well constructed. It is like steel toe boot protection and yet these are really nice and light.

---
Great boots, a little hard on the foot top
Feb 08, 2017
by
Simon K
Ability Level: Intermediate+ •
Riding Style: All Mnt / Freestlye •
Days You Ride A Year: 6-10 •
Height, Weight And Boot Size (for Boards, Boots & Bindings): 175cm, 82kg, 9.5UK
Firstly, the Good Rides Review is spot on, i didn't disagree with anything they said so I'll for the most part be repeating.
I bought these boots after a helpful chat with James and finding most of the boots we discussed where already sold out/not available in Europe. That said, i think i made a good choice.

I combined these boots with Burton Genesis Bindings and a 158R Yes. Standard.

These boots were unbelievably comfortable the first time i wore them, the impact cushion and foot hold was perfect! Doing jumps and taking hard landings were so much easier in these boots. Lacing was easy and really well designed, and taking off and putting on wasn't overly hard.

I did find that after the first day, the softness faded fast and they became much firmer. This was a minus for comfort but a big plus for control.
Much like James mentioned i had challenges with the Velcro on the inner boot, it didn't provide enough to move the tongue around. That being said the Velcro always held and i never found it to give out.
The grip on the these boots was great, far better than my previous boots.

My biggest (and for the most part only) issue with these boots was the inner boot tongue. After the first day i found the tongue digging into the top of my foot, it actually became painful. It did get easier as the week went on but for days 2-4 it was an issue. This may have been from larger than normal metatarsals poking out from the top of my feet, or it may have been the boot. In any case i found myself wrapping an extra sock around the top of my foot to limit the irritation. By the end of the week the boot was fine and the irritation was minimised (probably only still present because of the bruise), it was most likely just a case of the boots needing breaking in.

By the end of the week I was very happy with these boots. Despite the pains with the top of the foot, i experienced no other discomfort and no cramp or pins and needles etc. By the end of the week i couldnt have been happier with these boots!

In Summary, last week was the best boarding week I've ever had, i would personally like to thank The Good Ride guys for helping make it so :)

---
Love them
Jan 12, 2017
by
DJ
Ability Level: Advanced •
Riding Style: All mountain freeride •
Days You Ride A Year: 20 days •
Height, Weight And Boot Size (for Boards, Boots & Bindings): 5,7 165lbs 8
Only been able to test them for 4 days but those were the best 4 snowboarding days I have had in about a decade. No more footpain with these guys.

---
Best Boots
Oct 25, 2016
by
Butch
Ability Level: Advanced •
Riding Style: Surfy •
Days You Ride A Year: 30 - 40 •
Height, Weight And Boot Size (for Boards, Boots & Bindings): 6,1 195 lbs 11
Best boots i had so far. To me they were great from day 1!
I could size down to a 11 coming from a 11,5 - 12 depending on boot and thats so great when u have bigger feet. and now that they reduced the footprint even more its almost a gamechanger to me since i like to ride narrower boards on piste. i almost have 25 days on those boots now and they are perfect! no issues with quality heel hold etc. just found my perfect fit!

---
Very nice!
Oct 12, 2016
by
Max
Ability Level: Intermediate-advanced •
Riding Style: All mountain freestyle •
Days You Ride A Year: 60 •
Height, Weight And Boot Size (for Boards, Boots & Bindings): 5'8", 165lbs
Very nice!

I have to agree with everything the video review states. I tried last year's speed lace energy boost and Blauvelt boot. This boot is by far better. The aritculation alone makes it a much better boot.

Very comfortable and responsive.

Note: I sized down 1/2 a size and they fit perfect.

---
Where To Buy
No obligation, but these links & ads support the site