Union STR 2018-2022 Snowboard Binding Review
Where To Buy
No obligation, but these links & ads support the site.
Union STR 2022 - 2018 Review by The Good Ride
Union STR Snowboard Binding Video and Written Review
Here is an in depth Union STR Snowboard Binding Review and comparison to many other Union bindings. 
Turn Ons/Swipe Right: Great support, adjustability and reliability. Love the flip top over the disc.
Turn Offs/Swipe Left: Could use more shock absorption and response.
Summary
The Union STR offers up a reliable well-built binding for this price point but if you can spend more money get the Contact Pro or Force.
Ethics Statement: We don't get paid by the manufacturer to write these reviews.  We do make money from the "Where To Buy" links, but this is our best attempt at an honest and objective review from an average riders' perspective.
A Breakdown of How it rides and who it is for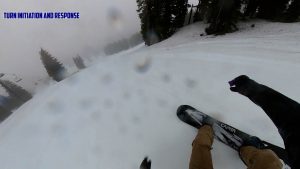 How This Union STR Review Happened:  We borrowed this for an extended demo and then returned it. .
Days: 4+
Riders:  James (Size 9, 5'10" 185-190lbs)
Boots: Burton Kendo,
Insoles: Sandsole Custom Insoles, Footprint Insole Technology Gamechangers, Footprint Insole Technology Gameghangers Low Profile
Boards: Capita Mercury,
Jacket: Burton AK Gore-Tex Pro 3L Tusk Jacket, Volcom TDF Infuse 3L Gore-Tex Jacket
Pant: Burton AK Gore-Tex Pro 3L Hover Pant, Burton AK Gore-Tex 2L Swash Pant, Burton Gore-Tex Ballast Pant
Helmet: Smith Maze
Goggle: Smith 4D Mag
Gloves: Burton AK Guide Glove, Burton AK Clutch Mitt, Burton AK Clutch Glove, Burton AK Tech Leather Glove, Burton AK Tech Glove,
Similar (but not the same) Bindings: Union Flite Pro, Union Contact Pro/Union Superpro, Union Force
How These Were Tested
I rode these one day on the Capita Mercury during a binding sampler. Then another day I put the STR on one foot and the Flite Pro on the other and then switched feet.
Highback Flex
The Union STR has a pretty easy twist and give when pulling back but it's a little stiffer than the Flite Pro. It is more on par with the Contact Pro so still a pretty mellow high back flex.
Flex Underfoot
The Union STR has a little stiffer flex underfoot than the Flite Pro and it's in another world compared to the Contact Pro in terms of having an easy flex underfoot.
Turn Initiation/Response
I thought the Union STR would have a little more response than the Flite Pro but it was actually the opposite. For some reason that cheap Flite pro turned the Capita Mercury easier than the STR's. I would love to see some improved response here.
Shock Absorption
There is good shock absorption with the Union STR and I felt like it offered more than the Flite Pro by a good bit. It isn't there with the Force or Contact Pro though.
Boot Support
There is a great ankle strap happening here that is right on par with the Union Force, better than the Contact pro and a massive bump up support wise from the Flite Pro. The Union STR is great in messy snow and riding uneven terrain off piste for this price point.
Ratchets
The Union STR has great ratchets and they work perfectly right out of the box.
Adjustability
The Union STR has great adjustability and it even has a really cool cover over the discs that keeps them in place without a screw. I wish all Union bindings had this. I can't tell you how much time was lost over the years looking for that damn little black screw in my office and in resort parking lots. But back to adjustablility. You can really dial out your boot size to this binding. Then you can turn the disc sideways and get really excellent stance width adjustability as well.
Conclusion
So I found the Union Force, Strata, and Contact Pro to be much better bindings than the STR but you have to pay $70 more for the Force and Strata. If you can pay $30 more for the Contact Pro I would suggest doing that as well. Now if you are firm on the $209 price range then this is a great call and there aren't many competitors that offer this type of, support, adjustability and especially reliability.
If this Union STR review helped, we'd appreciate if you:
Union STR Past Reviews

The Union STR is a good entry-level binding for those on a tight budget. While it doesn't really compete with the higher end Union bindings it provides a lot more than many of its peers throughout the industry in this price range.

Ethics Statement: We don't get paid by the manufacturer to write these reviews.  We do make money from the "Where To Buy" links, but this is our best attempt at an honest and objective review from an average riders' perspective. 
How This Review Happened:  We borrowed this for an extended demo and then returned it.

Days:  3
Riders: James (Size 9, 5'10" 185-195lbs)
Boots: Adidas Tactical ADV
Insoles: Sandsole Custom Insoles
Boards:  Yes Greats, Capita Mercury, Lib Tech Terrain Wrecker, Rome Powder Division 157

Highback Flex: Pretty middle ground and like a lot of high backs we like in Unions line that twist well but have less give when pulling straight back.

Binding to Boot Adjustability: There is a lot of good stuff going on when it comes to adjusting your binding around your boot. Especially for this price point. It has decent high back rotation, an adjustable heel loop but a fixed toe ramp/gas pedal. So it doesn't have the adjustability of the Union Force or Atlas but it's on par with the Strata and Contact Pro and even better than some higher-end Union binding. Another thing to mention is that since the 2019 season Union has these new washers in the heel loop that dont' come loose like they used to so you don't have to worry about tightening them every 5-10 days like you used to have to do.

Stance Width Adjustability: Union has a big channel that runs all the way through the disc that allows you almost as much stance width adjustability as the Burton Channel system but even better, it's compatible with all boards.

Comfort: Pretty comfy for this price point. I didn't feel any pressure points in the ankle or toe strap or heel loop.

Boot Support: The Union STR now has the same ankle straps as the Union Atlas which is pretty cool. It doesn't have pre-curve like the Atlas either but it's still a very supportive and light ankle strap. Union has other straps for sale at C3 here which is pretty unique compared to other companies.

Turn Initiation: Better than I thought but it's just not that responsive. It's best for paring it up with an easy turning easy to butter board.

Buttering/Feel Underfoot: Not much natural flex underfoot and it does not allow the board to butter as easy as even the Union Force and especially so the Contac Pro. I'd love to see them reduce the contact with the board like they do with so many other bindings.

Ratchet System: Very smooth and easy to get on and off. Feels like it's very close to some of the higher end bindings in the Union line.

Shock Absorption: Pretty soft foam in the heel that does a great job at slow speed shock absorption. The Union STR isn't quite as good for those that want to go big but it's still pretty competent.

So overall, if you can put down some more cash and trade up to the 2020 Union Contact Pro that is a better all-around binding but in this price point, the Union STR is a well built binding for this price point.

The Union STR is an entry level binding but Union tries hard to make sure that it isn't too entry level.  If you can swing the contact instead that's a better call but if you are on a very tight budget there really isn't any competition here.  It's even got some tech that I would like to see on other higher priced Union bindings.

The 2019 Union STR is pretty much the same as 2018 but the washers hold the ankle straps in place much better and don't come loose like they used to.

Ethics Statement: We don't get paid by the manufacturer to write these reviews.  No one is perfect and we do make money from the "Where To Buy" links below, but this is our best attempt at an honest and objective review from an average riders' perspective.
Union STR Images

We try to get as many images of the Union STR, but forgive us if they're not all there.
2022
2021
2020
2019
2018
Union STR User Reviews
---
---
Union STR 2018-2022 Snowboard Binding Review
SKU
UPC
Model
15/16 Union ST
Oct 19, 2017
by
Jared
Ability Level: Average, on a good day •
Riding Style: Ride everything •
Days You Ride A Year: 15-25 •
Height, Weight And Boot Size (for Boards, Boots & Bindings): 5'9, 185, just found out i'm a size 9.5EE
I have the 15/16 version of the Union ST. I purchased them from a Craigslist seller for $90, new in box. They were intended to be a back up binding.

Boards: 2017 Salomon Assassin '57w, Gnu Park Pickle '56w, and a Lib Tech Tear Yea '56w.

Conditions- Powder, groomers, slush, ice...

Boots: At the time, 32 Lashed size 12

Flex– I would rate the chassis and highback at a 4. The metal heel loop and full sized disc stiffen things up a little.

Adjustability: The only thing you cannot adjust is the footbed. It has 1 position. Highback rotation, forward lean, heel loop, strap length, toe strap location, and full sized disc offer plenty of adjustability. I do rotate my highbacks and like James mentioned this causes a portion of it to dig into your boots by the ankle. I used a Dremel to cut off the protruding piece and rounded it off.

Comfort: Not too many hot spots, just the usually pinky toe pinch if you crank down too hard. The ankle strap has a medium thickness and width. The padding under heel is not bad, but under the forefoot it is very minimal. Even on long days I never felt too beat up, but the 32 Lashed does have a forgiving sole.

Heel-Toe Response: For such a soft binding response was respectable. The chassis under the forefoot has full board contact with no bushings. Straight plastic to board interface and the toe ramps help. I personally like this because it makes a soft binding have better toe side power. The down side is more chatter during carves. The highback did it's job but something stiffer/wider would be nice.

Tip-Tail Response: The canting helps tip/tail response on my banana-tech board, but seemed to hinder it on my more camber dominant set ups. It may be a little dead underfoot compared to the Union Contact, but it worked well on my Assassin because of how the core is milled and complimented the hinge point.

Ratchet System: Nothing to complain about, but nothing to exciting. No slipping or sticking.

Boot Support: I would say middle of the road and on the surfy side. The toe ramp helps to keep you locked into the highback, but the highback itself was narrow and flat which makes it feel like there isn't much backing you.

Shock Absorption: Under the heel you have 100% foam and the chassis is open. Under the forefoot like we said, minimal foam and lots of plastic. This leads to a firmer ride and harsh landings will be felt. This could be a positive if your boots have a lot of shock absorption.

The 2018 version has a stiffer highback with better support. In a shop I compared the 2018 STR to the Force and Contact. The STR's highback is stiffer than both and has similar width/shape to the Contact. The ST/STR is an ideal binding for someone who likes med flex, sharp response, and more board contact. For $180 I do not see too many current-year offerings that compete.

---
If you can't buy through the links above, you can support the site with: