Union Flite Pro 2014-2023 Snowboard Binding Review
Where To Buy
80% of outdoor sports products are not listed or sold online.
Our team has relationships with hundreds of local snowboarding and outdoor sports shops.
We'll call the shops and email you a list of stores along with pricing and availability.
---
Not sure what to buy?
Get custom advice from Good Ride editors James and Steph.

Get Advice
Union Flite Pro 2023 - 2014 Review by The Good Ride
Union Flite Pro 2022-2023 Snowboard Binding Video and Written Review
Welcome to the Union Flite Pro Snowboard Binding Review from an unapologetically average rider with gear issues.
Update 2023: The Union Flite Pro did not change for 2023 so this review still stands. The only thing not relevant in this review is the comparison to the discontinued Contact Pro replaced by the new Ultra. 
Turn Ons/Swipe Right: Great response and feel for a binding this price.
Turn Offs/Swipe Left: Could Use More Ankle Support and more shock absorption.
Summary
You can do a lot better than the Union Flite Pro if you can pay more money for a more expensive binding like the Contact Pro but you can't do any worse.
Ethics Statement: We don't get paid by the manufacturer to write these reviews.  We do make money from the "Where To Buy" links, but this is our best attempt at an honest and objective review from an average riders' perspective.
A Breakdown of How it rides and who it is for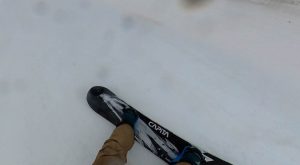 How This Union Flite Pro Review Happened:  We borrowed this for an extended demo and then returned it. .
Days: 4+
Riders:  James (Size 9, 5'10" 185-190lbs)
Boots: Burton Kendo,
Insoles: Sandsole Custom Insoles, Footprint Insole Technology Gamechangers, Footprint Insole Technology Gameghangers Low Profile
Boards: Capita Mercury,
Jacket: Burton AK Gore-Tex Pro 3L Tusk Jacket, Volcom TDF Infuse 3L Gore-Tex Jacket
Pant: Burton AK Gore-Tex Pro 3L Hover Pant, Burton AK Gore-Tex 2L Swash Pant, Burton Gore-Tex Ballast Pant
Helmet: Smith Maze
Goggle: Smith 4D Mag
Gloves: Burton AK Guide Glove, Burton AK Clutch Mitt, Burton AK Clutch Glove, Burton AK Tech Leather Glove, Burton AK Tech Glove,
Similar (but not the same) Bindings: Union AtlasUnion Contact Pro/Union Superpro, Union Force, Union STR
How These Were Tested
I only turned on the camera on the worst days but got these for a few days in some varied spring conditions. I rode the Union Flite Pro with my Mercury and tested these against the STR, Contact Pro and Force on the same day.
Highback Flex
Nice easy twist with the Flite Pro and it has a little give when pulled straight back. It has a good easy flex to it with a little snap back.
Flex Underfoot
The full size disc of the Flite Pro has a little easier flex underfoot than the STR but it is a little bit behind the Contact Pro. There is a really good feel underfoot for this price point.
Turn Initiation/Response
So I expected the Union Flite Pro to be a step down in response from the STR but it was actually a step up. Even with the small ankle strap it had a little more happening edge to edge. It turned the Mercury really well.
Shock Absorption
Not much happening here. I wisht the Union Flite Pro had a little more EVA Foam happening like most of the other bindings in Unions line.
Boot Support
Same as shock absorption, the Union Flite Pro is lacking a little bit here support wise. You might be able to get a more supportive ankle strap at C3 though.
Ratchets
Just like the expensive ones. Excellent.
Adjustability
So the Union Flite Pro has pretty solid adjustability and it's on par with most Union bindings. You do need a tool to adjust the straps which is a bit of a bummer but you can really dial out the binding to fit your boots. That is why I love adjustable heel loops like this.
Conclusion
So overall, the Union Flite Pro gives you a lot more binding than you would expect for the price. I even liked it a little better than the STR. It if had a more supportive strap and a little more shock absorption it would be one of the best bindings I've ever tried at this price point.
If this Union Flite Pro review helped, we'd appreciate if you:
Union Flite Pro Past Reviews

The Union Flite Pro is the next step down from the Union Contact.  It's a good binding for the price but if you can swing it go for the Contact.

The 2019 Union Flight Pro is pretty much the same as 2018 so the old review still stands. Only one change happened that really stands out and that's the washers that connect the heel cup/ankle strap screws.  They now do a really good job at keeping the screws from coming loose so you no longer have to be diligent when it comes to keeping them tightened.

Ethics Statement: We don't get paid by the manufacturer to write these reviews.  No one is perfect and we do make money from the "Where To Buy" links below, but this is our best attempt at an honest and objective review from an average riders' perspective.

Union has other straps at C3 here and if you don't like their existing straps you can get different ones.
2014-2016 Union Flite Pro Review
The Union Flite Pro is a watered down version of the Union Contact Pro and a good binding for the price. While we like the Contact pro better the Flite Pro offers up a really good ride for the price and gives you a solid taste of what the Contact Pro is all about.
The 2014 and 2015 Union Flite Pro are very similar.
Flex: Same easy flex and feel as the 2013 Union Contact Pro but with cheaper ankle straps.
Adjustability:  Most of the binding companies have 3 sizes but Union has 2 sizes and have an adjustable heel loop so you can get the binding to fit your boot better.  That is actually pretty helpful for dialing out the binding to your boot size but because of this adjustable heel loop you can't rotate the high back much.  You also can't adjust the ankle strap angle where most have 2 or 3 options So some really won't care about this and others might.
Comfort: the whole binding is pretty comfortable and it works well with most boots.
Turn Initiation: For a binding with such a soft high back you would think the Union Flite Pro would have average response but Union does a good job allowing you to get much more edge to edge response than you would think.  The Contact Pro is a little better but they are pretty close.
Buttering: Union's reduced dead spot technology is right there with Burton's Re:Flex tech and it allows you to flex the board lengthwise very well.  It's great for those who like to butter, press, and incorporate a lot of screwing around. The less supportive ankle strap takes it down a notch from the Contact Pro. The 2014 Contact Pro also has a mini disc so it's reduced dead spot is even better than the Flite Pro.
Boot Support: This is pretty loose and the Ankle strap with these bindings have been around for a while. There is a lot of freedom of movement on the inside and outside of these bindings. If you want more support the Contact Pro is going to be the call but some will prefer this softer ankle strap.
Ratchet System: The ankle strap has always been pretty good with Union but the toe strap has always had a history with Union of being a bit sticky at times. The Union Flite Pro incorporates the same easy release lever on the toe strap that is on the ankle strap so you get a much easier release.
Shock Absorption: Excellent Shock absorption. There is lots of padding throughout the entire base plate.
Here is a quick look at the 2014 Union Flite Pro
Unions Toe straps can be a bit sticky and especially so for those that like to crank em down tight. For some this is a big problem and for others it's not that big of a deal. Until Union addresses this issue here are some pointers on how to make the toe strap less sticky so you can enjoy the bindings better qualities.
Union Flite Pro Images

We try to get as many images of the Union Flite Pro, but forgive us if they're not all there.
2022
2021
2019
2018
2017
2016
2015
2014
Union Flite Pro User Reviews
---
---
Union Flite Pro 2014-2023 Snowboard Binding Review
SKU
UPC
Model
Definitely not for expert just manageable for intermidate
Dec 04, 2017
by
Ham Pockets
Ability Level: Advanced •
Riding Style: Everything •
Days You Ride A Year: 150
I recently bought the Flite Pro like 3 days ago and have only rode them for 2 days, today only the second day!!! They blew up on me I was just doing a front flip and when I land the right binding crunched and my foot with the binding still strapped on flew off the board. I would not recommend this to anyone able to spin 360 boardslide or flip. I was honestly expecting more from Union.

---
Union flite pro
Nov 04, 2017
by
Jake Feia
Ability Level: Instructor •
Riding Style: Everything •
Days You Ride A Year: 90
These bindings just don't feel very good, they have way to much plastic under foot and feel kinda cheap. They are to soft to feel comfortable at high speeds.

---
Dec 11, 2016
by
kris
Ability Level: Intermidiate •
Riding Style: Slopestyle •
Days You Ride A Year: 15
very well fitted width, you just have to place your boot from front not from above, best bindings to buy for this price, huge adjustability

---
Apr 10, 2015
by
ben
Ability Level: Instructor •
Riding Style: Everything •
Days You Ride A Year: 60
got some M/Ls, and they didn't even fit my size 9.5 feet. Too narrow by the wide part of the foot (i wear 32s)

---
If you can't buy through the links above, you can support the site with: