Union Atlas Pro 2023-2024 Snowboard Binding Review
Where To Buy
No obligation, but these links & ads support the site.
Where To Buy
80% of outdoor sports products are not listed or sold online.
Our team has relationships with hundreds of local snowboarding and outdoor sports shops.
We'll call the shops and email you a list of stores along with pricing and availability.
---
Not sure what to buy?
Get custom advice from Good Ride editors James and Steph.

Get Advice
Union Atlas Pro 2024 - 2023 Review by The Good Ride
Union Atlas Pro 2023-2024 Snowboard Binding Video and Written Review
Here I have the Union Atlas Pro Snowboard Binding Review from an average rider with an extensive but objective perspective.
Update 2024: The Union Atlas Pro has not changed from 2023-2024 so this review still stands. 
Turn Ons/Swipe Right: A little faster response than the Atlas.
Turn Offs/Swipe Left: Not as damp as the Atlas.
Summary
The Atlas Pro has less of a damp/shock absorbent ride than the Atlas but it does offer a little stiffer more responsive ride too.
Ethics Statement: We don't get paid by the manufacturer to write these reviews.  We do make money from the "Where To Buy" links, but this is our best attempt at an honest and objective review from an average riders' perspective.
A Breakdown of How it Rides and Who it is For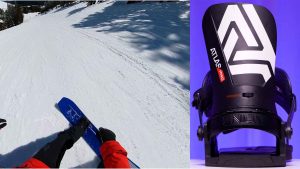 How This Review Happened:  Borrowed this for an extended demo and sent it back.
Days: 15+
Conditions: Everything from hard groomers to slightly bumpy groomers, to powder and some great groomers.
Riders:  James (Size 9, 5'10" 185-190lbs)
Boots: Burton Kendo, Nidecker Rift APX, ThirtyTwo TM-3XD
Insoles: Footprint Insole Technology Gamechangers
Boards:  Many boards. I had these bindings for a few months.
Jacket: Burton AK Gore-Tex Pro 3L Tusk Jacket, Volcom TDF Infuse 3L Gore-Tex Jacket
Pant: Burton AK Gore-Tex Pro 3L Hover Pant, Burton AK Gore-Tex 2L Swash Pant, Burton Gore-Tex Ballast Pant
Helmet: Smith Maze
Goggle: Smith 4D Mag
Gloves: Burton AK Guide Glove, Burton AK Clutch Mitt, Burton AK Clutch Glove, Burton AK Tech Leather Glove, Burton AK Guide Glove, Burton AK Clutch Mitt, Burton AK Clutch Glove, Burton AK Tech Leather Glove, Burton AK Tech Glove, CG Habitats Work Glove, Drop Tahoma Mitt
Similar (but not the same) Bindings: Union Atlas, Union Strata, Union Falcor, Union Force, Salomon Quantum, Salomon Highlander, Nitro Phantom Carver, Rome Cleaver
How It Was Tested
I rode these a lot on a wide variety of boards. Then I also did samplers with the Union Atlas, Atlas Pro and many other bindings. I even put the Atlas Pro on the front foot and the Atlas on the back. Then I put the Atlas on the front foot and Atlas Pro on the back to get a true feel for their differences.
Weight
2.2 Lbs with the screws and discs in. That is the same weight as the Union Atlas on my scale. The Atlas FC weighed 2lbs even. My scale isn't perfect but it's a pretty good estimate of what the Union Atlas Pro weighs.
Highback Flex
The Union Atlas Pro has a stiffer flex than last year's Atlas but the same as this years 2023 Atlas. I wish the regular Atlas had a softer flex and this the same flex.
Flex Underfoot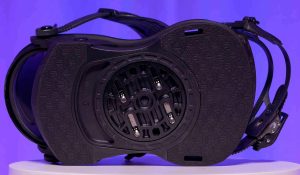 The Union Atlas Pro and Atlas have a pretty similar flex underfoot. It makes the board a little stiffer than mini-disc bindings like the Falcor without making the board feel dead.
Turn Initiation/Response
The Union Atlas Pro has very quick response. The Atlas is no slouch either but this is a little quicker. The Atlas FC is even faster but each time you bump up from the Atlas you loose dampness. So it's a balance between response and having a comfortable all day ride.
Shock Absorption
None of the Atlas bindings, including the Atlas Pro, have the shock absorption of the Union Force with all that softer EVA foam. The rubber helps keep the Atlas Pro pretty damp underfoot and quiet down the board but the gas pedal/base plate has forged carbon and it makes the binding less damp than the Atlas. The Atlas Pro is a lot better than the Atlas FC though in terms of being damp but I still prefer the easier all day ride of the Atlas.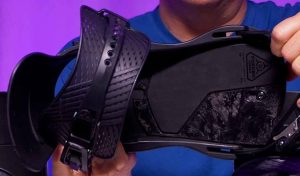 Boot Support
Love the ankle straps and toe straps of the Union Atlas Pro. Better than the Atlas for sure. They have a lot of support but also don't totally lock you in if you want to play around. All the Atlas straps are exceptional.

Ratchets
The ratchets are smooth and very durable. Some of the best in the industry. I just wish the Atlas Pro's ladders were thicker like they used to be on all Union bindings. These days they are thinner and aren't as easy to get going with one hand as they used to be.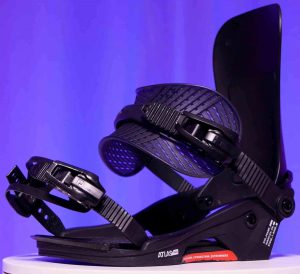 Adjustability
There is no difference between the Union Atlas Pro and Atlas when it comes to adjustability. This is great because the Atlas is one of, if not the most adjustable binding out there. You have an adjustable gas pedal, adjustable heel loop, high back rotation and tooless straps. It can center just about any boot in the binding and then center the binding/boot on your board.
You also have discs that slide either way incredibly well. This is great for those that want to slide the discs tip to tail to get an almost infinite amount of stance width adjustability. I can always get the stance width I want with these Camber Discs.
Conclusion
So for me the Atlas is still the binding I prefer but if you want a little more response at the cost of some dampess these could definitely work for you.
If this Union Atlas Pro review helped, we'd appreciate if you:
Union Atlas Pro User Reviews
If you can't buy through the links above, you can support the site with: