Rome 390 Boss 2011-2022 Snowboard Binding Review
Where To Buy
80% of outdoor sports products are not listed or sold online.
Our team has relationships with hundreds of local snowboarding and outdoor sports shops.
We'll call the shops and email you a list of stores along with pricing and availability.
---
Not sure what to buy?
Get custom advice from Good Ride editors James and Steph.

Get Advice
Rome 390 Boss 2022 - 2011 Review by The Good Ride
Turn Ons/Swipe Right: Great dampness/shock absorption. Excellent adjustability. Good binding for the price.
Turn Offs/Swipe Left: Not much. I just liked the Vice a little more.
Summary
The Rome 390 Boss is a well built, medium flexing, medium response binding that is much lighter now. If this calls to you get the 2022 reviewed here and not past models.
Ethics Statement: We don't get paid by the manufacturer to write these reviews.  We do make money from the "Where To Buy" links, but this is our best attempt at an honest and objective review from an average riders' perspective.
Rome 390 Boss Snowboard Binding Review- How it rides and who it is for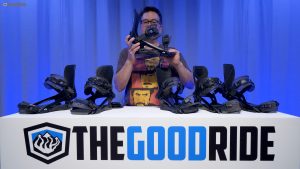 Days: 3
Conditions:
Riders:  James (Size 9, 5'10" 185-190lbs)
Boots: Burton Kendo
Insoles: Footprint Insole Technology Gamechangers, Footprint Insole Technology Gameghangers Low Profile
Boards: Jones Mountain Twin, Rome Party Mod, Rome Gang Plank
Jacket: Burton AK Gore-Tex Pro 3L Tusk Jacket, Volcom TDF Infuse 3L Gore-Tex Jacket
Pant: Burton AK Gore-Tex Pro 3L Hover Pant, Burton AK Gore-Tex 2L Swash Pant, Burton Gore-Tex Ballast Pant
Helmet: Smith Maze, Smith Vantage
Goggle: Smith IO Mag, Smith 4D Mag
Gloves: Burton AK Tech Leather Glove, Burton AK Tech Glove, CG Habitats Glove
Similar (but not the same) Bindings: Union Strata, Union Contact Pro/Union Superpro, Burton Cartel, Burton Mission, Burton Malavita,  Salomon Hologram, Salomon District, Nitro Team Pro, Nitro Team
How It Was Tested
I did a sampler with my Union atlas and all the Rome bindings I tested the first day (DOD, Vice, Katana & Cleaver) to see how they all compared. Then I threw these on the Party Mod and the Gang Plank on other days.
Weight
2.0 Lbs with screws and discs on. They have lightened up a good bit since i last rode them and I can feel that 20% reduction.
Highback Flex
Nice medium flexing highback that has decent twist and a little give. Has a very good middle ground flex.
Flex Underfoot
The small full sized disc/big mini disc of the Rome 390 Boss combined with the EVA foam lined base plate makes for a very natural/easy flex underfoot. You can set up the screws full sized to stiffen up the board underfoot a touch or mini-disc to give it a little easier flex.
Turn Initiation/Response
Right there with the flex of the high back. Medium, predictable and smooth.
Shock Absorption
Up there near the top and for this price point it's very hard to beat.
Boot Support
For a mellow binding focused a little more on freedom of movement, it's far from shitting the bed when it comes to off piste riding. There is still a good bit of support so your ankle doesn't hurt hammering through uneven terrain. Really like the toe strap of the Rome 390 Boss . The other toe straps were fine but something about this strap really worked for me.
Ratchets
Didn't speak to me in a good or bad way. They just always worked.
Adjustability
So the Rome 390 Boss doesn't have that sexy adjustability extras like the Vice does but it still has excellent adjustability where it's necessary. You can center the boot perfectly in the binding with the adjustable base plate/heel loop. You have tooless adjustability for the straps and forward lean in the high back. Highback rotation is good and overall you can really dial this out.
The medium sized disc is exceptional for adjustability. You can get any stance width you want when you turn the disc sideways and set it up like a mini disc. You can also use these as full size discs. They don't have any adjustability but it can be done so you can use these with set back inserts.
Conclusion
Overall, I was pretty impressed with the lighter Rome 390 Boss and it's come a long way over the years since I first reviewed it. It doesn't have the bells and whistles of the Vice but it's very well done.
Rome 390 Boss Past Reviews

The Rome 390 Boss is a stepped-up canted version of the regular 390. The Rome 390 Boss is pretty much the 390 with a canting system.

Ethics Statement: We don't get paid by the manufacturer to write these reviews.  No one is perfect and we do make money from the "Where To Buy" links below, but this is our best attempt at an honest and objective review from an average riders' perspective.

2014 Rome 390 Boss Review

The 2014 Rome 390 Boss had some long needed improvements that help the binding drastically in the initial set up and also help it allow you to change from board to board a lot easier. Also, there is a better ankle strap.

Days: 2

Riders: James, Peter, Jimbo
Boots: Burton Ion, Burton SLX, Nike Kaiju
Boards: Rome Agent Rocker, Rome Reverb Rocker

Weight:  4.8lbs

Flex: Same medium flexing high back that offers up a pretty smooth feel to it.

Adjustability: So the binding is really easy to adjust when it comes to the toe and ankle straps but then it starts to require a tool.  In the past getting the binding dialed out for the boot was a truly horrible experience but the changes with the 2014 Rome 390 has changed it up to the way it always should have been. Here are the changes that were made:

1. You no longer have to remove screws to adjust the heel loop to fit your boot.  Instead, you just loosen them and slide it to your boot size.  Before this could be a nightmare because the under wrap metal didn't always align with the screw mounts. It could take a lot of work to get them in.

2. There used to be a 2 piece system to install the padding in the base plate. Now it's a 1 piece and it's just as adjustable. It makes it much easier to switch the bindings from board to board.

3. The New canting system is much better and much easier than the old canting system. I rode this but didn't get the details of exactly how the cant's work.  I believe it's 3 separate footbeds that are easily interchangeable. I only rode the 2.0 cant. With the new padding system in the base place and the one screw

Comfort: Same great comfort as before and the new ankle strap is even more comfortable.

Heel-Toe Response: Nice smooth but pretty responsive edge to edge transitioning that works with a wide variety of boards.

Tip-Tail Response: Now the 390 reduced some of the contacts with the board but it still feels like it's a bit dead under there.  The board doesn't bend continuously from tip to tail but bends before and after the bindings. It's still not bad though.

Boot Support: Rome has always done well with the 390 ankle straps and although smaller they seem to hold the boot in pretty well while also allowing good freedom of movement.

Ratchet System: Nice smooth glide that most will not have issues with.

Shock Absorption: Top notch.  It really absorbs a lot of shocks.  Nothing has changed here except the base plate pad is easier to take off.

For us, the 390 boss is the call because of the canting system and better ankle strap.

2013 and below Rome 390 Boss Review

The Rome 390 SDS has been the Burton Cartel for Rome's binding division.  After riding the 2010 and below model and now riding the new re-vamped 2011 and 2012 model we have to say that the 390 and 390 Boss is a solid choice for riders of all styles. Our only complaint is the amount of parts and how difficult it is to adjust the bindings.  When you have a lot of parts you have more chances for something to break.

So let's get into the detail of the changes that happened in 2011 and that are still in place for 2012. First off the ankle strap seems to be softer and a little more flexy.  Second the high back is new. The old symmetrical high back now sits on the Rome Arsenal and the 2011 high back is asymmetrical.  This is a pretty big change that is very similar to the latest tech that many companies are using now.  The biggest change is the entire re-construction of the base plate.  Both the front and back of the base plate have been hollowed out to have EVA foam and some sort of plastic to create a better flex in the board and a much more shock absorbent foot bed.  This is done by creating two halves that merge together in the middle with one screw. The foam is medium density so it looks like it can keep response but also handle a flat landing.  The one thing we were a bit worried about is the plastic that holds the 2 footbeds together seems a little weak for something that is going to be continuously stomped on by feet holding the weight of your body.  We'll see over the long term. The 390 Boss has a canted footbed that creates an angle so your boot will align correctly with your body.  It also creates a little leverage on the outer part of a rocker snowboard so you don't have to ride like a bow legged gorilla who needs to take a crap.  If you are riding a rocker board or what to be more aligned then the 390 Boss are probably the way to go.

The 2013, 2012 and 2011 Rome Boss' are all pretty much the same design with the exception of the paint. We like this design over the 2010 design. There is a lot more shock absorption.  Also the option to put in a canted EVA foam foot bed can be easier on the Hips, knees and ankles. Our only complaint is that they are many parts and the binding is hard to adjust to your foot. For us the call is the 390 Boss due to the cant options but the 390 isn't bad either.

Flex– Like we say above this is a medium flex that is compatible with a wide range of boards and boots. It's more on the soft side of medium but still is middle ground.

Adjustability: The one issue with the Rome 390 is it's not easy to get everything dialed out. The biggest pain is adjusting the bindings to your foot size.  You have a metal piece connecting to a metal or plastic piece that isn't easy to align so you can get the screw in. This was incredibly frustrating to us and took us almost an hour to get both bindings dialed out.   Also when there are a lot of parts there are a lot of possibilities for those parts to break.  We have to say though that we haven't had any issues but the writing is on the wall.  It's also not easy to change from one board to another. You have to take off a small screw on the top, remove 2 pieces and then un-screw the discs.  For us it was a pain in the ass to change these bindings from one board to another but for the average rider it won't be terrible if you mainly keep them on one board.

Comfort: Once you get the bindings set up these are some of the most comfortable bindings out there.  None of us experienced any pressure points even when we cranked them super tight. Also the new canting system makes a big difference when it comes to keeping your hips, knees and ankles better in line with your body.  I (editor) have bad hips from too much hard livin and when I'm done with a day of snowboarding they can get tight. When using the canted system they feel much better when getting off the hill.  You see the canted trend increasing across the binding world and I really like this.  The rest of the crew liked the cant but I liked it the best for obvious reasons.

Response-The response is good for what Rome sees as a freestyle snowboard binding. We see it more as an all mountain do anything type of binding and it can handle a soft continuous rocker snowboard as well as deal with even a moderately stiff camber board.  edge to edge response with the 390 and 390 Boss is very good for it's flex and design.  The 2011 and 2012's have a distinct advantage over the 2010 but all are good.

Weight– The Rome 390's are not light.  We don't really put any binding on a scale and can be wrong but the 390 Boss and 390 seemed heavier than the other bindings in their class.  The 2011 and 2012 models are a little lighter than the 2010.

Lateral Movement– The new ankle straps for the 2012 and 2011 models give a little more ability to flex the board laterally a lot better than the 2010's.

Dampening– The 390's from every year almost have that freeride feeling of damp and can handle most speeds you feel fit to address without injury.

Shock Absorption– The 2011 and 2012 have superior shock absorption and some of the best in the industry.  The addition of EVA foam throughout the entire base makes for a very friendly ride when making that awkward flat landing. The 2010 was pretty good but it doesn't hold a candle to the 2011 and 2012.

The Rome 390 and especially the Rome 390 Boss is a great binding for all kinds of riders and if you can live with the adjustability issues you might have a binding that will make you very happy.
Rome 390 Boss Images

We try to get as many images of the Rome 390 Boss, but forgive us if they're not all there.
2022
2020
2019
2018
2017
2016
2014
2013
2012
2011
Rome 390 Boss User Reviews
---
---
Rome 390 Boss 2011-2022 Snowboard Binding Review
SKU
UPC
Model
Jun 28, 2017
by
Jared
Ability Level: Sorta OK sometimes •
Riding Style: Ride everything •
Days You Ride A Year: 15-20 •
Height, Weight And Boot Size (for Boards, Boots & Bindings): 5'9, 180lbs, size 11
I have the 15/16 version of the 390 Boss. The selling points were adjustability, durability, and comfort. I typically lean towards the stiffer side of medium when it comes to flex, and I like a sharp response while still being somewhat plush.

Boards: 2017 Salomon Assassin '57w, Gnu Park Pickle '56w, and a Lib Tech Tear Yea '56w.

Conditions- Powder, groomers, slush, ice...

Boots: 32 Lashed size 12

Flex– I would rate the chassis at a 6/7, and the highback a 4. I think there is a slight imbalance between the two.

Adjustability: Fully adjustable, but you have to spend some time dialing it in. The heelcup is indexed so it makes lining everything up easier. The straps are easy to center and the footbed can be moved about 1/2".

Comfort: The ankle straps have generous padding with no pinching and my 32 Lashed nestles very well without any hot spots. The footbeds have a decent amount of foam (toe and heel area) and the binding does a good job of absorbing vibrations. The canted footbeds also take stress off my knees.

Heel-Toe Response: This is where the 390 Boss loses a star. I was expecting much more in terms of heel-toe response, but it just didnt drive power for how stiff the chassis is. I think steeper toe ramps would really help, or possibly denser foam under the toe area. The highback (in my opinion) is too soft, and when rotated it seemed to not interface well with the metal heel loop (which is common when rotating highbacks). While the response isn't as crisp as I like, they still do a decent job, but you have to push through some padding before they engage. I also ran more forward lean than normal to help with this.

Tip-Tail Response– The 390 Boss is designed to allow some board flex under the binding due to some raised contact points. This sacrifices a little tip-tail response, but overall it was good at delivering lateral power and keeping that power locked in. I really like these bindings for buttering/pressing and never felt like I had to move my weight too far forward or back to get response.

Ratchet System: Really solid. They climb well, but can be a little sticky on release. I did not experience any slipping.

Boot Support: The frame sits about mid height which offers good boot support, but does not hinder mobility for grabs and tweaks. Like I mentioned, the highback is flexy in every direction, but still interfaced nicely with the spine of my boot.

Shock Absorption– Between the foot bed and under-frame padding these absorb a decent amount of vibration and impact. They are great at sucking up flat landings.

Overall I think this is a solid binding and works well on the right board. They felt good on my Assassin and Park Pickle, but they didnt have enough power/response to motivate my stiffer Lib Tech with traditional camber. They now reside on my Pickle as a beater set up for the spring. The 390 Boss is marketed as an all mountain solution, but I would say its better suited for the park rider who needs durability and all day comfort. Something else to consider is the weight. They are noticeably heavier than other offerings with similar flex/responsiveness.

---
Def an Improvment
Dec 18, 2013
by
Sean
Ability Level: Intermediate •
Riding Style: Fatty Mcfatty Cruising all mountain •
Days You Ride A Year: As many as the wife and credit cards will allow
Very cool binding. For me it is a huge improvement from the Cartels. Not taking anything away from the cartels. But with 390 boss I fell in a lot more control of the board then before. Even on long flat runs covered in bumps left behind by those pesky skiers, or day old pow pow, it never felt like I had to work to stay in control of the board.

These binding are extremely comfortable and very forgiving on the knees. That 3.5 bedding they put in there is like butter. When your a grizzly bear on a snowboard its one of those things that you pray for.

They are a bit on the heavier side which didn't really make that much of a difference to me since I stick to cruising the mountain and not much else. The ankle strap in very comfortable and I didn't feel like it was too tight at any one point. The toe strap gave me a bit of a problem to begin with. It took a bit of adjusting for it to stay completely on the boot, but once I got it working properly it was smooth sailing. Keep in mind, although they have made huge improvements from last yrs model(or so they claim) this binding still comes with diagram on how to set them up to your specs. I will say I have put together a carburetor faster, but it is well worth the hour or so that you will spend for the ability to customize it.

Only complaint about the 390 Boss is the ratchet system. I was looking for a binding that would be as easy to use if not better then the Cartels, Didn't get so lucky. Locking in is pretty smooth, but releasing does require a bit of elbow grease.

All in all this is an awesome binding and I'm very happy I got them and would def recommend them, especially for the bigger guys riding.

---
best i've tried, so far
Nov 08, 2013
by
Tompa
Ability Level: Intermediate •
Riding Style: Sexy •
Days You Ride A Year: 10-20
Honestly the best binding I have experienced since I started snowboarding, back in freakin' 1988!
The 2012/2013 Rome 390 Boss bindings are very comfortable and look good. I especially dig the 'auto strap' that clears the area where to step in, in fact I can't understand why every binding manufacturer does not have something like this or like the K2 hinch thing. This is the lone tech thing I get frustrated by from Burton (who otherwise makes top notch bindings), since their straps usually do the opposite and close by themselves when off... and so ends up in the way for where to step in with your foot = unnecesarry and annoying. Dampening is perfect. Ancle strap is very comfortable without any pressure points (take it from me, I have very delicate feet). Toe strap however on my 12/13 model is not perfect, the 'cap-or-over' does not function as marketed so have to rock 'em over the top, but that works fine. Newer rubber cap models must be better, but I think K2 makes the best toe strap solution. Customization is excellent, but can be fiddly as people already point out... have'nt bothered me though. Canting options are perfect. Ratches works very well, but not absolutely perfect like most Burtons. Highback is almost perfect for me, middle ground stiffnes, but I would prefer no forward lean block and more of a K2 Airlock solution together with more rubber/friction around the heel area like Burtons Heel Hammock. Weight is ok, but could and should be lighter as where Flux bindings lead the way. Have had no quality issues, but been in contact with Rome anyway and the service have been excellent. The V-Rod Baseplate and the Underwrap, I can not really comment... do not know if they work as marketed, but I do know the whole binding works great in most conditions... only thing would be they are not super responsive for total aggression. For me to hand out a five star review would only be realistic if I had almost absolutely nothing to comment, and would probably mean I would have to 'frankenstein' my very own bindings... say from these + Now Drive / Burton Malavita w wings / K2 IPO. The Rome 390 Boss are the bindings I currently ride, I have recommended them for all my buddies and I would recommend them for just about anyone = that probably means for you 2!

---
good, but
Jun 11, 2013
by
alexey
Ability Level: Allmountain expert, pow advanced, park intermediate •
Riding Style: Allmountain freestyle •
Days You Ride A Year: 25
its a solid binding, its comfy, damp and steezy. i liked how u can change everything also the cant. BUT! coz izs made of so many part screwed together, they loosen and u have to tighten them up properly often, also its not that directly responsive coz of this. straps coverage peels off adter 14 days of riding, but romes warranty is so awesome they send me new ones( its still just a cosmetic issue). also with time the gel in straps loses in volume and straps become thinner and harder. i wasnt happy bout that. ratchets are good but on ice days fail sometimes.

Still the biding is well made and has aq uality finish. i tested ride rodeo and it felt much more responsive, i felt more connected to the board and i liked it overall more except 4 the ratchets which were fucked up and rly uncomfortable.

ill give it 4 stars.

---
If you can't buy through the links above, you can support the site with: