Nidecker Kaon-X 2023-2024 Snowboard Binding Review
Where To Buy
80% of outdoor sports products are not listed or sold online.
Our team has relationships with hundreds of local snowboarding and outdoor sports shops.
We'll call the shops and email you a list of stores along with pricing and availability.
---
Not sure what to buy?
Get custom advice from Good Ride editors James and Steph.

Get Advice
Nidecker Kaon-X 2024 - 2023 Review by The Good Ride
Nidecker Kaon X Snowboard Binding Video and Written Review
Thanks for coming to the Nidecker Kaon X Snowboard Binding Review from an average rider with exceptional gear expertise.
Turn Ons/Swipe Right: Smooth symmetrical response.
Turn Offs/Swipe Left: Very limited adjustability.
Summary
The Nidecker Kaon X has limited adjustability but everything else about this binding I really like at this price point. You get a smooth symmetrical response, supportive ankle straps, soft but responsive high backs and a good all around ride.
Ethics Statement: We don't get paid by the manufacturer to write these reviews. We do make money from the "Where To Buy" links, but this is our best attempt at an honest and objective review from an average riders' perspective.
 A Breakdown of how it rides and who it is for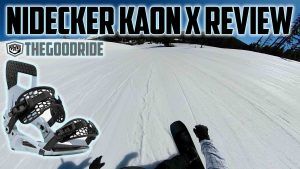 How This Review Happened:  Borrowed this for an extended demo and sent it back.
Days:15+
Conditions: Everything from good powder to variable spring groomers.
Riders:  James (Size 9, 5'10" 185-190lbs)
Boots: Burton Kendo, Nidecker Rift BOA, ThirtyTwo TM-3XD
Insoles: Footprint Insole Technology Gamechangers
Boards: Nidecker Mellow, YES Optimistic, Nidecker Thruster, Nidecker Escape, Nidecker Escape Plus and others.
Similar (but not the same) Bindings: Union Atlas, Union Force, Union Strata, Union Ultra, Burton Cartel, Burton Mission, Burton Malavita, Salomon Hologram, Salomon District, Nitro Team Pro, Nitro Team, Rome Katana, Rome Vice, Rome DOD, Rome 390 Boss, Nidecker Kaon Plus
How It Was Tested
I rode these bindings a lot on many different boards but how I got the most out of this test was to do a same day sampler with the Union Atlas and Kaon Plus to really see how this rides.
Weight
2.0 lbs
Highback Flex

The Nidecker Kaon x has is a little stiffer than the Kaon Plus but still really mellow. It's a great binding if you hate calf bite but still want pretty good response.
Flex Underfoot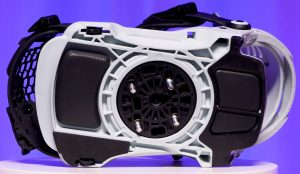 Both the Nidecker Kaon X and Kaon Plus had a pretty decent flex underfoot. I thought it would feel more dead but it surprised me. It's no Burton Re:Flex or Union Mini Disc but very doable.
Turn Initiation/Response
The Nidecker Kaon x had good mid tier response that can work with a wide variety of boards. I never felt under gunned on any board I put these on.
Shock Absorption/Dampness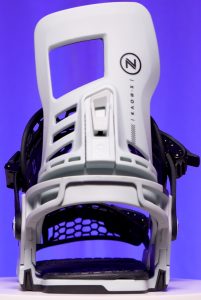 The Nidecker Kaon x is pretty damp for this price point. It doesn't look like it would have good shock absorption either but it's not bad. Very far from being a fatiguing ride.
Boot Support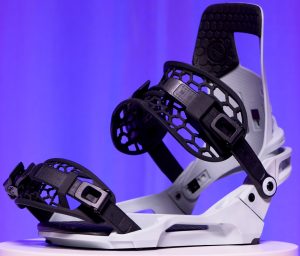 I liked the way the ankle strap on the Kaon X supported me and it was a good bit better than the Kaon Plus. It was right there or even a touch better than my Union Atlas. The toe strap is a little too soft in the middle and I had to keep cranking more than I would like.
Ratchets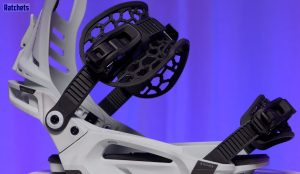 Very smooth. Nothing exceptional but nothing that called to my attention either.
Adjustability
Not much adjustability happening with the Nidecker Kaon x. Most will have to turn the discs heel to toe to get their boot centered on the board. That means most won't be able to adjust their stance width either. You are at the mercy of the inserts so be careful if you are particular about your stance width.
Conclusion
Other than adjustability, the Nidecker Kaon x is a great binding for the price. It punches way above its weight class and it was by far my favorite binding in Nideckers line. I was quite surprised with the $229 Price tag. I would have guessed closer to $300.
If this review helped, we'd appreciate if you:
Nidecker Kaon-X User Reviews
If you can't buy through the links above, you can support the site with: