Flux DS Review And Buying Advice
Where To Buy
No obligation, but these links & ads support the site.
Flux DS 2016 - 2014 Review by The Good Ride
Turn Ons/Swipe Right: Excellent Straps, Ratchets, Boot Support & Response for the flex
Turn Offs/Swipe Left: Almost no shock absorption
Summary
The Flux DS Binding has many amazing things going for it except one. Shock absorption. If you can get past that then this will work.
Ethics Statement: We don't get paid by the manufacturer to write these reviews.  We do make money from the "Where To Buy" links, but this is our best attempt at an honest and objective review from an average riders' perspective.
Flux DS Snowboard Binding Review- How it rides and who it is for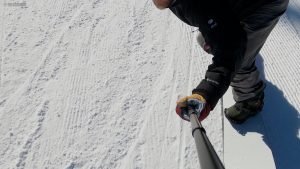 How This Review Happened:  We borrowed this for an extended demo and then returned it.
Days: 4
Riders:  James (Size 9, 5'10" 185-190lbs), Peter (Size 8, 5'11" 185lbs)
Boots: Adidas Tactical ADV, Adidas Acerra 3ST
Insoles: Sandsole Custom Insoles, Footprint Insole Technology Gamechangers,
Boards: Korua Dart, Korua Pencil, Korua Café Racer, Endeavor Pioneer
Similar (but not the same) Bindings: Union Atlas, Union Strata, Burton Cartel, Burton Malavita, Salomon Hologram, Nitro Team Pro, Nitro Team, Now Drive, Now Pilot
Approximate Weight
1.8lbs- These are very light and you feel it.
Highback Flex
The Flux DS has a very easy highback flex and it is cool to see a binding be this responsive with such a mellow medium to medium soft flex. There is an easy twist to it as well.
Binding to Boot Adjustability
The Flux DS has all the tooless adjustability you would want along with good forward lean and highback rotation. You can slide out the heel plate and gas pedal to fit the length of your boots footprint. You can't center your boot in the binding though with the fixed heel loop.
Stance Width Adjustability
Because you can't center the boot well in the Flux DS you might not be able to turn the discs sideways to slide the bindings tip to tail to get your perfect stance width.
Boot Support
Boot support is excellent with the Flux DS. They attach their ankle strap on the inside of the heel loop where most do it on the outside. This makes for a really snug wrap around your ankle. On top of that the straps are practically perfect. They conform to just about any boot and these are arguably the best toe straps in the industry. All that being said these aren't the most supportive straps in Flux's line and they allow for some freedom of movement for those that live a mountain freestyle lifestyle.
Ratchet System
The ratchets are top notch and work perfectly right out of the box. They are right there with my Union ratchets and better than the Burton ratchets we have recently tried.
Turn Initiation/Response
You get a lot more response with the DS than you would think by tooling around with them in the shop. They are very responsive and felt right there with our Union Atlas. Those are pretty responsive bindings.
Flex Under Foot/Buttering
There is better flex underfoot with the Flux DS than you would think for such a hard bottom. They do their best to minimize contact after the disc and you can see the sides curve up immediately. It allows the board to butter pretty easy. If you want the board to feel less flexy/buttery/more damp you can put some stoppers in on each side of the heel of the base plate.
Shock Absorption/Dampness
So this is the price you pay for all that response with the Flux DS. You have literally no shock absorption and you feel it. When conditions turn the person on Flux will be the first to want to go in. We felt everything happening underfoot when riding and we didn't like that at all. At the end of a day of testing the DS our joints hurt. To me there isn't enough fish oil and CBD to keep me riding these things. I really wish Flux would make just one binding with some shock absorption but they are unapologetically all about response and it's clear they don't care about shock absorption or a damp ride. Don't ever land flat with these Flux DS. You have to ride perfect the rest of your life and land everything perfectly.
So in conclusion we couldn't get past the absence of shock absorption. If you can get past it the rest of this binding is pretty special.
Flux DS Past Reviews

The Flux DS is a binding that offers up a lot more response than you would think for its flex.  It's right there with many bindings that have a medium flex and it works with a pretty wide variety of boards from easy turning to even ones that are borderline challenging.

Ethics Statement: We don't get paid by the manufacturer to write these reviews.  No one is perfect and we do make money from the "Where To Buy" links below, but this is our best attempt at an honest and objective review from an average riders' perspective.

For the 2016 Flux DS the big change is the ankle straps are thinner and lighter and we actually like them just as much as the old straps.
The 2015 Flux DS only has some minor changes highlighted here. We like the new toe strap. It looked like it might not grip as well as the 2014 but it does.
2014 and 2015 Flux DS Review
Days: 20+
Riders: James, Peter, Lee, Jimbo, Eli, Kyle, Mary and a few others.
Boots: Burton Imperial, Burton Hail, Burton Ion, Burton SLX, Nike Lunarendor, Nike Kaiju, DC Judge, Burton Ambush, Salomon Synapse,
Boards: Jones Mountain Twin, Yes Greats, Rossignol One Magtek Never Summer Proto, Never Summer Cobra, Lib Tech TRS, Lib Tech Lando Phoenix, Lib Tech Hot Knife, Arbor Coda, Gnu Space Case,Yes Jackpot
Size Medium Weight: 3.8lbs (2014)
Flex: It's got a soft to medium/soft flex that can offer up a pretty tweakable feel but it also offers good support. It's a very comfortable but responsive high back that allows most boots to conform to it rather well. It's also very light.
Adjustability: This is a very easy binding to adjust. You can adjust the toe ramp as well as the heel which some really like. Also everything but the disc is tooless and it's pretty easy to adjust on the fly if your fingers stay warm and dexterous.
Comfort: Increadibly comfortable. We are big fans of how Flux can wrap so comfortably around your ankle and toe. Your boot also conforms well to the binding to make a great boot-binding-board interface.
Turn Initiation: Really solid response for a soft flexing board. Flux knows what they are doing when it comes to making a board turn easy. Even with the older DS30 we had some time on some aggressive all mountain freestyle boards that usually require a little more in a binding and we had no problem turning it. This should be the same with the New DS. It had no problem turning the moderate flexing Jones Mountain Twin and Rossignol One Magtek. It even felt like there was a little more left in there for more challenging turning boards.
Buttering: So the base plate has rounded up sides, a large strong ankle strap and a little hook like extension in the high back that makes for a better flex lengthwise for butters and such but it just didn't have the magic that some bindings with a reduced dead spot have. It still has a lot of contact with the board directly under foot. Still it does a great job for what it has and helps you butter rather well. It would be great to see them work on ways to get less contact directly under foot but it still gets your board to flex rather well underfoot.
Boot Support: Super locked in. The ankle strap really clamps down in a good way on your boot without any real pressure. We like this larger asymmetrical ankle strap and how it locks in the boot. The toe strap does a great job as well. Also the lack of a lot of shock absorption in the heel helps the boot stay in place. This is a good and bad thing.
Ratchet System: Excellent ratchet system. It hasn't caused one problem with us in our testing and our history with Flux's ratchet system is a good one.
Shock Absorption: So to continue on from Boot support the good is the binding really holds the boot into place but the bad is the heel has little shock absorption. You can feel the difference for sure between this binding and others with a good amount of soft stuff under the heel. I'd love to see them turn the heel plate into a soft urethane with a little EVA so it is still adjustable but much more damp. It would complete this ride and with the great ankle strap placement on the inside of the heel loop it would still lock in your boot.
Flux DS User Reviews
---
---
Flux DS Review And Buying Advice
SKU
UPC
Model
2016 Flux DS, super responsive
Oct 27, 2015
by
Danny
Ability Level: Advanced •
Riding Style: Agg •
Days You Ride A Year: 30-60
I was a bit hesitating buying the Flux DS, because it is considered a softer binding for more medium to soft flexing boards. And I understand why. The binding gives so much response, so your "washy" rocker board does a much better job at holding an edge and going the direction you want to. My old binding was a Burton Malavita and i was looking for a binding with a softer highback to grab more easily. Well there are softer highbacks out there. You still get lots of power into your turns with the DS. Compared to the Malavita, the DS has much more response and it's got an even lighter weight. I paired it with a DC MediaBlitz and it is an amazing combo.
So you can sure pair these with aggressive and stiffer boards. If you are looking for great response and comfort, this is the goto-binding. The only negative thing would be the price. I live in Europe and the price is at 315€ !!!

---
Hits the mark for most riders
Apr 13, 2015
by
Lux.x
Ability Level: Advanced •
Riding Style: Aggressive everything •
Days You Ride A Year: 30
Please note that there have been some important changes over the years that The Good Ride has not touched on. When Flux changed to the new nomenclature for 2014, the new DS also underwent an evolution. Changes over the outgoing DS30 include: size-specific glassing content (different rigidity), new winged highback is stiffer with much less torsional give, Ultima baseplate mould is modified with stronger heel and side rails than the old Alpha baseplate, ankle strap is slightly larger and now has a more pronounced taper. Altogether, this is an excellent binding for those who cruise the mountain or lap the park with a medium-flexing board. The updated 2015 toe strap now fits boots better; there was an issue in 2014 and earlier where it could not conform to the blunted toe box of some older boots. For park riders, the 2014+ DS is an excellent match for a Capita DoA and DC Ply-- I strongly recommend this combination. The older models had a highback that was too sluggish to move a whippy jump deck. The current highback is more medium flexing than the previous soft rating if you size appropriately (large is stiffer). Even with the firmer highback, tweaking a grab is no problem, but if you want to two-hand a tailgrab or sit DEEP in the back seat for a butter, I suggest the more pliable Flux TT and RK for that. Some people complain about shock absorption, but that should be addressed with a quality boot.. Burton and Nike, in particular, make very good boots for this. As per typical Flux, adjustability and comfort are absolutely second-to-none. Ratchets tighten and release with low effort.

---
2014 Flux DS
Jan 24, 2015
by
Jason
Ability Level: Expert •
Riding Style: Everything •
Days You Ride A Year: 25+
TGR review is spot on. The only thing I have to add is that the lack of shock absorption in the heel has not been an issue for me at all. And that's on an Arbor Westmark that's NOT damp. That said, I'm using Lunarendors, which have great cushioning. Anyway, great bindings. My first pair of Flux bindings and I'm impressed.

---
If you can't buy through the links above, you can support the site with: