Flow NX2-TM 2023 Snowboard Binding Review
Where To Buy
No obligation, but these links & ads support the site.
Flow NX2-TM 2023 Review by The Good Ride
Turn Ons/Swipe Right: Great board feel. Great shock absorption and dampness. Unique surf/skate like feel.
Turn Offs/Swipe Left: Very Limmited Adjustability. Not as easy in/out as Supermatics, Step On's and Clew's. Limited ankle support.
Summary
The Flow NX2-TM isn't as fast as the new wave of quick release but has better shock absorption, dampness and feel underfoot.
Ethics Statement: We don't get paid by the manufacturer to write these reviews.  We do make money from the "Where To Buy" links, but this is our best attempt at an honest and objective review from an average riders' perspective.
Flow NX2-TM Binding Review- How it rides and who it is for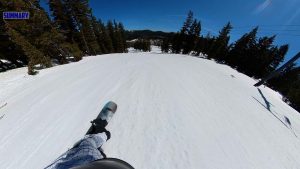 How This Review Happened:  Borrowed this for an extended demo and sent it back. 1 day demo. A few laps at a demo. Liked it so much, asked to keep it (only do this with favorites).  Liked it so much we bought it.  Precious Good Ride dollars were spent to buy this and review it.
Days: 2
Conditions:    and an early morning slackountry time with Drift Boards & Union Rovers
Riders:  James (Size 9, 5'10" 185-190lbs)
Boots: Burton Kendo,
Insoles: Footprint Insole Technology Gamechangers
Boards: Yes Optimistic, Nidecker Mellow
Boots: Burton Kendo
Insoles: F.I.T. Gamechangers
Jacket: Burton AK Gore-Tex Pro 3L Tusk Jacket
Pant: Burton AK Gore-Tex 2L Swash Pant, Burton Gore-Tex Ballast Pant
Helmet: Smith Maze
Goggle: Smith 4D Mag
Gloves: Burton AK Clutch Mitt, Burton AK Clutch Glove, Burton AK Tech Leather Glove,
Similar (but not the same) Binding: Union Strata, Union Ultra, Burton Cartel, Burton Mission, Burton Malavita, Salomon Hologram, Salomon District, Nitro Team Pro, Nitro Team, Now Pilot, Now Select, Now IPO, Rome Katana, Rome Vice, Rome DOD, Rome 390 Boss,
How It Was Tested
I rode these solo and then in a same day sampler with the Flow Fenix, Flow NX2-Carbon and Union Atlas. On the next day I took out the same board with same boots and rode the Nidecker Supermatic and Clew. I also rode the Step On's with a different boot, the Burton Photon instead of the Burton Kendo's
Weight
2.2Lbs which is pretty normal for many bindings.
Highback Flex
The highback of the Flow NX2-TM is pretty stiff in the middle where the quick release lever is but a good bit softer on the sides. So going straight back is pretty responsive but you still have some give on the sides so it isn't a really locked in dead feel.
Flex Underfoot
The Flow NX2-TM has an excellent flex underfoot. Flow did a lot to make sure boards flex underfoot well by minimizing full contact with most parts of the binding except for the disc. It butters really well and the board doesn't feel dead underfoot.
Turn Initiation/Response
So the Flow NX2-TM has a little lopsided response. The heel side seems a little faster than the toe side. I think it's mainly because the Fusion strap sits lower on your ankle than most straps. I personally prefer the Hybrid straps but many will like the Fusion if they want a more surf/skate feel that minimizes restriction around the ankle.
Shock Absorption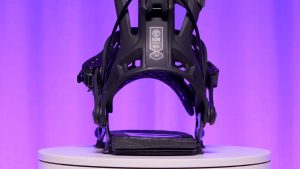 The Flow NX2-TM has excellent shock absorption and a lot of damness too. Its up there with some of the best in the business like NOW, Jones and Rome. There is a ton of medium stiffness EVA foam and a good bit of rubber on the base plate. It is equally great at slow speed shock absorption and high speed dampness.
Boot Support
Not that much with the Fusion strap. If you want more support go with the Flow NX2-TM Hybrid Strap option. That sits higher on your ankle and gives more support. Especially in uneven snow.
Adjustability
Not much. Can't adjust the heel loop, can't adjust the gas pedal, can't rotate the high backs. Because you can't customize the Flow NX2-TM to fit your boot most on the upper or lower end of the sizing spectrum can't turn the discs sideways and get any stance width adjustability. This is a common problem with all quick release bindings. It's hard to add adjustability with all the quick release parts they have to put in.
Quick Release
And speaking of quick release this isn't the easiest in and out compared to the Nidecker Supermatic, Clew Freedom 1.0 and Burton Step On's I've tried. Probably the same for the K2 Clicker but haven't tried those so hard to say. They are faster than regular bindings but I don't like reaching around behind the high back to flip the lever up to go. I don't like flipping the lever of the Flow NX2-TM to step out either. What I do like though is the feel underfoot, shock absorption and dampness vs. all the quick release bindings.
Conclusion
So Flow isn't the fastest on and off anymore and never had adjustability but no quick release binding does. So it comes down to feel underfoot, shock absorption and dampness. If this is important to you in a mid flexing binding it's worth it to have a little slower on and off. It is still faster than traditional bindings though.
Flow NX2-TM Images

We try to get as many images of the Flow NX2-TM, but forgive us if they're not all there.
2023
If you can't buy through the links above, you can support the site with: