Burton Malavita Re:Flex 2011-2023 Snowboard Binding Review
Where To Buy
No obligation, but these links & ads support the site.
Burton Malavita Re:Flex 2023 - 2011 Review by The Good Ride
Burton Malavita Re:Flex 2021-2023 Snowboard Binding Video and Written Review
Welcome to the Burton Malavita Re:Flex Snowboard Binding Review from average but objective rider's that have tried hundreds of bindings.
Update 2023: The Burton Malavita Re:Flex has changed very little from the 2021 to 2023 models so this review still stands. The only major change is the price increase. 
Turn Ons/Swipe Right: Super easy to butter/great flex underfoot. Nice smooth response. Great Ankle strap. Excellent high back rotation.
Turn Offs/Swipe Left: No stance width adjustability with non-Burton Channel System boards. Toe Strap and Toe Strap Ratchet a bit glitchy.
Summary
The Burton Malavita Re:Flex has a stiffer high back than the Cartel or Genesis but it still has more freedom of movement with the more asymmetrical ankle strap. 
Ethics Statement: We don't get paid by the manufacturer to write these reviews.  We do make money from the "Where To Buy" links, but this is our best attempt at an honest and objective review from an average riders' perspective.
A Breakdown of How this binding rides and who it is for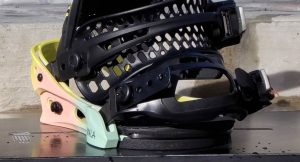 How This Review Happened:  We had a couple of laps at a frantic manic demo day but it hasn't changed and we have ridden this design several times before.
Days: 1
Riders:  James (Size 9, 5'10" 185-190lbs), Peter (Size 8, 5'11" 185lbs), Jimbo (Size 11, 5'11" 160lbs)
Boots: Adidas Tactical ADV
Insoles: Sandsole Custom Insoles, Footprint Insole Technology Gamechangers, Footprint Insole Technology Gameghangers Low Profile
Boards: Burton Straight Chuter (review coming)
Similar (but not the same) Bindings: Union Strata, Union Contact Pro/Union Superpro, Burton Cartel, Salomon Hologram, Salomon District, Nitro Team Pro, Nitro Team, Now Drive, Now Pilot
Approximate Weight
Pretty light. All Burton bindings are pretty light and the Burton Malavita Re:Flex is no exception. Feels lighter than the EST too.
Highback Flex
So the Burton Malavita Re:Flex has a stiffer high back than our favorite, the Cartel but they still have very similar response. So if you like the response of the Cartel but just like a stiffer high back then the Malavita could work here.
Binding to Boot Adjustability
The adjustable Gas Pedal helps the Burton Malavita Re:Flex match up well to your toes/boot but you only have 3 options a few mm apart to center the boot on the board properly. This means you could have more overhang on one side vs. the other and turning might be lopsided. The rest of the bindings adjustability is pretty solid. We love the high back rotattion as it really helps you line up your highback to the heel side edge and it reduces calf bite. You have tooless adjustability for toe strap, ankle strap and forward lean.
Stance Width Adjustability
None for a non-Burton Channel board. So if you have Endeavor, Burton or some Signal boards this will have infinite stance width adjustability. However if you have a board from the other 95% of the industry you have none. You will have to set these up according to where the inserts are placed on your board.
Boot Support
There is pretty good boot support with the Burton Malavita Re:Flex ankle strap while still having really good freedom of movement. The toe strap has issues though. It was hard for all of us to get the toe strap to fit the toes of our boots. It took more effort to line it up than we would like.
Ratchet System
The ankle strap ratchet system is fine enough but if you crank your ankle tight then you might not like it. We all don't crank the ankle strap because we like our feet to not hurt and want them to work throughout our lives. However the toe strap ratchet is a problem for us because we crank that down hard since there are no pressure points. It is a great way to keep the boot firm in the highback/heel loop without hurting yourself. This isn't just a problem with the Burton Malavita Re:Flex. It seems to be consistent with all Burton demo bindings we tried. Maybe it will be different in production but we can't say for sure.
Turn Initiation/Response
Very smooth medium response that matches well with many boards. Many Burton boards are milled out a bit underfoot so they react to bindings like the Burton Malavita Re:Flex a little better. For most boards you will find that the Malavita has a very smooth consistent response throughout a turn.
Flex Under Foot/Buttering
The Burton Malavita Re:Flex is a great binding for buttering. Re:Flex tech is exceptional when it comes for letting a board flex where there is usually a dead spot. It makes most boards feel softer. They used to have one variation in the offering that had a little wing coming out on the highback that would give you even more leverage. However, it looks like it is gone this year. Instead you can get a larger faux leather ankle strap that might help a bit with response.
Shock Absorption/Dampness
Even though most boards feel softer underfoot with the Burton Malavita Re:Flex, they have a very cush foot bed. It absorbs shock really well.
So for us, we like the overall feel of the Cartel a little better but the Malavita Re:Flex is no slouch by any means. It all depends on personal preference and a lot of people love the Malavita Re:Flex over the Cartel. Even with the toe strap issues it is still a recommendable binding because Burton has truly excellent customer service.
If this

Burton Malavita Re:Flex

review helped, we'd appreciate if you:
Burton Malavita Re:Flex Past Reviews

The Burton Malavita Re:Flex has a similar turn initiation to the Cartel and Genesis but it's got its own personality that could draw you into this as your binding.  As you can see in the 2019 vid you can also get a big old winged high back to leverage more buttering power than all other Burton bindings.  I really like these bindings but prefer Cartels more.  Peter likes the Malavita's just as much if not more than the Cartels.  Jimbo loved them both and Tim favors the Cartel's more flexy high back better due to his girthy calves. So it really comes down to ankle strap and high back preference and there is no bad choice.

The 2016-2019 Burton Malavitas have a thinner ankle strap giving you good support where you need it but also better freedom of movement as well.  It's a very easy binding to butter with and especially so if you get the winged high back version. The 2019 Burton Malavita has a new toe strap that's the best we have ever seen from Burton.  It fits so much better around your boot than the older toe straps.

Ethics Statement: We don't get paid by the manufacturer to write these reviews.  No one is perfect and we do make money from the "Where To Buy" links below, but this is our best attempt at an honest and objective review from an average riders' perspective.
2014 – 2019 Burton Malavita Snowboard Binding Review
Days: 15+
Riders: James, Tim, Peter, Kyle, Jimbo, Eli, Mary,
Boots: Adidas Tactical ADV, Burton Ion, Burton SLX, Burton Imperial, Nike Kaiju, DC Judge,  Nike Zoom Ites, Burton Ambush, Burton Hail, Burton Ruler,
Boards: Burton Free Thinker, Burton Kilroy Process, Rome Agent Rocker, Gnu Riders Choice, Gnu Space Case, and many other boards.
Weight: 4.0lbs
Highback Flex: It's a pretty stiff high back compared to the Cartel and Genesis but it doesn't' seem like it has a lot of snap in it like many high backs this stiff.  Seems like it's there to offer more support while still keeping the response pretty smooth.
Boot Adjustability: All Bindings in Burton's line are pretty good when it comes to dialing out your boot to fit well and the Burton Malavita is no exception.  It's mostly tool-less so that's a bonus for on the fly adjustability and there is a toe ramp/gas pedal that can slide in or out to center the boot well. Unlike some bindings, there isn't an adjustable heel loop so you can better center your boot because sometimes the toe ramp isn't enough if you are on the bigger or smaller side of the suggested sizes.  For example, some of my friends that are a size 10.5 are a little off in the size Medium and are too small for the size large Burton Malivita. On the positive, though you can adjust the ankle strap angle where many can't and it's one of the best when it comes to rotating your high back.
Stance Width Adjustability: If you aren't on a Channel System board made primarily by Burton at the time of writing this there is no stance width adjustability.  So if you need to center your stance on a 4 hole board and prefer a certain stance width you might be out of luck. You can call Burton Customer Service (One of the best in the Industry) and they might have the discs that can adjust 5mm towards the nose or 5mm towards the tail to help get the right stance width but it's not guaranteed that they have them.
Comfort: Very comfortable and it integrates well with many different boots. Tim mentioned that if you have big ass calves as he does, you might not like the winged high back.  For me, the one shining thing on the Malavita is the ankle strap and I'd love to take this strap and put it on the Cartel and Genesis.  It feels a little more comfortable and doesn't seem to sacrifice too much response.
Boot Support: Very good support while still allowing a little more freedom of movement than the Cartel and Genesis.
Turn Initiation: The Malavitas are pretty close to the Cartel's and Genesis when it comes to response.  Even though the high back is stiffer they don't seem to bump up the response but it's all really close.
Buttering: The Burton Malavita is really solid for buttering and there is a good amount of natural flex from tip to tail.  There is a little extra leverage with the large outer part of the asymmetrical ankle strap and a shit ton more with the winged high back version. If you want some of the best buttering power the winged high back version is the call.
Ratchet System:  Like all high-end Burton bindings the Burton Malavita ratchet system is excellent. It's so smooth and easy and the new double-sided ratchet system is pretty amazing.
Shock Absorption: The Burton Malavita is good as it gets for absorbing shock.  Your body feels less of the snow below you. With a good board, it should create a nice barrier between you and the snow.  We personally like this better than the EST Version.
So all in all the Malavita has a ton of buttering power, great straps and definitely offers up that same smooth turn initiation you expect from Burton while still having its own personality compared to the Cartel and Genesis.
The 2016 Burton Malavita has some changes to the toe and ankle strap. The ankle strap keeps an asymmetrical like shape as the old model but uses the material of the Genesis ankle strap.  So it's got a really good feel to it that I like better than the older strap.  It doesn't really change the ride too much but I definitely prefer this strap over the old strap.  The toe strap sucked at the demos and the rubber was too stiff to really conform around the toe. However, the production model's rubber is much softer and it really wraps around the toe.  I'd like to see a little less rubber on the sides as it really extends out down towards the sole of the boot when cranked properly down. So while I loved the new ankle strap I was a bit ambivalent to the toe strap.  I think it grips a little better than the older one but I'm not totally in love with it like I am with the ankle strap. So other than the improved feel with the straps the ride is very similar to the 15 and 14 models
The 2014-2019 Burton Malavita have better response edge to edge than the 2013 model. The 2014 and 2015 are very similar except for a few minor tweaks. For example, the 2015 has an ankle and toe strap that folds out easy so it's easier to get your boots in the binding.  It's also got the newer ratchet system that is even better/faster than the older system.
The 2014 Burton Malavita and up offers more edge to edge response and it gets you closer to bindings like the Cartel. This is a good improvement and it's still a smooth feel. The 2014 Burton Malivita bumped the rating up from average to good making it work with boards that require a little more work edge to edge. It's still best with more freestyle focused boards but now it has a little more snap edge to edge. Even though the high back is pretty stiff it just doesn't feel that snappy or as responsive as it's flex.
The Burton Malativa 2013-2011 is one of the better high-End to freestyle bindings out there for softer flexing/easier turning boards.  It's about as close as a 4 hole binding can come to est and a makes the board flex easier length wise.  Many people think this is an all mountain binding but it isn't.  It makes freestyle boards better but doesn't have the same response as the Burton Cartel Limited, Burton Cartel or Burton Genesis.
The 2013 and below Burton Malavita's response doesn't match the flex.  We find this becomes more challenging edge to edge when the boards get stiffer.  With a softer flex these bindings own it but when the flex get's into the medium side of things the response becomes a little more sluggish edge to edge.
2013 Burton Malavita Re:Flex
So things changed this year with the Malavita Re:Flex and it's a huge improvement over the past models. The new base plate stepped up re-flex technology to a new level making the feel under foot the same or very close to how an est binding rides. The Malavita is still not as responsive edge to edge as the Cartel Line but it's a little better than last years.  The tip to tail flex is much better and a huge improvement over the 2012 model.
2012 Malavita Re:Flex
The Malavita Re:Flex and Restricted Malavita Re:Flex is a pretty awesome binding but they are missing "The Hinge" Tech that makes even lifeless boards have some pop. Still the Malavita Re:Flex models will add more flex underfoot and definitely improve the ride of any 2, 3 or 4 hole board out there. We found the Malavita to be a great freestyle binding and it is one of the better bindings for softer flexing boards out there.
Regarding Re:Flex Tech: Re:Flex Tech really changes the way the board rides for the better but it has one minor issue that should be addressed.  Most 4 hole Discs can be aligned tip to tail or heel to toe but the Re:Flex Disc can only be aligned heel to toe. This isn't a big deal because most align heel to toe but some like to turn their discs sideways to reduce or increase their stance width to a size that the binding holes won't allow. If you do this make sure your board has the stance width you desire.
The 2011 Malavita Disc
We tried the EST and Non-EST bindings. Although the EST definitely has better flex under foot the choice for us was the regular Malavita so we can ride other boards. We'll be looking forward to the upgrade to Re:Flex tech which should happen in 2012. The Malavita feels very much like the Burton Cartel but has a bit more of a freestyle ride. You get a good amount of support if you decide to ride around the mountain at higher speeds but we still like other Burton bindings better for this. You do get a great response for a freestyle binding. The high back is unique looking and also does a good job giving you extra control when you are leaning out of the binding. That being said it has a similar flex to the Cartel. We love the asymmetrical ankle strap and feel it really helps you get a good tip-tail flex out of any board that you want to. The Malavita is very comfortable as any high-end Burton binding. They also made a very comfortable heel pocket that has excellent shock absorption. Instead of a hard plastic/fiberglass plate around the ankle, it has a rubber-like bottom that has EVA foam and gel on top of it so it allows more flex with the binding and more comfort. The Adjust-ability for both bindings is the same as every Burton binding which is excellent. We have to say we'd like to see every binding have the ability to adjust the high back angle like Burton allows with all bindings. The toe straps have also improved a lot over last year. The 2010 toe straps had a lot of complaints of coming loose and being hard to adjust. They just didn't seem to grip the toe very well compared to previous toe straps and this was not like Burton to release something like this to the public. This year they were fixed and do a great job as e the old 2009 bindings did. There aren't many bindings that have the ability to flex a board laterally like these. So if you are looking for a bit more freestyle board control than the Cartel then this is a good choice.
Burton Malavita Re:Flex Images

We try to get as many images of the Burton Malavita Re:Flex , but forgive us if they're not all there.
2019
2018
2017
2016
2015
2014
2013
2012
2011
Burton Malavita Re:Flex User Reviews
---
---
Burton Malavita Re:Flex 2011-2023 Snowboard Binding Review
SKU
UPC
Model
2018 Malavita
Apr 06, 2019
by
Arthur
Ability Level: Intermediate •
Riding Style: Freeride •
Days You Ride A Year: 20 •
Height, Weight And Boot Size (for Boards, Boots & Bindings): Boots 9.5, Bindings size M
Got this 2018 model, if you are looking to get those then there are couple off things you should notice:
Burton Mission and Malavita are more wide than the Cartel model so if you have boots from Vans or DC, etc, those boots sometimes wider than Burton and, thus, those bindings should work great.
The Malavita model has more padded highback than the Cartel, in theory this will better conserve your boots.
When comparing the Malavita with the Cartl's, I found that the ratchets on the Malavita model looks and feels more sturdy.

---
2014 Navy Port (winged highback)
Sep 12, 2014
by
Jorge
Ability Level: Advanced •
Riding Style: Freeride - All Mountain Freestyle •
Days You Ride A Year: 20-30
Bought with the intention to pair with a 2013 Salomon Sabotage 154, they are an excellent match for this board. Straps are super comfortable - these are my first pair of Burton bindings and I am sold on the adjustability. I am comfortable buying Burton bindings without trying them out with my boots first now because you can just about change anything you please.
For kicks, I put them on my 2011 Libtech Lando Phoenix 157W, which is still a somewhat stiff board that requires some concentration to turn properly and to my delight they handled the board really quite well, definitely capable of bending that board from tip to tail - but I'll probably keep a stiffer binding on that board.
Overall, this binding will probably be used more than my other bindings as it is nice and mellow but can still step up when you ask more from it - very happy with it.

---
If you can't buy through the links above, you can support the site with: