Burton Genesis EST 2013-2022 Snowboard Binding Review
Where To Buy
No obligation, but these links & ads support the site.
Where To Buy
80% of outdoor sports products are not listed or sold online.
Our team has relationships with hundreds of local snowboarding and outdoor sports shops.
We'll call the shops and email you a list of stores along with pricing and availability.
---
Not sure what to buy?
Get custom advice from Good Ride editors James and Steph.

Get Advice
Burton Genesis EST 2022 - 2013 Review by The Good Ride
Turn Ons/Swipe Right: Makes your board pop better on an ollie. Amazing flex underfoot and butterability.
Turn Offs/Swipe Left: Only works with Burton Channel boards which is 2.5 companies we know of. Toe strap ratchet has issues. Toe strap doesn't fit as well over the boot as well as others in the industry.
Summary
The Burton Genesis EST has amazing board feel with Burton Channel System boards. However the toe strap ratchets are glitchy and these don't work with all but 3 board builders we know of. If you only ride Burton Channel system boards from Burton, Endeavor and some Signal boards you might like the additional pop you get from the hinge tech and the smooth damp response from the unique footbed. For everyone else we recommend going with Re:Flex so you can ride the rest of the boards the industry has to offer.
Ethics Statement: We don't get paid by the manufacturer to write these reviews.  We do make money from the "Where To Buy" links, but this is our best attempt at an honest and objective review from an average riders' perspective.
Burton Genesis 2021-2022 Snowboard Binding Review- How it rides and who it is for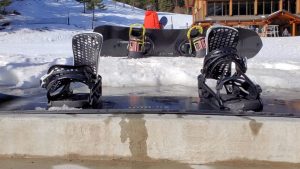 How This Review Happened:  We had a couple of laps at a frantic manic demo day but we have ridden this model many times before.
Days:  1 but many before
Riders:  James (Size 9, 5'10" 185-190lbs), Peter (Size 8, 5'11" 185lbs), Jimbo (Size 11, 5'11" 160lbs)
Boots: Adidas Tactical ADV
Insoles: Sandsole Custom Insoles, Footprint Insole Technology Gamechangers, Footprint Insole Technology Gameghangers Low Profile
Boards: Burton Hometown Hero
Similar (but not the same) Bindings: Union Atlas, Union Strata, Union Force, Burton Cartel, Burton Malavita, Salomon Hologram, Nitro Team Pro, Nitro Team, Now Drive, Now Pilot
Approximate Weight
Burton makes a light binding without it being too chattery. We haven't weighed it but it feels like the Re:Flex is a little lighter. Both are really light though.
Highback Flex
The Burton Genesis EST has a unique high back in the industry that has a really cool feel. There is a medium to medium stiff high back but it has a really soft inner second high back they call Kick Back Hammock. First off it eliminates calf bite with most riders. Second it does give you a little bit of a springy feel transitioning from edge to edge that isn't marketing hype. It really works. Third it dampens the ride because there is a little space between the soft Hammock and the hard highback behind it. It is a very unique highback. Some have broken the kick back hammock but if you step in carefully you never will.
Binding to Boot Adjustability
With the Burton Genesis EST there is pretty solid boot to binding adjustability and you can center most boots pretty well on the board. There is great high back rotation. You have the option to adjust the straps with a philips head at home or tooless on the mountain which is super helpful.
Stance Width Adjustability
Infinite! That is a huge advantage going with the channel system. It is very easy to be where you want to be on the board.
Boot Support
If the toe strap fit better and the ratchet system on it held better the Burton Genesis EST would have outstanding boot support. Customer service is really strong at Burton so they will back this problem if it is happening in production.
Ratchet System
The ankle straps seem to be fine with the Burton Genesis EST but the toe straps are glitchy. They don't crank down well which is not good. We love to crank down hard on the toes because there are no pressure points there. Also, it really brings your boot into the heel cup to give it a snug secure fit for better response. Then you don't have to crank down the ankle strap super hard and you can avoid painful pressure points that can cause long term damage to your feet. We cant do this with the new Burton bindings and that can be frustrating. Hopefully they will sort it out and put out a better ladder with the production models compared to the demo's we tried.
Turn Initiation/Response
There is a little more spring in the beginning and end of a turn with the Burton Genesis EST compared to other Burton bindings because of the Kick Back Hammock but it still has an overwhelmingly smooth Burton like response to it. If you like smooth with a little more spring edge to edge this could for sure work.
Flex Under Foot/Buttering
We haven't experienced anything better than EST bindings like the Burton Genesis EST. The board just twists and flexes much easier underfoot. It just really limits your options when choosing a board. We get a lot of flex underfoot with Re:Flex and those work with all boards out there. So our suggestion is to sacrifice a little butterability for a hell of a lot more compatibility.
Shock Absorption/Dampness
The Gel and EVA footbed do a great job at dampening up the ride. We have only found that NOW bindings are more damp and that is only because they only have rubber contact points with the board. They don't have plastic between the footbed and gas pedal though so it can cause arch pressure with softer sole boots.
If this review helped, we'd appreciate if you:
 

Burton Genesis EST Past Reviews

The Burton Genesis EST is a Burton board only binding and to us, it isn't worth it to choose a proprietary binding over the regular Genesis that comes with Re:Flex tech.  There is some added pop when using EST from the hinge tech but not sure if it's worth it these days.

Ethics Statement: We don't get paid by the manufacturer to write these reviews.  No one is perfect and we do make money from the "Where To Buy" links below, but this is our best attempt at an honest and objective review from an average riders' perspective.

The 2014 – 2017 Burton Genesis EST models don't have many differences.  It's the same ride but the straps fold out easier on the 2015 so it's easier to get in and out of.

The 2016 Burton Genesis EST Demo binding had one issue.  The newly designed toe strap didn't wrap around the toe of the boot like previous models.  I just got the production model and the toe straps fit very well so what you buy should be fine.

Days:4+

Riders: James, Peter, Jimbo

The 2014 Burton Genesis EST has a lot of changes but then the 2015 to 2017 kind of stayed very similar in terms of the overall ride.  There are some comfort and ease of use tweaks but overall it's still very much the same bindings from the major upgrade of 2014.

1. It's got a new ankle strap that really conforms to your ankle that we really like.  You can crank it down without that much discomfort.

2. It has a new ratchet system that wasn't up to Burton's usual excellence at the Demo's but they turned it around with the production models. So be a little weary of demo model deals and just stick with the production models. I didn't feel that their ratchet system could be better but this is smoother and easier to put on and off.

So there is one feature here that is unique to any other binding company and even more specific unique to EST bindings only.  It's called hinge tech and it has a very unique feature.  There is a spring hinge at the base of each side of the heel loop at the base. It gives you added ollie power and makes any Burton board you ride ollie higher than a regular binding.

Adjustability: Very adjustable like all Burton bindings. This is one of Burton's best qualities. One of our favorite parts about this and all Burton bindings is the high back rotation is better than almost every other binding out there because you don't have 3 holes to choose from. You have something you can slide back in forth that is more like the equivalent of 5 holes.

Comfort: These ankle straps are some of the best in the business and these are the favorite in our line. The Toe Straps are just like every other Burton Binding and do a pretty good job. The overall feel of the binding is very easy on the feet. For most, it should be pressure point free.

Heel-Toe Response: The regulars offer a pretty good response for such a mellow high back and the EST's are even a little better but just by a little.

Tip-Tail Response: There is a bump up in terms of flex underfoot as well as the ability to butter/press your board easier with these bindings over the regular Genesis.

Approximate Weight– Seems pretty light like all Burton Bindings do.

Ratchet System: Amazing.  One of if not the best.  It's hard to find problems anywhere with the straps.

Shock Absorption–  The footbed you get with this focuses more on board feel than shock absorption.  It's good but it doesn't shield you like the Re:Flex Model. It does allow a little bit more boot support though. If you upgrade (around $30) to the larger 5% canted footbeds you have excellent shock absorption.  It's really great for absorbing hard landings or dealing with shitty tracked out chatter runs.  There is also a 5mm thick footbed option but in our opinion, the one you get with the Genesis is better.
 

Burton Genesis EST Images

We try to get as many images of the Burton Genesis EST, but forgive us if they're not all there.
2021
2019
2018
2016
2015
2014
2013
Burton Genesis EST User Reviews
---
---
Burton Genesis EST 2013-2022 Snowboard Binding Review
SKU
UPC
Model
Bells and whistles mean Jack
Jun 18, 2022 
by
Tim
Ability Level: Intermediate advanced • 
Riding Style: All mountain • 
Days You Ride A Year: 40 • 
Height, Weight And Boot Size (for Boards, Boots & Bindings): 6'3", 200lb, 12w 
I have genesis, malavita, and cartel bindings - reflex and Channel.

The buckles on the double take toe straps are prone to jam in snow. This leaves you stuck and utterly unable to remove binding at all. Which could be quite dangerous I suppose in some cir um stances.

They can also jam open so you can't lock it down making it impossible to safely ride down. Added to this they have a different sized toe from ankle strap so you can't cross that over if you blow one side out...

I've had entry level unions that gave me many seasons of stress free use.

I' upgraded' to these and tried different models believing the marketing bs and reviews that Burton bindings were world leading.

I bought step ons to try out this season but I will never ever ever ever ever ever buy another Burton binding with straps...

I bought some replacement toe buckles as the ones I have are feeling worn out after 40-60 days use, or locking up,. So hopefully I get some use out of them.

My friend is a resort tech. He recommends K2 or union for parts availability. From my experience I would go union if looking for a new binding..

You can't just replace the buckle on the ankle strap.
You have to get left or right ankle straps.
You probable can't get either when your strap fails.
And it will...

Trash gear. Just my opinion though.

---
Genesis EST
Mar 31, 2016 
by
Craig
Ability Level: Advanced 30+ yrs • 
Riding Style: Freeride/powder • 
Days You Ride A Year: 20 • 
Height, Weight And Boot Size (for Boards, Boots & Bindings): 191cm/92kg/US14 
Have these in '15 model after jumping from '12 Vita's for a few seasons and really happy with them. Feel great on and respond well through turns. They're fairly comfortable on for a whole days ridding. The straps and ratchet system are heaps better and bight down hard without slip which sometimes occurred on my older Vita's. Great Binding.

---
If you can't buy through the links above, you can support the site with: