Burton Cartel EST 2010-2023 Snowboard Binding Review
Where To Buy
80% of outdoor sports products are not listed or sold online.
Our team has relationships with hundreds of local snowboarding and outdoor sports shops.
We'll call the shops and email you a list of stores along with pricing and availability.
---
Not sure what to buy?
Get custom advice from Good Ride editors James and Steph.

Get Advice
Burton Cartel EST 2023 - 2010 Review by The Good Ride
Burton Cartel EST 2021-2023 Snowboard Binding Video and Written Review
Here sits the Burton Cartel EST Snowboard Binding Review from average riders with extensive and objective gear experience. 
Update 2023: Very little has changed the last few years since they re-designed the Burton Cartel EST in 2021 so this review still stands. 
Turn Ons/Swipe Right: Smooth, even response with exceptional feel underfoot. Extra Ollie Power isn't marketing BS. Cheaper than past years.
Turn Offs/Swipe Left: Only works with 3 brands including Burton out of hundreds.Toe strap doesn't grip well and the toe ratchets don't always hold.
Summary
The Burton Cartel EST 2021-2023  has a new high back. The toe straps with this, and all other Burton bindings at the demos we attended had some issues It only works with Burton and 2 other channel compatible brands but with them, it works really well.
Ethics Statement: We don't get paid by the manufacturer to write these reviews.  We do make money from the "Where To Buy" links, but this is our best attempt at an honest and objective review from an average riders' perspective.
A Break Down of How it rides and who it is for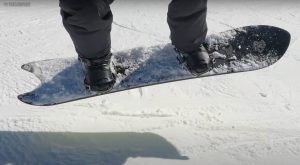 How This Review Happened:  We had a few days on it at the demos.
Days: 2
Riders:  James (Size 9, 5'10" 185-190lbs), Peter (Size 8, 5'11" 185lbs), Jimbo (Size 11, 5'11" 160lbs), Zobel (Size 11.5, 6' 180lbs)
Boots: Adidas Tactical ADV
Insoles: Sandsole Custom Insoles, Footprint Insole Technology Gamechangers, Footprint Insole Technology Gameghangers Low Profile
Boards: Burton Pow Wrench
Similar (but not the same) Bindings: Union Atlas, Union Strata, Union Force, Burton Malavita, Salomon Hologram, Nitro Team Pro, Nitro Team, Now Drive, Now Pilot
Approximate Weight
Feels really light but not chattery so that is really cool.
Highback Flex
The new highback in the Burton Cartel EST seems to be very similar flex wise to the older high back. However it has a more consistent flex throughout where the older one was softer around the cut out. The way the high back is wide and somewhat flat really feels good when rotated properly. It reminds me of the Burton Diode that we really liked from a few years back only much softer.
Binding to Boot Adjustability
EST can really dial out the boot to fit pretty well in the binding. Then the channels on the side of the Burton Cartel EST can slide forwards or backwards to center the boot on board. That is most important but it does rotate the highbacks incredibly well, has easy forward lean adjustment and tooless or Philips head strap adjustment.
Stance Width Adjustability
The best in the business but it only works with a fraction of the boards out there in the industry. It's really frustrating when people email me for advice and have EST bindings. I usually can't recommend the right board for them and they really have to compromise.
Boot Support
With the Burton Cartel EST you have an amazing ankle strap that really supports without feeling super locked in. The toe straps might need a redesign. They just didn't fit over our boots well and came off a lot at the bottom of the run. They were set up exactly right and cranked down as hard as they could be but they still didn't hold.
Ratchet System
On the ankle strap ratchet the Burton Cartel EST was great. However, the toe strap ratchet didn't hold. Both were super smooth on and off. Its just that it would some times pop loose on us coming down the run on the toe strap.
Turn Initiation/Response
What we love about the Burton Cartel EST is the way you have such board/boot/binding integration into the turn. Since the Burton boards are tuned exactly for Burton bindings there is a pretty unique feel when turning. It isn't super responsive but it is consistent throughout the turn and it feels smooth. Not easy listening elevator music smooth but more like the Meters base line in Funkify Your life.
Flex Under Foot/Buttering
There is nothing better we found out there. The problem is again that you can only experience this magic with Burton Channel compatible boards. So for us Re:Flex will more than suffice. It's still some of the best in the industry.
Shock Absorption/Dampness
The Burton Cartel EST is almost all EVA foam. I would say other than NOW bindings it is hard to find a more cushy and damp binding.
If this review helped, we'd appreciate if you:
Burton Cartel EST Past Reviews

The Burton Cartel EST is the binding made specifically for Burton boards.  We hate this and love this binding. The flex underfoot has almost no dead spot and it has a very smooth predictable response to it that many love. The bad is the binding only works for Burton and this proprietary tech reduces your board options to Burton or whoever else licenses the tech from Burton which is only a few companies.  


Ethics Statement: We don't get paid by the manufacturer to write these reviews.  No one is perfect and we do make money from the "Where To Buy" links below, but this is our best attempt at an honest and objective review from an average riders' perspective.

Days: 1
Riders: James (Size 9, 5'10" 185-195lbs), Peter (Size 8, 5'11" 185lbs)
Boots: Adidas Tactical ADV,
Insoles: Sandsole Custom Insoles, Footprint Insole Technology Gamechangers
Boards: Burton Hometown Hero

Highback Flex: The Cartel and Cartel Re:Flex offer up a very good flex

Binding Adjustability: The Burton Cartel EST has decent strap adjustability for getting the binding to fit around the boot. However, there isn't as much as some companies to center the boot in the binding to get it to match up properly on the Gas Pedal/Toe Ramp. Still, you can center the binding well on the board with the EST channels on either side of the binding.

Stance Width Adjustability: Infinite Stance width adjustability with the Channel System and this is the best out there for that. At the time this is written though we only know of Burton, Endeavor and some Signal boards that use this Channel tech.

Comfort: The ankle strap and all-around binding build from the heel cup to toe ramp are all about comfort for us. It's very well done.

Boot Support: The Ankle strap on the Burton Cartel EST offers up great support and still has some freedom of movement too. We like the support you can get from the Cartel Re:Flex better because you have two holes to mount your ankle strap. If you choose the higher point you get more support. There is only one with the Cartel EST.

Turn Initiation: Very smooth but pretty responsive. We don't feel like Burton Cartel EST bindings, in general, are not the most responsive out there but that's not really a bad thing. These offer up a predictably smooth response that never really makes a board feel twitch but it's not super slow either to make you feel like you need more edge to edge.

Buttering: The Burton Cartel EST tech really makes the board flex naturally underfoot and this is far from being a gimmick. The Burton Re:Flex Cartel is close but not quite there. While we aren't fans of this proprietary tech we have to admit that it does make a lot of sense in getting a board to flex well underfoot. With softer to mid/flexing boards you can really feel the difference if you do an A/B test with a traditional disc binding, a Re:Flex binding and an EST. You will find that with most companies the Re:Flex and EST really make the board flex easier. So, in other words, this kills it when buttering if you pair it up with a butter friendly board.

Ratchet System: Normally Burton's ratchet system is really smooth and trouble-free. However, we were having issues with this demo model and it didn't crank down well or hold as it should. They were a bit worn and looked beaten on. That kind of abuse can happen when they travel in a bin with other bindings around the country from demo to demo.

Shock Absorption: We like the shock absorption better with the Re:Flex but this was pretty good. That being said we were on Adidas Tactical ADV's which have the most shock absorption out there that we have tried so it might not feel as cush underfoot if you have boots with less shock absorption like Burton EST Outsoles.

So all in all, we say get the Re:Flex as they aren't that much behind the EST's and you can ride them with anything. However, if you are a Burton for life kind of rider, then these are a better choice.  I've just had soo many readers buy a Burton board and bindings and then want to get another board in their quiver or replace their old board for whatever reason and then have to buy new bindings too so don't buy EST unless you know you are never going back.

The 2016 Burton Cartel EST is the same general ride as the 2015 but it has the higher end straps/ratchets that are on the Diodes, Genesis and Malavita.

Days: 30+
Riders: Almost all of us
Boards: These are for Burton boards Only.
Conditions- Most conditions an average rider would want to experience
Boots: Salomon, Burton, Nike and a few others

Flex– This is the same flex as all the other cartels offering a smooth middle ground feel that most love. It's the kind of flex that blends into just about any kind of riding.

Adjustability: EST bindings from Burton offer superior adjustability compared to the other non-est bindings.  It's a little different but after a little time, you get to see how easy these are to set up on the board and how versatile they are adapting to your boot.

Comfort: Very very comfortable.  These bindings offer a nice balance between comfort and support.

Heel-Toe Response: EST is just a little bit more responsive edge to edge than the Cartel Re:Flex because you have 4 screws instead of 8 attached to the board.

Tip-Tail Response– Now the EST tech here does have an advantage flexing any Burton Board lengthwise over the Re:Flex Cartel. It's very easy to butter and press almost any board in Burton's line except for the very stiff ones.  It really changes the feel underfoot and the dead spot is almost non-existent.  If you go from a non-Burton binding to an EST binding the Burton board comes alive. Some higher end Re:Flex bindings like the Cartel Limited can come close but EST is still the 11 out of 10.  It's a damn shame they aren't compatible on other boards. With the 2014 Burton Cartel, you lose a little flex underfoot but you get a lot of extra ollie power due to the Hinge Technology. This is a very nice upgrade and we now feel this is the only year to get unless you don't ollie ever.

Ratchet System: All Burton Cartel ratchets are the same (I think).  They might be different but all offer amazingly smooth glide on and off.

Boot Support: Very good almost locked in feel.  The footbed is a little soft so it doesn't allow a completely locked in feel. It's worth it to get the kind of shock absorption you get with this kind of binding.

Shock Absorption– The thicker EST footbed has amazing shock absorption and the Cartel EST comes with this.  It's also canted.  You can go pretty thin (5mm) to get a skate feel that has less cushioning. The footbed you get with the Cartel EST really makes a big difference just riding over a rough bit of snow and even more so on a bad landing. The 5mm thick option is rougher but you get more board feel.

So all in all the Cartel EST is a great binding and if you can't find the Limited Cartel EST with Hinge Tech this will do a very good job handling a wide variety of Burton boards.

The 2015 Burton Cartel EST is the same as the 2014 except for the ankle strap.  It folds out really easy so you can get your boot in quicker and it's got a thin ankle strap that we really like about it.  Otherwise it's the same binding as last year in terms of ride and response.

The 2014 Burton Cartel EST has the same high back and ankle strap as the Cartel Re:Flex but this year it has the Hinge Technology that the higher end Burton bindings like the Burton Genesis EST. This really changes up the EST ride by giving you much more ollie power.  It makes the 2014 Cartel EST the much better choice over past models.
Burton Cartel EST Images

We try to get as many images of the Burton Cartel EST, but forgive us if they're not all there.
2021
2019
2018
2017
2016
2015
2014
2013
Burton Cartel EST User Reviews
---
---
Burton Cartel EST 2010-2023 Snowboard Binding Review
SKU
UPC
Model
Best all round bindings
Mar 29, 2017
by
Joao
Ability Level: Advanced •
Riding Style: All mountain, Backcountry •
Days You Ride A Year: 30-40 •
Height, Weight And Boot Size (for Boards, Boots & Bindings): Binding M, Boot size 28
I love these bindings and I've been using them since 2014. Even in extreme conditions, I saw a lot of my friends with problems with the bindings because they would ice up and sometimes get rigid, breaking off the binding straps. But with my Cartels, I never had 1 single issue strapping in in any terrain, any condition. They are super flexible for any usage, either park, all mountain, backcountry or even jibbing. The only reason why I'm not giving an additional star is due to the durability of some components. You can easily replace the straps or even the footbed but the highback cushion starts quickly to peel off. I glued it back several times but it just peels off again and again. My bindings are already 3 years old but still I would expect a bit more overall durability from these bindings.

---
Heavy anchors on your feet
Jan 03, 2017
by
Leroy
Ability Level: Adavanced •
Riding Style: All terrain freeride •
Days You Ride A Year: 20+ •
Height, Weight And Boot Size (for Boards, Boots & Bindings): Shoe 10.5, Sbrd boot 9.5, size large bindings
Again, like all snowboard bindings, the large is too large for average 9-11 feet and the mediums are too small. When is this going to end?! But, i started with mediums but did not fit right so i switched to a large. Fit is okay, trimmed a few straps but now they are heavier than any other binding i've ever owned. Forward lean is so strange on these and when you tilt them forward the flex is SEVERELY increased and the binding looses a lot of ridgidness. Yes, i use DO adjust the forward lean to keep me in the "attack" mode. You should too! ha ha. Anyway, the straps are Excellent and the ratchets are pretty cool. I'd like to see these in a medium large sizing, lighter frame, and a better forward lean adjustment and then they will be ready to dance.

---
Dangerous bindings
Dec 04, 2016
by
Ryan
Ability Level: Intermediate •
Riding Style: Trees •
Days You Ride A Year: 20
This EST binding system, although convenient for adjustment, is dangerous to ride with. I bought a brand new pair of these bindings last year, and 75% of my days on the mountain, the screws came lose and the binding became detached from the board while riding, causing me to fall immediately. Luckily I wasn't seriously injured, but an injury is always a possibility while riding with these bindings. Shop workers have suggested using loctite to secure the screws, which would eliminate the adjustment feature of the binding. I would not recommend these bindings, as the binding may detach from the board at any time.

---
Solid mid to stiff binding
Apr 11, 2016
by
Nick
Ability Level: Advanced All Mountain, Intermediate Park •
Riding Style: All mountain •
Days You Ride A Year: 30+ •
Height, Weight And Boot Size (for Boards, Boots & Bindings): Size 11
This was my first real step up into a higher end binding and I was more than pleased. Burton unfortunately fits in the sizing that doesn't work well for the size 10 to 11 feet (between medium and large). Solid high back and nice shock absorption under foot. Great for all mountain and aggressive park riding.

---
Comfortable, very responsive but a couple of glitches
Mar 25, 2015
by
Tim
Ability Level: Advanced •
Riding Style: Mountain •
Days You Ride A Year: 25+
Comfortable & very responsive, easy to set up and adjust. However, the toe straps on my 2015 Cartel ESTs repeatedly slipped back onto the top of my boots instead of staying on my toe caps, unless cranked down really tight, unlike earlier non-EST Cartels I own. In addition, I'm not sold on the benefits of the "Flex Slider" hinge on the ankle strap. A nice idea to make strapping in a bit less hassle, but unless you take the time to fold the high back on top of the ankle strap on your rear binding before riding the lift or one-footing elsewhere, the strap flops onto the board right where you need to put your rear foot down – uncomfortable at best, unsafe at worst.

---
Burton Cartel Local EST 2015
Feb 17, 2015
by
Wren
Ability Level: Intermediated/Advanced •
Riding Style: All Mountain •
Days You Ride A Year: 10
I upgraded from the Burton Cartel Restricted EST 2012 with Asym Super strap to the Burton Cartel Local EST 2015 with symmetrical React strap. Damn! It is quite the difference. First the strap really locks you in almost to the point it made me slightly nervous. That is until I cracked a carve and the way the channel/est works with the hinge and canted foot bed is magnificent. I ride a Burton Custom Restriced 2012 with camber humps which is a medium stiff board that was nice blend of flex, damp and responsivenise, but with the hinge tech it became alive. It makes my board feel so snappy, responsive and smooth. It gives you this feeling that you just want to slash the entire mountain and jump off shit. It saddens me my next board won't be a Burton with est/channel because I need a twin hybrid camber with good edge hold on ice. If you ride a Burton board I do recommend these bindings and definitely get one with the hinge tech.

The buckles are butter smooth and work well. Though I wish the entry point was more idiot proof. Sometimes when I stuff the strap into the buckle it goes into the top lip of the lever instead. Minor thing and probably is different with the new double takes that will trickle down in the future.

---
EST Is NOT Good With All Boards
Aug 01, 2014
by
James
Ability Level: Expert/Writer of the Review •
Riding Style: All Mountain •
Days You Ride A Year: 80-100+
I think Alex might of confused this Cartel EST review with the Cartel Re:Flex review. EST Bindings DO NOT come with Discs, do not work with older 3 hole Burton boards and do not work with 4 hole boards. All Burton EST bindings only work with the Channel System. All Burton Re:Flex bindings do work with 4 hole, 3 hole and EST (2 Hole).

---
Good with all boards
Jul 28, 2014
by
Alex
Ability Level: Intermediate •
Riding Style: All mountain •
Days You Ride A Year: 5-30
Just wanted to let you guys know that when I got mine you it came with three different sets of disks for different hole set-ups. Dont know why they said it only works with burton because as far as I know that is not true at all, maybe it is just a mistake. Other than that they are really comfortable, great stability, and make turning easy. I would definitly recommend.

---
Poor Adjustability
Mar 13, 2014
by
Alex
Ability Level: Intermediate •
Riding Style: Park/ All Mountain •
Days You Ride A Year: 10
These are probably great bindings however if you aren't smack in the middle range of the size range expect problems. There is no heelcup adjustment like Unions and other companies, instead you have to move the actual binding forward, which makes for a weird feel because you are still not centered in the binding, these are the only bindings that made me question whether i even like snowboarding, if they had an adjustable heel cup i would buy them again, but for now i'm sticking to Unions.

---
If you can't buy through the links above, you can support the site with: