Drift Carbon Drift Boards Split Board Alternative
Drift Carbon Drift Boards 2021 - 2018 Review by The Good Ride
Turn Ons/Swipe Right: Ride a solid board and bindings in the slackcountry. Light & Easy for uphill travel. Drift before the Lifts.
Turn Offs/Swipe Left: Bad in Hard Snow. Not good for Long Tours. Straps hard to get on/off and don't have side hill support.
Summary
The Drift Carbon Drift Boards look like snowshoes but act nothing like them in the best way possible. They travel like mini split boards/approach skis and make uphill travel with a solid snowboard incredibly easy. Carbon Drift Boards aren't perfect, but our crew just can't live without them. The ability to take solid boards and bindings up before the lifts open (Drift before the lifts) changed our lives.
Ethics Statement: We don't get paid by the manufacturer to write these reviews and this is our unfiltered opinion. We do make money from the "Where To Buy" links, but this is our best attempt at an honest and objective review from an average riders' perspective.
Carbon Drift Board 2021 Hybrid Approach Ski Review- How it rides and who it is for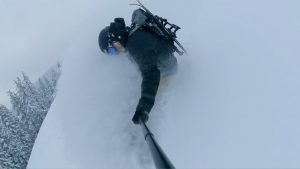 How This Review Happened:
Precious Good Ride dollars were spent to buy this and review it.
Days: More than I can count over the last 3 years.
Conditions: Everything from hard snow to 4 feet of medium thickness powder.
Riders: James (Size 9, 5'10" 185-190lbs), Peter (Size 8, 5'11" 185lbs), Jimbo (Size 11, 5'11" 160lbs), Grant (Size 11 6' 160lbs), Nick (Size 10, 160lbs, 5'8"),
Boots: Adidas Tactical ADV, Burton Kendo, Burton Ion, Burton Tourist
Insoles: Sandsole Custom Insoles, F.I.T. Gamechangers, F.I.T. Gameghangers LP
Bindings: Drift Board Bindings included, Union Expedition, Union Expedition FC, Union Explorer, Burton Hitcher, Karakoram Prime Connect Free Range.
Boards Used: Capita Spring Break 158 Powder Glider, Capita Spring Break 161 Tree Hunter, Jones Mind Expander, Gentemstick Mantaray 156, Korua Dart, Korua Pencil, Korua Café Racer, Yes Hybrid, Endeavor Scout, Prior Legacy, Jones Hovercraft, Weston Japow, Lib Tech Orca, Never Summer Harpoon, Niche Pyre, Lib Tech Lost Quiver Killer, Burton Killroy Pow Camber, Yes Hybrid, Yes Y, Yes Pick Your Line, Jones Flagship, Never Summer West Bound, Lib Tech BRD, Weston Backwoods, Burton Hometown Hero, Korua Otto, Yes Typo, and so many other boards.
Approximate Weight : 2.6Lbs per foot and 5.2lbs total
Construction
The Carbon Drift Boards are basically the size of a snow shoe but made to work like a split board. They are flat underfoot and have skins on the bottom. For 2021 there are these changes.
Carbon Drift Boards vs. Snow Shoes
Carbon Drift boards and Oxygen Drift Boards blow doors over snow shoes. In fact I never want to snow shoe again. Even in harder snow I'd rather put crampons on the Drifts than use snow shoes. Sliding up instead of stepping up is massively easier. There is literally no reason I can think of where I would recommend snow shoes over Drift Boards.
New Skins for 2020 Models & Up
The new skins have better glide and better grip. There are many out there that are better in some conditions but these are really good for all conditions touring. Especially powder.
New Binding Base Plate
The clanky metal base plate is gone and a more mellow shock absorbent plastic base plate is in place.
Better Edges
The old edges were just carbon fiber. They could splinter and hurt your hands. Now the new urethane edges are much safer and more durable.
Split Board Binding Compatible
In the past the only split board bindings that would fit are the Union Expeditions because they had built in risers. The screw spacing was too far apart. They fixed that for 2021 models moving forward.
Some Drawbacks/Turn Offs
Camber Profile
This isn't a deal breaker but it would be cool to have a little spring in your step from camber like I get from camber split boards. Drift Boards are still easier than Splits going up because of the light weight but if you added some camber spring as well it would be glorious.
Straps, Ankle Support, Side Hilling & Quick Release
This is a bigger deal for me and our crew. In comparison to split board bindings the Carbon Drift Board Bindings are lacking. They are hard to get on and off. They are not very supportive side hilling either. I wish they could evolve the straps so they offer more support and have an easier on and off.
Not Good For Long Tours or Hard Snow
If you go on long tours split boards are better. They do better with long treks through flatter terrain. You can also put more into your pack up top and not have to worry about having a board there all the time.
Not fun in windy treks uphill
It can act like a sail if you have a bigger board and it can be taxing.
Carbon/Dark Grey Top
The dark top makes snow stick to the topsheet on warmer/spring days more than the Drift Board Oxygens.
Some Positives/Turn Ons
Super Quick Transitions
Even though the Carbon Drift Board's straps aren't easy to get on and off the overall transition time is very fast compared to split boards. It feels like half the time. Not having to deal with skins and put your board/bindings on makes it really easy. All you have to do with Drift Boards is put them and your poles on your pack, strap into your solid and go. For early morning power laps before the lifts open this is key.
Very Light & Easy Uphill
So even though the Carbon Drift Boards don't have camber to spring you forward they are incredibly light. At 2.6lbs vs. around 6.5lbs for most split board set ups you are cutting a ton of weight off your feet. Even the lightest split set ups are around 5.5lbs. That is where it counts the most as most experts say 1 lb on the foot is equal to 6 on the back. In same day comparisons between my splitboards and Drift Boards I felt like I had two Hobbits dry humping my legs while going up when I was on my split.
If you haven't split boarded before these Carbon Drift Boards will take some getting used to.  Here are some things I learned the hard way when starting out that I can pass on to you.
Don't step. You need to slide with your toes leading the way. The Drift Boards shouldn't leave the snow. It's all about an easy glide than a step.
When side hilling on steeper terrain use the smaller riser. It really helps vs the taller riser.
On steeper uphill terrain stand up straight and putt all your weight in the center of the drift board. This keeps you from sliding out which really sucks.
Fits Easy On Backpack
When you go down you don't even notice them on your back.
Only Option For Pow Surfers
If you like to no-board/pow surf then these are the only solution that will work if you want to keep up with split boarders.
Ride Your Solid where you might take your split
This is huge and I saved the best reason for last. Riding split boards and split board bindings is not like a solid snowboard and solid bindings. Split Boards are a great tool for backcountry travel but riding a solid
Stay Safe
Every year people die in the Backcountry. Not just from avalanches but from many other things like getting lost in a storm. Start out using these Carbon Drift Boards for early ups in bounds and patrolled/safe slackcountry areas at your local mountain. If you like that and want to do more take an Avy 1 class. Even if you are in bounds shit can happen so make sure you have everything in your back pack needed to get out ok.
Conclusion
The Carbon Drift Boards are something that changed my crews life. We all still split board but we all love a Drift before Lifts on a powder or good groomer day. We even like these on short runs in the backcountry. Let's face it. No split is even close to riding a solid board with solid binding on. These let you take solids to places they couldn't easily go before.
Drift Carbon Drift Boards Past Reviews
2020 Drift Board Review
The Drift Boards are a split board alternative for those that want to take their solids on short to medium slackcountry or backcountry runs. It is a hybrid of a touring ski and a snowshoe with skins permanently attached to the bottom. Everyone that tried these in our crew ended up buying them. Taking a Drift before the lifts is our go-to on powder days. We don't get paid for this but you can find them Drift's Website if you are interested.
2020 Drift Boards Upgrades
1. The top sheet is glassed so it's more durable.
2. There is a hard urethane edge instead of a carbon fiber edge.
3. There are new skins on the bottom that grip and glide better than the old ones.
4. The weight went up from 2.4lbs to 2.6lbs.
Ethics Statement: We don't get paid by the manufacturer to write these reviews.  No one is perfect and we do make money from the "Where To Buy" links below, but this is our best attempt at an honest and objective review from an average riders' perspective.
How This Review Happened:  After a demo, I liked these Drift Boards so much I bought 3 pairs so I can Drift before the lifts with friends.
Days: James 40+, Steph 20+, Peter 15+, Grant 5+, Nick 60+ 
Boards Ridden: Capita Spring Break 158 Powder Glider, Capita Spring Break 161 Tree Hunter, Jones Mind Expander, Gentemstick Mantaray 156, Korua Dart, Korua Pencil, Korua Stealth, Korua Tranny Finder, Korua Tranny Finder Plus, Yes Optimistic, Rome Pow Division MT, Endeavor Scout, Jones Flagship, Never Summer West Bound, Lib Tech BRD, Lib Tech Terrain Wrecker, Loaded Algernon, Capita Mercury, Endeavor Pioneer, and many more…
Snow Conditions: Everything from firm snow to over waist-deep powder and a lot in between.
Terrain: Peter, Grant and I mainly use them in bounds. Our mountain has a great uphill policy. It's regularly patrolled but has some steeper approach angles. Steph and Nick have ventured out to the backcountry more.
The plus side of Drift Boards: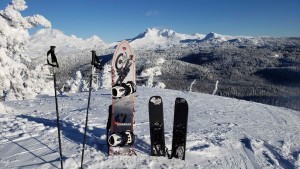 You can ride any board you want in places you normally couldn't. Having these little approach ski Drift Boards changed the way I look at uphill travel with solid boards. As a person that owns a sizeable quiver of solids, this is a truly welcome addition that gives my boards access to places that were barely possible before.
They are massively faster and far more efficient than snowshoeing. It's to the point that I'd like to never like to snowshoe again. They are more like splitboarding than snowshowing.
These Drift boards allow you to go up in the skin track with splitters which is huge. You are no longer in the nasty uneven boot pack.  You are going up the same way with the same technique as split boarders do.
The Drift Boards can keep you on top of the snow in pretty deep powder. I was worried that something so small would not float very well making your own tracks but it does a very good job. There was a storm that snowed 48″ in 48 hours. On one run down I couldn't make the traverse out on a smaller board I was testing. I got off my board and sunk down past my waist. I put on the drifts again and I was back on top of the snow. Now, this was medium powder and not the super blower powder you can find in Utah or Japan. It wasn't thick either.
These are very light and efficient. What really makes these little things keep up with normal split's is they are super stiff (can't even flex em) and the weight.  Here is some rough math I did on it that might have something to do with it based on a study showing that 1 lb off the foot is equal to 6.4lbs off the back. [Authors: S. J. Legg a; A. Mahanty – This study was conducted in partial fulfillment of an MSc in Human and Applied Physiology, London University 1982. Published in: Ergonomics, Volume 29, Issue 3 March 1986, pages 433 – 438]
You can transition much faster than you can with a Split. All you have to do with Drift Boards is undo the bindings, put them on your pack and strap in on your board. In comparison to splits you have to, take off the skins, put the board together and change the binders into riding mode. It's more than twice as fast which makes a difference on short laps.
About The Weight
Drift weight: 2.4 lbs per board and the new 2020 Drifts are 2.6lbs per board.
Avg Split Setup Per foot: 6.25 lbs
Difference: 3.85 lbs per foot. So based on that study it takes 24.64 lbs off back per foot or 49.28 lbs total. Take -11 lbs for the average board on your back you get 39.28 lbs.  I haven't dried Mtn Approach but the older models were about 6lbs per foot each and had a pretty big footprint on the back. I think they are making a newer and lighter model and hope to test it.
So…yeah whatever that means. I can say that using Drift Boards instead of Snowshoes felt like it was almost twice as fast and massively less exertion even on the first day I did it with really shitty form.  A few days before in about the same depth of snow, it took me about 40-45 min to get up about a 3/4 mile ascent in snowshoes. I was up in about 20-25 minutes with Drift Boards but with massively less exertion. Being able to hop on the skin track and not worry (well too much) about agro pre-work skinners passing my out of shape ass was really cool.
Uphill Ease
You have a much more normal gait width when going up. At 6.75″ wide they aren't spreading your legs out as much as snowshoes do so that's easier too. The bottom line is everything about these is easier except for having to put on the Drift Crampons if you hit hard snow but who cares when you are that far ahead compared to snowshoeing.
Hard Snow
They also have crampons to put on if you hit some hard to icy snow to keep your traction but the edges don't work well in hard snow.
Price
They are expensive but 1/3 the cost of an entry-level split set up.
There are a few drawbacks of Drift Boards vs. Split Boarding:
 On some ascents near the top where it was pretty steep, I felt like I could use more ankle support out of these Drift Boards. When I put on split board bindings the support was much better.  This is really cool but I could feel the added weight on the ascent.  You lose a pound on the Drift Boards but gain close to 2lbs with most reasonably priced bindings.  For example, my Union Expedition FC's weigh about 1.8 lbs mounted on the Drift boards so the total weight rises from 2.4lbs per foot to 3.2lbs. It is still almost half the weight of the average split per foot.  You save a few pounds on the back going up and down but that doesn't seem to matter that much compared to the feet.  I'd love to see them create some sort of additional support like a better ankle strap.  Maybe adding a light flip-up highback like attachment or just some rod that flips up along the side of the boot with an additional strap near the top would really help with support and maybe even be better than most split bindings.
The Drift Boards skins don't grip as well in harder snow or climb as well in steeper snow as splits. Still, with proper technique, it's not a deal-breaker. Also, the 2020 Drift Boards have better skins that do climb better.
The Drift Boards don't have the glide of a regular split board. In long flat situations split boards are faster here. This is minimized a bit because there is less weight per foot so, as discussed above, there is less effort every stride.
I wish the hill assist lifts had a little rubber on them so it wouldn't be metal on metal every step. They don't have the shock absorption that a mostly camber or hybrid camber split has. a little dampening rubber in the right places would go a long way.
You have to put the board on your back and this can suck on a windy ascent. With a good pack, it's not as bad but still nothing like having just a backpack on.
Also if you plan to go out for a long adventure or tour from hut to hut with a loaded backpack having a board there as well isn't ideal
Conclusion
So I wouldn't say these are going to make people pissed they just bought a split and used splits will start popping up everywhere on Craigslist. Far from it. However, these Drift Boards for sure do kill it for people who dabble in short uphill travel at their local resort.
It also is great for riders that like different boards for different conditions. It's about 1/3 the price of an average split set up and it opens up your whole quiver to new terrain. So I think in many situations going with Drift Boards over Split Boards is the call. Or it's a great addition for those that split but also want to ride some of their favorite solids on shorter backcountry runs.
I can now ride whatever I want and not have to ride the same split every day.  For a gear whore like me, that is glorious. It makes drawbacks far from being a deal-breaker. The positive aspects of the Drift Boards outweigh the drawbacks.
Be Careful!
Just please be safe! Don't go stampeding off to the Backcountry and kill yourself. Take an Avy class, get the right safety equipment, use common sense and do it right.  It's dangerous out there.
Drift Carbon Drift Boards Images
Drift Carbon Drift Boards User Reviews
---
---
Drift Carbon Drift Boards Split Board Alternative
SKU
UPC
Model
Rad!
Mar 31, 2020
by
Tap
Ability Level: Man-Am •
Riding Style: All •
Days You Ride A Year: 50 •
Height, Weight And Boot Size (for Boards, Boots & Bindings): 6'1, 160cm, 11.5 boots
They work super well. The good:
1. Faster up as long as you're not breaking trail.
2. No more awkward kick-turns.
3. Heel risers work well.
4. Easy as pie transitions.
5. You get to your favorite board, not your split. (Sorry, but pretty much no one has a split as their favorite board and rides it in resort.)

Drifts are not a new idea; there've been several versions of a packable skintrack ski. But the quality of the bindings and the lightness of the carbon fiber skis go beyond what's been done.

The only downside would be that carbon fiber is not a tough material at the edges, so you need to be a bit more gentle than throwing them in the back of your truck. Sort out a bag for them or you could also just glue some bike tire innertube around the most frayed/fibrous edges on the nose and tail and call it a day. But I guess they've reinforced the edges in the newest model, so it's a known issue.

Super happy with these. Excellent recommendation, The Good Ride.

---
Where To Buy
80% of outdoor sports products are not listed or sold online.
Our team has relationships with hundreds of local snowboarding and outdoor sports shops.
We'll call the shops and email you a list of stores along with pricing and availability.
---
Not sure what to buy?
Get custom advice from Good Ride editors James and Steph.

Get Advice
If you can't buy through the links above, you can support the site with: