YES Basic 2010-2024 Snowboard Review
| | |
| --- | --- |
| Riding Style | All Mountain Freestyle |
| Riding Level | Beginner - Expert |
| Fits Boot size (US) | < 8, 8-10, 10-12 |
| Manufactured in | SWS in Dubai |
| Shape | True Twin |
| Camber Profile | Hybrid Camber |
| Stance | Centered |
| Approx. Weight | Feels Normal |
| Split | No |
| | |
| --- | --- |
| On Snow Feel | |
| Turn Initiation | |
| Skidded Turns | |
Where To Buy
80% of outdoor sports products are not listed or sold online.
Our team has relationships with hundreds of local snowboarding and outdoor sports shops.
We'll call the shops and email you a list of stores along with pricing and availability.
---
Not sure what to buy?
Get custom advice from Good Ride editors James and Steph.

Get Advice
YES Basic 2024 - 2010 Review by The Good Ride
Update 2024: The YES Basic hasn't changes so this review still stands. 
Turn Ons/Swipe Right: Excellent Grip, Stable, Forgiving.
Turn Offs/Swipe Left: Only 5×2 Inserts per binding. Middle ground pop.
Summary
The YES Basic has a stable, buttery centered/mountain freestyle, all condition ride with excellent grip in hard to icy snow.
Ethics Statement: We don't get paid by the manufacturer to write these reviews and this is our unfiltered opinion. We do make money from the "Where To Buy" links, but this is our best attempt at an honest and objective review from an average riders' perspective.
YES Basic Snowboard Review- How it rides and who it is for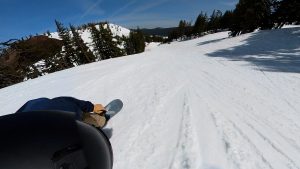 How This Review Happened:
We borrowed this for an extended demo and sent it back.
Size: 156w but rode the same design before in a 155 and 158
Days: 1 with the wide but many with the 155 and 158
Conditions:    and an early morning slackountry time with Drift Boards.
Riders: James (Size 9, 5'10" 185-190lbs)
Boots: Burton Kendo
Insoles: Sandsole Custom Insoles, F.I.T. Gamechangers, F.I.T. Gameghangers LP
Bindings: Union Atlas
Jacket: Burton AK Gore-Tex Pro 3L Tusk Jacket, Volcom TDF Infuse 3L Gore-Tex Jacket, Burton Banshee Gore-Tex Jacket
Pant: Burton AK Gore-Tex 2L Swash Pant
Helmet: Smith Maze, Smith Vantage
Goggle: Smith IO Mag, Smith 4D Mag
Gloves: Burton AK Clutch Glove, Burton AK Tech Leather Glove,
Similar Boards (but not the same):Yes Typo, Never Summer Protosynthesis, Yes Greats,  Prior Wildcard, Marhar Darkside, Lib Tech Box Knife, Capita Outerspace Living, Rossignol Jibsaw, Yes Jackpot, Never Summer Proslinger, Ride TwinPig
Set-Up: 21.5", Centered Stance, 15 front -15 back.
Approximate Weight:
The YES Basic is normal weight wise and right in the middle. (We don't put in the exact weight because with wood cores there is no consistency in a boards weight)
Sizing
Here are some ideal US boot sizes for these boards. You can of course go bigger or smaller but these work best for not turning the board slower than it should be and not having the dreaded Toe & Heel Drag.
152: 7.5-8.5
155: 8-9.5
158: 8.5-9.5
161: 9.5-10
156w: 10-10.5
159w: 10-11
163w: 10.5-11
Shape/Camber/On Snow Feel/Ability Level
The Yes Basic is a true twin with a centered stance. Then you add camber underfoot that goes just past the bindings that quickly transitions into a mellow early rise. It is stable, easy to skid a turn and very forgiving. One footing off the chair or flat basing is easy in icy to soft snow. This makes it a very versatile  mountain freestyle ride in all conditions.

Flex Personality
The pop/ollie power here is middle ground and the YES Basic has more of a rubbery easy flexing buttery feel instead. It is almost too easy to butter. The YES Basic doesn't have the most spring out of an ollie but it has a great all terrain ride. It can handle hard micro-bumpy snow really well without getting cranky. It can also go over messy uneven end of the day snow very well as long as it's at slower speeds. So it might not pop super hard but it sure does ride well in everything you want or don't want to ride in.
Speed
The YES Basic is not a super fast board. The base glide isn't exceptional when all waxed up but the lows aren't ever too low. Moderate mountain speed is doable but it is far from being a bomber.
Edge Hold
The YES Basic has excellent grip that rivals full on Magnetraction. Combine that with the stable camber profile underfoot and you have an excellent hard snow mountain freestyle board.
Turn Initiation
Very quick edge to edge. The YES Basic goes where ever I need it to go whenever I need it to go.
Turning Experience/Carving
When you get the edge committed YES Basic isn't a carving powerhouse but it's pretty fun for being this forgiving. You can make a wide variety of turns with this without it being difficult.
Powder
So if you set back your stance in powder don't get the YES Basic. It just isn't what it is for. Get the Basic Uninc or one of those special release models they come out with every year. Or get the Standard. That has much better directional float in powder. These boards can give you 2.25" back from center of board where the YES Basic can only give you  -0.75" at a 22.5" stance width all the way back. That isn't much. That being said it does well for riding centered on board so its good for those who want to ride switch in powder.
Switch/Jibs/Pipe/Jumps
Pretty much the same either way. The only thing I like better for Switch riding is the YES Greats but that is much more pricey. Jibs are very doable and this has a good forgiving flex for it. Pipe is outstanding and I love the grip in there. The YES Basic tracks well into small to medium sized kickers. It is a very balanced park and mountain ride.
Conclusion
If the YES Basic had more pop and set back inserts on board like the Standard it would be one of this site's most recommendable budget rides. As it stands, it is still an exceptionally well-rounded park to mountain freestyle rides.
YES Basic Past Reviews

The YES Basic Snowboard is one of the better low-cost freestyle to mountain-freestyle boards and it fits a wide variety of riders. It has the flex that is more park friendly but still does really well on the mountain. This is a very fun board for an advanced to expert riders looking for a snappy but mellow park ride on a budget or a beginner to intermediate rider who want a forgiving board that will help them progress. It's a great board for those that see all conditions and it keeps its edge even in hard to icy conditions.

The 2020 YES Basic is the same as the 2019 so this review still stands. The review has been updated to reflect how it compares to what else is out there for 2020. The 2018-2020 Yes Basic has the same design except the reference stance was narrowed up about 1″ per size in comparison to the past models.

Ethics Statement: We don't get paid by the manufacturer to write these reviews.  We do make money from the "Where To Buy" links, but this is our best attempt at an honest and objective review from an average riders' perspective.
2018-2020 Yes Basic Snowboard Review
How This Review Happened:  We borrowed this for an extended demo and then returned it. We have also owned past models.
Size: 155 and 158
Days: 10+
Conditions: Pretty good snow but in the past we had it in everything from super hard to a foot of thick powder.
Riders: James (Size 9, 5'10" 185-195lbs), Peter (Size 8, 5'11" 185lbs)
Boots: Adidas Tactical ADV
Insoles: Sandsole Custom Insoles
Bindings: Union Strata, Union Superpro, NOW Pilot, NOW IPO
Set-Up: Centered 22″ to 22.5″.  15 front -15 back. Centered to set all the way back.
Similar Boards (but not the same) That We Compared This To- Lib Tech Box Knife, Rossignol Jibsaw,  YES Libre, YES Typo
Approximate Weight: Feels normal. Not too heavy or too light.
Sizing: I feel like both Peter and my specs (listed above) are pretty much in-between the 158 and 155. Our boot size feels best with the 155 and the length feels more appropriate for a mountain freestyle ride.  That being said, our weight feels best on the 158 and we like the extra length and dampness of the bigger size. Yes has a lot of sizes with the Basic and it works with a lot of different boot sizes and body types.
Flex: A little too soft for my taste in the tip/tail when it comes to buttering but the flex between the feet is fine and more on the medium side. If you lean too hard into the butter you might find yourself on your ass or head. The 2018-2020 models are a little stiffer in the tip/tail but they still have the same super soft/rubbery overall personality.  Still, the YES Basic is a good board for those learning how to butter and you get used to the softer tip/tail pretty quick. One thing to remember with all YES boards is the flex rating is stiffer than it actually is. It's a good practice to take all YES boards and bump them down 1-2 notches flex wise. For example the YES basic feels more like a 3 or 4 out of 10 instead of a 5 out of 10 when on snow.
On Snow Feel/Ability Level/Skidded Turns: Like all Yes snowboards with their Camrock tech (hybrid camber) the YES Basic has a consistently stable feel that's good in all conditions. Some boards change in softer or harder snow but you always get the same feeling underfoot in all conditions. One footing off the chair and flat basing down a long flat cat track are easy too.  It's a forgiving un-catchy ride that's very versatile for someone of any ability level. It's not perfect and the underbite can be a little more catchy than a traditional sidecut like the YES Libre but its light years easier than a full camber board. Skidding turns, if you get off your game, is very easy to do.  It's not a bomb the groomer kind of ride due to its flex but it's more of a play all over the mountain and park kind of ride.
Turn Initiation: Very quick and easy edge to edge and the YES Basic gets the turn going really fast.
Edge Hold: The Underbite tech with indentions near the bindings creates a very strong grip and it's a great disruption in the sidecut. It's the exact opposite of the extensions to the side cut like you have with Magnetraction but it almost grips as hard as full mag. It's a great board for hard to icy conditions and doesn't bite too hard in softer snow either.
Powder: If you want to ride centered and switch in powder the rocker in the YES Basic's tip/tail will do a good job for a twin but don't get this if you plan to set it back in the deep stuff because you won't get very far back or have a good time. If you want to set it back the Typo and Libre will do a little better but the best choices these days are Standard or the Not So Basic Globe that have slam back inserts that give you a lot more set back on board.
Turning Experience/ Carving: Super fun to turn for the price point and it's a nice board for going out and making all kinds of turns around the mountain. So there is enough edge hold and camber to lay into a decent carve but it's not going to feel super rewarding. The YES Basic is a little too soft torsionally and longitudinally for good carvers to really enjoy it but it's a nice combo of being forgiving while still not falling apart on a carve.
Speed:  For our crew, the 155 was a pretty mellow snowboard that doesn't really like to bomb.  You can feel the board start to chatter underfoot when picking up speed on a moderately sized run. The base of the YES Basic keeps a decent glide going in the flats though for such a low-end base. However, the 158 had a much better fit for our specs and we felt it had a much better mountain presence when it came to speed.  It wasn't the chattery mess that the 155 was and although it wasn't a bomber it could hold a line riding around the mountain. I'd get the 155 if I planned to ride mostly the park and the 158 if I planned to ride the mountain with some park mixed in. I felt that the 2014 model from GST had more of a stiffer damp ride.
Uneven Terrain: The YES Basic is very forgiving in soft bumpy slow speed end of the day runs. It can also turn through moguls really easy. It's just not the board you want if you are planning to power through tracked powder or chunder. It's a great board for all-day weekend resort riding that can get pretty messy by mid-day.
Switch: It is pretty easy either way and a great board for going either foot forward.
Jumps: The YES Basic has a rubbery feel that is poppy but not super poppy. It ollies well enough and it's a great board for small to medium-sized kickers but not the board for those that like to go bigger. It's an easy forgiving board for those that want to try new things without as much consequence as more camber dominant rides.
Jibbing: The softer flex made the YES Basic more forgiving and easier to ride in the jib park and you can lap it all day if you want. We liked this.
Pipe: If you keep the edges sharp and don't jib much this is a pretty good pipe board that will allow you to really work on getting good in the pipe or just try new things. It's not the best pipe board for advanced to expert riders but for those that don't ride the pipe hard it's a fun board.
So all in all the YES Basic Snowboard has improved nicely and my only complaint is the tip/tail are too soft when buttering.  I'd like to see them stiffen them up a bit for next year. Other than that it's a really fun board for those that want to treat the mountain like a park as well as a stop in the park.  It's a great beginner/intermediate board as well as an affordable freestyle to all-mountain freestyle board for those that are on a budget.
There have been lot's of changes over the years to this board so make sure you read the review that corresponds to the year of the board you are interested in.  So the 2015-2017 Yes Basic Snowboard went through a pretty big overhaul from the 2014 model. Nothing has changed from 2015-2017.
Here are the major changes.
1. The snowboard is much softer than in previous years.  Where a lot of YES snowboards live on the stiffer more aggressive side the YES Basic has gone softer. It's especially softer in the tip/tail. The 2018 and 2019 models are a little stiffer but overall it's pretty close to the 2015-2017 models.
2. The sidecut has a new twist that has what they call underbite.  Instead of the edges sticking out in little bumps like Grip Tech from Arbor or MTX from Mervin they actually have 4 indentions (2 on each side) at each binding. This creates extra grip without being grabby but also makes the turn initiation a little easier.
Conditions: Pretty much every kind of condition you would want to ride.
Riders: James, Peter, Jimbo, Chris, Frank Stephen, Kyle, Jimbo, Mike and a few others…
Boots:  Burton Imperial, Burton Hail, Burton SLX, Nike Lunarendor,
Bindings: Burton Genesis, Salomon District, Union Force, Union Contact Pro
23″ wide 15 front -15 back.
2014 Yes Basic Review
The 2014 Yes Basic changed up the camber profile.  Last year Yes moved their flagship boards over to GST and they came back with a little more camber going on and better construction. For 2014 all Yes boards are coming out of the GST factory and that means that the Basic is now made there too. This has more camber going on and it totally changed up the ride for the better. You can tell immediately how the quality of construction changed up the ride.
Size: 157
Days:  2
Conditions: Hard Rockies snow and some practically perfect soft Sierra snow as well.
Riders: James and Peter
Boots: Burton Imperial, Nike Kaiju
Bindings: Burton Cartel, Burton Cartel Limited
Set Up:23″ wide 15 front -15 back centered.
On Snow Feel:  So the old YES Basic felt like a rocker board with a little bit of camber between the feet but now 2014 Yes basic is a camber board with a little bit of rocker between the feet. It's still catch free but you get a lot more of a camber feel and spring. This is the kind of board that's fun just about anywhere and it's a solid all mountain freestyle board for the price.
Powder:  The older Basic had an easier float in powder because there was the extra rocker but the extra camber Basic still floats well and wants to stay up in powder. Based on my experience with the YES Asym and the Jackpot the Basic will float similar to that. One of the problems with all mountain freestyle boards like this is they are true twins with a centered stance. This limits and can often eliminate your ability to set the board back for directional float. Most people will be able to set the stance back a little bit but those with narrow or wider stances probably won't be able to get much out of it. Let's just say that if you prefer directional powder riding a board with a setback stance will do a far better job than the Basic with it's centered stance.  We do like the extra nose going on. What they did is make the nose on the board rise up a little more than the tail so there is a more directional float. I'd love to see them add a -20mm set back so this would have more of an all mountain ride that has a better directional float in powder for those who want to surf the white stuff but this is right there with most hybrid shape twins out there when it comes to floating.
Turn Initiation and Carving: Before the Yes Basic could turn very easy and quick but with the extra camber it's still somewhat easy but it's more snappy and poppy edge to edge.  It makes the ride a lot more fun to turn even though it's a little bit more challenging edge to edge. Carving really improved. You can lay into a hard carve and get a nice spring out of it. This is great for a directional twin.
Speed: Stable but not a bomber board.  You can get your mountain speed up pretty well and it can straight line but it's not like the PYL when it comes to speed. The base is extruded but it does keep it's speed rather well and it's pretty maintenance free. The extra camber in the profile gives a little more stability and makes it a better ride.
Uneven Terrain:  The narrow waist, forgiving flex make this board easy to deal with emerging moguls on a crowded groomer day and it has good shock absorption. Pair this up with a good shock absorbent binding and it's going to handle most shitty slow speed conditions fine.
Edge Hold:  Same great grip as before and maybe a touch better.  It's not an ice specialist but it's also not grippy in soft snow so it makes for a good all conditions ride.
Flex: There is a little more mustard in the flex this year and it has more snap/pop/spring or what ever you want to call it. It's still on the medium side of soft but it's just got more return when flexed on the snow.  It's not as easy to butter but the older basic's camber profile made it almost too easy.  Not it takes a little more effort but it's totally doable. It's a very playful hybrid camber ride.
Switch:  Almost perfect either way as it's a directional twin with a centered stance. Some might find a difference in the flex if they butter switch but otherwise it's the same.
Jibbing:  It's very doable but on the average side of good.  You sacrifice your edge hold but the flex and longer camber profile aren't bad for hitting average rails and bonks.
Pipe:  What a fun pipe board. It's got great drive wall to wall and holds an edge well enough to be a dedicated pipe board and it's still pretty forgiving.
Jumps:   Big improvement here in the jumping world.  It pops well and it's a lot more fun to ollie.  This is equally fun jumping off natural features on the mountain or off kickers of all sizes in the park.
The new camber improvement, as well as the boost in quality in the design, is the major theme even though there were other minor improvements. The Basic will make a lot of riders happy and it's a great all mountain freestyle ride.
2013 and Below Yes Basic Review
Size: 157 and 159
Days: 10+
Conditions: Everything from 2′ of thick sierra powder to hard pack with some icy spots.
Riders: James, Peter, Jimbo, Kyle and a few others
Boots: Burton Imperial, Nike Kaiju, Burton SLX, Rome Libertine Pure Flex
Bindings: Union Contact, Burton Co2, Burton Cartel Re:Flex, Flux TT30, Union Contact Pro.
Set Up- Centered, 22.5 and 23″ wide, 15 front -15 back
The YES Basic is a top choice to learn on or satisfy a rider on a lower budget. It's an all mountain freestyle ride but it's even good for an aspiring all mountain rider as well. If they made this set back 15 mm it could be a perfect all mountain to all mountain freestyle ride.
For 2013 It seems like it's  only Camrock.  What is also cool about the 2012 and 2013 Basic is YES has a size for everyone this year from women to Wide. The 2012 YES Basic comes in two shapes. They offer camber like they did in 2011 and their hybrid camber shape that they call camrock for 2012. We found the 2012 Basic to have a faster base than the 2011 but 2013 went to extruded. It's not going to be slightly slower but more durable and require less wax. For an entry-level board like this that isn't a terrible thing but advanced to expert, riders will probably prefer the 2012 sintered 6000 base if they like to wax a lot and keep it as fast as possible.  Still, the ride is pretty much the same as last year in terms of flex and all-around performance. It's still a favorite.
On Snow Feel: It's very forgiving and catch-free but at the same time stable when it comes to one footing off the chair or flat basing through long almost flat slopes. Its got a do everything well confidence inspiring kind of feel for riders of all levels.
Powder: The YES Basic is a really fun board for a twin with a centered stance. We had a day with some powder and another day with some leftover powder that was a little over a foot. The basic floated well and if riding switch in powder is your thing this will be a great board.  If you like to set it back and get the most effortless float in powder we feel the Taipan has the advantage here.
Turn Initiation– The Basic can turn very very easy and would be good for just about any level rider.  It's pretty loose between the feet for a hybrid camber snowboard and almost feels as catch free as a hybrid rocker board without the squirrely feel you get flat basing on hard pack or one footing.  If you make short or wide turns the Basic will be predictable and easy.
Carving– We were able to make a pretty serious carve without washing out and love hybrid camber for this.  It does really well for a board of this flex.
Speed: The Basic is a soft board so this isn't going to light the world on fire when it comes to fighting chatter at speed.  Still, this does a very good job for its flex.  It can handle moderate speeds and is good for a board that can jib like this.  It's a very balanced ride.
Uneven Terrain: Very easy to go over or around bumpy end of the day snow.
Weight-This is right in the middle.
Edge Hold: We liked how this held in just about any condition you want to ride.  It held well in the pipe, on hardpack and did well with just about everything but pure east coast ice.  It's not going to bite like many magnatraction boards but it does a good job.
Flex: This is a pretty soft board it was smooth when it comes to buttering around the mountain or hitting the jib park.  It's not a noodle but it's pretty soft in the tip and tail. The reverse camber starting at the bindings makes for a very easy board to butter and press. If you come from a hybrid rocker board with camber at the tip/tail and try to butter this board you might slide right out on your ass at first because it's so easy. Once you get used to it it's really fun because it's so much more effortless to butter than other boards.
Switch: It's a true twin so it's perfect switch.
Jibbing– The camber between the feet on this board is not very high and ends at the bindings.  It's almost like it's flat so combining that with the soft flex you have a really good rail and jib board.  It almost feels like a flat/rocker board when sliding across a rail or box.  We had a lot of fun in the park with this.
Pipe: Usually a pipe board and a jib park board don't do well together but the basic was pretty fun in the pipe.  The edges weren't tainted from too much jib park play so it still held an edge well in the pipe.
Jumps: We had a lot of fun in the roller coaster line.  It was also pretty springy when it came to generating your own air.  In the park or out of the park you will have a good time on the Basic.
All in all, we were really impressed with the Basics performance in and out of the park. It rides better than many $500 board we tried.  Well done YES.
Jimbo taking the Basic Camrock through the park
A quick look at the 2012 YES Basic
The YES Basic 2011 "How it Rides"
How It Rides (2011 camber)

Groomers
Good
Speed
Good
Flex
Soft
Rails/
Jibbing
Good
Powder
Average
Weight
Medium
Carving

Good
Pipe
Good
Turn Initiation
Good
Edge Hold
Good
Switch
Excellent
Jumps
Excellent
The Good Ride Take On YES Snowboards
Yes has been around now for a few years and has established itself as one of the better hybrid camber snowboards in the US.  We are big fans of hybrid camber because it's stable between the feet, has good edge hold and is very floaty in powder.    The guys who designed these boards are from Burton and they had Nidecker make the boards.  Nidecker has been around since 1984 and has an amazing reputation in Europe.  They just haven't found a way to correctly market themselves in the US which is a shame because they make great boards.  YES did have some cosmetic issues with their boards but most of that is behind them now. Our biggest complaint is that we'd like to see Women's boards and Wide boards from YES as well.   Almost every board from YES is well thought out and usually won't disappoint.
YES Basic Images

We try to get as many images of the YES Basic, but forgive us if they're not all there.
2023
2022
2020
2019
2018
2017
2016
2015
2014
2013
2012
2011
YES Basic User Reviews
YES Basic 2010-2024 Snowboard Review
SKU
UPC
Model
Easily the best beginner board
Mar 03, 2021
by
Connor
Ability Level: Advanced •
Riding Style: Regular •
Days You Ride A Year: 10-20 •
Height, Weight And Boot Size (for Boards, Boots & Bindings): 6'1" 145lbs Size 11 boot
This board is one of the best beginner snowboards I have ever ridden. It is fast and carves very well. I got a used 2012 model and it was still keeping up with the newer Burton boards. I will highly recommend this to anyone who is just starting to snowboard and even experienced riders.

---
Best beginner to advanced board
Aug 31, 2019
by
Mat
Ability Level: All •
Riding Style: Regular •
Days You Ride A Year: 80 •
Height, Weight And Boot Size (for Boards, Boots & Bindings): 5'8" 140lbs Size 8 boots
This board is excellent. I bought the 2016 version when I first moved out to Breckenridge, 4 years later its still my favorite board. It does everything I ask of it well. Its a dream on rails, jumps up to 40ft or so, and buttering down the groomers. It doesn't float great in the pow but its not terrible because of the early rise rocker. This board has helped me go from not knowing how to snowboard to sending every feature in the park and bombing through the trees. 11/10 recommend to anyone who is learning to snowboard or anyone looking for absolute monster of board to progress with in and out of the park. Its a quiver killer.

---
Responsive, playful, a great friend and teacher
Jun 27, 2018
by
Retep
Ability Level: Intermediate •
Riding Style: All-mountain, Carving oriented •
Days You Ride A Year: 30 •
Height, Weight And Boot Size (for Boards, Boots & Bindings): 188cm, 70kg, 43.5
I got my eyes on the Basic series after the awards they got a few years back when I was still learning, for that reason and the minimalist approach to their designs I decided to go with the Basic and lots of experienced riders approved my choice.

It's been great so far, I had about 30 days on it this year and I've been steadily progressing. I am not saying there aren't other great boards in this price range, you can absolutely shred and progress on anything.

But if you are already close to a purchase and you are looking for a confirmation, you got an A++ from me. I will definitely keep Yes in my weapon list in the future too. One Yes board for all around riding and one Korua board for a carving/surfing experience.

---
If you can't buy through the links above, you can support the site with: