Ride Superpig 2020-2023 Snowboard Review
| | |
| --- | --- |
| Riding Style | Alternative Freeride |
| Riding Level | Intermediate - Expert |
| Fits Boot size (US) | 8-10, 10-12 |
| Manufactured in | China |
| Shape | Tapered Directional |
| Camber Profile | Hybrid Camber |
| Stance | Centered |
| Approx. Weight | Feels Normal |
| Split | No |
| | |
| --- | --- |
| On Snow Feel | |
| Turn Initiation | |
| Skidded Turns | |
Where To Buy
No obligation, but these links & ads support the site.
Ride Superpig 2023 - 2020 Review by The Good Ride
Ride Superpig Snowboard Video and Written Review
You have arrived at the Ride Superpig Snowboard Review from an average rider with an exceptionally objective perspective.
Update 2023: The Ride Superpig seems to be almost the same ride so this review still stands. 
Turn Ons/Swipe Right: Carves much harder than the Warpig and Psychocandy. Good short/wide one board quiver.
Turn Offs/Swipe Left: Not much except I like the Psychocandy and Warpig a little better for everything but carving.
Summary
The Ride Superpig is for those who want a more aggressive harder carving version of the Warpig but don't want to go super aggressive.
Ethics Statement: We don't get paid by the manufacturer to write these reviews and this is our unfiltered opinion. We do make money from the "Where To Buy" links, but this is our best attempt at an honest and objective review from an average riders' perspective.
A breakdown of how it rides and who it is for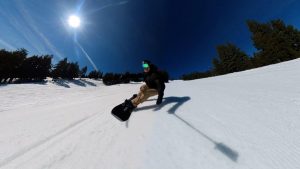 How This Review Happened: 
Borrowed this for an extended demo and sent it back.
Size: 151
Days: 4+
Conditions: Good spring conditions and a little wet snow. In the past with the same model very good mid-winter conditions with a decent amount of powder.
Riders: James (Size 9, 5'10" 185-190lbs)
Boots: Burton Kendo
Insoles: F.I.T. Gamechangers
Bindings: Union Atlas
Jacket: Burton AK Gore-Tex Pro 3L Tusk Jacket, Volcom TDF Infuse 3L Gore-Tex Jacket, Burton Banshee Gore-Tex Jacket
Pant: Burton AK Gore-Tex Pro 3L Hover Pant, Burton AK Gore-Tex 2L Swash Pant, Burton Gore-Tex Ballast Pant
Helmet: Smith Maze
Goggle: Smith 4D Mag
Gloves:, Burton AK Clutch Glove, Burton AK Tech Leather Glove, Burton AK Tech Glove
Similar Boards (but not the same): Yes Hybrid, Endeavor Scout, Lib Tech Orca, Never Summer Harpoon, Niche Pyre,Yes Hybrid, Gnu Gremlin
Set-Up: 21.5" Wide. Sance Angles +18/-3, +18/+3. Close to Reference and Set all the way back.
How It Was Tested
Most days I compared the Ride Superpig against the Warpig and Psychocandy with the same boots and bindings. I also compared it against the YES Y and Hybrid.
Approximate Weight
The Ride Superpig feels pretty normal and it is a touch on the lighter side of normal. (We don't put in the exact weight because with wood cores there is no consistency in a boards weight)
Sizing
The 151 Ride Superpig is the call for sure for my specs. I'm not normally the right weight for my boot size and this not as bad as it normally is. This fits my weight better than the Warpig and Psychocandy.
Here are some ideal US boot sizes for these boards. You can of course go bigger or smaller but these work best for not turning the board slower than it should be and not having the dreaded Toe & Heel Drag.
148 S: 8-9
151 M: 9-10
154 L: 10-11
158 XL: 11-12
Shape/Camber/On Snow Feel/Ability Level
You have a pretty interesting shape happening with the Ride Superpig. It is short, wide and tapered but it feels almost like an all mountain board. It needs some back foot weight but not as much as the Psychocandy or many 10mm tapered rides. The addition of camber between the feet with some early rise in the tip/tail makes it feel more aggressive than you would think. It still isn't unforgiving but the camber profile does something different to the Warpig shape that is hard to express. Just don't get this thinking you are getting the playful Warpig. Its semi-aggressive and a little more difficult to skid a turn than you would think.

Flex Personality
The flex is medium-stiff between the feet going to medium in the nose and about the same or a little stiffer in the tail. On snow, its not as playful or buttery as the Warpig and especially so with the Psychocandy. There is a snappy pop to the Ride Superpig. It isn't inaccessible, but it takes a little more work to create your own air than it does with the Warpig and Psychocandy. The overall flex personality and construction is very good in all conditions.
Speed
There is a nice balance between being poppy and also being damp on an above average straight line. The deeper sidecut doesn't make it feel hooky or weird when pointing it. The base glide is pretty good but not exceptional.
Edge Hold
I liked the grip with the Ride Superpig and it held well in all conditions you want to ride. It's not perfect for ice but it can for sure hang in hard snowmenty conditions.
Turning Experience/Carving
So getting the Ride Superpig to transition from edge to edge is not that fast due to the width but the shorter length and deep sidecut make it turn a tight circle if you keep leaning into it when you have the sidecut engaged. This definitely leans more on the circle carve side of the turning spectrum but it still can make more drawn out turns if the mood strikes. It is more fun to carve than the Warpig for sure and same with the Psychocandy. That being said the Psychocandy has a more set back surfy turn to it than the Superpig and Warpig that I personally preferred more.
Powder
I didn't get any powder this time with the Superpig but in the past I got about a knee high day and had a pretty good time with it. The width, 10mm of taper and setback on board of 3" at a 22.75" stance width make it pretty good. It's no dedicated pow board but it can for sure float really well and it does a little better than most all mountain boards I've tried.
Switch/Pipe/Jumps
For sure doable switch. Big air is better with the Ride Superpig for sure but if you like to jib the Warpig or Psychocandy is the call.
Conclusion
Overall, I had a great time on the Ride Superpig. It didn't have that easy feel that the Warpig and Psychocandy but it still wasn't hard. It's a super fun board to turn and carve with and it does a lot of things well. It's a fun tapered directional, short wide, one board quiver.
If this review helped, we'd appreciate if you:
Ride Superpig Past Reviews

The Ride Superpig is a hybrid camber, extra carbon fiber tweak on the Warpig. While it might not float as easy as many Alternative Freeride boards in it's peer group it does just about everything well. This makes it a great choice for those that want a shorter, fatter, tapered, one board quiver ride.

Ethics Statement: We don't get paid by the manufacturer to write these reviews.  We do make money from the "Where To Buy" links, but this is our best attempt at an honest and objective review from an average riders' perspective.

How This Review Happened:  We borrowed this for an extended demo and then returned it.
Size: Medium/151
Days: 4
Conditions: Pretty good groomers, some uneven bumpy mid-winter groomers, some powder, some leftover powder and some semi-thick powder after an early morning slackountry run with Drift Boards.
Riders: James (Size 9, 5'10" 185-195lbs)
Boots: Adidas Tactical ADV
Insoles: Sandsole Custom Insoles,
Bindings: Union Atlas, Union Falcor, Ride LTD

Similar Boards (but not the same) That We Compared This To: Ride Warpig,  United Shapes Orbit, Yes Optimistic, Salomon Sick Stick 151

Set-Up: 22" Wide. 21 front -6 back. Close to Reference and Set all the way back at a little wider than 22″.

Approximate Weight: Feels medium bordering on light but very well built.

Sizing: The Size Medium (aka 151) was a great fit but I was curious about how the small would work since the Ride Superpig is such a wide board.

Flex/Buttering: There is a good flex to it that is on the medium bordering on medium/stiff side between the feet but near the tip/tail it feels medium to medium-soft and allows for easier buttering. The core of this board has a very lively feel that is in line with the Warpig or the Twinpig but has a little more pop and energy underfoot. This flex tech is somewhat reminiscent of the Ultra-Light tech (UL) from a while back that we really liked. It feels a little rigid but snaps well with a little effort.

On Snow Feel/Ability Level/Skidded Turns: The mellow hybrid camber between the bindings going to a mellow early rise really changed up the ride and you can feel that on snow. It makes it a little less forgiving than the Warpig but still isn't something that feels locked in. It borders on being semi-locked in and it still works with intermediate riders. It has a bigger feel to it than the Warpig though and that might be from the extra carbon fiber and the camber. It's got a wide stable feel underfoot that doesn't feel like a 151.

Edge Hold: This demo I borrowed had stronger edge hold than I'm used to from Ride and it felt on the finger like it wasn't de-tuned. I said in the vid that it should be different in production but after a little thought, it might be what it is these days. If so that would be cool for guys' like me that prefer stronger edge hold. For those that have some time on a production model, let me know how your's gripped.

Turn Initiation: Pretty slow edge to edge even with my quite responsive Union Falcors. If was a little more work edge to edge than the Warpig and a little slower than the Sick Stick 151 I rode for a few months as well as the Warpig and Twinpig. It was slower than them edge to edge. Once the sidecut is ingaged it starts to speed up a bit though.

Turning Experience/Carving: So even though the Ride Superpig isn't a super carver it had a lot more going on for it than we thought it might and it's fun to really lay all your weight into each turn and see what happens. Taking out the Yes Optimistic on the same day made me realize that this is really fun but not quite there with more specialized turners that have more camber, different sidecuts, edge hold, etc.

Powder: So at first look, you might think the Ride Superpig could be a dedicated powder board but that isn't really the case. The stance is centered on board and when set all the way back with a 22.75″ stance width there is a 5.75″ difference between nose/tail, or a 2.875″ setback on board. It felt like a really good All-Mountain board, which is good, but the compared to many Alternative Freeride boards that are way more tapered and set back on board it just didn't do as much for directional float. If you like to ride switch in powder though, the Ride Superpig will be a much better choice though.

Speed: Really competent mountain speed and you can point it if you want. There are faster boards like the Ride MtnPig but this does good things for being so short and fat.

Uneven Terrain: Usually smaller boards can buck and bounce you around but the Ride Superpig felt really good underfoot powering over the mid-winter uneven snow we came across. It can't weave through bumps fast but it's somewhat doable but at least it can power over them without too much bucking and bouncing.

Switch: Very doable and this little tapered directional Ride Superpig did a good job throwing it around fakie. That is another thing that makes this pretty atypical of most freeride/alternative freeride boards out there and it gives it more of a double-ender/all-mountain kind of feel.

Getting Air/Park: The Ride Superpig pops into the air well and also has a very stable approach/landing that makes you want to air off everything you see. It inspired this old broken body to get a little more air.  I wouldn't want to take this into the pipe but I could see how some might like it here and I think most will like the Warpig a lot better if you want to jib.

All in all this little wide thing did a great job just about everywhere most people want to ride and it is a pretty recommendable one board quiver. The Superpig, the Warpig and Salomon Sickstick 151 are some of the only shorter somewhat wider boards I've tried that have this much of a centered, versatile personality with this much taper.
Ride Superpig User Reviews
Ride Superpig 2020-2023 Snowboard Review
SKU
UPC
Model
Superpig, 2022
Feb 24, 2022
by
Mike P.
Ability Level: Light Advanced •
Riding Style: Directional, Surf Style •
Days You Ride A Year: 30+ •
Height, Weight And Boot Size (for Boards, Boots & Bindings): 5'7" 155lbs
I picked up a 148 Superpig this year (with some beta from the Good Ride Reviews of course) and couldn't be happier. I like a powerful, energy filled board and the Superpig delivers. Edge hold is amazing, the 148 for my frame was the right call. I would agree it is not the quickest turning board, and isn't the first board I grab for tight trees, but grab it for most other conditions. Lastly, the full camber ride is VERY predictable at speed, flats etc. This thing is a bomber, no question. No issues for me with the topsheet (which I've heard was an issue in the past). I'm a quiver guy, and this board is an essential part.

---
Super Pig is Super Good
Feb 25, 2020
by
Kevin Diaz
Ability Level: Expert •
Riding Style: All mountain •
Days You Ride A Year: 10-15 •
Height, Weight And Boot Size (for Boards, Boots & Bindings): 5'9" 210, 10
Great Quiver Killer for the older crowd (likes camber) or whomever has room/budget for one deck to do it all. Sizing is super important as board can be playful or less than if not sized right. I'm 210 lbs. and ride the large which is enough board for when it's boiler plate( north east coast USA) yet agile / playful enough for NE resort shredding. I found it surprisingly fast edge to edge once you find the sweet spot on the side cut. While it's directional it does like it better when center flexing then engaging the tail which holds like a vice. Flexing to front foot forward I found it likes to dive too fast. It's a crazy combo of fun/ forgiveness yet super stable at speed...Chilton is a genius!

Likely would step up to XL if riding was mainly large resort/deep off piste . Would give it a 5 but topless top sheet is no Bueno. Anything more than a sneeze and it scratches. I would save that tech for the Pros who may benefit from saving a few grams but get boards for free , no worries on long term commitments. I will be doing some DIY paint schemes for fun as original graphic will be toast by seasons end anyway. All in all a great deck.

---
If you can't buy through the links above, you can support the site with: