Ride Deep Fake 2024 Snowboard Review
| | |
| --- | --- |
| Riding Style | All Mountain |
| Riding Level | Intermediate - Expert |
| Fits Boot size (US) | < 8, 8-10, 10-12 |
| Manufactured in | China |
| Shape | Tapered Directional |
| Camber Profile | Directional Camber |
| Stance | Setback -20mm |
| Approx. Weight | Feels Normal |
| Split | No |
| | |
| --- | --- |
| On Snow Feel | |
| Turn Initiation | |
| Skidded Turns | |
Where To Buy
80% of outdoor sports products are not listed or sold online.
Our team has relationships with hundreds of local snowboarding and outdoor sports shops.
We'll call the shops and email you a list of stores along with pricing and availability.
---
Not sure what to buy?
Get custom advice from Good Ride editors James and Steph.

Get Advice
Ride Deep Fake 2024 Review by The Good Ride
Ride Deep Fake Snowboard Video and Written Review
Here sits the carefully crafted Ride Deep Fake Snowboard Review from an average rider with extensive but objective board knowledge.
Positives/Swipe Right: Super damp fast ride stiff damp edges. More turny than you would think for this sidecut radius. Quick edge to edge turn initiation.
Negatives/Swipe Left: Hard to get to pop. Can feel a little dead if you aren't going full on with this.
Summary
The Ride Deep Fake has a very stiff flex between the feet along with a very damp edge. It takes a lot of work to pop but sure does like high speed turns. In some ways its like the Commissioner, Berzerker and Algorhythm had a three-way resulting in this love child.
Ethics Statement: We don't get paid by the manufacturer to write these reviews and this is our unfiltered opinion. We do make money from the "Where To Buy" links, but this is our best attempt at an honest and objective review from an average riders' perspective.
A Breakdown Of How It Rides And Who Its For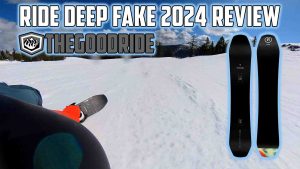 How This Ride Deep Fake Review Happened:
Borrowed this for an extended demo and sent it back.
Size: 155 and 159
Days: 3 (1 on the 155 and 3 on the 159)
Conditions: Some soft wet spring snow on top of pretty hard snow. Then some good spring conditions.
Riders: James (Size 9, 5'10" 185-190lbs)
Boots: Ride Torrent
Insoles: F.I.T. Gamechangers
Bindings: Union Atlas, Nitro Phantom Plus, Jones Mercury, Nitro Phantom
Jacket: Jones Mtn Surf Anorak, Jones Shralpinist Stretch Jacket,
Pant: Jones Mountain Surf Bib, Jones Shralpinist Stretch Bib,  Burton AK Gore-Tex Pro 3L Hover Pant
Helmet: Smith Maze
Goggle: Smith 4D Mag
Gloves: Burton AK Clutch Mitt, Burton AK Tech Leather Glove
Similar Boards We Like (but not the same): Amplid Souly Grail, K2 Alchemist, Burton Skeleton Key, YES PYL Uninc, Weston Backwoods, Cardiff Powgoda, Jones Mind Expander
James's Set Up: 21.5" Wide. Sance Angles +18/-3, Set all the way back in powder. +18/-9, Close to Reference on groomers.
How It Was Tested
I rode this on its own but also tested it same day against the K2 Antidote, Amplid Souly Grail and YES Pyzel.
Approximate Weight
This feels pretty normal and maybe a touch on the heavy side of normal. (We don't put in the exact weight because with wood cores there is no consistency in a boards weight)
Sizing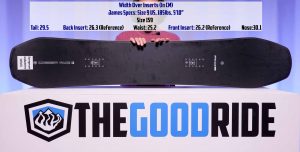 The 155 Ride Deep Fake felt too small but the 159 felt just right. I think I could handle the 162 if I wanted more speed and a more aggressive ride but the 159 was a good balance of speed and control for my specs.
Here are some ideal US boot sizes for these boards. You can of course go bigger or smaller depending on your riding style and boot's footprint, but these work best for not turning the board slower than it should be and not having the dreaded Toe & Heel Drag.
148: 6-7
151: 6.5-7.5
155: 7.5-8.5
159: 8-9
162: 9-10
157w: 10-11
161w: 10.5-11.5
165w: 11-12
For weight I would stay close to the Ride's recommended weight ranges but you can go up a little. If it comes down to boot size or weight, I would make sure it fits your boot first and then your weight a close second.
Shape

The Ride Deep Fake is not that directional for freeride but pretty directional for all mtn and sits right in between both worlds. There is 6mm of taper but it doesn't feel very tapered or directional on snow.
Camber/On Snow Feel/Ability Level

There is a directional camber happening here with a mellow set back camber starting past the front foot to just a little before the tail. There is a long mellow early rise rocker happening well before the nose. It surprised me at how much more locked in it felt than you would think looking at the camber. It's not hard or super catchy but just felt a little more technical than it looks. It tracks really well one footing/flat basing and feels very stable.
Flex Personality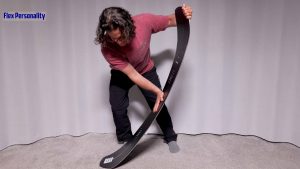 The Ride Deep Fake has an almost stiff flex between the feet but the tip/tail are not that stiff. If you look at me flexing it in the video review you can see the camber area in the middle barely flexing. The only parts that are really flexing are the tip/tail and to a lesser extent the early rise area before the nose.
I didn't feel a lot of easy pop here. You really have to put a lot of effort into this stiff lex to get it to ollie or spring out of a turn. Buttering was doable but it took some work. Even with the rocker in the tip/tail giving you a little extra leverage.
Uneven Terrain
The Ride Deep Fake might not pop that well but it sure is damp in all conditions. I haven't found any type of uneven condition it can't handle with utter dampness. Even brick hard snow with soft uneven wet snow on top couldn't phase it. Nothing got up through the board and into my joints.
Edge Hold

This modern tweak on cap construction with the Titaniumish metal combined with their Urethane does a good job in hard snow. It makes for good grip but also keeps the edge quiet at higher speeds so you don't have to worry about it letting go. This is a very competent hard snow ride. I like that they are using a quadradic sidecut which gives it a very slight disruption vs. a traditional sidecut. It's nothing like many out there that have a very visible disruption but it seems to really improve the grip vs. a lot of older Ride boards I tried that didn't have it.
Speed
The only thing faster I've experienced in Ride's line is the Commissioner and Smokescreen. The Deep Fake isn't a go straight only kind of ride but it sure can point it well.
Base Glide

The base glide is good but it isn't what I hoped for this price point. I found many of its peers, even at a lower price point, to have a faster base than the Deep Fake. I got this well waxed for my local mountains conditions too.
Turning Experience/Carving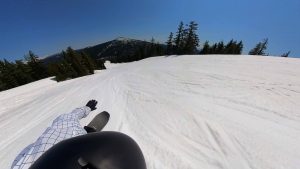 I found it turns edge to edge super quick and I love how quickly an easily I can initiate a turn. Once it is on edge I felt the Deep Fake has a more turny experience than I expected for a 10m sidecut. There must be some much tighter radii in this multiple radius sidecut. It just goes to show that specs lie. It still leans on the straight line side of the turning experience but it's just more balanced than you would think.
What I love about the Ride Deep Fake is how well it carves when you pick up speed but I don't find it that satisfying at slower speeds. It's like it gets board with you if you aren't getting after it at all times. You really have to lean into it at high speeds to get it to pop out.
What I liked about the Deep Fake is it can center weight, front foot weight or back foot weight your turn and it doesn't wash out.
Powder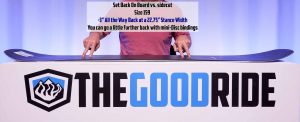 I didn't get powder but I think this will be really good for an all mountain board. A 3" setback on board is pretty good but the 22.75" stance width set all the way back is a bit wide so most won't be able to utilize the whole set back. You do have a much longer nose than tail and 6mm of taper.
Switch
Very good when on reference stance.
Final Thoughts
So this board isn't really my thing but I can see how it would really shine for a rider that wants a quiet edge, loves to go straight but still wants to have a somewhat balanced turning experience for hard carving.
If this review helped, we'd appreciate if you:
Ride Deep Fake User Reviews
If you can't buy through the links above, you can support the site with: