Ride Berzerker 2012-2023 Snowboard Review
| | |
| --- | --- |
| Riding Style | Freeride |
| Riding Level | Intermediate - Expert |
| Fits Boot size (US) | 8-10, 10-12, > 12 |
| Manufactured in | China |
| Shape | Tapered Directional |
| Camber Profile | Directional Camber |
| Stance | Setback -20mm |
| Approx. Weight | Feels Normal |
| Split | No |
| | |
| --- | --- |
| On Snow Feel | |
| Turn Initiation | |
| Skidded Turns | |
Where To Buy
No obligation, but these links & ads support the site.
Ride Berzerker 2023 - 2012 Review by The Good Ride
Ride Berzerker Snowboard Video and Written Review
You have arrived at the Ride Berzerker Snowboard Review from an average rider with an exceptionally objective perspective.
Update 2023: The Ride Berzerker has changed very little or at all so this 2022 review still stands. 
Turn Ons/Swipe Right: Very quick edge to edge. Very circle carvy.
Turn Offs/Swipe Left: Can be hooky. Not ideal for pointing it.
Summary
The Ride Berzerker is probably the most quick turning and all around turny board in Ride's line. It always wants to be turning.
Ethics Statement: We don't get paid by the manufacturer to write these reviews and this is our unfiltered opinion. We do make money from the "Where To Buy" links, but this is our best attempt at an honest and objective review from an average riders' perspective.
A Break Down of How it rides and who it is for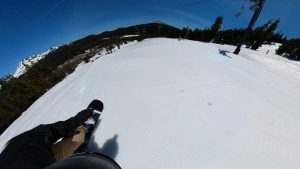 How This Review Happened:
Borrowed this for an extended demo and sent it back.
Size: 159
Days:  2
Conditions: Good but varied spring conditions.
Riders: James (Size 9, 5'10" 185-190lbs)
Boots: Burton Kendo
Insoles: F.I.T. Gamechangers
Bindings: Union Atlas
Jacket: Burton AK Gore-Tex Pro 3L Tusk Jacket, Burton Banshee Gore-Tex Jacket
Pant: Burton AK Gore-Tex Pro 3L Hover Pant, Burton Gore-Tex Ballast Pant
Helmet: Smith Maze
Goggle: Smith 4D Mag
Gloves: Burton AK Clutch Glove, Burton AK Tech Leather Glove
Similar Boards (but not the same): Yes Pick Your Line, Burton Flight Attendant, Rossignol XV, Lib Tech BRD, Prior Spearhead
Set-Up: 21.5" Wide. Sance Angles +18/-3, +18/+3. Close to Reference.
How It Was Tested
I rode it same day with the Mtn Pig and one day I took out the Smokescreen just to have a shit ton of contrast.
Approximate Weight
The Ride Berzerker is pretty normal bordering on light for its size. (We don't put in the exact weight because with wood cores there is no consistency in a boards weight)
Sizing
The 159 Ride Berzerker felt fine for my boot size and not bad for my weight which is usually a little too heavy if I match up correctly with my boot size. One thing to note is this deep sidecut makes the board seem narrower than it is and you can fit a little bigger boot size than you think. Just don't overdo it. Because of the quick turn initiation it can also work for a little bit smaller boot size as well.
Here are some ideal US boot sizes for these boards. You can of course go bigger or smaller but these work best for not turning the board slower than it should be and not having the dreaded Toe & Heel Drag.
153: 7.5-8.5
156: 8-9
159: 8.5-9.5
162: 9-10
165: 9.5-10.5
160w: 10-11
163w: 10.5-11.5
167w:11-12
Shape/Camber/On Snow Feel/Ability Level
The Tapered directional shape of the Ride Berzerker doesn't feel super tapered. It isn't quite like the balanced freeride geometry of many of the Burton boards that almost don't feel tapered but you don't need too much back foot weight. Then you throw in the pretty aggressive directional camber you have a board that is pretty technical. There is some early rise in the nose that makes it easier to ride than full on camber but its still more advanced to experts. So with this really deep sidecut you want to stay on edge and it doesn't track super well for a hybrid/directional camber board when one footing and flat basing. You want to be on edge all the time or it can feel a bit hookey. This board doesn't like to go straight. It always wants to turn. It is a very good idea to detune the edges which isn't as necessary these days in past days but it helps mellow out this feeling.

Flex Personality
There is a pretty stiff flex between the feet going out to a mediumish flex in the nose and medium/stiff flex in the tail. This is not easy to butter but the Ride Berzerker pops hard on an ollie and it can reward an average rider, like myself, with more air than you deserve. It has a very lively dynamic personality that still isn't too ultra poppy and chattery. You can turn this board all day in all types of conditions and it won't get too cranky.
Speed
So there is pretty damp construction and good base glide but the one hindrance is the sidecut. It just doesn't like a really aggressive straight line. Its almost like the edges keep trying to initiate a turn mid straight line.
Edge Hold
The Ride Berzerker has pretty solid grip for a board without any real major disruption in the sidecut and it held well enough on some hard spring areas as long as I dialed back my turns.
Turning Experience/Carving
So if you want to make quick turns, across the groomer turns and circle carves this is your new best friend. The only thing is that's all it wants to do. It springs hard out of each turn though and is a very rewarding carver inside its skill set. This is a great board for riders that like to turn in tight steep chutes, big bump lines and dense tree runs.
Powder
I wish I had powder to get this in but it was a rough season. So with the setback on board of 3" at a 22.75" stance width, the taper and bigger nose than tail, I think it would float like most of it's peers. I would be more than comfortable with the Ride Berzerker until it gets above my knees. Especially if it's thicker pow. Then I'd want something better.
Switch/Pipe/Jumps
Very doable switch for a tapered directional board and it didn't feel super weird. The way the Ride Berzerker tracks into the jumps is not my favorite way to approach a jump. I like something that tracks straight better but as long as you are in a moderate turn you can make it happen. You get used to it pretty well. I liked this in the pipe though. It did well carving wall to wall.
Conclusion
So the Ride Berzerker isn't for everyone but if you want an quick super turny board this is a great call.
If this Ride Berzerker review helped, we'd appreciate if you:
Ride Berzerker Past Reviews
2020 Ride Berzerker Review
The Ride Berzerker 2020 moved from being a double-ender to a tapered directional board this year and it felt a little less hookey than it used to. It's a pretty stiff, damp ride that is really tapered to Jake Blauvelt's needs which is usually far from ours.
Ethics Statement: We don't get paid by the manufacturer to write these reviews.  We do make money from the "Where To Buy" links, but this is our best attempt at an honest and objective review from an average riders' perspective.
How This Review Happened:  We borrowed this for an extended demo and then returned it but also took it out in some powder at a frantic manic demo dash.
Size: 159 both times
Days:  4
Conditions: About 1.5 feet of eastern PNW snow off-piste that wasn't too fluffy but not too thick, and then decently groomed snow on the way back to the chair but not great at Mission Ridge. Then back at home some pretty good groomers at Mt Bachelor.
Riders: James (Size 9, 5'10" 185-195lbs), Peter (Size 8, 5'11" 185lbs)
Boots: Adidas Tactical ADV
Insoles: Sandsole Custom Insoles,  Footprint Insole Technology Gameghangers Low Profile
Bindings: Union Atlas, Union Strata and Ride LTD
Similar Boards (but not the same):
Yes Pick Your Line,  Burton Flight Attendant, Gnu Mullair, Jones Flagship, Never Summer West Bound, Rossignol XV, Lib Tech BRD
Set-Up: 22" Wide. 21 front -6 back. On Reference Stance.
Approximate Weight: Feels pretty normal but weirdly normal. You look at this thin board and think it's going to be a featherweight kind of ride and then it actually feels really dense for its thickness but overall it evens out to be pretty normal.
Sizing: The 159 felt pretty good for Peter and I and I think we could ride the 162 as well.
Flex/Buttering: The overall flex of the Ride Berzerker is pretty medium-stiff but the nose feels a little more on the medium. It's not a super easy board to butter and it takes a pretty strong leg to make it happen. Over the last few years, Ride has changed up to the personality of the overall flex and core with many of the boards we have tried. It still has that dampness that soo many people like about Ride but it has been mellowed out a bit to give it a more lively energetic feel reminiscent of the old UL (Ultra-Light) tech from years past like the Highlife UL. It doesn't have the shape though…just similar flex/core tech. It needs a strong rider to access all that it can give though.
On Snow Feel/Ability Level/Skidded Turns: The Ride Berzerker has a long somewhat low bow of camber starting almost at the tail that goes a little bit pas the front inserts and then it has a mellow rocker up from there. It gives it a semi-locked in feel that doesn't skid turns as easy as you would think. The older model we rode did not track well one footing or flat basing and had this hookey feel underfoot if it wasn't on edge turning. The newer tapered directional Ride Berzerker still has that thing going on in the sidecut but it's not as pronounced as it used to be or at least it wasn't in the conditions we rode it this time. It might have this personality because the sidecut has a pretty short/deep radius where it starts after the tip/tail but then mellows out as you get to the middle. There might be other factors like the stiffer flex too but it's hard to say for sure unless we had some geek time with the designer.  This could be a turn off for some and others might like it but at least it mellowed out a bit since when we tried it a few years ago.
Edge Hold: There is pretty good edge hold here that borders on being pretty competent in harder snow but it doesn't shine there.
Turn Initiation: So fast edge to edge. The Ride Berzerker one of the fastest boards we tried this year. It initiates a turn super fast and then doesn't stop.
Turning Experience/Carving: So after comparing this directly on snow to my Burton Flight Attendant one day (hard carver) and Yes Pick Your Line (mellower carver) the next day it came right in between them. It has more pop and drives in/out of a turn than you would think for this somewhat mellow but long camber. We thought we would feel more of the taper in the tail and have to put more back foot weight there to keep it from washing but it didn't need as much as we thought. It is less inclined to slash and more inclined to keep that edge driving through the snow.
Powder: So even though we were on reference stance and not set all the way back on the powder day you could feel the rocker working to keep us up and if it was set all the way back it could do even better. With a 22.75″ stance width set all the way back you can get a 4.5″ difference between nose and tail, or a 2.25″ setback from center of the board. With mini-discs, like all Ride bindings have, you can set it back a little further too. That isn't massively back in comparison to many freeride boards in its peer group but it is a step above most all-mountain boards out there. Factor in that 8mm of taper in the 159 we had and the Ride Berzerker sinks a lot better than it used to.  One thing to mention as well is the Ride Berzerker didn't feel very hookey at all in powder…just super turny.
Speed: The Ride Berzerker doesn't feel like the old ride boards but it still is super damp and fast but that deep hookey sidecut scares me a bit when it comes to really pointing it. Just not sure if my insurance policy is beefy enough to fix this semi-old and broken body.
Uneven Terrain: So the name is appropriate on how this board takes on the uneven snow we encountered.
Switch: Less doable than before but better than you would think.
Park: The sidecut, narrower waist and general fast turning personality of the Ride Berzerker was pretty fun in the pipe for my specs and I like how quick you could turn as well as how it tracked from wall to wall in the pipe. I wouldn't try to jib with it. It can get big air but the way it could track in certain conditions going into the jump could make it feel sketchy.
So it was fun to get on the Ride Berzerker in some different conditions and we personally liked it better than before, but even after the redesign, the Ride Berzerker might not be for all riders. As it stands now, the Ride MtnPig is probably the better call for those looking for a freeride board from Ride.
2016 Ride Berzerker Review
The Ride Berzerker had a little tune-up in 2016 with a different shape and some extended camber.  It's a quick turning poppy aggressive ride. We loved the little extra camber and new nose/tail design but felt the side cut was a bit hookey. It seemed like it always wanted to be engaged in a turn and didn't like to go straight.  The 2019 Ride Berzerker still seems to be pretty much the same board as the 2016 model we tried so the old review still stands.
Ethics Statement: We don't get paid by the manufacturer to write these reviews.  We do make money from the "Where To Buy" links, but this is our best attempt at an honest and objective review from an average riders' perspective.
Size: 159
Days:  1
Conditions: Perfect Sierra Groomers after a wet storm.
Riders: James, Peter, Jimbo
Boots: Burton SLX, Salomon F3.0, Burton Fiend LTD
Bindings:
Set Up: Set back a bit 23″ wide 15 front -6 back
Approximate Weight: felt normal
On Snow Feel: We all liked the 2016's ride better than the older models mainly because the extra camber extended further past the front binding towards the nose and got rid of that washy feeling. The only issue was all of us felt it was a little hookey and didn't really like flat basing or going straight too much.  It felt like it always wanted to be engaged in quick short to medium radius turns. That was probably the only reason it didn't make the favorites list because some will like that feel and some won't. Maybe a little detuning of the edges might help but not 100% sure that would fix the issue. Still, it's a mean quick turning hard carving all mountain ride.  If they just dialed back the side cut a bit this would be an amazing aggressive one board quiver.  As it stands now some will love this and some won't.
The Ride Berzerker is a very similar ride in specs and feel to the Ride Highlife UL which means it's the same board without Ride's ultra light technology.  This is a good board for the rider that likes to carve groomers and bomb hills but uses the same board when it dumps.  If you can't afford the Ride Highlife UL which is a better board this is going to be the next best thing. The 2013-2015 Ride Berzerkers are pretty much the same ride.
Size 160
Days: 3
Conditions: Pretty good snow to some ok snow with harder patches here and there.
Riders: James & Jimbo
Boots: Burton Ion, Burton SLX, Burton Imperial
Bindings: Burton Cartel,Burton Diode
Set Up: Just a bit set back (not the full 20mm), 23″ wide 18 front -9 back
There is a decent amount of rocker in the nose that leads to a very long but not very high camber that goes almost all the way to the tail.  Many hybrid camber boards are not like this and usually have a lot of camber between the bindings and equal rocker at the tip/tail. It's definitely unique so here is our take on how it rides.
On Snow Feel: We found the Berzerker to be a typical mid level ride board.  It was damp, stable and predictable but not to lively like the High Life UL. Its stable between the feet for one footing and flat basing.  It is forgiving compared to a straight camber board but you still have to be on your game.  A technical rider that loves camber but would like a little bit less severity if they aren't on their game most likely will like this ride.  It's for that guy who lives for powder but on groomer days doesn't like to turn much and bomb the mountain.
Powder: This is definitely one of the best qualities this board has and we can tell this even though we didn't get a chance to ride this in any powder.  You can tell by the rocker that starts quickly after the front binding inserts that goes all the way to the nose, the good set back and the longer lengths will be borderline excellent when it comes to powder.  It's one of those boards that many riders will really enjoy in powder.
Turn Initiation and Carving– The Berzerker has a bit of a sluggish feel when it comes to making quick transitions from edge to edge. When making longer/wider radius turns this was more fun and you could feel a bit of the camber helping you spring out of the turn. We were a bit disappointed when it came to carving. We thought this would be excellent like the High Life is but the board rode more like a board with a minor taper.  We think this was because of the rocker that starts at the front binding.  It would kind of wash out if you didn't initiate the turn more from the back seat but after a little time you get use to it.  I think with a little more time and setting up the board more set back over the camber would make it better.
Speed: The Berzerker has a pretty good base and a very damp design so if the base was faster it would be excellent at high speed.  The typical ride ultra damp feeling was in effect.  To us it felt like the board was 1.5 times thicker than it was.  Some love this and some aren't into this feeling.  If you are into straight lining then this will be a fun board.
Uneven Terrain: It's on the stiffer side of the flex world so you would think that it's going to be worse but ride has something going on in the build to create a barrier between you and the bumpy snow beneath you.
Edge Hold: We had varied conditions of snow but most of what we experienced was hard to medium pack with some chewed up spots in the traffic areas. We thought the edge hold would be better than it was.  We found it to be fine in the better snow but there were some areas where we didn't feel comfortable laying into a carve in firmer condtions and held back.  We would say that this is on the average side of good and we wouldn't want to rely on this edge in icy or very hard conditions.
Flex: This is a medium to stiff flex that makes for a semi easy board to flex but it isn't very easy to butter around on.  The nose is a little easier than the tail because of the rocker but this ain't no jib park board.
Jibbing– This will be ok in the jib park but far from ideal.  We didn't even bother taking it in there.
Pipe: This isn't much of a pipe board either.  It was ok but if you like to lap the pipe there are many better boards out there.
Jumps: We fount the Berzerker to be middle ground when it came to generating your own air.  It doesn't have the spring that many boards do but its not lifeless either.  This will be fun hitting a natural jump at higer speeds and keeping it simple off the kickers in the park but there are many better jump boards out there.
All in all we had mixed emotions about the overall ride of the Berzerker.  It missed a bit on edge hold, carving and turning but made up for it in powder and speed. So if you are the kind of rider who likes to bomb the hill, ride powder and get out when the conditions are good then you will really enjoy the Berzerker.
Ride Berzerker Images

We try to get as many images of the Ride Berzerker, but forgive us if they're not all there.
2022
2020
2019
2018
2017
Ride Berzerker User Reviews
Ride Berzerker 2012-2023 Snowboard Review
SKU
UPC
Model
Ride Berzeker Update
Apr 05, 2021
by
Rob
Ability Level: Advanced •
Riding Style: All Mountain/ Freeride •
Days You Ride A Year: 50 •
Height, Weight And Boot Size (for Boards, Boots & Bindings): 5'9" 200lbs. Size 10 Ride Boot, size medium 2019/2020 Union Force Bindings, 20/21 165 Ride Bezerker
This is an update to my previous review of the 20/21 Ride Berzerker Snowboard. Day two on this board was absolutely amazing. The conditions were semi hard in the morning turning to perfect spring snow conditions. This is one of the nest , if not the most easy turning board I've ever rode. It carved amazing, it turns side to side effortlessly, and is so damp but lively! During the second day I was able to use some of the torsional flex is to this board to really drive my heel turns and then bam right on my toe edge. The dampness of the Berzerker is so amazing! I would just get on my heel and it would just power through the late day resort snow like it was nothing! Plus, you can just charge down the mountain when you have the opportunity and the board is completely stable. My stats for this day was 31 runs, 38 miles, 34,775 vertical feet, and top speed of 57 mph. I had the happy snowboarder smile all day long!

---
2020-2021 Ride Berzerker
Mar 28, 2021
by
Rob
Ability Level: Advanced •
Riding Style: All Mountain/Mostly Free Ride •
Days You Ride A Year: 50 •
Height, Weight And Boot Size (for Boards, Boots & Bindings): 5'9", 200lbs. Size 10 Ride Trident Boots, Medium 2020 Union Force Bindings, 165 Ride Berzerker Snowboard
This is my review for the 2020-2021 Ride Berzerker. I was super happy with the Berzerker and it is great addition to my snowboard quiver! I rode it in spring type conditions which was hard pack with ice marbles, corn snow, and then afternoon sticky slush spots. I purposely tried the Berzerker in the hard pack icy crap to see how it handled the edge hold compared to my Rossignol XV and Burton Boards I currently own. The edge hold in icy hard pack wasn't as good as the Rossignol XV, which I already figured since the XV has the 7M Serrated Edges, but was better than any of the Burton Boards I have used in similar conditions. The Berzerker is an excellent carving and overall turning board. It is definitely a stiff aggressive freeride style board but it wasn't as cranky as the XV or Burton Flight Attendant. I would say currently that my Berzerker Board is just as stiff as my 2nd season XV Board. I'm very curious how much softer it might get after a few days on the Berzeker. The Berzerker was super stable at high speeds, powered through late day spring garbage snow, and was extremely damp. I felt no vibrations on my feet or knees. Do I think this board is better than my other freeride boards? I would so no! It's just different! I feel that the Berzerker is very recommendable for a person that wants a freeride board that enjoys turning fast, carving, bombing down the mountain, and enjoys a damp but stable ride. I'm excited to try it on a powder day but that won't likely be until next year. I tore part of my bicep muscle a couple weeks ago crashing on my Rossignol XV so I didn't try any jumps or other park activities.

---
great all arounder
Mar 08, 2016
by
Jan
Ability Level: Expert •
Riding Style: Freeriding •
Days You Ride A Year: 60+
Great board, Purchased it as an all rounder (have a XV Magtek 72 for those deep big mtn days here in French Alps). Being a tall guy i ride the 67 w. No issues with being hookey (maybe that applies for the wide version only, don´t know). Carves great, pops nice off everything and the nose rocker helps to stay afloat in pow. Great for freeriding and natural jumps. The only downside is that its a bit slow edge to edge in the trees, i would like to have it mid-wide for my size 12 feet and maybe a slightly softer to make it more playful. But thats just me. Overall great board!

---
If you can't buy through the links above, you can support the site with: