Rad Air Tanker Snowboard Review
| | |
| --- | --- |
| Riding Style | Freeride |
| Riding Level | Advanced - Expert |
| Fits Boot size (US) | 8-10, 10-12, > 12 |
| Manufactured in | |
| Shape | Tapered Directional |
| Camber Profile | Flat to Rocker |
| Stance | Setback over 20mm |
| Approx. Weight | Feels Heavy |
| Split | No |
| | |
| --- | --- |
| On Snow Feel | |
| Turn Initiation | |
| Skidded Turns | |
Where To Buy
No obligation, but these links & ads support the site.
Rad Air Tanker 2023 - 2021 Review by The Good Ride
Rad Air Snowboard Video and Written Review
Welcome to Rad Air Tanker the Snowboard Review from those at The Good Ride that make mediocre matter. 
Turn Ons/Swipe Right: Huge. Incredible Glide and Float. Very Fast. Excellent Low angle pow ride.
Turn Offs/Swipe Left: Huge is challenging in uneven snow.
Summary
The Rad Air Tanker is massive and far from a typical board but it was a super fun experience and an amazing low angle pow board.
Ethics Statement: We don't get paid by the manufacturer to write these reviews and this is our unfiltered opinion. We do make money from the "Where To Buy" links, but this is our best attempt at an honest and objective review from an average riders' perspective.
Rad Air Tanker Review- How it rides and who it is for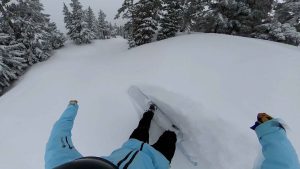 How This Review Happened:
Borrowed this for an extended demo and sent it back.
Size: 201 for James and 186w for Davey
Days: 4
Conditions: Some clean but flat lit and hard to ride groomers and some pretty good pow days ranging from knee high to thigh high pow.
Riders: James (Size 9, 5'10" 185-190lbs), Davey (Size 12, 240lbs, 6'4")
Boots: Burton Kendo
Insoles: F.I.T. Gamechangers
Bindings: Union Atlas, Union Force
Jacket: Burton AK Gore-Tex Pro 3L Tusk Jacket, Burton Gore-Tex 3L Treeline Jacket, Burton AK Helitak Gore-Tex Jacket
Pant: Burton AK Gore-Tex Pro 3L Hover Pant, Burton Gore-Tex Ballast Pant
Helmet: Smith Maze
Goggle: Smith 4D Mag
Gloves: Burton AK Clutch Mitt, Drop Tahoma Mitt,
Similar Boards (but not the same): Not many. Barely the Lib Tech Dough Boy Shredder, Nitro Quiver Canon 203 and 173.
James's Set Up: 21.5" Wide. Sance Angles +18/-3. Close to Reference and Set all the way back.
Davey's Set Up: 23" Wide. Sance Angles +18/-3. Set all the way back.
Approximate Weight
The Rad Air Tankers are light for a 201 and 186 but heavy compared to all other boards in a normal size.
(We don't put in the exact weight because with wood cores there is no consistency in a boards weight)
Sizing
The Rad Air Tanker 201 worked for me but it was really big on groomers but was easier to control in powder. It would be easier to handle a 181 or 171 and that would be fun to try. Davey loved his 186.
Here are some ideal US boot sizes for these boards. You can of course go bigger or smaller depending on your riding style and boot's footprint, but these work best for not turning the board slower than it should be and not having the dreaded Toe & Heel Drag.
186: 11-12
201: 9-10
I don't think weight is too much of an issue given the size of these boards but I would differ to Rad Air vs. what we say on weight.
Shape/Camber/On Snow Feel/Ability Level

The Rad Air Tankers are tapered and directional but soo big it's hard to really feel the 16mm of taper. Especially since you are mainly riding the center/flat part of the board on groomers. In powder you feel the taper a little bit but not as much as many boards that are shorter and this tapered.

The Flat to rocker camber profile of the Rad Air Tanker is stable and forgiving…for a 201. It's still a 201 so skidding a turn in narrow groomers or cat tracks could take out other riders like in an old school comedy. It takes some work too but we were pleasantly surprised on how easy it was to skid a turn when we got off our game.
Flex Personality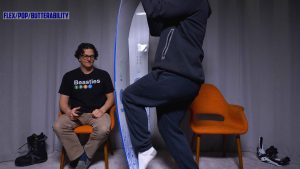 Pretty big and stiff. Neither of us could butter it or lean back into the tail and wheelie it up easy but we also never needed to with how easy it floated. There is some pop to it but it's hard to access and get air. That didn't seem like what this board was really about. It's a big easy cruising board.
Uneven Terrain
So this was a mixed bag. If you want to plow though chopped up snow the Rad Air Tanker kills it. If you are working your way through super tracked up snow with emerging moguls to get to some better pow it's not very easy at this length.
Edge Hold
Gripped very well in the conditions we had.
Speed

The Rad Air Tankers can bomb. The base is fast and the board is damp. It picked up speed soo quickly I constantly had to check my speed.
Turning Experience/Carving
So flat to rocker boards like the Rad Air Tankers aren't usually that exciting but despite the poorly lit conditions it turned pretty well.
Powder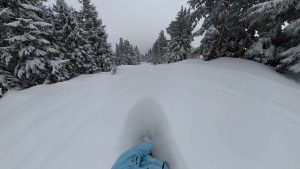 The Rad Air Tankers had effortless float and while it wasn't super set back on board it really doesn't matter in these lengths. They float soo well.
Conclusion
This was fun. It's definitely not a typical ride but we both had a great time in low angle pow we mainly have at Mt. Bachelor. If you have room in your quiver it might be worth it. It was the kind of board that didn't make me want to slash or get air or make a hard carving turn. I got enamored with the feel of how this big ass board just cruised around the mountain and that feel was just as fun.
If this review helped, we'd appreciate if you:
Rad Air Tanker User Reviews
If you can't buy through the links above, you can support the site with: