OSin 4807 Snowboard Review
| | |
| --- | --- |
| Riding Style | Powder |
| Riding Level | Intermediate - Expert |
| Fits Boot size (US) | 8-10, 10-12 |
| Manufactured in | China |
| Shape | Tapered Directional |
| Camber Profile | Directional Camber |
| Stance | Setback over 20mm |
| Approx. Weight | Feels Normal |
| Split | No |
| | |
| --- | --- |
| On Snow Feel | |
| Turn Initiation | |
| Skidded Turns | |
Where To Buy
No obligation, but these links & ads support the site.
| | | |
| --- | --- | --- |
| Loading Amazon Results... | | |
OSin 4807 2023 - 2022 Review by The Good Ride
O'Sin 4807 Snowboard Video and Written Review
Welcome to all that is snowboard gear polyamory and the O'Sin 4807 Snowboard Review in everything from pow to groomers. 
Turn Ons/Swipe Right: Incredible float and smooth turning experience in powder. Fun to make back foot heavy turns on groomers.
Turn Offs/Swipe Left: Pretty big and not easy to travel with.
Summary
The O'Sin 4807 is a very big old school looking powder surfer but it has a few modern twists that make it really fun in powder and on groomers.
Ethics Statement: We don't get paid by the manufacturer to write these reviews and this is our unfiltered opinion. We do make money from the "Where To Buy" links, but this is our best attempt at an honest and objective review from an average riders' perspective.
O'Sin 4807 Snowboard Review- How it rides and who it is for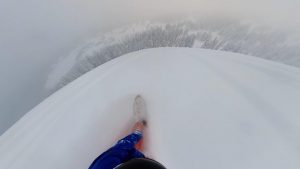 How This Review Happened:
Borrowed this for an extended demo and sent it back.
Size: 168
Days: 3
Conditions: Mostly good groomers but there were some firm areas. Deep and semi-light Powder with the help of my Drift Boards
Riders: James (Size 9, 5'10" 185-190lbs)
Boots: Burton Kendo
Insoles: F.I.T. Gamechangers
Bindings: Union Atlas
Jacket: Burton AK Gore-Tex Pro 3L Tusk Jacket, Volcom TDF Infuse 3L Gore-Tex Jacket,
Pant: Burton AK Gore-Tex Pro 3L Hover Pant, Burton AK Gore-Tex 2L Swash Pant
Helmet: Smith Maze
Goggle: Smith 4D Mag
Gloves: Burton AK Guide Glove, Burton AK Clutch Mitt, Drop Tahoma Mitt
Similar Boards (but not the same):
Capita Spring Break 158 Powder Glider, Capita Spring Break 161 Tree Hunter, Jones Mind Expander, Burton 3D Fish, Soul Blower, Korua Dart, Korua Pencil, Korua Café Racer, Weston Japow, Moss Jellyfish, Gentemstick Barracuda, Season Forma, Soul Shift
Set-Up: 21.5" Wide. Sance Angles +27/+9, +21/+3. Close to Reference and Set all the way back.
How It Was Tested
I did same day testing with the Capita Spring Break Powder Pill, Powder Glider, Soul Blower and Pitchwing
Approximate Weight
The O'Sin 4807 is a pretty big board but it doesn't feel heavy for its length and surface area. Very normal bordering on light for its size. (We don't put in the exact weight because with wood cores there is no consistency in a boards weight)
Sizing

So I think you want to ride the O'Sin 4807 a little wider than you normally would but this is still a pretty wide board. I think a size 11 could ride this no problem and not have any of the dreaded Toe & Heel Drag. This fit my size 9 boots and 185-190lbs no problem either and I didn't feel like I was on too big of a board. Funny enough this 168 felt easier to control than the 162 Blower on groomers.
Shape/Camber/On Snow Feel/Ability Level

The Soul O'Sin 4807 has a very tapered directional set back shape along with a very unique camber profile. It has camber to the tail but then it leads into a big nose with a little early rise and lifted sides that go into the contact area. This really makes the back part with traditional camber feel like fins on a surfboard. You need to put a lot of weight into the tapered swallow tail but when you do there is a pretty fun turn to it. I found it a little washy though on the front foot if you try to front foot or center weight this board.



Flex Personality
There is a medium stiff flex in the nose, medium stiff flex between the feet and a softer flex in the tail because of those two large swallow tails. The O'Sin 4807 is easy to butter off the tail or lean back and wheelie up in powder. What I love is the overall rubbery in places while still being poppy and damp flex personality. It can handle all conditions from hard micro bumpy snow to soft messy snow very well. This new flex personality is one of the best we have come across lately.
Speed/Base Glide

There is really good base glide. It isn't the fastest of fast but it is very close to some of the best bases we tried. This is very important to our crew in powder. Effortless base glide can mean the difference between making a traverse or not.
The O'Sin 4807 isn't a full on bomber but you can get some pretty good speed going here for sure.
Edge Hold
If you put a lot of back foot weight into the tail the O'Sin 4807 grips well enough but it doesn't have that competent grip like the Shift or Pitch Wing does.
Turning Experience/Carving
So the O'Sin 4807 in a 168 had faster turn initiation than the Blower 162. I could make pretty quick turns and that surprised me. Once I got it on edge and leaned way back into the camber point before the tail I had a pretty satisfying carve. The turning radius seemed on the turny side of balanced but didn't seem to balk at any kind of turn I wanted to make.
Powder
This is really what you get the O'Sin 4807 for. You can get massively far back on board and this boat hull nose (lifted sides) just has a really special and unique turning experience in the deep stuff. I liked that the tail was full camber without any lifted sides. Even in powder you could feel it help steer the board. The setback on board is massively far back too. If you measure from the Notch in the swallow tail the setback from center of board is -12.75" with a 23" stance width. This setback, the boat hull nose and the tapered camber swallow tail all work together to give one of the most surf inspired rides in powder I've tried. I did like the Blower (same design) in powder a little better though. This is an excellent board to ride when its 3' deep or more like I did.
Conclusion
So the size is pretty hard to travel with and the O'Sin 4807 isn't ideal if you have to deal with tracked up powder on top of emerging moguls. Other than that this is a really fun board to have in the quiver.
If this review helped, we'd appreciate if you:
If you can't buy through the links above, you can support the site with: