K2 Manifest 2019-2024 Snowboard Review
| | |
| --- | --- |
| Riding Style | All Mountain |
| Riding Level | Intermediate - Expert |
| Fits Boot size (US) | 8-10, 10-12 |
| Manufactured in | China |
| Shape | Twinish |
| Camber Profile | Hybrid Camber |
| Stance | Setback -20mm |
| Approx. Weight | Feels Normal |
| Split | No |
| | |
| --- | --- |
| On Snow Feel | |
| Turn Initiation | |
| Skidded Turns | |
Where To Buy
80% of outdoor sports products are not listed or sold online.
Our team has relationships with hundreds of local snowboarding and outdoor sports shops.
We'll call the shops and email you a list of stores along with pricing and availability.
---
Not sure what to buy?
Get custom advice from Good Ride editors James and Steph.

Get Advice
K2 Manifest 2024 - 2019 Review by The Good Ride
K2 Manifest Snowboard Video and Written Review
Here lies the K2 Manifest Snowboard Review from an average rider with an exceptionally objective perspective.
Update 2024: The K2 Manifest did not change much or at all so this review still stands.
Turn Ons/Swipe Right: Damp but still poppy. Very versatile one board do anything quiver.
Turn Offs/Swipe Left: Base glide could be better at this price point.
Summary
The K2 Manifest softened up since I last rode this in 2019 but for me that wasn't a bad thing. It just makes it more accessible for more all mountain riders. It doesn't have a super fast base but it is a damp rubbery ride with more pop than you would think.
Ethics Statement: We don't get paid by the manufacturer to write these reviews and this is our unfiltered opinion. We do make money from the "Where To Buy" links, but this is our best attempt at an honest and objective review from an average riders' perspective.
A Breakdown Of How It Rides And Who Its For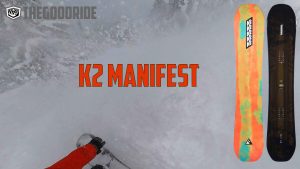 How This Review Happened:
Borrowed this for an extended demo and sent it back. 1 day demo. A few laps at a demo. Liked it so much, asked to keep it (only do this with favorites).  Liked it so much we bought it.  Precious Good Ride dollars were spent to buy this and review it.
Size: 159
Days: 4
Conditions: 
Rider: James (Size 9, 5'10" 185-190lbs)
Boots: Burton Kendo,
Insoles: F.I.T. Gamechangers
Bindings: Union Atlas, Jones Christiansen Bindings
Jacket: Burton AK Gore-Tex Pro 3L Tusk Jacket, Volcom Guide Jacket, Burton Gore-Tex 3L Treeline Jacket, Jones Peak Bagger Jacket. Burton AK Helitak Gore-Tex Jacket
Pant: Burton AK Gore-Tex Pro 3L Hover Pant, Burton AK Gore-Tex 2L Swash Pant, Burton Gore-Tex Ballast Pant
Helmet: Smith Maze
Goggle: Smith 4D Mag
Gloves: Burton AK Clutch Mitt, Burton AK Clutch Glove, Burton AK Tech Leather Glove, Drop Tahoma Mitt,
Similar Boards (but not the same): Korua Otto, Lib Tech Terrain Wrecker, Capita Mercury,YES NSB, Endeavor Pioneer, Jones Mountain Twin, Endeavor Ranger, Yes Typo, Jones Frontier, Ride Algorythm, Ride Wild Life, Borealis Tundra, Tahoe Labs Directional Twin, Yes Basic Uninc, Cardiff Lynx,
James's Set Up: 21.5" Wide. Sance Angles +18/-9 in pow, +15/-15 on groomers. Close to Reference on groomers and Set as far back as possible for the stance width in pow.
How It Was Tested
On one day I compared it to the Korua Otto and Jones Mountain Twin but most I just rode the K2 Manifest.
Approximate Weight
The K2 Manifest felt like a normal board. Not too heavy or too light. Usually boards this damp are heavier though. (We don't put in the exact weight because with wood cores there is no consistency in a boards weight)
Sizing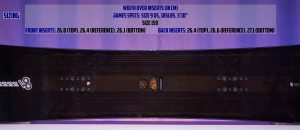 The K2 Manifest did a great job in the 159 with my weight and I didn't feel like I usually do where I'm on the upper end of the recommended weights at 185lbs-190lbs. For my size 9 boots the 159 felt good but I'm very curious about the 156 as that might be more fun to throw around.
Here are some ideal US boot sizes for the K2 Manifests. You can of course go bigger or smaller depending on your riding style and boot's footprint, but these work best for not turning the board slower than it should be and not having the dreaded Toe & Heel Drag.
153: 8-9
156: 8.5-9.5
159: 9-10
162: 9.5-10.5
157w: 10.5-11.5
160w: 11-12
164w: 11.5-12.5
For weight I would stay close to the K2's recommended weight ranges as they are pretty fair compared to most brands. If it comes down to boot size or weight, I would make sure it fits your boot first and then your weight a close second.
Shape/Camber/On Snow Feel/Ability Level

The K2 Manifest has an almost twin look to it but upon closer look it is slightly directional with a longer nose than tail. It also seems like the sidecut might be a little directional but not by much.

You have a slightly directional camber happening with the K2 Manifest but it's not super lopsided. There is still a good bit of early rise before the tail. Not as much as the nose but it's pretty noticable. You have a stable yet forgiving ride. So putting the camber profile together with the shape and you have a stable, twinish feel when on reference. It doesn't feel as set back and surfy as some all mountain boards when set all the way back but it is better than many centered twins.
Flex Personality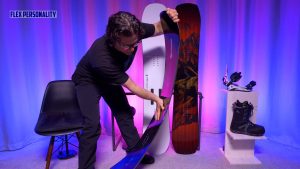 Compared to the old super stiff flex of the 2019 Manifest the 2023's medium flex feels mellow. There is a medium flex but it has a rubbery feel that acts like it will keep flexing without a breaking point. However it still snaps back with surprising pop for this kind of dampness. It buttered well enough and I didn't feel like I had to be a super hero to get it to pop on an ollie either.
Uneven Terrain
I think the way the K2 Manifest handles uneven snow is one of its shining characteristics. Some boards have higher highs in good conditions but not many can keep their composure like the K2 Manifest and many other K2 boards like the Broadcast, Passport and Instrument do. These are near excellent all conditions rides.
Edge Hold
Edge hold is good. It borders on being great. The K2 Manifest boarders on being a very competent hard snow ride but also doesn't grab to hard in softer snow.
Speed & Base Glide
This is one place where the K2 Manifest didn't have the glide that I had hoped for at this price point. Even well waxed it felt only a touch above average. The base isn't that fast but the board is damp and has a straight line friendly sidecut. It wasn't as much of a pointer as you would think for the sidecut radius but you get a lot more dampness than you would think for the flex.
Turning Experience/Carving
The K2 Manifest initiates a turn pretty quickly. When you get it on edge there is a pretty balanced turning radius. There isn't a ton of camber but I had some pretty satisfying carves.
Powder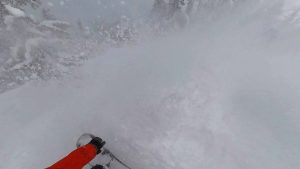 So you only have a -1.85″ set back on board vs. sidecut at a 22.75″ stance width. That isn't a lot and it took some back foot weight to keep the nose up in some spots I was riding in 6+ inches of thick pow. If you want better directional float look to the Broadcast or even better the Passport. Those float better. Still, the K2 Manifest floats very well when set back compared to most mountain freestyle twins. If you like more of a centered ride in pow this could work.
Switch/Pipe/Jumps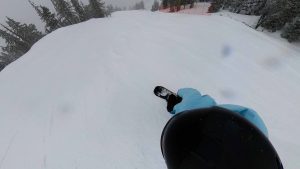 Very doable as a centered damp mountain freestyle ride and I liked riding it switch. Not a bad pipe or jump board either if that is your thing in the park.
Conclusion
So other than the base glide not being as good as I thought it should for an almost $600 board everything else about the K2 Manifest is pretty recommendable. Especially if you see a lot of uneven snow.
If this K2 Manifest review helped, we'd appreciate if you:
K2 Manifest Past Reviews

The K2 Manifest takes the best of a few models from K2's past line like the Turbo Dream and Slayblade to combine them into a new board with its own personality.  We put a lot of time on this ride and it really fared well against many of our favorites.

Ethics Statement: We don't get paid by the manufacturer to write these reviews.  We do make money from the "Where To Buy" links, but this is our best attempt at an honest and objective review from an average riders' perspective.

Size: 159
Days:  5
Conditions:  Everything from pretty old bad snow to a few inches of powder to some very good groomers
Riders: James (Size 9, 5'10" 185-195lbs), Peter (Size 8, 5'11" 185lbs), Grant (Size 11 6' 160lbs)
Boots: Adidas Tactical ADV, Burton SLX,
Insoles: Sandsole Custom Insoles,  Footprint Insole Technology Gameghangers Low Profile
Bindings: Union Atlas,
Set Up: 22.5" Centered 15 front -15 back, 22 set back a bit 15 front -9 back

Approximate Weight: Felt normal.

Flex: One demo 159 felt stiff like boards from the early '00s but the second one felt more medium/stiff tip to tail as well.

Sizing: The 159 felt perfect for my size 9 boots and Peter's but Grant, at size 11, needed the 157w or 160w to eliminate toe/heel drag.

On Snow Feel: There was a nice stable feel to the K2 Manifest that doesn't feel like there is too much consequence if you skid a turn or two but it still prefers a more technical/semi-aggressive to the aggressive rider.  It's just barely catch free enough to be intermediate.  Super easy to one foot and flat base with.  Feels like a forgiving camber ride but its a little more catchy than your average hybrid all mountain shape.

Edge Hold: As I said in the vid it's about a 3.5 out of 5 and although it's not a hard snow specialist it holds pretty well.  If you aren't into disrupted side cuts then you will really like the way the K2 Manifest's edges interact with the snow. It grips enough in hard situations but never grabs in softer snow.

Turn Initiation: pretty fast edge to edge and it likes to initiate quickly with the slightest pressure on the edge.

Turning Experience: The overall turning feel on the K2 Manifest is really fun and it likes to turn quick and hard.  You would think it's a bit hookey but I never felt it to be weird between turns. It really likes tighter radius turns but if you want to make wider turns or long narrow, s-turns that are just shy of straight lining it can do that without being hookey.  It's a very versatile turner.

Carving: Really likes to lay it out in good snow and I could make small circle carves in places I normally couldn't.  It's not the most springy board out there but it sure gives back at the end of the turn so it sets you up for the next one.

Speed: The demo that was super stiff was a bomber and felt like most freeride boards but the production model K2 Manifest was a little more dialed back.  It can still bomb like a champ though.

Uneven Terrain: It felt really comfortable weaving in and out of bumps with it's more old school waist widths.  I would prefer this board over many others when it comes to weaving in and out of bumps. It also absorbed chatter with crappy uneven groomers very well.

Powder: We never got a true powder day but with the 2.125″ set back from center of board with a 22″ stance width, the longer nose and early rise I don't see why this wouldn't float almost as well as many of our favorite all mountain boards like the Loaded Algernon.  With what powder we did have the K2 Manifest floated super easy with not even a bit of rear leg burn but that's expected with boards like these in about 6″ of powder.

Buttering: There was an easier break near the tip/tail with the second board that we believe to be the production model that allowed us to butter much easier than the demo model.  I could barely get the first to flex underfoot.

Switch: The K2 Manifest was not perfect but a little better than what you would think for its shape.  Even though it seems like there is a little more rocker in the nose than tail it still felt similar tail forward to nose forward which is good for those that want to treat groomer days in a mtn freestyle way.

Jumps: It was very easy to ollie and although not the poppiest board out there it's got good spring off natural terrain.  It's also great for kickers of almost any size.  It's not the most stable platform underfoot for approaching/landing kickers but it's still very very doable.  The more traditional narrow waist with what seems like a pretty deep sidecut seems like it would be sketchy to some more jump friendly boards with a wider waist and less turny side cut but it was nowhere near as bad as I thought it would be.

Jibbing: None of us jibbed with this thing and didn't even think about doing so.  I think it would be fine with more mellow boxes, bonks n such but it's nothing you want to lap the park with.

Pipe: If the pipe isn't too Icy I personally couldn't ask for a better board.

So all in all the K2 Manifest is a great one board solution that can do everything well.  It really hung in there with many of our favorite all mountain boards and it's a very recommendable ride.
K2 Manifest User Reviews
K2 Manifest 2019-2024 Snowboard Review
SKU
UPC
Model
Manifest freeriding
Mar 14, 2020
by
Andy Borruto
Ability Level: Advanced •
Riding Style: Freeride •
Days You Ride A Year: 30 •
Height, Weight And Boot Size (for Boards, Boots & Bindings): 5'10", 80kg, size 9 UK, board 156cm
I bought the 2020 model for a Freeride trip to the Northern Alps. Let me tell you... This thing flys... Deep deep fresh every day. Average of 40miles per day, 30+ of which was off piste. The manifest floats effortlessly.. 8" of fresh centered stance with no leg burn what so ever. The nose just naturally floats. I didn't cartwheel once. When it comes to chunder, just point an shoot.. This is a chunder mashing machine. The only downside is slow riding. At slow speeds turn initiation is tough... Fast and straight is the way on this demon. Tail presses are not easy for a weakling like me but the nose is soft and stable. Haven't got major airboure yet due to that fact that the off piste was too good. It should stick landings well if the chunder coping capabilities is anything to go by. Definitely not for the faint hearted, but a truly remarkable engineered machine for fast, steep and deep. So stable.. Buy, buy, buy

---
Just Brilliant!!!
Jun 20, 2019
by
Kurt
Ability Level: Intermediate •
Riding Style: Free ride •
Days You Ride A Year: 10-15 •
Height, Weight And Boot Size (for Boards, Boots & Bindings): 172cm, 95kg, 11 boots
I bought the 2019 Manifest last year (in Australia) and rode it for the first time in the Aussie winter.

It's a 157w (260 waist width), I was worried that I would loose performance with the extra width but I had nothing to worry about. This board is a dream to initiate a turn and to get on the edge. I compared the board with my T.Rice Pro HP using Union Travis Rice bindings.

Both boards are great but I noticed that the Manifest is a lot easier to get the board to turn and getting it to carve on an edge is soooo simple. The Manifest is made like a blade and the edge just cuts into the snow like a knife.

With the comparison I understood the draw back with having a board that turns so easily, the edge hold is compromised. Compared to the T.Rice with it's magnitraction the T.Rice out does the Manifest for edge hold, the Manifest slipped out from underneath my feet a few times that was unexpected as the T.Rice is like railway tracks once you engage it's edge.

The Manifest being like a thin sharp knife, means it's sharp in turns but is unforgiving in cruddy snow. Where the T.Rice is like machete and just hacks through anything.

Now one of the biggest things I noticed in the comparison was that the Manifest is FAST!!! It seriously loves the SPEED!!! So it felt like it was faster than T.Rice (be aware the T.Rice is still very quick).

So to sum this board up, I can definitely recommend it!!!

The 2019 model looks amazing, it definitely lives up to the review by the Good Ride, it makes me want to ride more because it's easy to get on the edge, it carves great once the edge is engaged and it's very quick!!!!

The guys described it as knifey (if my memory of their video is correct) and that is exactly what it's like or more like a scalpel!!! The T.Rice is more like a broad sword and you need to be fresh (not tired) when riding it because you need to use your weight to get it on edge but when the edge is engaged it doesn't budge or slip. Compared to the Manifest you can be hung over and have hypothermia and you will still find this thing easy to turn.

---
If you can't buy through the links above, you can support the site with: