Jones Womens Stratos Snowboard Review
| | |
| --- | --- |
| Riding Style | Freeride |
| Riding Level | Intermediate - Expert |
| Fits Boot size (US) | Women's, < 8, 8-10 |
| Manufactured in | Dubai by SWS |
| Shape | Tapered Directional |
| Camber Profile | Hybrid Camber |
| Stance | Setback -20mm |
| Approx. Weight | Feels Normal |
| Split | No |
| | |
| --- | --- |
| On Snow Feel | |
| Turn Initiation | |
| Skidded Turns | |
Where To Buy
80% of outdoor sports products are not listed or sold online.
Our team has relationships with hundreds of local snowboarding and outdoor sports shops.
We'll call the shops and email you a list of stores along with pricing and availability.
---
Not sure what to buy?
Get custom advice from Good Ride editors James and Steph.

Get Advice
Jones Womens Stratos 2024 - 2021 Review by The Good Ride
Jones Women's Stratos Snowboard Video And Written Review
This is a lively, poppy freeride board that could fit well for an intermediate to expert rider. The Stratos comes with added float pack binding inserts to add optimal directional float in powder. It is tapered and directional but has a playful freestyle type personality.
This video review is for the 2022 Jones Women's Stratos. But not too much has changed with the 2024 model, except for some upgraded materials and one added size. They added a 143 to the sizes.
Ethics Statement: We don't get paid by the manufacturer to write these reviews.  We do make money from the "Where To Buy" links, but this is our best attempt at an honest and objective review from an average rider's perspective.
How This Review Happened: We borrowed this for an extended demo.
Days: 3
Conditions: California spring conditions. Icy mornings, slushy afternoons.
Set Up: 15 front, 15 back, 20″ stance width
Sizes: 143, 146, 149, 152
Camber Profile
The Jones Womens Stratos comes with a hybrid camber profile. It has positive camber between the feet, a short rocker on the tail, and a longer rocker on the nose. It also comes with a 3D contour base. This is a spoon bevel on the nose and tail that helps give the Stratos a smooth feel while turning and adds extra float in powder.
Base
The Stratos comes with a sintered 9900 base. This base is super fast. (its the same base the Flagship has). It has a great glide to it in a lot of different snow conditions.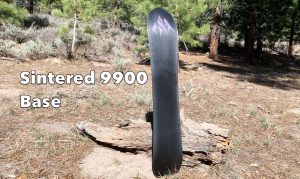 Edge Hold
This board comes with a mellow sidecut disruption. Jones' Traction Tech 3.0. There are 3 mellow bumps along the sidecut. This allows for added edge hold in hard snow and icy conditions. It isn't as grippy as a board with full magna traction but does well in most icy or hard snow conditions.
Flex
The Stratos comes with a 7/10 flex. It feels pretty stable when riding but doesn't feel real aggressive. I felt that it had a somewhat soft torsional flex for being a 7/10. This allowed for quick turn initiation. It is butter-able with a little effort.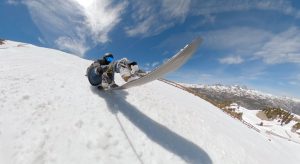 Turning Experience
I felt the Stratos was nimble, full of energy, and very interesting to turn. This board reminded me of an all mountain board instead of a freeride board. I felt it was quick to turn even though it has a stiffer flex and a wider waist width. It has a smaller turn radius than the Flagship. It felt like a mix between the Airheart and the Dream Catcher when turning. The fun personality of the Dream Catcher with performance close to the Airheart.
Steeps
This board responds well in steep terrain. It is easy to skid a turn and also is quick to make an edge change.
Off Piste / Bumps
I really enjoy the Stratos off piste and in bumps. It is extremely fun to turn through tight spaces and around moguls. I felt it was plenty stable in choppy snow for my weight and size. However, the boys at The Good Ride felt it was a little unstable from time to time. So its possible that for heavier riders, the Stratos might be a little chattery from time to time. It likes to turn through choppy conditions, rather than power over them.
Groomers / Carving
The Stratos is a lot of fun to carve and turn on groomers. It is lively and interesting and has a lot of energy to give back when turning. It likes a smaller turn radius and is fun to make slashy turns on the sides of the runs.
Freestyle Personality
I felt right at home from the first run I took on the Stratos. It reminds me of my all mountain freestyle board that I love to ride, but with the benefits that come with a freeride style ride. The Stratos has great pop and is super fun to ollie. It is nimble and fun. It isn't a board that I would lap through the park. But it inspires some freestyle type riding when riding in a freeride environment.
Switch
You can definitely ride The Stratos switch if you want. It is directional and tapered so it feels a little strange. But if you are in a tight spot and need to pivot around something it is possible.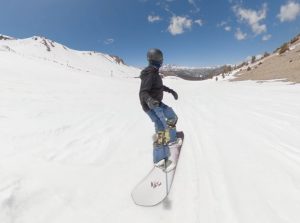 Powder
The Womens Stratos comes with a lot of great powder possibilities. It has rocker in the nose and tail that allows for nice float. The 3D contour base really helps add extra float and fluid feel when turning in deep conditions. It has 10mm of taper that allows the tail to sink down a bit. The added float pack adds a ton of directional float when the bindings are set all the way back. (you can only use these extra inserts with full size binding discs) I didn't get to ride The Stratos in powder, but I imagine it will be a ton of fun when I do.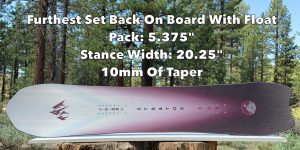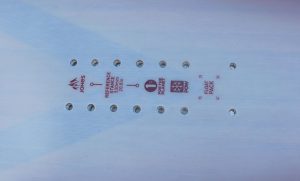 Who Is This For?
This is a friendly freeride board that likes to turn and keep things fun. It has great pop and energy and does great in just about any snow condition it can find. It could be good for an intermediate to expert rider that prefers a directional ride. Someone who wants a board that floats great in powder but can also tear up the mountain on a normal snow day.
If this review helped, we'd appreciate if you:
Want to snowboard with Steph?
Sign up for one of her camps or ride days!
Check out her company below
Instagram: @altitude_snow
Jones Womens Stratos Specs
Jones Womens Stratos Images
Jones Womens Stratos User Reviews
If you can't buy through the links above, you can support the site with: