Arbor Westmark Camber 2016-2022 Snowboard Review
| | |
| --- | --- |
| Riding Style | Freestyle |
| Riding Level | Intermediate - Expert |
| Fits Boot size (US) | 8-10, 10-12 |
| Manufactured in | Dubai by SWS |
| Shape | True Twin |
| Camber Profile | Mostly Camber |
| Stance | Centered |
| Approx. Weight | Feels Normal |
| Split | No |
| | |
| --- | --- |
| On Snow Feel | |
| Turn Initiation | |
| Skidded Turns | |
Where To Buy
80% of outdoor sports products are not listed or sold online.
Our team has relationships with hundreds of local snowboarding and outdoor sports shops.
We'll call the shops and email you a list of stores along with pricing and availability.
---
Not sure what to buy?
Get custom advice from Good Ride editors James and Steph.

Get Advice
Arbor Westmark Camber 2022 - 2016 Review by The Good Ride
Arbor Westmark Camber Snowboard Video and Written Review
You have arrived at the Arbor Westmark Camber Snowboard Review from an objective and collective perspective. 
Turn Ons/Swipe Right: Buttery, poppy and forgiving. Excellent jib board.
Turn Offs/Swipe Left: Uprise fender (lifted sides near tip/tail) can feel edgeless/washy in harder snow.
Summary
The Arbor Westmark Camber is a great pure park board. It can feel edgeless in harder snow but it is forgiving while still having full camber pop.
Ethics Statement: We don't get paid by the manufacturer to write these reviews and this is our unfiltered opinion. We do make money from the "Where To Buy" links, but this is our best attempt at an honest and objective review from an average riders' perspective.
Arbor Westmark Camber Snowboard Review- How it rides and who it is for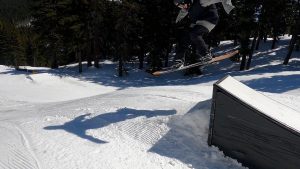 How This Review Happened:
Borrowed this for an extended demo and sent it back.
Size: 153
Days:  2
Conditions: Good early spring snow but not immune to some harder snow.
Riders: James (Size 9, 5'10" 185-190lbs), Nick (Size 10, 160lbs, 5'8")
Boots: Burton Kendo
Insoles: F.I.T. Gamechangers
Bindings: Union Contact Pro/Union Superpro
Jacket: Burton Banshee Gore-Tex Jacket
Pant: Burton Gore-Tex Ballast Pant
Helmet: Smith Maze
Goggle: Smith 4D Mag
Gloves: Burton AK Clutch Glove,
Similar Boards (but not the same): Yes Jackpot, Never Summer Protoslinger, Signal Park, Yes Dicey,
Set-Up: 21.5" Wide. Sance Angles +15/-15. Close to Reference.
How It Was Tested
One day we rode the DWD Rat, Arbor Westmark Camber and YES Dicey with the same bindings to see how they would all compare. Another we just rode the Westmark.
Approximate Weight
Felt normal for its length. It fit (We don't put in the exact weight because with wood cores there is no consistency in a boards weight)
Sizing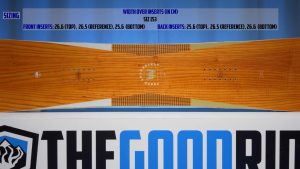 The Arbor Westmark Camber felt just right for Nick who was the primary tester, but I wouldn't want something bigger either. The bump in the sidecut right in the middle of the binding inserts makes it fit a larger boot than you would think by looking at the waist. Don't take it too far though as this still isn't totally mid/wide friendly.
Here are some ideal US boot sizes for these boards. You can of course go bigger or smaller but these work best for not turning the board slower than it should be and not having the dreaded Toe & Heel Drag.
150: 8-9
153: 9-10
156: 9.5-10.5
159: 10-11
157w- 11-12
Shape/Camber/On Snow Feel/Ability Level

The Arbor Westmark Camber is a true twin and has a very centered feel to it.
The camber profile is unique to the industry which is good and bad. The Uprise Fender tech matches its name. You have little fenders at the end of the effective edges so it doesn't come in contact with the snow. The edges in harder snow can feel washy and sometimes edgless when you are learning how to ride the board. In medium to softer snow the Arbor Westmark Camber feels like a full on camber board that doesn't catch an edge easy. So you have to get used to the split personality.
Flex Personality
The Arbor Westmark Camber has this very easy to butter flex that felt easier than many hybrid rocker and hybrid camber shapes I've tried and I've tried a lot. It butters easy and ollies really well with a healthy bit of pop. More than you would think from the mellow camber. It can be a little weird to butter or load up on the edge for an ollie but once you get used to the fender's it snaps hard making you look better than you are.
Speed
Not for speed but tracks well from feature to feature. Not really a great mountain freestyle board either. Doable but happiest sizing down and keeping it in the park.
Edge Hold

There is for sure a hard snow learning curve with the Arbor Westmark Camber. The first time I tried Arbor System Camber with Uprise Fender tech in hard snow I wanted off it immediately. So did many of my friends. You have to tell yourself to keep committing to that edge and put lots of pressure between your feet towards the "Grip Tech" bumps by the bindings. If you do that it counterintuitively holds. You think the edges are going to wash on you like they would if you don't fully commit to putting pressure there. Some will never get used to this but most will with a little time. Once you figure out how to use the edges in harder snow it has competent grip.
Turning Experience/Carving
Not really for carving but good for what it is.
Powder
No thank you…
Switch/Pipe/Jumps
The Arbor Westmark Camber is a forgiving true twin so it is super easy switch. Nick loved this in the park. He got on it in softer snow so he loved it. Was the best board he tested in the comparison mentioned above and had a blast on it the next day just lapping the park with the camera off. This is an excellent jibber. Not bad for small to medium kickers either if you get used to the fenders near the end of the effective edge.
Conclusion
So the fender uprise can take some getting used to but it is less difficult than TBT from Bataleon. So if you want to take the time to get used to it in hard snow it's a pretty fun poppy and dynamic park ride.
If this review helped, we'd appreciate if you:
Arbor Westmark Camber Past Reviews

The Arbor Westmark Camber is their modern mostly camber take on the rocker Westmark.  It's got a little more pop, stability but it's missing the float that the Rocker Westmark Has.

Ethics Statement: We don't get paid by the manufacturer to write these reviews.  No one is perfect and we do make money from the "Where To Buy" links below, but this is our best attempt at an honest and objective review from an average riders' perspective.
How This Review Happened:  We borrowed this for an extended demo and then returned it.
2016-2017 Arbor Westmark Camber Review
Size: 153
Days: 5+
Conditions: Everything from soft leftover Sierra Powder to harder spring conditions.
Riders: James, Peter, Jimbo
Boots: Burton SLX, Burton Rover, Burton AMB, Burton Imperial, Salomon F3.0, Burton Fiend LTD,
Bindings: Union Atlas, Burton Genesis, Burton Cartel,  Flux DS
Set Up: Centered approximately 23″ wide 15 front -15 back
Approximate Weight: Feels normal.  Nothing too light or too heavy.  Just normal.
On Snow Feel: In a lot of ways, it feels a lot like the Rocker version except it feels more stable under foot one footing and flat basing.  The Arbor Westmark Camber has a lot of good things going for it with this new mostly camber shape.  It acts just like camber except it doesn't catch like camber and our only complaint is it floats like camber.
Flex: Not quite as buttery as the rocker version but very doable. If you are used to buttering a camber board then this will be fine but it will take more work if you are used to boards with rocker in it.
Turn Initiation: Kind of slow but a good slow edge to edge.  Easy to skid a turn and easy to move it around but just not one of those ultra quick turners.  It likes to go straight.
Skidded Turns: When you hear the word camber you think catchy but the Arbor Westmark isn't when it comes to skidding turns.  That little lifted section on the sides makes for an easy
Carving: Huge improvement over the Rocker.  It's not perfect and it's a small twin but it carves really well for what it is.
Powder:  The system camber tech only lifts the last part of the effective edge so it doesn't catch but it's not going to help in powder.  I'd much rather be on the rocker Westmark in powder.
Speed: Rides big for the size and not bad at all. There is much more mountain ability than you would think when it comes to this board.
Uneven Terrain: Easy to turn through bumps but nothing great.
Edge Hold: Same great edge hold as the System Rocker version but it's not really more edge hold due to the lifted sides at the end of the effective edge.
Switch: Just like all twins when centered.  Very easy and only a little behind an asymmetrical board.
Jibbing: We all felt it was a good but not great jibber.
Pipe: No pipe either but seems like the camber would help it drive better from wall to wall.
Jumps: Love the way this pops off the tail.  The Rocker version pops just as well between the feet but it's much more fun to load it up on the tail or nose.  The one thing is that loading up on the nose or tail edge is it can sometimes hit the lifted area and become a bit washy.  it's best to ollie or nollie off the center of the tip/tail instead of load off the edge.  This is a problem for some but not for others. It's the one part of the board that gives you a feeling similar to the TBT boards from the Bataleon/Lobster family.  You feel camber throughout and then suddenly it feels like a rocker board and washes on you. It takes some time to adjust but after a while, you can make it work.
So as long as you have something else that floats better in powder the Arbor Westmark Camber is a great board for the price to play in the park but also ads good turning to the repertoire.
Arbor Westmark Camber Specs
Arbor Westmark Camber Images

We try to get as many images of the Arbor Westmark Camber, but forgive us if they're not all there.
2022
2018
2017
2016
Arbor Westmark Camber User Reviews
If you can't buy through the links above, you can support the site with: