Union Scott Stevens Contact Pro 2021 Snowboard Binding Review
Where To Buy
No obligation, but these links & ads support the site.
Union Scott Stevens Contact Pro 2021 Review by The Good Ride
Union Scott Stevens Contact Pro Snowboard Binding Video Review Fast Forward Markers.
0:00 – Intro 0:19 – Summary 0:33 – Weight 0:41 – Highback Flex 1:15 – Flex Underfoot 2:07- Turn Initiation/Response 2:44 – Shock Absorption 3:35 – Boot Support 4:41 – Ratchet System 5:16 – Adjustability 6:38 – Conclusion 7:07 – About Our Review
Turn Ons/Swipe Right: Buttery but supportive freestyle binding with exceptional adjustability and good response for the flex.
Turn Offs/Swipe Left: No Forward Lean
Summary
The Union Scott Stevens Contact Pro Is a Contact Pro with a softer high back that doesn't have forward lean. It makes it more park friendly.
Ethics Statement: We don't get paid by the manufacturer to write these reviews.  We do make money from the "Where To Buy" links, but this is our best attempt at an honest and objective review from an average riders' perspective.
Union Scott Stevens Contact Pro Review- How it rides and who it is for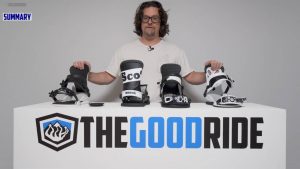 How This Review Happened: We spent our precious Good Ride dollars to buy this and review it.
Similar (but not the same) Bindings: Union Strata, Union Contact Pro/Union Superpro, Burton Cartel, Burton Mission, Burton Malavita, Salomon Hologram, Salomon District, Nitro Team Pro, Nitro Team
Weight
1.8lbs
Highback Flex
Pretty soft and the Union Scott Stevens Contact Pro takes it a noticeable bit softer than the regular contact pro.
Binding to Boot Adjustability
This is what Union does super well and the Union Scott Stevens Contact Pro is no exception. There is an adjustable heel loop so you can get most boots centered in the binding. That means it will be easy to center on board. Straps have tooless adjustability but you can't really rotate the highback like the Contact Pro. Its so soft though that it isn't as much of a big deal as it is with the Falcor and other really stiff union highbacks.
Stance Width Adjustability
Because you can center most boots in the binding you will be able to turn the discs tip to tail and get excellent stance width adjustability with the mini discs.
Boot Support
The new ankle straps for 2021 Union Scott Stevens Contact Pro are for sure the call. They have way more support than past models but still have good freedom of movement for tweakability.
Ratchet System
Great right out of the box and I haven't had ratchet issues with Union for years now.
Turn Initiation/Response
Pretty close to the Contact Pro and you get a lot more response than you would think from playing around with it in a shop.
Flex Under Foot/Buttering
It butters really well and is right there with the best of the best.
Shock Absorption/Dampness
Really good slower speed shock absorption for smaller to medium features. However it still is no slouch when going big. It just isn't as damp as the Stratas with the more rubbery bushings on the base plate.
Union Scott Stevens Contact Pro Images
Union Scott Stevens Contact Pro User Reviews
If you can't buy through the links above, you can support the site with: