NOW Drive 2014-2022 Snowboard Binding Review
Where To Buy
No obligation, but these links & ads support the site.
NOW Drive 2022 - 2014 Review by The Good Ride
Turn Ons/Swipe Right: Incredibly damp and shock absorbent ride. Smooth predictable turning experience.
Turn Offs/Swipe Left: Almost no adjustability. Can cause stress on the foots arch with softer boots.
Summary
The NOW Drive has zero adjustability and can cause stress on the arch of the foot with softer sole boots but it is one of the most damp bindings out there.
Ethics Statement: We don't get paid by the manufacturer to write these reviews.  We do make money from the "Where To Buy" links, but this is our best attempt at an honest and objective review from an average riders' perspective.
NOW Drive 2022 Snowboard Binding Review- How it rides and who it is for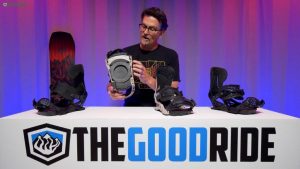 How This Review Happened:  Borrowed this for an extended demo and sent it back.
Days: 2
Conditions:  Varied spring conditions.
Riders:  James (Size 9, 5'10" 185-190lbs)
Boots: Burton Kendo
Insoles: Footprint Insole Technology Gamechangers
Boards:  Jones Mountain Twin
Helmet: Smith Maze
Goggle: Smith 4D Mag
Similar (but not the same) Bindings: Union Atlas, Union Strata, Union Force, Burton Genesis X, Burton Cartel, Salomon Hologram , Nitro Team Pro, Now Pilot, Jones Mercury, Jones Meteorite
How It Was Tested
I rode these exclusively on the Jones Mountain Twin but compared them against many bindings same day. I first went out with Union Atlas for a run to get my base line. Then I put on the NOW Drive. After that the Jones Mercury and lastly the Jones Meteorite. I then put the Jones Mercury the Left, the NOW Drive on the Right and then reversed it.
Weight
1.8lbs – Pretty light and still super damp.
Highback Flex
The highback of the NOW Drive has a decent twist and only a little give when flexing directly back. The twist is good because you can't rotate the highbacks. They are pre-rotated to something like 10 degrees.
Flex Underfoot
The NOW Drive's Kingpin tech does more the opposite of allowing the board to flex underfoot naturally but it doesn't make the board feel dead underfoot either. It dampens up the overall ride. You have to rely more on the boards flex to butter.
Turn Initiation/Response
So the NOW Drive has a very satisfying smooth and predicable turning experience that I really appreciated. It is middle ground but it seems like the faster you go the better the board responds to these bindings.
Shock Absorption
No one touches NOW or NOW made bindings when it comes to shock absorption.
Boot Support
The boot support is exceptional. The ankle strap support is great and then you have a binding that wraps really well around the boot. It's not like the early years where you felt the heel loop pinching into your boots.
Ratchets
They didn't call my attention in a good or bad way. They just worked.
Adjustability
Pretty much no adjustability. Just the ankle strap, toe strap and forward lean. The NOW Drives don't have any real boot to binding adjustability. No heel loop, gas pedal or any real kind of way to get your boot centered in the binding. You can only slide the disc a little bit to get your boot centered on board. This is pretty disappointing for anyone who likes to dial out your binding to your boot size.
Conclusion
So the NOW Drives do have some pretty big flaws and some pretty stand out strengths over other bindings. It just comes down to how soft your boot sole is and how much you care about adjustability.
NOW Drive Past Reviews

The NOW Drive is a binding that has some adjustability issues and some pressure points if the sole of your boots is softer. That being said it has a super cush shock absorbing ride along with a smooth turning experience that many will like. Also having the ability to change out the stoppers on the bottom is fun to do.

Ethics Statement: We don't get paid by the manufacturer to write these reviews.  We do make money from the "Where To Buy" links, but this is our best attempt at an honest and objective review from an average riders' perspective.

How This Review Happened:  We borrowed this for an extended demo and then returned it.

Days:  3
Riders:  James (Size 9, 5'10" 185-195lbs)
Boots: Adidas Tactical ADV
Insoles: Sandsole Custom Insoles
Boards: Gentemstick Mantaray 156, Yes Greats, and YES Ghost

Highback Flex: The NOW Drive highback is pretty medium-stiff flex when pulling it back and a decent twist that is more medium to medium-stiff.

Binding to Boot Adjustability: The highback is pre-rotated and there is no footbed or heel-loop adjustability. You just put the boot in and adjust the ankle strap/toe strap to fit the boot. Then based on that you use the disc to center the boot on the board. I thought this would not be good for me and my gear whoring adjustability needs. However, my boot fit rather well. It might be because it's an 8.5 and that is kind of close to the middle of the boot sizing recommendations for a size medium. If you ride Burton or other channel system bindings you need to buy different discs. If you have a channel compatible board from Burton or others you have to pay $10 more to get those discs.

Stance Width Adjustability: If you can get the boot somewhat centered then you can turn the discs sideways and slide them a little bit either way from tip to tail. The NOW Drive doesn't have a lot of slide either way though because the channels are pretty short.

Comfort: The NOW Drive's are so comfortable in some places like the ankle strap, toe strap, and heel loop but the sway bar under the gas pedal causes upward pressure on the front of my foot that puts stress along the arch. I can feel it a bit when the toe strap is all the way on the bottom of the toe, more on the upper part of the toe and really feel it if I go old school and put over the top of my foot. This is a problem that happens with softer sole boots and it's less noticeable to not even noticeable with harder soles that have a lot of rubber. The foam on the footbed seems a bit stiffer this year and I felt lest arch pressure than in the past. It's also hard to say if this is applicable to all boots with softer soles but all I can say is I've felt this with NOW bindings on a few different boots with softer soles. So, depending on the boot you have, it can be painful or be one of the most comfortable bindings you have ever tried.

Boot Support: The Now Drive has good boot support and the ankle strap holds you in well and if the toe strap grips well on your boot it should pull you into the heel cup that wraps around the sides of your boot pretty well. We would like to see something different than EVA foam on the toe strap and we really like the 3D Contour Strap better that is all rubber. The good thing is the strap is available for purchase for $45 if the toe strap that comes with the NOW Drive doesn't hold. Most companies don't have that option so where the brand lacks in adjustability it makes up for it in accessories. You can buy buckles, ankle straps, bushings, high cups etc there and you generally have 2 options.

Turn Initiation/Response: Medium bordering on a medium-fast response when it comes to initiating a turn and then it has a nice smooth consistency throughout the turn.

Buttering: Not an easy binding to butter. Softer rubber stoppers on the bottom make it a little better but it's still pretty stiff.

Ratchet System: Pretty smooth once you take a few laps on them. Pretty good ratchets and it seems like they will last a long time.

Shock Absorption: Nothing beats NOW for shock absorption. They are super damp at speed and make any board you are on feel like it can ride faster. It also absorbs any kind of disturbance under the foot that riding on snow can create. The combo of all the EVA on the footbed along with the rubber stoppers that keep most of the binding off the board really does a good job at insulating your joints from all that happens underfoot when you ride.

So the NOW Drive bindings are a mixed bag for me. I could use some more of the basic adjustability and have them find a way to eliminate the stress it can create on the foot over the sway bar. If that happened the rest of what I like about these bindings would really come to life and I'd probably want to own them.
Now Drive 2019 Review
The NOW Drive is a binding that has some adjustability issues and some pressure points if the sole of your boots is softer but this dampens up the board and has super cush shock absorption. Also having the ability to change out the stoppers on the bottom is fun to do.  We got to compare this to the Jones Mercury and Union Atlas and ride it on several different boards.
Ethics Statement: We don't get paid by the manufacturer to write these reviews.  No one is perfect and we do make money from the "Where To Buy" links below, but this is our best attempt at an honest and objective review from an average riders' perspective.
Days: 4
Riders: James (Size 9, 5'10" 185-195lbs), Grant (Size 11 6' 160lbs)
Boots: Adidas Tactical ADV
Insoles: Sandsole Custom Insoles, Footprint Insole Technology Gameghangers Low Profile
Boards: Yes Typo, Yes Greats, Jones Ultra Mountain Twin, Loaded Algernon
Highback Flex: Pretty stiff but just enough give to be ok.
Binding Adjustability: Not much going on here.  High backs are pre-rotated, toe ramp isn't adjustable and there is no real way to center the boot in the binding.  It's a very plug n play.  Wish they could change this and at least add an adjustable gas pedal.  The ankle and toe straps adjust to most boots sizes in the range though.
Stance Width Adjustability: Pretty good here and the Now Drive should accommodate most stance widths if you can turn the disc sideways but you might not be able to if the boot doesn't center well in the binding.
Comfort: I had one weird pressure point just before the gas pedal and I had to be pretty wary of tightening up my toe strap. I never crank down my ankle strap too hard but sometimes do with the toe strap. The support under the EVA foam puts pressure on the arch of my foot and tires me out a bit.  If I ride with boots that have a thicker sole (unlike the Tactical ADV or in the past the Burton AMB's) the issue disappears.  So if you have a softer flexy sole then you might experience the same issues.
Boot Support: Nice supportive ankle straps and toe straps to feel pretty locked in but the extra locked in feel comes from the heel loop working pretty snug with my Adidas Tactical ADV's. It really feels like your boot is surrounded on all sizes.
Turn Initiation: Pretty smooth edge to edge but not slow.  The Now Drive doesn't have that sharp turn initiation that Union can have where it jumps like an all wheel drive car off the line.  Instead, this is about the same speed throughout the whole turn.  One isn't better than the other but instead, it's all about what you prefer.
Buttering: Going with softer stoppers helps but the strength of the kingpin tech isn't really about buttering but instead just making the ride damper and giving a smooth but somewhat powerful response edge to edge.
Ratchet System: Pretty smooth and good in a way that you just don't notice them.
Shock Absorption: Some of the best in the business. If you want cush shock absorption then this is for sure a standout compared to the rest of the industry.
Now Drive 2017 Review
The NOW Drive really changed up the ride for 2017 by widening out the footbed. It's still not without issues as discussed in the review below but the widened out footbed really makes it much more recommendable.  It was great when paired up with a boot that has a rubber sole.  If you have a boot with only softer EVA foam the Drive might have some pressure points on the bottom of your foot.
2015 Updates– Same general ride but the Highback is a little taller giving it a little more leverage.
Days: 7+
Riders: James, Jimbo Peter, Stephen, Lee, Eli, Mary
Boots: Burton Ion, Burton Hail,  Burton Imperial, Nike Kaiju, Burton Ruler,
Boards: Rossignol One Magtek, Lib Tech TRS, Jones Mountain Twin, Jones Carbon Flagship, Jones Flagship, Yes Pick Your Line
Flex: The high back has a middle ground torsional flex and about the same pulling it straight back.
Adjustability: It's pretty easy to adjust and dial out for your boot but there isn't anything you can do for the high back rotation.  It's set to 10 degrees which are better than zero but I'd like to see them work out a way to rotate the high backs.  The rest of the binding is toolless and fine.
Comfort: The NOW drive is a mixed bag when it comes to comfort.  The ankle and toe strap is very comfortable. The high back molds around the heel well but some could have a problem with the narrow feel of the heel cup.  The heel cup offers a pretty tight fit that was even snug with our reduced footprint boots.  It's made this tight to ride without the high back so it's got to grip well but it can feel a little crampy.  We'd love to see them bevel out the heel loop a little further. So what some people might like about this boot, even if you don't No Back, is it really squeezes around the ankle/heel area making your boots feel like they are really holding your heel down.  This is kind of unique to what most bindings do.  Sure the ankle strap grips around the front of your boot but we haven't found another binding other than NOW that grabs on the back too.
Turn Initiation: When we first demoed these bindings with the medium stoppers It kind of went 2 ways.  Some felt that there was a delay transferring from edge to edge on groomers and others, including myself, felt like it was just smooth and middle ground when it came to response where you would think it would be very responsive with the kingpin tech.  However, on the 2015 demo, we got a little extra time away from the demo booths to spend a couple of days of riding with all the different stoppers.  This really changed my perspective and Jimbo's as well.  The stiffest stoppers on the bottom improved the response and I liked how it turned the board. There was much more snap edge to edge.  Then every step softer makes the board turn a little slower. You can also flip the ankle strap to give you more freedom one way and more support the other which is fun. We stuck with the more responsive side in place to really test out how the different stoppers would do in the best case scenario.
Buttering: There is some reduced contact with the board and the dead spot is limited but the binding doesn't feel that free when it comes to buttering aboard. The tight grip around the heel cup feels like it's inhibiting the ability to butter the board or flex it in other ways lengthwise.  It feels much better edge to edge.  That being said the softest rubbery/urethane stoppers on each corner lift the binding up above the board and create some flex making it feel better.  With the stiffer stoppers, it's not quite as easy/good.
Boot Support: Your boot is locked in thanks to the supportive heel cup and for those that like an incredibly supportive feel despite the smaller ankle strap might like this binding a lot. The toe strap isn't bad but we have had bigger more supportive over the toe straps.
Ratchet System: Nice smooth easy ratchets and we had no issues.
Shock Absorption: The NOW Drive offers up a really cushy ride that can help any board absorb more shock.  It's got a thickly padded footbed and the rubber/urethane stoppers between the base and the board.  That makes for an incredibly damp and shock absorbent ride.  These are a great compliment to any board that is going to see high speeds and uneven terrain. It makes any board you ride a better chunder buster.
So all in all the NOW Drive is very unique and well-made binding.  Some might absolutely love this and others might not. Peter, Stephen, and Eli weren't into this binding while Mary, Lee, Jimbo and myself felt this was a fun ride. My only personal gripe is how tight the heel cup is around my ankle. Other than that I really enjoy this binding.
2015 NOW Drive
2015 NOW Drive with the softer stoppers under foot.
2015 NOW Drive Follow Up Review with the stiffer stoppers under foot.
NOW Drive Images

We try to get as many images of the NOW Drive, but forgive us if they're not all there.
2020
2018
2017
2014
NOW Drive User Reviews
---
---
NOW Drive 2014-2022 Snowboard Binding Review
SKU
UPC
Model
Love them
Dec 05, 2018
by
Bertl
Ability Level: Advanced •
Riding Style: Aggressive •
Days You Ride A Year: 80+ •
Height, Weight And Boot Size (for Boards, Boots & Bindings): 5'9", 140lbs, US10
I've now got 2 pairs of these; the old 2014 model and the 2018. The revisions over the years really make a difference and, while I love the 2014's, the 2018's are a definite improvement.

2014's:
I was initially sold on the 'kingpin' 'feels like a skate truck' gimmick and so got some of these bindings after reading the rave reviews that came out at the time (clearly not here on The Good Ride!) The binding has always felt solid and just an extension of me. As far as I'm concerned, the best type of binding is the type that, once you're riding, you just don't think about. They have a moderately stiff highback, I've always kept the standard mid (I think) duro corner pads and have ridden in all conditions. The bindings are strapped to my Jones Hovercraft and I've used it carving on groomers and floating through several feet of fresh powder and the combo has excelled everywhere.
The 4 year old ratchets are now getting a little floppy, but have lasted really well. Last year the bindings probably had 60-70 days on them and I've just replaced the ratchet straps as they were getting very worn.

2018's:
I've only just got these, but demo'd them for approximately 20 days last year (I worked in rentals). The toe strap has been much improved, and feels very solid and unmovable over the front of your boot. The newer bindings are lighter than the older ones, the toe and heel straps improved and more conforming, but still the same great feel on the snow.

These bindings work well for short, quick turns, mid turns and long, hard carves.


I really struggle to find negatives for the NOW Drives but as follows;
The rubber feet fall out easily when you're transporting them - I have already lost one. This obviously applies across the whole NOW range though.
The 2014 heel straps are made of leather and starting to fall apart, but still function fine, so I'll just replace them when they get too bad. The 2018 model is rubber and should be more durable.
Adjusting the toe and heel straps to your boots can be a bit finicky.

Lastly, my 2014's are a Large and my 2018's are a Medium and my US10 (27.5) Salomon boots fit in both, but are the max size for the Med, and min for the Large.

---
Apr 24, 2014
by
Mike
Ability Level: Expert •
Riding Style: All Mountain •
Days You Ride A Year: 40+
I still need to try out differential bushing setups. So far all mediums have been amazing, but have read about people loving 2 soft 2 medium working out great. These bindings are everything I wanted in last years IPO's.
better straps and high backs. the problem for most people will always be fitting into the right size binding.
every boot is different, I've seen a 10.5 fit into my drive mediums perfectly and a set of 32 10.5's perfectly fit into a large. If the boot doesn't work with the binding then you won't feel the difference.

---
NOW is the time to try NOW bindings
Mar 24, 2014
by
Devon
Ability Level: Advanced •
Riding Style: Freerider •
Days You Ride A Year: 20+
NOW is the time to try some NOW bindings!
My NOW Drive bindings are light, responsive, extremely adjustable, comfy as hell, and very well made. From the moment I attached the Drive's to my board I new these bindings were gonna be Rad. The small but very thoughtful idea of having a "locked" washer in the binding really helped as I have had bindings loosen on the hill which is a huge pain. The binding straps are also easily adjustable on the fly. I re-adjusted and tightened my strap up mid chair ride in -25 degree weather with no problems. The Kingpin system works well and just adds a certain FLOW to my riding that I really enjoy. It makes snowboarding even more fun than it was before....which, I thought, was tough to do!

Devon McBride
Avid Snowboarder for over 20 years.

---
Im a no-go on this binding
Dec 12, 2013
by
Mike
Ability Level: Advanced •
Riding Style: Reg •
Days You Ride A Year: 20+
Im one of the guys this binding did nothing for. I was riding Targas on my T.rice 161.5. Rome Inferno boots. This binding did absolutely none of what it was "designed" to do except soak up some chop when flat basing slightly better but at the same time the cushion in my opinion was lacking so it all avg'ed out. I felt the delay in turning, the heel cup is tiny and you may strap in thinking your boot is seated then half way down you notice the straps are way loose. The highback is almost noodlish. For this to be marketed as a big/all mountain killer is comical. Its way more of a overpriced soft park binding that flexes like hell. I agree with the spring idea too.This binding is ALL plastic except for the disc. All in all i just put my targas back on and im ready to ride again.

---
If you can't buy through the links above, you can support the site with: