Nidecker Supermatic Snowboard Binding Review
Where To Buy
No obligation, but these links & ads support the site.
Nidecker Supermatic 2023 Review by The Good Ride
Nidecker Supermatic Snowboard Binding Video and Written Review
Welcome to the Nidecker Supermatic Snowboard Review from an average rider who has ridden a ton of bindings. 
Turn Ons/Swipe Right: Suer Easy in & out. Good Response. Use any boot you want.
Turn Offs/Swipe Left: Very Heavy. Limited Adjustability. Base Plate a little dead underfoot.
Summary
The Nidecker Supermatic, like most step ins, isn't without flaws, but it does provide a very easy in/out as well as very good response.
Ethics Statement: We don't get paid by the manufacturer to write these reviews.  We do make money from the "Where To Buy" links, but this is our best attempt at an honest and objective review from an average riders' perspective.
A Break Down of How it rides and who it is for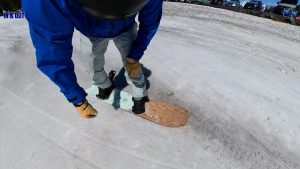 How This Review Happened:  Borrowed this for an extended demo and sent it back.
Days: 6+…hard to remember but tried them off an on for a few months during the winter.
Conditions:  Mostly spring conditions but got a day in powder with the help of Drift Boards
Riders:  James (Size 9, 5'10" 185-190lbs)
Boots: Burton Kendo
Insoles: Footprint Insole Technology Gamechangers
Boards: Burton Territory Manager, Nidecker Mellow, Nidecker Ultralight and a few others
Jacket: Burton AK Gore-Tex Pro 3L Tusk Jacket, Volcom TDF Infuse 3L Gore-Tex Jacket
Pant: Burton AK Gore-Tex Pro 3L Hover Pant, Burton AK Gore-Tex 2L Swash Pant, Burton Gore-Tex Ballast Pant
Helmet: Smith Maze
Goggle: Smith 4D Mag
Gloves: Burton AK Clutch Mitt, Burton AK Clutch Glove, Burton AK Tech Leather Glove, Burton AK Clutch Glove, Burton AK Tech Leather Glove, Drop Tahoma Mitt
Similar (but not the same) Bindings: Burton Step On, Burton Genesis Step On, Clew, Flow NX2-TM
How It Was Tested
I rode the Nidecker Supermatic on their own a few times. Then I did samplers where I rode them against my Union Atlas, Burton Step Ons, Clew Bindings, Flow Bindings I had, other Nidecker bindings and Union Bindings I had at the time.
Weight
2.8lbs- That is noticeably heavy. Most bindings I've tried are 1.8lbs-2.2lbs so you really feel the extra weight of the Nidecker Supermatic. I'm not normally concerned about weight but I did feel these are heavier. Most Burton Step On boots are pretty similar in weight to standard Burton boots at 2.2-2.4lbs and most boots weight 1.8-2.4lbs. So overall the Supermatics with most boots will be a good bit heavier.
In & Out
A quick in and out is what the Nidecker Supermatic is all about. It is just as fast in and out as the Burton Step On and I like it better than the Clew because you don't have to reach around to the back of your calf and pull a lever up. It is close though. In comparison to traditional Flow bindings the Supermatic is massively faster and easier. You don't have a lever you have to pull up.
Highback Flex
I'm a big fan of the highback flex of the Nidecker Supermatic. It has a nice medium to medium soft twist to it and a decent amount of give at the top. It has that mullet feel that I love. All business/response in the base plate and all party/easy flex in the high back.
Flex Underfoot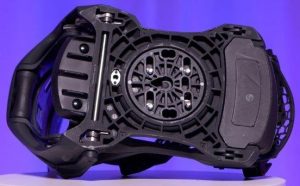 So the Nidecker Supermatic doesn't have much flex underfoot. It isn't as bad as the Clew binding but in comparison to most bindings in the 2020's it is lacking. Boards are harder to butter and feel pretty dead underfoot. That being said, it does stiffen up the board a bit which some might really like.
Turn Initiation/Response
There is a good amount of response with the Nidecker Supermatic. I never felt like I needed more binding. Especially with the Nidecker Mellow 155 that is a bit wide for my boot size. It powered it very well edge to edge and I had some very satisfying turns with this paring. I think the Hybrid Straps of the Nidecker Fusion from Flow did a good job of evening out the response in comparison to the Fusion Straps that Flow has. I always felt the turning experience with Flow Hybrid Straps to be a bit lopsided having the heel be more responsive than the toe.
Shock Absorption
So in comparison to Burton Step On bindings the Nidecker Supermatic is lacking when it comes to heel shock absorption but the toe side is better. In comparison to the Clew it has a lot more because all the Clew has is a thin layer of EVA foam across the foot bed. I'd like to see more in the heel but at least there was a damp feel to the bindings.
Boot Support
I like the Hybrid strap set up from Flow that the Nidecker Supermatic has. I didn't feel like I needed to adjust after I step in like I often do with flow bindings that have the Fusion Strap. On top of that, I had a lot more support with the Hybrid Straps. Now I want to test more Flow bindings with the Hybrid Straps. P.S. Nidecker owns Flow and uses their straps so that is why I'm referencing Flow.
Ratchets
The ratchets aren't super smooth but they are meant to be set up once and forgotten. If you need to strap in on a hill you can unlock them and do it no problem.
Adjustability
There is little to no boot to binding adjustability. That is just a problem with most quick release/step in bindings. There is some stance width adjustability if you are in the middle of the suggested sizing. If not you will have to turn the discs heel to toe on the board so you can center the bindings/boots to get an even turning experience.
Conclusion
So overall, the Nidecker Supermatic is very heavy, doesn't have much adjustability, and doesn't have a modern binding feel underfoot. Despite all of that it somehow pulls off a pretty good overall riding experience with great response. What I really love is that you don't have to deal with proprietary tech so you don't have to get a new boot to use them.
If this review helped, we'd appreciate if you:
Nidecker Supermatic Images
Nidecker Supermatic User Reviews
If you can't buy through the links above, you can support the site with: