Jones Apollo 2019-2021 Snowboard Binding Review
Where To Buy
No obligation, but these links & ads support the site.
Jones Apollo 2021 - 2019 Review by The Good Ride
Jones Apollo 2021 Snowboard Binding Video Review Fast Forward Markers
0:00 – Intro 0:15 – Summary 1:07 – Weight 1:18 – Highback Flex 1:55 – Flex Underfoot 2:42- Shock Absorption 3:41 – Response 4:18 – Boot Support 5:13 – Sway Bar Issue 7:51 – Adjustability 9:13 – Conclusion 10:08 – Some BS and Outtakes 10:36 – About Our Review
Turn Ons/Swipe Right: Super damp and shock absorbent. Excellent ankle strap.
Turn Offs/Swipe Left: Sway Bar under the Gas Pedal can cause arch cramping and pain. Minimal adjustability.
Summary
The Jones Apollo doesn't have much adjustability or works well with softer sole boots but it has a very damp, shock absorbent uniquely smooth ride.
Ethics Statement: We don't get paid by the manufacturer to write these reviews.  We do make money from the "Where To Buy" links, but this is our best attempt at an honest and objective review from an average riders' perspective.
Jones Apollo 2021 Snowboard Binding Review- How it rides and who it is for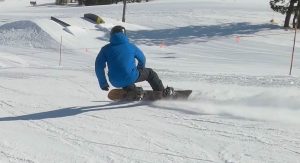 How This Review Happened:  We borrowed this for an extended demo and then returned it.
Days:  1
Riders:  James (Size 9, 5'10" 185-190lbs)
Boots: Adidas Tactical ADV
Insoles: Footprint Insole Technology Gamechangers
Boards:  Jones Hovercraft
Similar (but not the same) Bindings: Union Atlas FC,  Burton Genesis X, Burton Cartel X, Salomon Quantum, Now O-Drive, Now Recon.
Approximate Weight
Size Medium- 2.0 Lbs with Screws on which is on the lighter side of medium.
Highback Flex
Very stiff. Not much twist or give with the Jones Apollo.
Binding to Boot Adjustability
Almost none. with the Jones Apollo.  All you have is strap and forward lean adjustability. So if you are on the border between sizes you can't do much to center the boot in the binding. You can slide the binding from edge to edge to center your boot on the board but not over the gas pedal on the binding.
Stance Width Adjustability
Not much happening here with the Jones Apollo either. The Disc is mainly for sliding edge to edge and not tip to tail. There isn't a long channel either for sliding much tip to tail either.
Boot Support
The toe strap had issues keeping hold with our boots but the Jones Apollo's ankle strap has great support and its very comfortable.
Sway Bar Issue
What isn't uncomfortable is how the sway bar under the Jones Apollo has no plastic protection like all other bindings out there. So if you have a softer soled boot then you won't be able to
Ratchet System
Pretty smooth and worked great without any catching on and off.
Turn Initiation/Response
So the Jones Apollo has a very smooth but not super quick response to it. It doesn't initiate a turn as quickly as you would think for its flex. However it is so damp that it helps boards hold their edge better in the snow to power hard through turns. Especially at high speed turns.
Flex Under Foot/Buttering
Not much flex underfoot. The Jones Apollo makes the board feel more damp underfoot. So if you are into buttering this isn't the binding for you. Even with the softer bushings. If you want a smooth damp ride this could be the bindings for you.
Shock Absorption/Dampness
This is what makes the Jones Apollo shine. The rubber bushings make this damp and the EVA foam makes it shock absorbent and cushy. Even though it is stiffer foam than most Jones/NOW bindings it still is cushy and shock absorbent in almost any kind of uneven snow you will come across.
Jones Apollo Past Reviews
2019 Jones Apollo Review
The Jones Apollo takes the NOW O-Drive bindings and gives it a Jones twist to the design. It's a very stiff, super damp at speed, super shock absorbent binding that has med/fast response.  If you can get past the limited adjustability and your boot works with the footbed the Apollo can be a really good binding.
Ethics Statement: We don't get paid by the manufacturer to write these reviews.  No one is perfect and we do make money from the "Where To Buy" links below, but this is our best attempt at an honest and objective review from an average riders' perspective.
Days: 4
Riders: James
Boots: Adidas Tactical ADV
Insoles: Footprint Insole Technology Gamechangers Lite
Boards: OZ Custom Woody, Jones Ultra Mountain Twin,  Yes Greats
These were also compared against the NOW Recon and Union Atlas on the YES Greats.  I only used the stiff stoppers.
Flex: Very stiff and just like the NOW O-Drive
Sizing: The size Medium fit my 8.5 Adidas Tactical ADV with true size 9 feet inside well enough.  Not sure how they will hold up with boots on the border of medium or large.
Boot Adjustability: Like NOW bindings, there are minimal ways to dial out your boot size to the Jones Apollo and that's a bit of a bummer. If you are a plug n play type of rider you will like them but if you are like me and want to center your boot perfectly in the binding so heel/toe response is symmetrical then there aren't many options.
Stance Width Adjustability: A full-size disc is great for stance width adjustability and the Jones Apollo has one but it doesn't have as much of a channel in the screws as some bindings I've seen. Still, it's more than most mini-discs and helps you get your stance right.
Comfort: Pretty comfortable for me and the ankle straps caused no pressure points.  Actually, they were excellent but there are little things with this kingpin design tech in the base that can cause issues for some.  The sides of the base sit up higher and can rub against bigger bulkier boots.  Also, under the foam, there is a solid plastic bridge right before the toe ramp that can cause stress on the arch of the foot if you have boots that don't have a really strong, thick ubiquitous rubber sole across the bottom of your boot. I could feel a little strain with my Adidas Tactical ADV's after a full day riding but the more you place the toe strap towards the snow the less you feel it.
Boot Support: Great boot support and I felt very locked in and secure with the Jones Apollo.
Turn Initiation:  Pretty fast but not the fastest bindings when it comes to a quick edge to edge transitioning when turning.  I've done extensive apples to apples testing with other bindings from Union, Burton, and many others to find these just med/fast instead of a fast like they are marketed.  They are the fastest in the line and are more than most riders need though but I love the smooth response edge to edge and it seems like the Jones Apollo's response doesn't change as boards get more demanding when turning edge to edge.
Buttering: Not super easy to butter and it felt like it made the YES Greats a little stiffer than it was with the Union Atlas.
Ratchet System: Pretty good.  Not terrible or amazing. It just worked.
Shock Absorption: This is one of the shining areas of the Jones Apollo.  With the rubber stoppers on the bottom and the thick soft EVA foam bottom, the binding felt like it could hammer through just about anything.  That combined with my Adidas Tactical ADV's made it one super cush ride.
So all in all, like many NOW bindings, the Jones Apollo can be hit or miss depending on your boot size/design and adjustability needs but one thing stands clear it's a pretty responsive super damp ride that could make some super happy.
Jones Company Information
Jones Apollo User Reviews
If you can't buy through the links above, you can support the site with: