Burton Step On Binding 2018-2021 Review
Burton Step On Binding 2021 - 2018 Review by The Good Ride
Burton Step On Snowboard Video Review Fast Forward Markers. 0:00 – Intro 0:27 – How They Were Tested 1:17 – Summary 2:02 – Weight 2:08 – Highback Flex 2:40 – Flex Underfoot/Buttering 3:49 – Turn Initiation/Response 5:02 – Shock Absorption 5:31- Boot Support 7:33 – Boot To Binding Adjustability 9:16 – Stance Width Adjustability 10:17 – Conclusion 11:17 – About Our Reviews
The Burton Step On Binding needs a Burton compatible boot and has less boot to binding adjustability but its super easy on/off and is really responsive. It is far from being perfect but its the first time we found a quick release binding to improve response.
Ethics Statement: We don't get paid by the manufacturer to write these reviews.  No one is perfect and we do make money from the "Where To Buy" links below, but this is our best attempt at an honest and objective review from an average riders' perspective.
Burton Step On 2021 Binding Snowboard Binding Review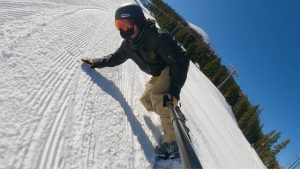 Days: 4
Riders: James (Size 9, 5'10" 185-195lbs), Peter (Size 8, 5'11" 185lbs), Grant (Size 11 6' 160lbs)
Boots: Burton Ruler Step On and Burton Ion Step On, Burton Photon Step On
Boards: Yes Ghost, Burton Hometown Hero, Union Orbit, Burton Stun Gun, Burton Trick Pilot, and Burton Speed Date.
How This Review Happened:  We used our precious Good Ride earnings to buy this due to overwhelming review requests. We borrowed this for a full day at the demos twice and then rode it for a full day thanks to Gravity Sports at Mt. Bachelor.
Approximate Weight
Pretty light at 1.8 lbs per binding with screws on. The Step On boots you have to pair up with are a little heavier than the regular versions so overall its a pretty middle ground overall weight.
Highback Flex
There is not much twist in the Burton Step On Bindings high back but its got a little more give than the Step On X. However, being literally locked into the center of it makes you feel the twist less than you normally would.
Binding to Boot Adjustability
One of the weaknesses of the Burton Step On Binding. There just isn't much going on to center your boot in the binding. If you are closer to the in between sizes moving the disc screws towards the heel or toe edge a few millimetres each way isn't ideal. Unlike the old Re:Flex discs the new ones only have 2 positions instead of 3 so its even worse than before.
Stance Width Adjustability
If you set the Burton Step On Bindings up with a Burton Channel System board the stance width adjustability is infinite. If you put these on normal inserts you have none. Re:Flex discs won't turn sideways and slide tip to tail like most  regular and mini-discs can.
Boot Support
So being locked into the highback makes for a pretty locked in feel that has a lot of support. We suggest paring up the Burton Step On Binding with the Photon Step On or Ion Step On Boots though because we do like the added ankle support. With the Ruler Step On, that has none, we felt it start to fold a little bit more than we would like. It also felt like the front part of the Ruler would flex too much forward and the back wouldn't move which is pretty weird compared to traditional boots/bindings.
Ratchet System
Here is where we talk about the easy on and off and why this binding has soo much appeal. No ratchets. You just step in, they click in place and then go. When you get to the bottom of the run you flip a lever and step out. It is faster than any step on we have tried. It's easier than being on ski's. On top of that you don't have the pain of ultra hard, sized down ski boots. It can get weird with snow loading up on the foot bed but you just need to manage it. Stepping forward also feels weird as most don't step forward when they unstrap. They usually go out somewhat sideways and then step back. It is weird to get used to this.
Turn Initiation/Response
Usually with quick release bindings you are trading response for this feature. With the Burton Step On Bindings you are getting more. Having the boot locked in to the highback seems to really up the response. There is still that smooth initiation you feel with all Burton Re:Flex bindings but it just accelerates as you lean into a turn. We haven't done A vs. B testing with other super responsive bindings but it feels incredibly fast. Even with the least expensive Burton Rulers on. It is a great binding for those that like quick turn initiation and carving.
Flex Under Foot/Buttering
What makes the Burton Step On Binding so responsive also makes it not as easy to butter. The flex under foot is there with the Re:Flex tech that flexes down the middle of the binding. It is just not as easy to access when your boot is stuck to the high back. It for sure takes some getting used to. Normally under the sway bar of the binding there is soft EVA foam but with the Step On you have plastic. It is probably trying to help compensate for no toe strap or ankle strap and give more response there. It does make it less buttery though.
Shock Absorption/Dampness
There is a really cush ride wtih the Burton Step On Binding. Other than the plastic plate on the bottom of the gas pedal (instead of EVA foam) it is just like all the other Re:Flex bindings out there. That makes for a pretty smooth shock free ride.
Summary
All of us here at The Good Ride unanimously like the overall feel of traditional bindings from Burton and other companies better but it is the first time we found added response with quick release tech. It makes it more than just an easy way to get in and out of a binding and I think many will find it's strengths outweigh it's weaknesses.
Burton Step On Binding Past Reviews
Burton Step On Binding Images
Burton Company Information
Burton Step On Binding User Reviews
---
---
Burton Step On Binding 2018-2021 Review
SKU
UPC
Model
Straps? You don't need no stinking straps!
Oct 02, 2020
by
Jay Jochec
Ability Level: Advanced/expert •
Riding Style: All Mountain, Steep, Trees, Half pipe •
Days You Ride A Year: 30+ •
Height, Weight And Boot Size (for Boards, Boots & Bindings): 6'0" 195lbs, size 11, 161 wide Rossi One Mag LF
Bought these last year after ripping the soles off my 2nd set of K2 clickers in a season and a half just out of warranty. I'll never go back! My riding confidence has gone way up which translates into my ability increasing as well with these. I can feel the board now. The edge to edge response is super quick.

The boots are comfortable once you get the tension right, I usually loosen them a bit after the 1st run (Photons). They do pack out about 1/2 a size over the season so if your toes are just barely touching new you should be good to go after 4-5 days of riding. I've ridden these in all conditions and have had zero issues with them. No hot spots, no trouble getting in and out of them in the powder. If you have too much fwd lean in them getting that 2nd click is hard to do. But really with the way the system is hooked up I haven't noticed any difference in having as much fwd lean as I could get in and still get the 2nd click and having zero fwd lean.

I really liked my K2 clickers for 1 big reason. And that is I could click in while riding the chair and just board right off. My wife who purchased the step ons a season before I did couldn't do this and so I was hesitant about not being able to do this. I have a knee injury that when my foot slips off the board getting off the chair and I do the splits basically will pull at it and make it hurt from just a little to really freaking bad. Well 1st run up the chair I figured it out. you get the inside toe cleat started, then rock your foot to the 2nd toe cleat, once you have those engaged you roll the board fwd and get one click in the back and you're good to go. Ride off the chair, Ollie it up and bam 2nd click and you're gone!

I've never had any fear about coming out of them. I don't use the leash. You'd have to bust the rear plastic out of the rear of the boot and I just don't see that happening. I rode them in the Super Pipe at Bachelor and didn't think twice about it.

I'm purchasing a Rossi XV 168w this year because of the reviews here and am going to run the new Step On X bindings on it which should suit the board and my riding style well.

These things are just too convenient and with the response as great as it is not to run. Burton has knocked it out of the park with these. Get some, you won't be dissapointed.

---
Never Going Back to Straps
Feb 29, 2020
by
David R Glenn
Ability Level: Advanced •
Riding Style: All mountain •
Days You Ride A Year: 15 •
Height, Weight And Boot Size (for Boards, Boots & Bindings): 6'3", 230, 11, Yes Greats Uninc
I will never go back to bending over and strapping. First day on them I was charging the steeps with very little learning curve. Back edge very positive and tow edge 2-3 runs and I was back in my groove. I ride at Snowbird so I have had pow days with 16+ inches and was able to get in and out without much trouble. Practice pulling out of the toe at home on a dry surface to get the feel of exiting. Overall I love them and have a lot of jealous looks when Im off and running without wait time.

---
Poor Manufacture Quality
Feb 27, 2020
by
Mike
Ability Level: Advanced •
Riding Style: Freeride •
Days You Ride A Year: 15-20
The step in process works well on these bindings, while stepping out is more challenging. Not as easy as you may think. The main problem, however, has to do with the poor manufacture quality of these bindings. I've ridden Genesis for the past six seasons. Those bindings are solid, while the StepOns are not well made -- particularly the foam under your boot, which lifts each time you step out and allows snow underneath it. This makes it impossible to step back in without spending a few minutes cleaning off the snow and trying to push the foam down. Boarders around me with strap bindings laugh at these and can be off and riding much quicker than these Burton StepOns would ever allow. Not ready for prime time, that's for sure.

---
Never miss again, no Bending at all
Jan 25, 2020
by
Attila
Ability Level: Advanced •
Riding Style: Sloped, small jumps, Carving •
Days You Ride A Year: 14-21
Ich war sehr misstrauisch, weil ich zuerst in meinen Burton Step on Ion 2020 kleien Hotsports hatte. Nachdem ich den SNowboardschuh mit Shcuhspannen und Föhn ausgedehnt habe und jetzt uweimal im Winterurlaub war kann ich nur sagen:

Nie mehr was andere! Ich fahre zu 90 % Piste( was fast jeder macht, von wegen Backcountry :)) und bin viel mit Skifahrern unterwegs. Jeden SKitag freue ich mich 20 mal das ich so einklicken kann. Mittlerweile klappt es bereits in der AUslaufzone von Lift. LEdiglich wenn es sehr steil will das Board immer weg. In 98/100 fällen klappt es allerdingt auf Anhieb und dieses Comfort kann man nicht aufwiegen.

Zum Carven kriege ich prima Druck auf die Kante, vorher hatte ich die klassischen Burton Cartell. Finde das die Step Ons vom Fahren mindestens gleich gut, wenn nicht sogar mehr Druck auf die Frondside Kante bekommen.

Hatte mit meinen alten Snowboardschuhen immer die Schienbeine offen. Der Ion ist war viel härter und nicht ganz so chillig, aber bekomme den Schuh so fest, dass sichts bewegt und nicht aufschabt!! ENdlich !

Edit: Nach zwei Winterurlauben sind die Druckstellen komplett verschwundne und sie sind viel bequemer geworden (bischen augedehnt am Spann und am kleinen Zee) . Bin 100 % zufrieden.

Snowboarden bis ins Hohe Alter ;):) Die Blicke beim ANschnallen sind euch sicher , auch wenn es etwas Übung am ANfang BEdarf. Später geht es immer schneller.

---
Convenience + response
Jan 08, 2020
by
Steve
Ability Level: Advanced •
Riding Style: All mountain •
Days You Ride A Year: 30 •
Height, Weight And Boot Size (for Boards, Boots & Bindings): 5'5" 140 8.5
I'm tempted to give it 5 stars, but with convenience comes compromise. The boot locks into the back of the binding, and while that's relatively low down, it restricts forward/aft motions on the board which can make some motions more difficult.

Having said that:

Super convenient to get into the bindings. Sometimes I can one-foot off the chair, flip up the highback, and step in with back foot without stopping. Other times, it's simply quick and easy to do that after stopping. Getting out requires a little more motion and practice; I've spazzed out a few times doing it. Also, sometimes I accidentally step back in before I wiggle out of the toe connections. Overall, it's still hugely convenient, especially when dealing with flats, and reduces stooping over to get in and out. When releasing, one must reach down for a lever, but it doesn't' require stooping as low as with conventional bindings and it's one quick motion and done. That also applies to riding right into the scries and releasing the back foot when conditions permit.

Overall stability of the ride is significantly improved for some reason.

Heel side response and edging: significantly improved.
Toe side: was degraded at first and I wasn't liking it. That improved over time and I almost don't notice a difference at this point.

I'm mostly a freerider, not sure how ideal this would be for park rats and all-mountain free-stylers. Having said that, if the convenience and response are important enough, and the rider chooses boots that fit properly, it probably won't matter, especially as the boots wear in a bit.

I'm using Ion Step On boots. They're amazing! But, keep in mind that the fit and feel are significantly different than standard Ions, which I tried and returned before moving over to the Step On system).

---
Burton Step On
Oct 01, 2019
by
David Kinnane
Ability Level: Intermediate - Advanced •
Riding Style: Aggressive •
Days You Ride A Year: 20+ •
Height, Weight And Boot Size (for Boards, Boots & Bindings): 175cm 80kg, size 9, medium
I will never go back to traditional bindings. You feel locked into your board and your board responds accordingly. Shock absorption is good too. No more toe straps falling off mid run or loose bindings. Very easy to use and it is a great feeling skating by all the other snowboarders sitting down and strapping in at the top of the chair. No more wasted effort and wasted time at the top of the chair. Step on and board away. Stepping out is easy too. Just keep your weight on your heel, release the latch and twist your heel towards your other heel. I highly recommend that you upgrade to Burton Step On bindings.

---
GAME CHANGER
Mar 18, 2019
by
Seth
Ability Level: Expert •
Riding Style: Aggressive •
Days You Ride A Year: 30 •
Height, Weight And Boot Size (for Boards, Boots & Bindings): 5'10, 190, 10.5
Best.Bindings.EVER.

Easy in. Easy out. I usually pop my foot into the rear binding as I'm getting off the chair.
Extremely responsive.

The only day I've ever had a problem was a deep, deep snow day on Mammoth. On one run, I couldn't get my rear foot to click in so I had to "Better off Dead" it down the mountain.
- This is after 50 days on mountain though and I think my ski pant wasn't tucked into the buckle on the boot.

I will never wear any other pair of bindings again. I regularly snowboard with 5-8 other people and we are ALL wearing Step Ons and loving it. From the beginners to the experts.

---
Great product
Mar 09, 2019
by
David Bauer Jr
Ability Level: Beginner •
Riding Style: All-Mountain •
Days You Ride A Year: 10 •
Height, Weight And Boot Size (for Boards, Boots & Bindings): 5"10, 190, 11.5US
Full Disclosure: I just switched from Skiing to Snowboarding. I bought the bindings and boots 800 miles apart last week as it's end of season and no one had a full set up large binding and 11.5 size boot in stock after calling about 40 places. I was road-tripping from Cleveland to Steamboat and found a store in Chicago for the Photon boots and a store in Denver for the large bindings, so it worked out perfectly on my route.
We stopped at Winter Park on a Saturday, which was crowded as expected. This being my 3rd time ever on a snowboard, I decided to ditch the typical camber rental board and just buy a good rocker/camber board as my friend suggested it would be much easier to learn on. Well, he was dead right. With these Step-Ons and the new board, it took me about 8 runs to finally "get it". We went Steamboat next and rode for the next 3 days in tons of fresh powder and I couldn't be happier with the Step-Ons. So easy to just pop out and pop back in at the lift. After the 4th day, I was carving like I'd been doing this for years. They are super responsive in turns, maybe because of the stiffness of the binding or the boot, I'm not sure. The deeper the powder, the better I rode. I'll blame it on the equipment as I'm too new to know what I'm doing.
My only complaint is that sometimes the right boot heel wouldn't get to the second "click" and no matter how much I tried to stomp, I couldn't get it to engage. This just made the flex a little more pronounced but I was still able to fly down the mountain and turn easily. The next time I stepped in, it would click twice as it should, so it could have just been snow buildup. This happened a few times but again, you can get down the mountain even if you don't get the boot heel fully engaged to the second click. I even went down a few times with the boots super loose and didn't realize it until I looked down. Everything is that secure by default.
My friend still isn't convinced to switch but he's set in his ways. I would let him try these Step-ons out but since he doesn't have the right boots, he's just going to have to watch me get better than him with every run. He's got a good view as he's always looking up to me when he's strapping in on his butt.

---
Solid but Don't Take your eyes off them
Dec 05, 2018
by
Gord
Ability Level: Totally Competent •
Riding Style: I ride it all •
Days You Ride A Year: 25-30 days •
Height, Weight And Boot Size (for Boards, Boots & Bindings): 6' 180 size 9
I love these step-on's and Photon boots. I have had them for over a year now and am hoping I never have to go back to traditional bindings. No more cold or wet butt, no more sore back. I'm able to step off the chair lift click in and go in one motion. They work across the entire mountain very well.
3 areas of concern:
1) there is a clicking from the toe contact point that get louder as it gets colder out ( not snow under foot) that said my foot is still locked in. I've never come out
2) Burton nor any dealer will sell you just the bindings alone. If your board is stolen or you want a second pair of bindings you have to buy another boot / bindings package.
3) Burton removes any review on step-on's from their site that mentions my point number 1 or 2. They have remove this same review from their site twice on me and customer service has not returned my questions regarding this product availability's shortfall.
Regardless I would recommend these bindings to anyone as they work well just buy a solid lock.

---
First Gen to Second Gen Experience
Nov 23, 2018
by
James
Ability Level: Intermediate •
Riding Style: All Mountain •
Days You Ride A Year: 30 •
Height, Weight And Boot Size (for Boards, Boots & Bindings): 6ft, 200lb and US 11.5
I wrote this for my Medium page, but happy to share with you guys:

The first thing I would say is that if you are not comfortable in Burton boots already, or you have tried Burton boots before and they just don't work for you, then step away, don't step on. There is nothing worse than ill-fitting boots. If you are yet to try Burton boots, then my general feedback is that they are very true to size by US, UK and EU standards and fit a normal to mid-wide foot. If you have particularly slender quills or paddles of snow-ape proportions, then there are probably better fitting boots out there.
The elephant in the room:
I purchased some first generation Step Ons last season and unfortunately, they sucked. The right boot would not engage properly in the heel cleat and the only advice on offer was that it was down to technique and perseverance. Heel-Toe-Go…. yeah right, followed by stamping, frustration, stomping and checking and trying over again. This was no revolutionary solution, in fact quite the opposite: I do not want to ride 200 meters off a chairlift wondering if I had got the heel cleat connected properly or if my foot would come flying out. That would be a crap way to holiday in the snow. Sure, I could force it to ensure it was engaged, checking after a few turns, re-stepping a bit later if it felt really wobbly and wrong. But what was the point in that? I had spent more time checking and re-checking than just strapping in and riding a familiar set up. As they could not be returned, not without a potential shit fight, I rather fortuitously sold them on eBay to some dude somewhere. A few weeks later a little package come through the post from Burton – a new heel cleat for the boot. This was their widely publicised recall and I felt vindicated with regards my own negative experiences.
One of the positives I did take away was that the ride felt very direct and driven. With the release of the new heel cleat and Burton's open approach to handling the recall, my experience was seemingly a teething issue rather than a problem within the overall concept. I promised myself I wouldn't write it off completely, they did offer a lot of what I wanted on paper. Sure enough when the adverts came up for this season, and the knowledge I could probably move them on again without any real financial loss, my itchy trigger finger fired a pre-order for a second generation set, this time in the new ION option to match up with my recent boot of choice.
Second Gen Step On – totally different experience
I have been riding my Step Ons now for a few weeks. I managed to pick up a second binding too, so my current set up is two sets of bindings with one set of ION Step On boots across multiple boards. Admittedly this experience has been limited to UK snowdomes so far, but these places have been good stables for me to learn new stuff, try out different kit and vaguely improve everything else over the years, so I don't expect to find anything wildly different on a proper hill.
My first impressions are that the teething issues are well and truly solved. They were probably fixed with the recall, but either way there are a couple of minor differences I am also picking up with the second generation Step On:
Firstly – the boot engages easier. It really is very simple to locate the heel cleat and then snap down the toes. It doesn't seem to take the same level of pressure, but then I guess if the issues we found are now fixed, it wouldn't, would it? I can easily ride off on a gentle slope and step on with my back foot and I don't need to look down anymore – it feels quite natural. I would recommend that that Heel-Toe-Go advice is followed by a couple of little set-up style turns- it helps build confidence and only what I used to do to anyway to ensure binding tension felt right before a proper run.
Secondly – the toe cleats are a different colour. If you look at the binding the toe cleats are now black rather than a gun metal grey. What is the significance of the colour change? Maybe it is purely aesthetic, maybe purely to differentiate between seasons, however I suspect there is something different going on there, maybe a change in composite material to something more hard-wearing?
Thirdly – a number of YouTube reviews mentioned a clicking sound when the snowboard rolled edge to edge. I certainly had that too with my first generation set, but that seems to have gone completely on both the bindings I am now riding. It didn't ever really affect the ride, but they do feel smoother edge to edge without that annoying ear-worm.
Finally- I recall the forward lean adjustment was fairly limited on the first generation. A little dig around the Internet suggests that that new forward lean system with two screws in the heel-cup enables you to offset the high back a bit to provide a little twist. I am not sure how many folks still set boards up traditionally with the high backs squared off a bit to the side-cut, I certainly don't anymore, however the second generation has more highback rotation and forward lean adjustment than I expected, not that I am using it currently.
(If a Burton rep ever reads this, then please feel free to contact me to correct or confirm any of my observations above.)
The Ride itself:
Well this is the bit that I guess a fanboy would say is revolutionary. Well it's not. Once you get over the mental feeling of not ratcheting down, then the ride is fairly standard as you would expect from any decent Burton binding. As mentioned I have come off regular IONs paired with Burton Malavitas for the past two or three seasons. I had come to love this set up as a very versatile, solid enough ride with a bucket load of comfort thrown in. The combo works across any board I choose for the type of riding I do – meaning the variables are limited and I can truly appreciate the difference in whatever board I'm on – be that softer park deck for goofing about or something more aggressive, or set back etc. when time and opportunity present itself.
The Step On specs does not suggest there is any canting going on, so bear this in mind if you are properly sold on canting footbeds for knee and hip alignment. The footbed padding has been more than up to the job of riding some pretty shitty dome conditions so far, so I am sure it will provide the right level of dampening on something resembling an actual mountain later this season.
The Step On does feel slightly more direct and responsive than the Malavita, more akin to past dabblings with Genesis or Cartels for an equivalent Burton comparison. So if the mid to upper range of Burton bindings are your weapon of choice, then really there is no reason why the Step On won't feel reassuringly familiar.
Convenience and Confidence:
If you are the type of rider who has considered rear entry bindings like the K2 Cinch, Flows or those strange things from SP/GNU, then you are in the target market for Step On. Rear entry bindings have been around a while and despite my best endeavours and open mindnesses and open walletness towards them, the compromises have never been worth the reality of a few seconds extra it takes to bend down and strap in conventionally. I first learned on rotational clickers and know I would never entertain going back there, so those internet cynics lining up the current Step On against the old tech of Step In really are not comparing even in the same category of binding. They need to look to rear entry bindings to see what Step On is actually comparable too. Once you do that I think you would struggle to find anyone who didn't think the Step On was far superior in every way.
Burton have been cleverer than just that though. If you are a general rider with a few holidays a year, there really is very little compromise over a good quality strap binding. If anything, the responsiveness of the ride is superior and it comes without the overly-aggressive stiffness of some traditional super responsive bindings at the upper ends of various brands's ranges.
I board with skiers – always have, always will. I now know I will be the one waiting as we exit lifts. I also board with my kids. I know I can now transition from one-footing to 'strapped in' without even looking down, never mind bending down. Those pesky green and blues are going to be less faff – especially at low speed when their flat sections really question the whole bloody point of it all.
I am also lazy, and I like technology which is convenient and simple – more an Apple than a Microsoft guy. The Step On is an elegant piece of engineering in this regard, so I have every confidence in it and certainly don't feel I will bust out of it when I take an inevitable tumble or two. I could well imagine that they would be an excellent investment for instructors taking away at least some of the day-to-day frustrations of constantly taking the board on and off with beginner groups and lessons.
If you are thinking of buying Step Ons due to mobility issues or back problems, then please do test them first. The release lever still requires you to crouch down, although not bend over like a traditional strap binding. If you can lean over to one side whilst crouching and touch you ankles then Step On releases should be OK, but best check them out before shelling out.
Anyone who shouldn't buy these:
Probably yes.
1) Park Riders – if you want a super tweaky binding then this isn't it. The Step On does feel a little locked down and I would categorise them more towards all-mountain verging towards freeride with the stiffer boots combo. That said, there is the softer Ruler option in mens and Limelight for women. I've also found that the you can leave the tops of the IONs looser and crank down the bootstrap for security like any other multi-zone boot, so it can be set up to ride looser if this offers enough for your needs in the park. However a dedicated park rider can probably find a more specialised option for them which is going to be better, and crucially cheaper.
2) Very Hard Charging / Freeride – there's a reason why bindings like the Now O-Drive, X-Base and Union Ultra exist. They are stiff-as-fuck, gnarly bindings for very aggressive riding and über-precision in places I dare not go. I am not knocking those bindings, but I also do not subscribe to need them purely on their price tag and carbon content – certainly not for punting around resort, even at a fair old lick when the mood takes me. If you want a super stiff aggressive binding, then maybe there will be a future Step On for you if Burton decide to offer variations on the highback- at the moment it is probably a bit too general purpose for that style of riding.
3) Deep Pow – would I take these to Japan? I have never been to Japan, but I would imagine that deep, deep stuff would prove annoying. You have to twist your heal out of the binding once you trigger the release lever. It is akin to SPDs on bike pedals. Ultimately I think digging down into the snow to unstrap a conventional binding, drag your foot out whilst hanging on to the ankle strap as you try pull the board from snow like Excalibur from the Stone in one fluid motion- all whilst not trying to fall over backwards waist deep in the bloody stuff, is still probably much easier than clicking, twisting, release levering with less to grab hold off buried 3 foot down there. I guess the solution is don't fall over, but if the forecast looks epic, I will probably pack my Malavitas too.
4) Burton Hater – if you really want to get into snowboard politics on the Internet, then sure, you have simply got to hate Burton. So despite the fact they set this technology on their RE:Flex disc which fits any snowboard, and yes, despite the fact that they have released them via retailers therefore have far less oversight over which boards these will end up on; then yes you are all welcome to continue your soapboxing that Burton really are all about ruining snowboarding and locking you in to their brand forever. My advice, there's a set of ratchets in a rad colour of your choice over there…. they'll look sick on your Skate Banana.
A little summary:
If you were hoping to read that Step On is a riding revolution, it really isn't. It does the same thing any decent Burton binding does – it is just way more convenient. That is not a bad thing and I hope this does not come across too flippantly. Burton are a market leader for good reason and their kit generally lasts well, their after sales is exemplary and there's something for everyone in their entire range. If you are really are after something that will feel different on your feet perhaps check out some of the nicer end of the Now or Jones range. Both are from Nidecker and their skate tech offers a fresh feeling on any deck you throw them on. It's definitely something I would personally play with in the future if Step On becomes just a little too easy and mundane.
If Burton set about to make Step On an easy to access technology that just makes life a little simpler for general riding around, then they have achieved that goal. It is now a well-engineered technology that opens doors to the convenience of rear-entry bindings with absolutely none of their historical compromises.

---
If you can't buy through the links above, you can support the site with: