Yes Rival 2023-2024 Snowboard Review
| | |
| --- | --- |
| Riding Style | Freestyle |
| Riding Level | Advanced - Expert |
| Fits Boot size (US) | Women's, < 8, 8-10 |
| Manufactured in | |
| Shape | True Twin |
| Camber Profile | Traditional Camber |
| Stance | Centered |
| Approx. Weight | Feels Normal |
| Split | No |
| | |
| --- | --- |
| On Snow Feel | |
| Turn Initiation | |
| Skidded Turns | |
Where To Buy
80% of outdoor sports products are not listed or sold online.
Our team has relationships with hundreds of local snowboarding and outdoor sports shops.
We'll call the shops and email you a list of stores along with pricing and availability.
---
Not sure what to buy?
Get custom advice from Good Ride editors James and Steph.

Get Advice
Yes Rival 2024 - 2023 Review by The Good Ride
This is a review on the 2023 Yes Rival Women's Snowboard. A full positive camber twin with a lot of hard charging personality.
This review covers the 2023 model, but it is relevant for the 2024 version as well.
Ethics Statement: We don't get paid by the manufacturer to write these reviews.  We do make money from the "Where To Buy" links, but this is our best attempt at an honest and objective review from an average rider's perspective.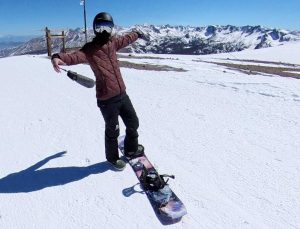 Time Codes
00:00 – Intro 00:16 – Flex 00:22 – Base 00:33 – Camber Profile 00:55 – Mid Bite 01:15 – Waist Width 01:26 – Sizes 01:36 – Snow Conditions 01:56 – Board Personality 02:31 – Steeps 02:51 – Off Piste 03:25 – Groomers and Turning Experience 04:08 – Switch 04:26 – Freestyle Personality 05:34 – Powder 06:01 – On Snow Feel 06:19 – Who Is This For?
Size: 149
Days: 4+
Conditions: Groomers, Powder, Ice, all over the mountain with a variety of different conditions.
Riders: Steph
Boots: Vans Ferra (W 7.5) Vans Luna (W 7.5)
Bindings: Union Legacy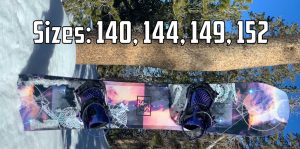 Sizes Available: 140, 144, 149, 152
I tried the 149, but the 144 would fit my specs most accurately. I felt the 149 was a bit big for me and my weight and this may have effected how the Rival responded and rode for me.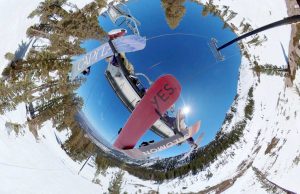 Flex
The Rival comes with a 6/10 flex. However it reacted and felt a bit stiffer then that for me. It seemed rather stiff when I tried to twist the board in quicker turns. The Rival seemed to respond a lot better when I was riding at faster speeds and being more aggressive with it.

Base
The Yes Rival comes with their Sintered True base. Good for riding fast and it seemed to have a nice glide to it.
Camber Profile
This board has a full positive camber profile. No rocker in the nose and tail. And the camber arc is quite impressive. A very snappy and energetic ride that feels technical and locked in during turns.
Mid Bite / Edge Hold
Edge hold with the Rival is really great. Especially in icy conditions. It is the only women's model in Yes' line that has their Mid-Bite along the sidecut. This is an entire section along the sidecut that is set back a bit. This creates very nice edge hold in ice and also helps the Rival to turn quicker because it reduces the waist width in the middle section of the board.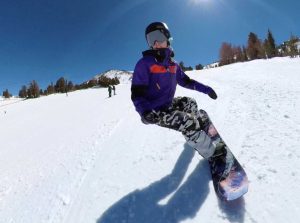 Board Personality
This board is ideal for advanced to expert riders. It likes to ride fast, and the full positive camber profile provides a very dynamic feeling ride. It is not forgiving really at all, and prefers speeds and power while riding.
Steeps
The Rival handles great on steeps. It is locked into the snow and turns precisely where and when you tell it to. It is very reliable at higher speeds and does great on runs that have harder snow conditions or groomed snow.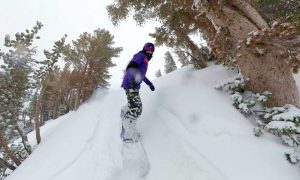 Off Piste
It rides pretty well off piste. Because of the full positive camber profile and the stiffer feeling flex, I felt it was a bit slower to turn around trees.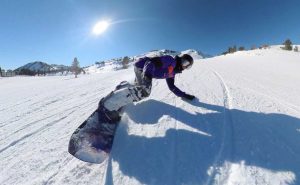 Groomers And Turning Experience
One of the things I enjoyed most about the Rival was its ability to carve. It feels amazing at higher speeds and with a higher edge angle in the snow. It has an amazing amount of energy in and out of the turns and can hook a carve around with a lot of power and stability. Very fun true twin carve board.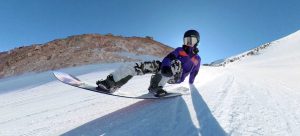 Freestyle Personality
This is a great freestyle specific board for those aggressive riders that want a ton of stability and energy to their freestyle ride. The Rival has a ton of camber with its full positive camber profile. This results in a ton of pop off of lips and in ollies. It is for the more established park rider and isn't ideal for learning freestyle on. It also rides switch great since it is a true twin.
I didn't get to try this in the halfpipe, but I bet it would be amazing. The edge hold this board has, mixed with the stability and the pop would make for a great halfpipe board I think.
It isn't my first choice for jibbing, but I'm a more playful rider too. The Rival can handle jibs for sure, but it is more up to the rider that is taking it there. It isn't forgiving at all, so if you make a mistake in the landing, the Rival will be sure to let you know.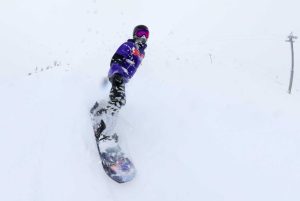 Powder
Not a great powder choice. It is a true twin that has a full positive camber profile to it. So best to have a backup powder board if you are going to see some deeper days.

Overall
If you are looking for a hard charging true twin board with a full positive camber profile, the Rival is it. It has amazing edge hold on ice, a ton of snappy energy, and won't let you down no matter how hard you push it. Great for larger park features, half pipe, icy conditions, and carving.

Want to snowboard with Steph?
Sign up for one of her camps or ride days!
Check out her company here: Altitude Attitude
Instagram: @altitude_snow
If you can't buy through the links above, you can support the site with: