YES PRO20 2021 Snowboard Review
| | |
| --- | --- |
| Riding Style | Alternative Freeride |
| Riding Level | Advanced - Expert |
| Fits Boot size (US) | 8-10, 10-12, > 12 |
| Manufactured in | Dubai by SWS |
| Shape | Tapered Directional |
| Camber Profile | Hybrid Camber |
| Stance | Setback -15mm |
| Approx. Weight | Feels Normal |
| Split | No |
| | |
| --- | --- |
| On Snow Feel | |
| Turn Initiation | |
| Skidded Turns | |
YES PRO20 2021 Review by The Good Ride
YES PRO20 Snowboard Video Review Fast Forward Markers: 0:00 – Intro 0:24- Summary 1:06 – Sizing 1:49 – Shape/Camber/On Snow Feel 2:59 – Flex/Pop/Butterability 3:56 – Speed & Uneven Terrain 5:30 – Edge Hold 5:48 – Turning/Carving 6:14 – Powder 9:07 – Conclusion 10:11 – Outakes 10:24 – About Our Reviews
Turn Ons/Swipe Right: Stable and fast for a short/wide. Sits on top of shallow to deep pow.
Turn Offs/Swipe Left: Turns pretty slow
Summary: The Yes Pro20 has a faster base and a little more camber (in the 152) compared to the 420 and of the 2 models it was the one we preferred. One thing we didn't mention in the vid is the Pro20 in size 148 is flat to rocker so this review is only applicable to the 152.
Ethics Statement: We don't get paid by the manufacturer to write these reviews and this is our unfiltered opinion. We do make money from the "Where To Buy" links, but this is our best attempt at an honest and objective review from an average riders' perspective.
YES PRO20 Snowboard Review- How it rides and who it is for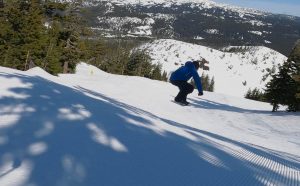 How This Review Happened: We borrowed this for an extended demo and sent it back.
Size: 152
Days: 4
Conditions: Good Groomers, hard groomers and some slackountry powder time with Drift Boards.
Riders: James (Size 9, 5'10" 185-190lbs), Peter (Size 8, 5'11" 185lbs)
Boots: Adidas Tactical ADV
Insoles: Sandsole Custom Insoles, F.I.T. Gamechangers, F.I.T. Gameghangers LP
Bindings: Union Atlas, Union Strata
Similar Boards (but not the same): Yes Hybrid, Prior Legacy, Jones Hovercraft, Weston Hatchet, Lib Tech Orca, Never Summer Harpoon, Yes Hybrid, Yes Y, Yes 420, Yes 420 PH.
Set-Up: 21.5" Wide. 18 front -6 back. Close to Reference and Set all the way back.
Approximate Weight:
The YES PRO20 Feels normal enough but its small and wide.
(We don't put in the exact weight because with wood cores there is no consistency in a boards weight)
Sizing
Here are some ideal US boot sizes for the YES PRO20. You can of course go bigger or smaller but these work best for not turning the board slower than it should be and not having the dreaded Toe & Heel Drag.
148: 8-12
152: 10-13+
The 152 felt fine for our weight but pretty hard to control. The 148 would be better for our boot size but not our weight.
Shape/Camber/On Snow Feel/Ability Level
So the 152 YES PRO20 is tapered and directional but it has a pretty centered stance on sidecut and board for this shape. It has good bit of camber just past the inserts that transitions into early rise in the nose/tail. What this all does is make it not feel as tapered or directional so if you like a more centered feel when riding groomers and powder this could work. It is stable somewhat forgiving because of the hybrid camber but the width makes this a bit awkward to quickly skid a turn if you are off your game.
Flex/Pop/Buttering
The The YES PRO20 has a lot more pop and all around good energy under the foot vs. the Yes 420. Both had a similar flex but the PRO 20 was more lively without having that ultralight feel to it. It buttered with a little effort for me and it was doable. However, Peter wasn't into it.
Speed
Very fast for a short/wide. The YES PRO20 can go faster than almost any short wide we tried except for the Prior Legacy. The base has good glide too but again not quite the easy glide of the Legacy but way better than the 420.
Uneven Terrain
The YES PRO20  is one of the last boards we would pick for weaving through bumps on the way to get powder but it can power over micro bumps of all kinds really well for its size. It has a rubbery smooth damp feel that both Peter and I appreciated.
Edge Hold
Not there with one of our favorite boards, the Yes Hybrid but very good not having a disruption in the sidecut.
Turn Initiation
Slow on groomers and then medium slow in powder.
Turning Experience/Carving

We were suprised how well the YES PRO20 carves and how much fun it is to turn. Once you get the sidecut engaged and turning it really has a satisfying carve that springs out of a turn well. It can even circle carve pretty well. It is so much more than just a powder ride and does a great job riding groomers.
Powder
There is only a 2.125" set back from center of board on the 22" reference stance and 2.875" all the way back at a 22.5" stance width. So it rides pretty centered for a board like this but it sure does float. The faster base was much more enjoyable for longer traverses and it kept its speed better in powder. It also sat on top of all depths of snow from 6″ up and the tail didn't sink down and scrape the hard snow below.
Conclusion
Peter and I aren't super into short/wides as a daily driver and there are only a few out there we feel can handle all conditions. This is one of those rides. So if you want short and wide daily driver this could for sure work. If you want something more directional and set back check out the Prior Legacy.
If you can't buy through the links above, you can support the site with: