YES Hybrid 2020-2021 Snowboard Review
| | |
| --- | --- |
| Riding Style | Alternative Freeride |
| Riding Level | Intermediate - Expert |
| Fits Boot size (US) | 8-10, 10-12, > 12 |
| Manufactured in | Dubai by SWS |
| Shape | Tapered Directional |
| Camber Profile | Hybrid Camber |
| Stance | Setback over 20mm |
| Approx. Weight | Feels Normal |
| Split | No |
| | |
| --- | --- |
| On Snow Feel | |
| Turn Initiation | |
| Skidded Turns | |
Where To Buy
No obligation, but these links & ads support the site.
YES Hybrid 2021 - 2020 Review by The Good Ride
Yes Hybrid Snowboard Video Review Fast Forward Markers
0:00 – Intro 0:18 – Summary 1:07 – Sizing 2:08 – Shape/Camber/On Snow Feel 2:57 – Flex/Butterability/Pop/Air 4:05 – Speed/Dampness 5:05 – Uneven Terrain 5:20 – Edge Hold 6:25 – Turning/Carving 7:29 – Powder & Conclusion 8:44 – Outakes 9:21 – About Our Reviews
Turn Ons/Swipe Right: Fun Turning Experience, Easy to Butter, Great Float and an Excellent Daily Directional Driver
Turn Offs/Swipe Left: Only 5 Inserts/Limited Stance Options and a pretty wide reference stance across the line.
Summary
The Yes Hybrid takes a lot of qualities we like from the PYL, 420 and a hint of the Optimistic making it a great everymans daily directional driver.
Ethics Statement: We don't get paid by the manufacturer to write these reviews and this is our unfiltered opinion. We do make money from the "Where To Buy" links, but this is our best attempt at an honest and objective review from an average riders' perspective.
Yes Hybrid 2021 Snowboard Review- How it rides and who it is for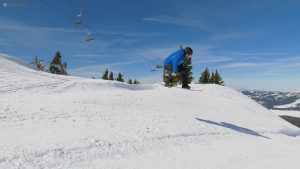 How This Review Happened: We liked it so much we asked to keep it (we only do this with our favorites).
Size: 153, 161 and 157
Days: 8+ and many more coming as I own the 153
Conditions: Hard to really good mid-winter groomers and some slackountry time with Drift Boards.
Riders: James (Size 9, 5'10" 185-190lbs), Peter (Size 8, 5'11" 185lbs)
Boots: Adidas Tactical ADV
Insoles: Sandsole Custom Insoles, F.I.T. Gamechangers, F.I.T. Gameghangers LP
Bindings: Union Atlas, Union Strata
Similar Boards (but not the same): Gentemstick Mantaray 156, Korua Dart, Korua Café Racer,  Endeavor Scout, Prior Legacy, Jones Hovercraft, Weston Japow, Lib Tech Orca, Never Summer Harpoon, Moss Jellyfish, Niche Pyre, Lib Tech Lost Quiver Killer, Burton Killroy Pow Camber, Yes Y, Yes Pick Your Line
Set-Up: 21.5" Wide. 21 front -3 to +3 back.  22″ Wide 18 Front -3 back
Approximate Weight:
The YES Hybrid has a medium feel to it that doesn't feel too light or too heavy.
(We don't put in the exact weight because with wood cores there is no consistency in a boards weight)
Sizing
Here are some ideal US boot sizes for the Yes Hybrid boards. You can of course go bigger or smaller but these work best for not turning the board slower than it should be and not having the dreaded Toe & Heel Drag.  We like sizing down and I think most will want to ride this a little shorter and wider than you normally would with a traditional freeride board.
153: 8-10
157: 9-11
161- 10-12
Update Dec 2020: The 153 is for sure for me. The 157 was great but just didn't turn as easy. It would be great if you prefer to bomb like Peter does but I like to turn more than point it.
Shape/Camber/On Snow Feel/Ability Level

The YES Hybrid is tapered directional with a decent set back on sidecut. It doesn't have much setback on board for this kind of shape. It doesn't have much taper and you don't need a lot of extra back foot weight on groomers.

The YES Hybrid has a decent camber going past the bindings that transitions into a very mellow early rise. It is somewhere in between YES' Modern Camber and their more mellow Camrock profiles with more rocker. We still think that an intermediate will have no problem riding this. It tracks well and has a very predictable feel underfoot in all conditions.
Flex/Pop/Buttering/Air
There is a very medium flex happening with the YES Hybrid and it butters really easy. YES's flex rating system runs softer than the rest of the industry. We feel it is more like a 5 out of 10 vs. their 7 out of 10 rating…well Peter says 5.5 just to be Peter. This medium flex happens throughout the board making it easy to butter with the mellow rocker in the tip and tail. It doesn't lack pop either and it was very easy for us to track into natural features throughout the mountain. It is a very fun board for getting air. You wouldn't think that rubbery feel would snap this hard but it has above average easily accessible pop.
Speed
We thought the medium flex of the YES Hybrid would make the ride sloppy at high speeds but it did better than we thought. While It's no Hovercraft, it does feel stable and damp pointing it. The base also has a above average but not exceptional glide.
Uneven Terrain
This rubbery bamboo kind of flex personality makes all day riding pretty fatigue free. The YES Hybrid is a great all day resort rider. It is a little cumbersome to make quick turns through bumps but the 153 (for our specs) would be super fun in a snake track.
Edge Hold
The YES Hybrid borders on being an ice snow specialist and it is right there with almost full mag from brands like Lib Tech and Gnu. It isn't full on mag but it is close. As we said in the review the Surprice (surprise ice) patch you often can get on a good day is much easier to manage with this disruption in the side cut they call tapered underbite.
Turn Initiation
For us with size 8.5-9 boots the turn initiation was medium and felt very predictable and smooth with a slight acceleration as the edge is set. As your boot size goes up the turn initiation could easily become medium/fast.
Turning Experience/Carving
Now when you commit that sidecut into a hard turn/carve the YES Hybrid really lights up. It is not quite a circle carver like the Y or Optimistic but has a really balanced radius that leans on the turny side of things which I personally like over the Optimistic and Y. Those do one kind of turn exceptionally well but aren't as well rounded.  It makes it fun for just about all radius turns.
Powder
There is a lot of surface area with they Yes Hybrid. The 153 actually has a little more surface area than the 159 Yes Pick Your Line. It makes this a very competent floater. I've only tried the 161 in about 2 feet of powder and it sat really well on top of the snow. It wasn't as amazing as the Pro20 or 420 but it does a great job. So there is a 2.675″ setback from center of board on reference stance and then 3.375″ set all the way back with both stances having a 23″ stance width. We wish there were more inserts (at least 6×2 per binding insead of 5×2) but at least it has a very floaty shape.
Conclusion
So riding the 161 was fun but getting to ride the new 153 shape really matched up well for our specs. The YES Hybrid is a fun alternative freeride kind of daily driver that works for a wide variety of riding styles and ability levels. It's even ok switch. It was a board that both Peter and I couldn't stop thinking about after every time we rode it.
YES Hybrid Past Reviews

The YES Hybrid is new for 2020 and as they say, it's a combo between the Optimistic and 420.  It takes the mellower camber profile (Camrock) of the Y and the sidecut (Tapered Underbite) of the PYL to even further the tech diversity of the ride. The result is a somewhat wide, cruisy board with a lot of surface area for an easy float that seems to be best for mid/wide footed riders but could also work for a few sizes down.

Ethics Statement: We don't get paid by the manufacturer to write these reviews.  We do make money from the "Where To Buy" links, but this is our best attempt at an honest and objective review from an average riders' perspective.

How This Review Happened:  We borrowed this for an extended demo and then returned it.
Size: 161
Days:  4
Conditions: Pretty good mid-winter groomers, some powder and an early morning slackountry time with Drift Boards.
Riders: James (Size 9, 5'10" 185-195lbs), Grant (Size 11 6' 160lbs)
Boots: Adidas Tactical ADV
Insoles: Sandsole Custom Insoles,  Footprint Insole Technology Gameghangers Low Profile
Bindings: Union Atlas, Union Strata, Union Falcor

Similar (but not the same) Boards, We Like That We Compared This To:  Capita Spring Break 161 Tree Hunter, Gentemstick Mantaray  Korua Dart,  Rome Pow Division MT,  Yes Optimistic, YES Y, Yes 420 PH and Yes 420.

Set-Up: 21.5″–22" Wide. 21 front -6 back. Close to Reference and Set all the way back.

Approximate Weight: Feels pretty normal for how wide it is for its size.

Sizing: The 161 felt too big for me with my size 9's and it was a very slow turner. The 157 is shorter but not much narrower but it could be more fun. For Grant, with his size 11's, it felt great. It was still somewhat big, wide and cruisy but it was more fun for Grant than it was myself.

Flex/Buttering: Take all YES's flex ratings with a grain of salt and dial it back a bit. You can butter pretty easy for this flex and it's got a good flex that is damp but not stiff or dead. It feels a little rubbery like it can flex more than you would think for how stiff it is without breaking.

On Snow Feel/Ability Level/Skidded Turns: The Yes Hybrid has a big wide platform that feels wider than the Yes Y or Yes Optimistic and feels like the 420 was lengthened but given a different top. It is a big cruisy board and if you surf, Grant said it best when he called it a Fun Board.  It's got that big, thick 7'6″ to 8′ super thick/wide kind of feel that makes it super easy to just cruise around the mountain. One footing and flat basing are super easy. So is skidding turns if you get off your game as long as you have bigger feet. For someone with size 9's, like myself, you will find it's a little slow but there isn't an unforgiving super augmented camber profile that would make the edges catch when you get off your game and need to skid out. You can feel some of the 420's fatter personality in the ride but not as much with the Optimistic or Y. It really has a unique personality in comparison to the rest of the line.

Edge Hold: The tapered underbite offers up a pretty solid grip similar to what you get in the PYL. The Yes hybrid can for sure hold an edge in hard to icy snow and is there with mellower magnetraction that you find from Lib-Tech/Gnu and some other companies.

Turn Initiation: Really slow for me edge to edge with size 9 boots and this would be a nightmare for me if I went down a long bump line or had to get through some tight trees with lots of quick turns. It felt wider than 26.4cm in the waist and I would have guessed in the 27's or 28's. For Grant, it felt slow overall but much faster in comparison to me with his size 11's.

Turning Experience/Carving: When the edge is set and the turn begins there isn't that acceleration you get into the turn like you do with the Y or Optimistic but it is a slow but fun cruisy turn. You can carve pretty hard but if that's what you want then go for the Y or Optimistic. Those are a little more rewarding. What was interesting is I didn't feel the 12mm of taper as much turning and I didn't feel like I had to put as much back foot weight as I did with boards like the PYL that have less taper (approx 6mm) but the same tapered underbite sidecut. It didn't have an overall turn like the Optimistic or Y but it did have that not so tapered feel for sure.

Powder: Even though the Optimistic and Y have a little more set back on board the Hybrid felt like it wasn't even trying in the powder we had. It felt like the whole board like's to sit on top of the snow more than boards that let the tail sink and nose rise. When comparing the set back on board to the Optimistic it sits more centered even though the setback on sidecut is much more with the Hybrid.  There is a 6.75″ difference between nose and tail making it  3.375″ back from the center of the board when set all the way back at almost 23.5″.  The Optimistic is a 9.25″ difference between nose and tail and 4.625″ back on board. Even the Y with the same amount of inserts as the Hybrid has a 7.75″ difference between nose and tail, or 3.875″ back from the center of the board. So it just shows setback on board is super different than setback on sidecut when it comes to directional float. The bottom line is this floats well while giving the feel of a little more centered ride in pow than the Y and definitely more than the Optimistic that only have 6.5mm of taper.

Speed: Damp and pretty fast but not the super bomber. The base isn't super fast but on the better side of the glide spectrum for sure.

Uneven Terrain: The Yes Hybrid was great at powering over chunder on a powder day and I felt like was inside a car with amazing shocks on a bumpy road in the sense that you knew it was bumpy below but you just didn't feel much of it. So amazing powering over chunder but not easy for smaller footed guys when weaving through bumps.

Overall, the Yes Hybrid, takes a lot of fun aspects from many boards in the line and
YES Hybrid User Reviews
---
---
YES Hybrid 2020-2021 Snowboard Review
SKU
UPC
Model
excellent board
Jun 23, 2021
by
tim
Ability Level: Advanced •
Riding Style: All mountain freestyle •
Days You Ride A Year: 30+ •
Height, Weight And Boot Size (for Boards, Boots & Bindings): 6ft 80kg 10.5us lexicon
I have the 157.
I find it very good on uneven terrain, little fatigue. very nimble for its size. great at slow speed and high speeds. easy turn initiation and i found it medium fast, holds excellent edge especially when traversing. Excellent carver and and can really lay it over with width. smooth transitions and forgiving and is all over just a great board for freeriding and in between. i would love to take this in the trees. Great float too! prefer this over my yes pyl 160w.
Get this you wont be disappointed. especially if you have 11us feet

---
Fantastically Forgiving Soft Snow Specialist
Apr 19, 2021
by
K.B.
Ability Level: Intermediately Intermediate •
Riding Style: Not-So-Rad Dad, Powder Addict - Steeps when it's Deep, Groomers when it Isn't, and Avoid the Park at All Times •
Days You Ride A Year: 10-20 •
Height, Weight And Boot Size (for Boards, Boots & Bindings): 5'10" (177 cm); 195 lbs (88 kg); Boot Size US 10 (28.2cm mondo foot size)
James recommended this board for me in 2019/20 season, and it hadn't really been on my radar till he put it at the top of his recommendations for me. Now that I have a full season with it under my bet, I thought I would provide some thoughts for other intermediate level riders that might be considering this board. I'm 41 years old, have only been riding for three seasons, and probably fall somewhere in the middle of that vague "intermediate" level. I can ride some double-black terrain, but I still skid plenty of turns and occasionally look like a moron on rutted up cat tracks, too.

SKILL LEVEL - Almost anybody of any skill level could ride the Hybrid. For the beginner(ish) intermediate, it really comes down to how well this board fits your specs, as to whether it will work for you. It does not have nearly as much rocker in the nose/tail with the 1-4-1 CamRock profile as many of Yes's all-mountain boards (such as the Basic with 4-4-4, or the Typo & Greats with 2-4-2), but don't let the specs fool you because the profile is plenty forgiving enough for almost anybody. The flex is basically perfect for intermediate riders ready to get further up the mountain and off the blue runs, but is still flexible enough for early intermediate riders still working on torsional twist to leverage the board.

TURN INITIATION – The most common complaint about this board I found on-line is that turn initiation is slow. On the other hand, there are just as many contrasting reviews – so it was hard to decide whether this issue was real. IMO, this really comes down to specs/sizing, and snow conditions. This board is wide, and it rides that way for my size 10 boots in hard snow and messy end-of-day resort snow. In fresh snow, the board has a different personality that rolls effortlessly from edge to edge. It turns wells enough for trees as long as it is deep, fresh, and soft; but it would be too much for me in a tree run of day-old tracked out snow. It also does not have that quick roll transition like hybrid rocker (but I still like hybrid camber better overall).

SIZING - Similar to another reviewer (Grant), I purchased the original 2019/20 model prior to the 2020/21 season to save some cash - which meant I had to go with the 157 instead of the 153 because the 153 wasn't available the first year. Although the 157 is wide, it is not comparatively as short as most short-wide style boards would be for my specs. Also like the other reviewer, part of me would like to size down to the 153. The 157 floats and rides steeper terrain so well in good snow, though, I'm hesitant to risk giving that up, and I think I may just buy an all-mountain board for those messy groomer days. (I live in Tennessee and have to travel for snow, so I pretty much have to ride whatever conditions I'm given when I get there.) For folks with size 11 boots or bigger boots, I think the turn initiation on the 157 will be plenty fast, and I doubt they will have any limitations. Advanced/expert riders with size 10 or larger shouldn't have any issues, either. Intermediate riders with size 10-11 that are looking for a daily driver, should probably go with the size 153, and intermediate riders with boot sizes under 9.5, should probably look elsewhere. Yes seems to be conservative on their weight recommendations. I think riders up to 210 lbs would be fine on the 157, so I wouldn't step up to that 161 just because you are a couple of pounds over Yes's recommended weight of 190.

LIKES – I really love Yes's hybrid-camber CamRock profile. It rides very stable and does all the things James says it does. The tapered underbite sidecut is really unique, and makes for an interesting turn profile. As James mentions, it doesn't feel as back-foot washy as you would expect for a tapered board because of the way the tapered underbite progressively tightens the side cut radius. Keep in mind that I'm an extremely mediocre, middle-aged, glorified beginner; but even I can play around with shifting my weight to get different radius turns from the sidecut. Once you get on edge, you can manipulate that sidecut to get the turn radius you want. I really like the flex of the board, too. This board has plenty of guts as far as I am concerned, and it was all I needed for riding Jackson Hole from top to bottom. I really prefer a flex that hugs to the terrain when I get in steep stuff, so the Hybrid is perfect for me. I love this board anytime the snow is soft - on steeps and bowls at the top of the mountain, or slashing slush and carving groomers at the bottom…it's great as long as the snow is soft. Don't take the soft snow comments as a complaint about edge hold, though, because this board has edge hold for days. I have ridden pure east coast ice on it and it holds an edge, but it does take a lot of work to turn in icy conditions. In deep powder, the Hybrid has a unique ride because it planes out on top, and the back foot doesn't have to sink as much. I have no issues riding powder with a centered stance, just because the nose floats it out so well. It's not really a surf-style ride, but it's a very floaty ride and I really like it.

COMPLAINTS – I basically only have two issues with the board. The first I have already mentioned ad nauseam – it is a bit of a chore to turn in hard snow. It will wear you out it in hard snow trying to turn through messy moguled-up runs, and it's a downright pain in the ass for long, narrow, rutted-up cat tracks if you can't flat-base it. The second complaint is not that big of a deal, but is a more of a preference thing. The reference stance is relatively wide, and it only has 2x5 inserts. The reference stance for both the 153 and 157 is 23". If you ride a 23" stance, then ignore this comment because you are golden. I, on the other hand, am much more comfortable in a 21.5-22" stance. Since I ride Burton Step-On bindings, I don't have any additional adjustment outside of what is available on the inserts. I have been riding the minimum reference stance of 21.5" on the inner most inserts. This works to give me the stance width I want, but it does make the nose ride a bit longer, which exacerbates the turn initiation issue in shitty snow. It also means that I have to ride a 23" stance if I want to move my stance all the way back for powder (which in my case is simply moving the back binding back). As James mentions, it would be nice to have another set of inserts for adjustability instead of the 2x5 pattern.

All in all, this is a very forgiving, yet very capable board, that I like very much.

---
Lethal
Feb 17, 2021
by
Darragh
Ability Level: Intermediate •
Riding Style: Enjoy everything the inbounds has to offer •
Days You Ride A Year: 10-15 •
Height, Weight And Boot Size (for Boards, Boots & Bindings): 6ft1, 235lbs, large Union Atlas Bindings, size 10.5 DC Travis Rice boots
Just christened my new Hybrid with 2 days in Revelstoke. The Hybrid easily handled anything I could throw at it, steep chutes, powdery tree runs, popping off rollers, and bombing groomers! It also skates really well when getting to where you want to strap in. It just felt really stable no matter what I was trying to do. Looking forward to many more days on it

---
Very Psyched
Jan 03, 2021
by
Grant
Ability Level: Advanced •
Riding Style: Freeride - love steeps, bumps, carving & trees •
Days You Ride A Year: 20 •
Height, Weight And Boot Size (for Boards, Boots & Bindings): 5'7" - 170lbs - 10.5 Thirty-Twos
First - I couldn't disagree with Chris more. He mentioned that James thought it was slow edge to edge, but James was clear most of that had to do with it being his boot size. I ride a 10.5 in duck, and was thoroughly satisfied ripping through carved out bumps and tight trees. Its plenty quick if you understand how to access and transfer its energy. I found it easy and super fun to press into and spring from one turn to the next, and was often completely weightless in making some turns. I used to be a hard-booter, and even after I initially switched to soft-boots was riding something like 30/18. I now ride a wider stance at 18/-18 and still use the old carving skills to lay my boards over on groomed runs. I thought the Hybrid excelled both in long arcing turns as well as quick, short, sharp turns at pretty decent speed. I don't know what Chris is talking about, but I think its psychological since he mentioned wondering how he was going to turn it looking at the wide nose. Sure its wide, but it has mellow rocker tip and tail with surprising flex in a longer nose and pop in the tail. The thing is built to turn - its what it does best. I have owned about 4 Megalites along the way, and I have a hard time imagining a better all-around directional board that is both aggressive and playful carving and slashing thorugh tight trees and bump runs. However - This Hybrid is right there - and seems built from the same general mold. For the last 25 years I've been a total directional ripper - I'm finally putting effort into spinning, riding switch and popping 180s. Thus far, I like my 2013 megalite a little better switch as it is softer in the tail, but for the same reason, the Hybrid has more pop for ollies and jumps. I'm riding the 157 with Union Stratas, and it feels like a pretty light deck with good energy throughout that I'm getting more accustomed to the longer I ride it. I've always ridden longer boards (166-68 in true camber / 163 in camrock), but I kind of wish I went 153 in the 21 Hybrid instead of saving some $$ and going 157 in the 20 model - its that damp and stable at speed. I'm totally stoked on this deck, and I'm excited to learn it better and access more of it's best qualities over time. Oh yeah... waxed correctly it's pretty damn fast (and that's coming from a guy who also rides a 168 Flight Attendant). Last thing - I mentioned how it excels both in long arc-ing turns as well as quick tight-radius carves - I think it owes all that to the tapered under-bite that makes progressive steps toward tighter radii as you move from front foot - between the foot - back foot. So - you can hold on to the edge between feet and swoop long arcs, or you can progress your foot pressure front to back, and really pop in and out of sharp arcing carves. We're expecting about 12" tomorrow here at Big Mtn in Whitefish, with high winds knocking even more pow from the tree-tops. I can't wait to feel what kind of mellow, buttery sweetness this thing has in store for deep pow. I'm expecting the groomer carving qualities to translate seamlessly to the pow, but I'll report in if I find otherwise. Surface Area combined with underbite is amazing, and more fun the more I get used to it. Go out of your way to demo the Hybrid if possible, but don't be afraid for a second to just fork over some cash and take the plunge like I did. This was my first YES. purchase and most assuredly will not be my last. This thing has Nidecker dna pumping through its veins (a very good thing), but mixed with YES's own little "je ne sais quoi." These companies have mastered stability, aggression and playfulness all in a softer flex profile across the entire length of the board. Otherwise known as Shredding Awesomeness! I'd go 4.5 stars if I could (only bc I've been fortunate to own so many of the older megalite models), but I'm ok with going 5 fully expecting that time on this board will help me further discover its sweet-spots and design genius.

Pray for snow, shredders! Peace.

---
Hate it
Dec 22, 2020
by
Chris
Ability Level: Advanced •
Riding Style: Rad dad •
Days You Ride A Year: 30 •
Height, Weight And Boot Size (for Boards, Boots & Bindings): 6' 225 lbs size 11 thirtytwoTM-2
This board is marketed as a do it all quiver board but it's terrible on groomers. It's a volume shifted powder board (shorter and fatter than usual) so the area from the front binding inserts all the way up to the nose is super wide. Not like a little wide ...it's to the point you look at it and go man how am I going to turn this thing. It was very concerning but I needed a powder board regardless so decided to ride it as a do it all quiver. Haven't had any pow yet but I've ridden it 5 times on groomers and the turn initiation on this board is sooooo slow. Just brutal. I'm not being dramatic when I say that it's so bad I don't even want to ride gnar trails until my next board comes in. It's not bad if you ride literally wide open, perfectly groomed, flatter trails but I ride steep rutted nasty terrain at Whiteface and need a board with maneuverabilitythat can weave threw bumps and this thing is brutal. I'm an advanced rider, 35yo now and have been riding since I was 10 years old so I'm making it work but man it's a chore if you plan on using this for all day resort riding along as a pow board. It just kills your fun because the turn iniation is so slow. Which sucks because again it's marketed as an all moutain board. Pretty misleading. Suspect who's leaving these other user reviews tbh. I will say this board is a savage just powering over bumps. The dampness on this is very impressive. It's crazy heavy and very very damp even for a 225 lber when Im bombing ending of the day east coast groomers. Not my style but thats how I'm riding now because that's how it performs best. Gotta give the guy(James?) who runs this site credit tho as in one of his YT videos he did say the turn initiation was super slow. Will use this as a powder board (the few times that is...) but if you're buying 1 board I would highly urge you to try another yes board as this does grip well without being catchy...

---
Hybrid? Yes please!
Dec 05, 2020
by
Nathan
Ability Level: Intermediate + •
Riding Style: Directional, fast, carving, surfy rider •
Days You Ride A Year: 30* •
Height, Weight And Boot Size (for Boards, Boots & Bindings): 195, 6' (athletic build), sz9.5 Adidas Response, Union Atlas
The review said it best with the line "quiver killer". I have a handful of TGR favorites that are going to start collecting dust. I picked this up used to use as a "rock board", cleaned it, p-Tex, sharpened, waxed and got ready not to care too much about it. I have 5 days of early season riding on it, groomers, some icy conditions and wet snow. It is so much fun, very stable (I would have to try to catch an edge or loose grip). I have the 157, it turns and carves so effortlessly and allows deeper and harder carves than any other board on my wall. I just love it, I want to ride and wear a smile, it brings that smile every lap. This was not what I expected when I bought it and now wish I had purchased it 4 boards ago and saved some dough. Lol! Thanks TGR!

---
If you can't buy through the links above, you can support the site with: