YES 420 2013-2022 Snowboard Review
| | |
| --- | --- |
| Riding Style | Powder |
| Riding Level | Advanced - Expert |
| Fits Boot size (US) | 8-10, 10-12, > 12 |
| Manufactured in | Dubai by SWS |
| Shape | Tapered Directional |
| Camber Profile | Hybrid Camber |
| Stance | Setback -15mm |
| Approx. Weight | Feels Normal |
| Split | No |
| | |
| --- | --- |
| On Snow Feel | |
| Turn Initiation | |
| Skidded Turns | |
Where To Buy
No obligation, but these links & ads support the site.
YES 420 2023 - 2013 Review by The Good Ride
Update for 2023: The YES 420 seems to be the same board as the 2021 model we tested so this review still stands. 
Turn Ons/Swipe Right: Very centered sit on top of the snow powder floater. Stable and fast for a short/wide.
Turn Offs/Swipe Left: Not super poppy. Base is a little on the slow side.
Summary:The Yes 420 has been in the short/wide game for a long time. For 2021 has a little camber happening underfoot making it more than just a powder board.
Ethics Statement: We don't get paid by the manufacturer to write these reviews and this is our unfiltered opinion. We do make money from the "Where To Buy" links, but this is our best attempt at an honest and objective review from an average riders' perspective.
YES 420 2021 Snowboard Review- How it rides and who it is for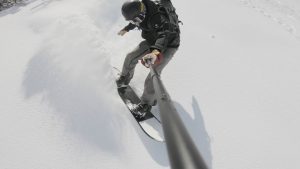 How This Review Happened: We borrowed this for an extended demo and sent it back.
Size: 152
Days: 4
Conditions:  and some slackountry powder time with Drift Boards.
Riders: James (Size 9, 5'10" 185-190lbs), Peter (Size 8, 5'11" 185lbs)
Boots: Adidas Tactical ADV
Insoles: Sandsole Custom Insoles, F.I.T. Gamechangers, F.I.T. Gameghangers LP
Bindings: Union Atlas, Union Strata
Similar Boards (but not the same): Yes Hybrid, Prior Legacy, Jones Hovercraft, Weston Hatchet, Lib Tech Orca, Never Summer Harpoon, Yes Hybrid, Yes Y, Yes Pro20
Set-Up: 21.5" Wide. 18 front -6 back. Close to Reference and Set all the way back.
Approximate Weight:
The Yes 420 feels normal for the surface area but heavy for its height.
(We don't put in the exact weight because with wood cores there is no consistency in a boards weight)
Sizing
Here are some ideal US boot sizes for these boards. You can of course go bigger or smaller but these work best for not turning the board slower than it should be and not having the dreaded Toe & Heel Drag.
148: 8-12
152: 10-13
The 152 felt fine for our weight but pretty hard to control. The 148 would be better for our boot size but not our weight.
Shape/Camber/On Snow Feel/Ability Level

The Yes 420 has a tapered directional shape but it doesn't feel very tapered. It also has a very centered ride between the feet that we liked.

There is a little camber underfoot that makes this more than just a pow board. It is a powder board first but using it as a groomer board isn't that much of a distant second as you would think. The Pro20 is better for this but both are good. The wide width makes a board with a forgiving hybrid camber profile less forgiving. Its just hard to swing it around to skid a turn.
Flex/Pop/Buttering
We would have liked more pop. It has a medium stiff but rubbery flex that takes some work to butter. The Yes 420 doesn't have the return pop wise we generally prefer and it took some work to make this spring on an Ollie.
Speed
That damp rubbery feel does feel really good as speed for a short wide. Most boards like this are scary at speed but the Yes 420 is very doable. The base isn't that fast but it is damp.
Uneven Terrain
Again, for a short wide, the Yes 420 can handle lots types of uneven snow really well. Micro bumpy hard snow kind of groomers and even softer bumpy snow is great. You just don't want to turn this through a bump line.
Edge Hold
The Yes 420 is good for having no disruption in the sidecut and it will hold well enough with hard snow if you dial back your turning a good bit.
Turn Initiation
Pretty slow edge to edge. Once you get the sidecut engaged with the Yes 420 the turn starts to speed up but you can feel the width. In good powder its faster and much more comfortable but it can be awkward to manuver in tight spots in less than perfect conditions.
Turning Experience/Carving
So the Yes 420 isn't necessarily a board you want to put away when the powder is gone. Making good carving turns on groomed runs is pretty doable. The Pro20 is better here but still it's a nice bonus
Powder
The Yes 420 can float…really float. This short/wide really has this cool feeling which allows you to stand really centered for a tapered directional ride. There is only a 2.125" set back from center of board on the 22" reference stance and 2.875" all the way back at a 22.5" stance width. That is not a lot for a board like this but it still sits right on top of powder making deep snow look shallow. It is also great for those less than perfect pow days with lets say less than a foot sitting on top of hard snow. It doesn't sink the tail down into that hard stuff and scrape through turns.
Conclusion
So we liked the Pro20 better than the Yes 420 so if you can pay more to swing that board, do it. If you can't you will still have a pretty good life on top of powder and still have a good time when its gone.
YES 420 Past Reviews

The Yes 420 is weird.  It's not bad weird but just weird and very different. They said they took the surface area of a 161 and put it into a flat to rocker 148.  It's almost like taking a skim board and mounting bindings on it.  None of us wanted to go out on the hill with a 29 cm waist but all of us were glad after we did. Every year there are little tweaks with the shape and set back that might appeal to you more than other years but the general ride is still the same.

Ethics Statement: We don't get paid by the manufacturer to write these reviews.  We do make money from the "Where To Buy" links, but this is our best attempt at an honest and objective review from an average riders' perspective.

The 2016-2019 YES 420 is made by SWS in Dubai instead of GST in Austria so even though the look is similar and the ride is similar there is a different personality underfoot because they are using new materials.  We like the SWS personality a little better because it's got a friendlier flex and it seems like the tech allows for a little easier pop and better performance in uneven snow.

For 2018-2019 the Yes 420 has a little more narrow reference stance.

Size 148
Days: 3
Conditions: About 6″ of light fluffy Utah powder. 1 day on soft Sierra snow but mainly a groomer day.
Riders: James, Peter, Kyle
Boots: Burton Ion, Burton Imperial
Bindings: Union SL, Union Contact Pro
Set Up: Centered, about 23″ wide 15 front -6 back

This is one of those boards that I didn't want our crew to ride but the first time it was snowing and I knew that we were going to get lots of questions about it. So we all reluctantly took it up the hill. This is not like Burton's Raduction tech because the waist width is soo massive that the surface area is the same as 162.  The 420 widens as it shortens. This is really its own powder board and there is nothing out there like it.

On Snow Feel:  It's a strange thing to mount yourself on a 148 with a 28.6 cm waist and then to go out and think it will turn but it does and it feels pretty stable between the feet without being catchy. It's going to feel a lot more normal than it's specs but it still feels very much like a quiver board. It's very stable underfoot, very easy to one foot/flat base and very easy to skid turns with.

Powder:  The set back seems to change every year.  2013 was centered, 2014 was -20 mm, 2015 is -10 mm, 2016-2019 is -15mm but all years float really well and there is more set back on board than sidecut.  What little powder we had felt good. It floated well and it felt like it wanted to sit on top of the snow instead of letting the tail sink and let the nose float. To me, it felt like a super short thick pod like fish mated with a skim board. It's a fun ride but I'm not sure if I'd like to ride this every time it dumps. I think some will find this an interesting approach to quiver powder riding and others might be sold on this as the way they would like to ride powder.

Turn Initiation: It's a lot easier edge to edge than you would think for a 28.6 cm waist. I was actually scared that I wouldn't be able to turn it but instead, it felt like many easy turning mid/wide boards I rode and it was a lot easier than I expected to turn.

Turning Experience: It's like riding a big disc and it's a very unique turner. Not really for me or for those that like to turn a lot on groomers but its real purpose is powder.  Best to leave it at home until it dumps.

Carving:  Carving wasn't special but you could lay into a decent carve without it washing out in good snow.  It doesn't really have spring out of the turn. The 420 PH was better all-around at laying out a hard carve.

Speed: Pretty fast and stable at speed. Even though this is a 148 you feel like you can really bomb.  Even though I'd rather bomb on the PYL this is a good board for pointing it.

Uneven Terrain:  There was a little bumpy terrain with emerging moguls and it really didn't feel super easy. It can buck you around a bit for sure.

Edge Hold:  Not quite the grip we are accustomed to in the Yes line.  You could feel it slip a little here and there over ice patches but it's good enough for powder riding.

Flex:   Pretty medium/stiff and not quite the butter board despite the

Switch:   It's doable and way better than you would think for a board like this.  It's no 2020 but the Yes 420 can make it happen ok and it's something you can get used to.

So, all in all, the Yes 420 is a hard board to recommend because it's such a unique ride but if it calls to be in your quiver, give it a go.
YES 420 Images

We try to get as many images of the YES 420, but forgive us if they're not all there.
2022
2021
2020
2019
2018
2017
2016
2015
2014
2013
If you can't buy through the links above, you can support the site with: