Soul Blower 142 Women's Snowboard Review
| | |
| --- | --- |
| Riding Style | Alternative Freeride |
| Riding Level | Intermediate - Expert |
| Fits Boot size (US) | Women's, < 8, 8-10, 10-12 |
| Manufactured in | |
| Shape | Tapered Directional |
| Camber Profile | Hybrid Camber |
| Stance | Setback over 20mm |
| Approx. Weight | Feels Normal |
| Split | No |
| | |
| --- | --- |
| On Snow Feel | |
| Turn Initiation | |
| Skidded Turns | |
Where To Buy
No obligation, but these links & ads support the site.
Soul Blower 142 2022 - 2021 Review by The Good Ride
The Soul Blower is a powder loving board isn't just for floating in powder. It can also take you through varying snow conditions, and also likes to carve. The Blower is very directional, tapered, and has a 3D base on the nose as well as a swallow tail with reverse camber.
Ethics Statement: We don't get paid by the manufacturer to write these reviews.  No one is perfect and we do make money from the "Where To Buy" links below, but this is our best attempt at an honest and objective review from an average rider's perspective. 

How This Review Happened:  We borrowed this for an extended demo and then returned it.
Soul Blower Snowboard Video Review Fast Forward Markers: 0:00 – Intro 0:30 – Camber Profile 1:05 – Flex 1:23 – Base 1:43 – Set Up And Stance 2:05 – Snow Conditions 2:40 – Powder 3:29 – Set Back On Board 4:09 – Waist Width 4:50 – Turning Experience 5:23 – Bumps / Chunder / Crud 6:03 – Tail Rocker 6:12 – Switch 6:29 – Edge Hold / Ice 7:01 – On Snow Feel 7:43 – Carving 8:42 – Skidded Turns 9:01 – Board Personality 9:18 – Natural Jumps / Drops 10:41 – Who Is This For?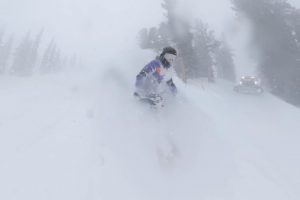 Size: 142

Days: 4+

Conditions: All types of powder, hardback, groomers, deep snow, heavy powder, dust on crust
Riders: Steph
Boots: Vans Ferra Pro
Bindings: Union Milan
Set Up: 19″ stance width, 15 front, -12 back
Waist Width: 250mm
Board Sizing: 142
Camber Profile: The Blower comes with a positive camber profile with rocker on the nose and tail. The nose has an added 3D base that creates the shape of a spoon that rolls away from the snow. The tail has a little rocker as well to allow for pivots with the swallow tail when needed.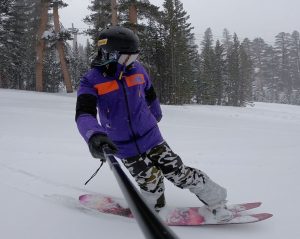 Flex: The flex felt somewhere around a 6/10 or 7/10. It was a nice all mountain flex that was pretty stable at higher speeds, allowed for some energy out of the turns while carving, but at the same time allowed the board to twist and turn quickly through tight spots.
Base: Sintered 7700
On Snow Feel: Although the Blower has positive camber it feels pretty loose when riding with a flat base. The nose tends to pivot around when riding on hardback snow and one footing off of chairlifts. It handles great in deeper snow and has a really nice feel when turning through tight spots in powder. On groomers and hardback, the Blower prefers to be ridden with higher edge angles and at a slightly faster speed. If it is gliding on a flat base speed helps to keep it gliding in a more direct line.
Powder: Almost everything about the Blower helps it to float in powder. It handles well in heavy deep snow and equally as well through blower powder. It has 15mm of taper in the tail, a very directional shape, a big nose that comes with a 3D spooned up base, and a rocker swallow tail. Blower gets 6.875″ of set back on board when the bindings are all the way back. Even riding the bindings at the reference stance, the Blower floated effortlessly through some very deep snow.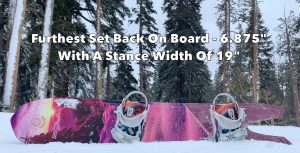 My favorite thing while riding the Blower in deep powder was making dolphin turns. I would purposefully push the nose under the snow and allow it to pop back up through the powder. Normally these types of turns take a little extra effort, but because of how well the nose floated, it popped up all on its own.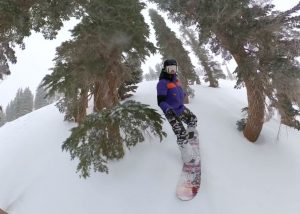 Off Piste / Trees: I found the Blower to be super quick and easy to turn in off piste snow. I could quickly pivot the board to avoid rocks or trees and if I made a poor line choice it was easy to pivot around and change my direction as well thanks to the tail rocker on the swallow tail. It was very maneuverable when riding quickly through tight trees as well.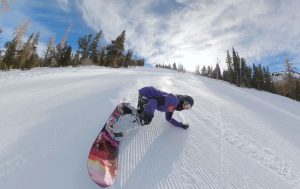 Turn Initiation and Carving: I felt the Blower turned quickly and with minimal effort. It was fairly easy to twist the board to get a quick edge change and turn initiation. In harder packed snow I felt the Blower preferred to be ridden with more authority. It liked a higher edge angle and did not prefer skidded turns.
When carving, it was very quick to get up on an edge and easy to lay over in a carve. There isn't much tail, so I felt I ran out of board quicker when riding it through a carve, and I felt it preferred a medium radius turn instead of large radius turns. I felt like in harder pack snow and groomers, the Blower liked to ride at a medium to fast speed.
Speed: In powder, smooth snow, and groomers the  Blower could cruise at a fast speed and felt great. If the snow got a little bumpy and choppy it seemed to want to turn through the bumps instead of power over them. It comes with a Sintered 7700 base, so as long as it is waxed frequently, the base should stay nice and fast.
Uneven Terrain: I found the Blower to be medium damp when riding through bumpy, uneven snow. I did have to absorb the vibrations and bumps with my knees and sometimes would be caught off guard by a random ice chunk here and there. The Blower seemed to do better when turning through this kind of snow condition as opposed to riding over the top of it.
Edge Hold: In good snow conditions the Blower held an awesome edge. When the snow got icy it felt more loose when riding and took some skill to hold a good edge.
Switch: One cool feature to the Blower is the tail rocker. Even though it has a very shaped swallow tail, there's 26mm of tail rocker to allow the board to pivot on the tail. You can ride switch but it isn't great. But the added rocker in the tail allows for some switch maneuvers if needed.
Jumps: There was a nice amount of pop off natural features and side hits. The Blower was fun to jump and had good energy. I had to learn how to land on a board with no tail and sometimes miscalculated. But the Blower had nice stability in landings once I figured out how to land. And it felt fairly light under foot so it was fun to get off the snow from time to time.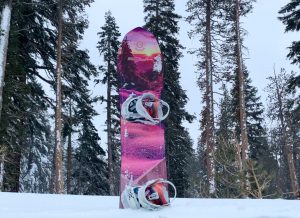 Who Is This For? The Soul Blower 142 could be a good choice for an intermediate to advanced/expert rider who is looking for a directional powder board for those super deep days. The Blower is great at riding through deep snow, but can also handle some more technical riding in between the powder stashes. The learning curve is pretty easy on the Blower. So this could be a good choice for someone looking to get their first super directional board as well. This board likes to float in powder, carve some turns and has a somewhat playful personality. It likes to explore off piste terrain and lay down some trenches on groomers as well.
Soul Blower 142 User Reviews
If you can't buy through the links above, you can support the site with: