Rome Warden 2020-2022 Snowboard Review
| | |
| --- | --- |
| Riding Style | All Mountain |
| Riding Level | Advanced - Expert |
| Fits Boot size (US) | 8-10, 10-12 |
| Manufactured in | |
| Shape | Directional Twin |
| Camber Profile | Mostly Camber |
| Stance | Centered |
| Approx. Weight | Feels Normal |
| Split | No |
| | |
| --- | --- |
| On Snow Feel | |
| Turn Initiation | |
| Skidded Turns | |
Where To Buy
No obligation, but these links & ads support the site.
Rome Warden 2022 - 2020 Review by The Good Ride
Turn Ons/Swipe Right: Carves hard and ollies big for the price. Great board for better riders on a budget.
Turn Offs/Swipe Left: Not great in powder and not for beginners/intermediates.
Summary
The Rome Warden has a beginner to intermediate friendly price but an advanced to expert ride that isn't easy for powder but pops and carves hard.
Ethics Statement: We don't get paid by the manufacturer to write these reviews and this is our unfiltered opinion. We do make money from the "Where To Buy" links, but this is our best attempt at an honest and objective review from an average riders' perspective.
Rome Warden 2022 Snowboard Review- How it rides and who it is for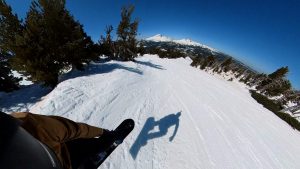 How This Review Happened:
Borrowed this for an extended demo and sent it back.
Size: 158
Days: 4
Conditions:  Varied Spring conditions from hard to fun to soft.
Riders: James (Size 9, 5'10" 185-190lbs)
Boots: Burton Kendo
Insoles: F.I.T. Gamechangers, F.I.T. Gameghangers LP
Bindings: Union Atlas, Rome Katana, Rome Vice, Rome Cleaver
Helmet: Smith Maze
Goggle: Smith 4D Mag
Gloves: Burton AK Clutch Mitt, Burton AK Tech Leather Glove, Burton AK Tech Glove
Similar Boards (but not the same): Endeavor Pioneer, Yes Typo, Jones Frontier, Ride Wild Life,
Set-Up: 21.5" Wide. Sance Angles, +18/-9, +15/-15. Close to Reference.
How It Was Tested
I pretty much rode this against the Freaker and Stale Crewzer. One day all three had Union Atlas on them and the rest I tried different Rome bindings.
Approximate Weight
The Rome Warden is one of those boards that feels maybe a touch on the heavy side of normal but still nothing bad at all. (We don't put in the exact weight because with wood cores there is no consistency in a boards weight)
Sizing
The Rome Warden felt really good at size 158 for my weight but the 155 I rode a few years ago felt much better for my boot size. I think if I was getting the Service Dog for powder I would for sure go 155. Not that the 158 would be much better for powder but it would help if I could only choose one.
Here are some ideal US boot sizes for these boards. You can of course go bigger or smaller but these work best for not turning the board slower than it should be and not having the dreaded Toe & Heel Drag.
149: 7.5-8.5
152: 8-9
155: 8.5-9.5
158: 9-10
154w- 10-11
157w- 10.5-11.5
160w- 11-12
Shape/Camber/On Snow Feel/Ability Level

The Rome Warden looks pretty directional but acts more like a double ender that likes to ride centered and likes to be evenly weighted in a turn. It can take more front foot or back footed weight into a turn as well. The camber isn't mellow and there is barely any early rise happening. It is not easy to skid turns and not for beginners or intermediates.
Flex Personality
There is a pretty medium flex throughout the Rome Warden but it feels a little harder to butter on snow due to all that camber. Still, it's doable but it pops way harder than you would think for this price point. There is some legit ollie power here.
Speed
So the Rome Warden is stable at speed and doesn't chatter much but the base doesn't have that easy glide to it.
Edge Hold
Really competent edge hold happening here. I never felt uncomfortable in harder snow.
Turning Experience/Carving
So other than all that ollie power this is what I liked best about the Rome Warden. It has a quick turn initiation but when you get it on edge it really comes alive. The turning experience is very balanced and is down to let you do any kind of turn you are feeling at the time.
Powder
No thanks. There is a little set back on board but all that camber negates most of that. This is a low angle powder nightmare for average riders. The Rome Warden is much better paired up with the Service Dog as a 2 board quiver. If you have to ride powder with the Warden you can get -1.875" from center of board at a 22.75" stance width. I would prefer to be on the National instead. If you know how to ride camber twins well in powder you will like this though.
Switch/Pipe/Jumps
Very doable either way. It feels a little different with the tip/tail having such different shapes but it's almost there with most true twins. I liked going through the pipe old man style and even though I didn't hit big kickers with the Rome Warden you can tell this would kill it there.
Conclusion
So if you want a more technical but lively ride on a budget the Rome Warden is a great choice. Especially if you pair it up with the Service Dog.
If this review helped, we'd appreciate if you:
Rome Warden Past Reviews

The Rome Warden was a fun board to ride and it rides much better than you would think for its price point. Its a good call for anyone on a budget that likes a turny board that can carve really hard.

Ethics Statement: We don't get paid by the manufacturer to write these reviews.  We do make money from the "Where To Buy" links, but this is our best attempt at an honest and objective review from an average riders' perspective.

Size: 155
Days: 2
Conditions:  Pretty rough late spring conditions.
Riders: James (Size 9, 5'10" 185-195lbs)
Boots: Adidas Tactical ADV
Insoles: Sandsole Custom Insoles
Bindings: Union Atlas and Rome Crux

Similar Boards (but not the same): Korua Otto, Lib Tech Terrain Wrecker, Capita Mercury, Endeavor Pioneer,

Set-Up: 22" Wide. 18 front -9 back. Close to Reference

Approximate Weight: Felt to me like it was on the lighter side of normal

Sizing: I would have liked the 158 a little better but the 155 for sure worked.

Flex/Buttering: The Rome Warden is doable but takes a little work. The mediumish flex off snow feels pretty similar on snow. There is lot's of pop and it ollies well without too much work.

On Snow Feel/Ability Level/Skidded Turns: The Rome Warden is cheap but it's far from being easy to ride. It's not for beginners or intermediates unless they are curious about what it was like for us older farts to learn on camber. It's not as tough as camber but these days there are many easier options out there. This is for advanced to expert riders on a budget. It has a very turny feel that is just shy of being hookey but it tracks well one footing and flat basing. There was a very consistent feel underfoot in all conditions.

Edge Hold: The Rome Warden gripped well and it held on to harder snow pretty well without having to dial back your turn a good bit.

Turn Initiation: Medium quick bordering on quick and the Rome Warden prefers to almost always be turning.

Turning Experience/Carving: You get a lot of carving power out of such a cheap board. The mostly camber profile, deep sidecut, and Rome knowhow really tickled my taint when making a hard carving turn. Even in shitty snow, you could feel it's capabilities and it has a lot of that magic that the Rome Blur has. It really carves well with your weight evenly placed between the feet or with more weight on the back foot. It's the kind of board you get to carve if you are on a budget.

Powder: No powder to speak of but there is a good bit of setback on board. At almost a 22″ stance width you can get 2″ back on board (the difference between nose and tail 4″) and that isn't bad. You need it though with all that camber and a nose that is on the smaller side surface area wise.

Speed: Pretty good speed but not amazing. It likes to spring out of a carve and pop high on an ollie more than carve.

Uneven Terrain: Weaving in and out of bumps was super easy with the Rome Warden. It can power over uneven snow well enough but I wouldn't push it too hard though. The micro bumps were felt but they didn't tax my joints as some boards can.

Switch: Way more doable than I thought it would be. If you cover your hands over the nose/tail when you are looking at it you can see that it's pretty similar on the sidecut each way and I felt that riding switch on snow.

Getting Air/Park: Lots of pop on an ollie and it has the flex for big air. I just preferred the way the National and Agent tracked into a jump more. The pipe was really fun though and it was my favorite of all the Rome boards I had to test. Didn't jib with it.

So all in all the Rome Warden has some low-cost Blur magic that we all really liked. It's a very recommendable choice for those that want to carve and love turning as much as they can. It might not be as well rounded as some boards but will really delight the right kind of rider. Especially for this price point.
If you can't buy through the links above, you can support the site with: