Rome Service Dog 2022 Snowboard Review
| | |
| --- | --- |
| Riding Style | Alternative Freeride |
| Riding Level | Advanced - Expert |
| Fits Boot size (US) | 8-10, 10-12 |
| Manufactured in | |
| Shape | Tapered Directional |
| Camber Profile | Directional Camber |
| Stance | Setback over 20mm |
| Approx. Weight | Feels Normal |
| Split | No |
| | |
| --- | --- |
| On Snow Feel | |
| Turn Initiation | |
| Skidded Turns | |
Rome Service Dog 2022 Review by The Good Ride
Turn Ons/Swipe Right: Great low cost powder board that carves really hard.
Turn Offs/Swipe Left: Not much. Just liked the Stale Fish (same shape) better for $50 more.
Summary
The Rome Service Dog is almost the same board as the Stale Fish that we love but just with less high end construction.
Ethics Statement: We don't get paid by the manufacturer to write these reviews and this is our unfiltered opinion. We do make money from the "Where To Buy" links, but this is our best attempt at an honest and objective review from an average riders' perspective.
Rome Service Dog Snowboard Review- How it rides and who it is for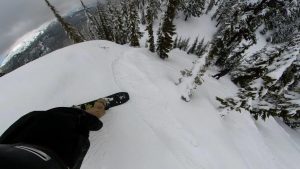 How This Review Happened:
Borrowed this for an extended demo and sent it back.
Size: 157
Days: 4
Conditions:  slackountry time with Drift Boards & Union Rovers
Riders: James (Size 9, 5'10" 185-190lbs)
Boots: Burton Kendo
Insoles: F.I.T. Gamechangers
Bindings: Union Atlas, Rome Katana, Rome Vice, Rome 390 Boss
Jacket: Burton AK Gore-Tex Pro 3L Tusk Jacket, Volcom TDF Infuse 3L Gore-Tex Jacket, Burton Banshee Gore-Tex Jacket
Pant: Burton AK Gore-Tex Pro 3L Hover Pant, Burton AK Gore-Tex 2L Swash Pant, Burton Gore-Tex Ballast Pant
Helmet: Smith Maze
Goggle: Smith 4D Mag
Gloves: Burton AK Clutch Glove, Burton AK Tech Leather Glove, Burton AK Tech Glove,
Similar Boards (but not the same): Prior Legacy, Jones Hovercraft, Lib Tech Orca, Niche Pyre, Yes Y, Cardiff Powgoda,Telos Backslash
Set-Up: 21.5" Wide. Sance Angles +18/-3, +18/+3,Close to Reference and Set all the way back.
How It Was Tested
Every day I took out the Stale Fish the Service Dog came along as well. Some days the Stale Fish got more time and some days the Service Dog did.
Approximate Weight
Feels normal. The Rome Service Dog doesn't feel heavy but not super light either. It didn't feel much heavier than the Stale Fish but on average I would say it's probably a little bit heavier. (We don't put in the exact weight because with wood cores there is no consistency in a boards weight)
Sizing
The Rome Service Dog in a 153 feels really good for my specs but the 157 works too. It handled my weight no problem.
Here are some ideal US boot sizes for these boards. You can of course go bigger or smaller but these work best for not turning the board slower than it should be and not having the dreaded Toe & Heel Drag.
148: 8.5-10
153: 9-10.5
157: 9.5-11
Shape/Camber/On Snow Feel/Ability Level
The Rome Service Dog has that same augmented camber and lifted sides in comparison to it's predecessor, the Rome Pow Division. It makes the ride a little more technical but it sure is fun. The extra lift in the sides does not feel edgless and washy. Maybe it's because you put more back foot weight into the board or maybe it's because the camber in the tail doesn't seem to have much or any lift.
Flex Personality
The flex is very similar to the Stale Fish and to me it felt a little less dynamic but it's pretty close. Easy enough to butter with a little effort. Nose butters in harder snow can be a little washy with the lifted sides but the Rome Service Dog doesn't seem to have that problem in powder. Medium soft in the nose. Medium stiff between the feet and a little stiffer in the tail. It's a great all day resort powder ride in everything except pronounced bumps with my boot size.
Speed
The construction lends to being damp at speed and the nose doesn't clown shoe too much. The base isn't that fast though and I did notice a little more speed with the Stale Fish.
Edge Hold
Very competent grip in most conditions you want to ride.
Turning Experience/Carving
So the Rome Service Dog obviously shines in powder but it would be a shame if you don't take this out and carve on groomers with it. It's a real treat. It can make down the line turns that lead to a straight line or two well enough but it really shines at across the groomer to circle carves. Very rewarding for this price point.
Powder
Same 5.5" setback on board at a 21.75" stance width as the Stale Fish which is great. The Rome Service Dog rides pretty far back on the tail but not so far that it is weird getting air compared to some really set back surfy rides. It has that same easy turn in powder as the Stale Fish with those lifted sides. having all that taper into that moon tail doesn't hurt either. I didn't get it in the deep deep but I did in the past with the Pow Division and it's almost there with many of those ultra floaty dedicated pow boards that can't really ride groomers that well. So if you are going for a second board in the quiver I would suggest something like this most of the time.
Conclusion
So for me I would pick the Stale Fish because its only $50 more for a better base and core. That being said if finances are tight I can't think of another board this good for what it is at $399.
Rome Service Dog User Reviews
If you can't buy through the links above, you can support the site with: