Ride Warpig 2017-2022 Snowboard Review
| | |
| --- | --- |
| Riding Style | Alternative Freeride |
| Riding Level | Intermediate - Expert |
| Fits Boot size (US) | < 8, 8-10, 10-12, > 12 |
| Manufactured in | China |
| Shape | Tapered Directional |
| Camber Profile | Flat to Rocker |
| Stance | Centered |
| Approx. Weight | Feels Light |
| Split | No |
| | |
| --- | --- |
| On Snow Feel | |
| Turn Initiation | |
| Skidded Turns | |
Where To Buy
No obligation, but these links & ads support the site.
Ride Warpig 2022 - 2017 Review by The Good Ride
Turn Ons/Swipe Right: Great short/wide tapered directional one board quiver. Fun in the park.
Turn Offs/Swipe Left: Not much to speak of but I preferred the more set back Psychocandy a little more.
Summary
The Ride Warpig takes a shorter wider tapered directional ride and gives it an all mountain/mountain freestyle feel to work with a wide variety of riders.
Ethics Statement: We don't get paid by the manufacturer to write these reviews and this is our unfiltered opinion. We do make money from the "Where To Buy" links, but this is our best attempt at an honest and objective review from an average riders' perspective.
Ride Warpig Snowboard Review- How it rides and who it is for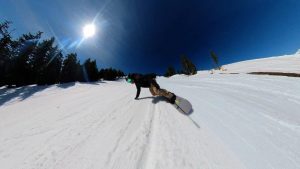 How This Review Happened:
Borrowed this for an extended demo and sent it back
Size: 154 but rode the 151 in the past.
Days:  4 this season and another 5+ in the past.
Conditions: Mostly good spring conditions but powder and good snow in the past.
Riders: James (Size 9, 5'10" 185-190lbs)
Boots: Burton Kendo
Insoles: F.I.T. Gamechangers
Bindings: Union Atlas
Jacket: Burton AK Gore-Tex Pro 3L Tusk Jacket, Volcom TDF Infuse 3L Gore-Tex Jacket, Burton Banshee Gore-Tex Jacket
Pant: Burton AK Gore-Tex Pro 3L Hover Pant, Burton AK Gore-Tex 2L Swash Pant, Burton Gore-Tex Ballast Pant
Helmet: Smith Maze
Goggle: Smith 4D Mag
Gloves: Burton AK Clutch Mitt, Burton AK Clutch Glove, Burton AK Tech Leather Glove, CG Habitats Glove,
Similar Boards (but not the same): Yes Hybrid, Endeavor Scout, Prior Legacy, Lib Tech Orca, Never Summer Harpoon, Niche Pyre, Yes Y,, Ride Superpig, Ride Psychocandy

Set-Up: 21.5" Wide. Sance Angles +18/-3, +18/+3. Close to Reference this time and Set all the way back on past demos.
How It Was Tested
I rode this often on the same day I rode the Ride Psychocandy and Superpig. All three boards had the same bindings and of course I rode the same boots.
Approximate Weight
The Ride Warpig feels pretty normal bordering on light for it's size. (We don't put in the exact weight because with wood cores there is no consistency in a boards weight)
Sizing
So I have ridden the 151 and 154. The 154 is better for my weight and the 151 better for my boot size. For me I usually go with what is better for my boot size because the 151 was much easier to turn and control in all conditions. The 154 became a little too unruly if I had to turn too much in tight spots, messy snow or through bumps.
Here are some ideal US boot sizes for these boards. You can of course go bigger or smaller but these work best for not turning the board slower than it should be and not having the dreaded Toe & Heel Drag.
148 S: 8-9
151 M: 9-10
154 L: 10-11
158 XL: 11-12
Shape/Camber/On Snow Feel/Ability Level
The short/wide tapered directional shape doesn't feel super tapered and doesn't require a lot of back footed weight to keep it from washing. It's no double ender but pretty good for a tapered board. It also has a pretty centered ride on sidecut and board that makes it feel less tapered than it is. I think that is what gives it such a fun all mountain type of feel. Then you throw in the forgiving flat between the feet to rocker in the tip/tail camber profile you have a very stable but forgiving ride. Very easy to skid a turn if you size this correctly for your boots.

Flex Personality
The Ride Warpig has a lot of pop and snaps easy into the air on an ollie. It is also very easy to butter. The new construction for 2022 seems to make it a bit more sturdy but doesn't affect the dynamic flex too much. You can ride this all day and the flex doesn't get cranky in uneven snow. The width isn't ideal for turning through large bumps but it's doable. It is great in a snake or banked slalom though. I personally found the narrower width and a little longer length of the Psychocandy more fun in all conditions but the Warpig is far from being a slouch.
Speed
The Ride Warpig is no bomber but it does have good mountain speed if you need to point it. The deep sidecut doesn't seem to affect a straight line too much for how turny it is. The base glide is good but not exceptional.
Edge Hold
For a board with no disruption the Ride Warpig has pretty good grip. The ride boards of the late 00's and early teens didn't grip like this. It isn't as good as many boards with disrupted sidecuts but it is great for those that don't like that ultra gripy feel but still want a competent board in hard snow.
Turning Experience/Carving
So if you want something more set back and more surfy you have the Psychocandy. If you want something that drives through a turn harder you have the Superpig. The Ride Warpig sits between these two but isn't bad as an all around turner. It's slowish edge to edge but when on edge it really likes a circle carve or across the groomer carve. Longer drawn out turns aren't bad either but it really shines with tighter circles.
Powder
The Ride Warpig has pretty good float but it's not exceptional. It is more like an above average all mountain board and that is no bad thing. With a 22.75" stance width you can get 3" back from center of board. Then you factor in the taper and early rise in the nose/tail you have pretty good directional float. You can even throw it around switch pretty well without cartwheeling.
Switch/Pipe/Jumps
As I said in powder the Ride Warpig is very doable switch. Especially when on the reference stance. While the Superpig is more mountain/carve friendly the Warpig is more park friendly. Not that I jibbed with it but you for sure can. It also tracks well into kickers too. That is what makes this board so well liked by rippers is how well it does in the park for a shorter, wider, tapered ride.
Conclusion
So if you truly want a little of everything, including a pretty proficient park ride the Ride Warpig could be a solid choice. I personally prefer the more setback Psychocandy but if you like a more centered ride its all about the Warpig.
Ride Warpig Past Reviews

The Ride Warpig doesn't feel like its name.  Instead, it feels more like the Gazelle Pig.  It's a very unique board that has a lot of interesting traits for a short fatty.  Most boards like this I tried really shine when it comes to turning and carving. The Ride Warpig doesn't compete there but it offers up more of a jack of all trades kind of ride from the park to the mountain.

Ethics Statement: We don't get paid by the manufacturer to write these reviews.  We do make money from the "Where To Buy" links, but this is our best attempt at an honest and objective review from an average riders' perspective.

Size: Small and Large
Days: 5
Conditions:   Really good Sierra groomers.
Riders: James, Peter, Jimbo
Boots: Adidas Tactical ADV, Burton SLX,
Bindings: Ride LTD
Set Up:  Pretty close to centered on sidecut, 15 front -12 back approx 23″ wide.

Approximate Weight: Felt pretty light but not fragile.

Sizing: I liked the Small a lot better the first time around and that was a great fit for my size 9's.  I think Jimbo and Zobel (our 11ish boot riders) would of loved the Large better.

Flex: It's a middle ground flex between the feet but still pretty

On Snow Feel: Very stable one footing off the chair or flat basing.  Flat to rocker like this makes for an easy ride and we all liked the feel underfoot.  The small was a light dynamic short fatty that felt like it could do a lot more than just surf snow.

Edge Hold: Some like a sidecut that has no real disruption and some prefer side cuts that have a little to a lot of extra grip. We generally prefer more grip from our side cut but many don't.  Ride's boards (including the Warpig) let go pretty easy when the snow transitions from medium to medium hard and it can be a surprise.  It's a better good snowboard.

Turn Initiation: The Ride Warpig offers up turn initiation that's different than normal short fatty's.  It's got the ability to get a little quicker tight radius turn and throw it around easier than a long narrow waist board but the wide waist is noticeably slower getting quickly from edge to edge in tight situations like trees or bumps compared to a longer narrower waist board. Still, it had pretty fun snappy turns for a flat to rocker short fatty.

Skidded Turns: Very easy to skid a turn without consequence.

Turning Experience: This is a fun board to turn but this is one place where it's not quite in line with other short fatty's that are usually super springy taint tickling good times. This is fun but not the kind of board that sets you up from turn to turn.  It makes you do a lot more work and doesn't really spring from edge to edge.  You can drive turns off your front foot without it being too washy.  Same for more of a centered turn but it rides best with a little extra weight off the back foot.

Carving: Much better than we thought for a board with no camber but still missing that pop out of a hard carve.  Still, they are doing something pretty good for a flat to rocker board. The Ride Warpig compromises turning and carving to have a wider appeal across the spectrum of riding styles.  That's what makes a board like this great in the park as well as the mountain but also makes carving less fun.

Speed: Ride makes damp boards and although this isn't their dampest it's damper than it would seem from inspecting it in a shop. It's a stable board at speed.

Uneven Terrain: Short fatty's aren't really fun in bumps or hammering through the messy end of the day resort snow with emerging moguls.  It's the width that's the problem here. It's fun in a soft banked slalom though.

Powder:  There is a centered stance on side cut but there is a good set back on board. When set all the way back at a 22.75″ stance width you can get 5.75″ back on board.  Many short fatty's like this are set back a lot further on board but it's a lot more than you would think for a stance that's centered on sidecut. That combined with the rocker towards the tip/tail, the big ass nose, and tapered tail there should be a pretty good float.

Switch: Much better switch than we thought and you can take it each way without having to adjust as much as you would think.  That's where a board like this surprises you as it doesn't seem like it would be good for riding switch but I kept throwing it around the other way without even thinking about it. With most short fatty's the thought of riding switch doesn't even come to mind.

Jibbing: Didn't jib with it but it seems like it's going to be a lot stronger than you would think there.  The Ride Warpig is one of a few short fatties that I would take to the jib park as I'm a shitty jibber and like a forgiving board there.

Pipe: No pipe but not usually into short wide boards when riding the pipe. I might be surprised here but who's to know for sure.

Jumps: Nice pop off the tail and it's pretty good for a board that's mostly flat. I would prefer to get air off the Twinpig but the Ride Warpig has a nice stable platform underfoot approaching and landing on kickers. You can even take off and land switch a lot more easy than you would expect.

So in conclusion, if you want to carve and turn there are many better boards out there.  However, if you want to go short/fat but play all over the mountain and park then the Ride Warpig could be a great call.
Ride Warpig Images

We try to get as many images of the Ride Warpig, but forgive us if they're not all there.
2022
2020
2019
2018
2017
If you can't buy through the links above, you can support the site with: