Ride Mtnpig 2019-2024 Snowboard Review
| | |
| --- | --- |
| Riding Style | Freeride |
| Riding Level | Advanced - Expert |
| Fits Boot size (US) | 8-10, 10-12, > 12 |
| Manufactured in | China |
| Shape | Tapered Directional |
| Camber Profile | Directional Camber |
| Stance | Setback -20mm |
| Approx. Weight | Feels Normal |
| Split | No |
| | |
| --- | --- |
| On Snow Feel | |
| Turn Initiation | |
| Skidded Turns | |
Where To Buy
80% of outdoor sports products are not listed or sold online.
Our team has relationships with hundreds of local snowboarding and outdoor sports shops.
We'll call the shops and email you a list of stores along with pricing and availability.
---
Not sure what to buy?
Get custom advice from Good Ride editors James and Steph.

Get Advice
Ride Mtnpig 2024 - 2019 Review by The Good Ride
Ride MtnPig Snowboard Video and Written Review
Welcome to all that is average and objective as well as the Ride MtnPig Snowboard Review.
Update 2024: The Ride MtnPig has not changed much. The only difference is it got a more durable and more damp top sheet. So this review still stands. 
Turn Ons/Swipe Right: Fast and aggressive but not catchy and forgiving.
Turn Offs/Swipe Left: No real stand out issues.
Summary
The Ride MTNPIG is more turny than the Smokescreen and Commissioner but still way more straight-line friendly than the Berzerker.
Ethics Statement: We don't get paid by the manufacturer to write these reviews and this is our unfiltered opinion. We do make money from the "Where To Buy" links, but this is our best attempt at an honest and objective review from an average riders' perspective.
A Break Down of How it rides and who it is for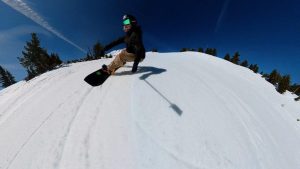 How This Ride MtnPig Review Happened:
Borrowed this for an extended demo and sent it back.
Size: 159
Days:  2
Conditions:  and an early morning slackountry time with Drift Boards & Union Rovers
Riders: James (Size 9, 5'10" 185-190lbs)
Boots: Burton Kendo
Insoles: F.I.T. Gamechangers
Bindings: Union Atlas
Jacket: Burton AK Gore-Tex Pro 3L Tusk Jacket
Pant: Burton AK Gore-Tex Pro 3L Hover Pant
Helmet: Smith Maze
Goggle: Smith 4D Mag
Gloves: Burton AK Tech Leather Glove, Burton AK Tech Glove
Similar Boards (but not the same): Yes Pick Your Line,  Burton Flight Attendant, Jones Flagship, Rossignol XV, Lib Tech BRD, Weston Backwoods, Cardiff Bonsai, Prior Spearhead, Burton Cartographer, Burton Instigator
Set-Up: 21.5" Wide. Sance Angles +18/-3. Close to Reference.
How It Was Tested
I rode this mostly by itself one day but did compare it to the Smokescreen, Commissioner and Berzerker on the same day in a sampler.
Approximate Weight
The Ride MTNPIG (We don't put in the exact weight because with wood cores there is no consistency in a boards weight)
Sizing
The 159 Ride MTNPIG felt right for my boot size and was fine for my weight as well.
Here are some ideal US boot sizes for these boards. You can of course go bigger or smaller but these work best for not turning the board slower than it should be and not having the dreaded Toe & Heel Drag.
155: 7.5-8.5
159: 8-9
162: 9-10
160w- 11-12
164w- 11.5-12.5
Shape/Camber/On Snow Feel/Ability Level
The camber profile is not as prounounced and it does not extend throughout the Ride MTNPIG like it does with the Berzerker. It is mellow and more forgiving even though this board is on the stiffer side flex wise and likes to point it. The taper is not too much so it doesn't need a ton of back footed weight to keep the tail from washing out.

Flex Personality
There is a pretty stiff flex between the feet that softens up a little in the nose. The tail has a much softer feel because of the thin but deep swallow tail. It is pretty easy to butter off the tail and its fun to play around with edging into one side of the swallow tail and getting that to flex a lot more. The overall ride though is damp and great when it comes to absorbing chatter without being dead. There is lots of pop from the Ride MTNPIG and it ollies well with a good amount of effort. It doesn't pop like the Berzerker but its easier to access than the Smokescreen and Commissioner.
Speed
So the Ride MTNPIG can point it. It is much better than the Berzerker but a little behind the Smokescreen and Commissioner. That being said it's more well rounded than those two boards that really only like to straight line. The base has upper tier glide. Not quite as fast as some but pretty fast.
Edge Hold
There is very competent grip in harder snow. It is almost up there with disrupted sidecuts without being grabby in softer snow.
Turning Experience/Carving
So the Ride MTNPIG has a very straight line friendly attitude but it also isn't totally a straight liner. You can make across the groomer carves pretty well and it doesn't feel like the Smokescreen or Commissioner where they really only want to go straight. I thought a shallow sidecut (at least in the spec sheet) would not like to turn but it does much better than you would think. There is good spring out of the turn too. Not amazing but good.
Powder
I didn't get any powder but I think it would be ok based on the 3" set back from center of board with a 22.75" stance, the little bit of taper and the split tail. I would love to try this against some of its peers again one day.
Conclusion
So overall, the Ride MTNPIG is a pretty aggressive but forgiving freeride board for those who like to straightline but still want something they can mellow out with and turn too.
If this Ride MtnPig review helped, we'd appreciate if you:
Ride Mtnpig Past Reviews

The Ride Mtnpig continues on where the Alter Ego left off and even though it has a pig in the name it's not a fatty. That split tail in the Alterego had some weird moments but the Mtnpig is a much more consistent ride. It's more of the traditional slightly tapered directional ultra damp freeride kind of snowboard that many expect to see from Ride and will like.

Ethics Statement: We don't get paid by the manufacturer to write these reviews.  We do make money from the "Where To Buy" links, but this is our best attempt at an honest and objective review from an average riders' perspective.

Size: 159
Days:  3
Conditions:
Riders: James (Size 9, 5'10" 185-195lbs)
Boots: Adidas Tactical ADV
Insoles: Sandsole Custom Insoles
Bindings: Union Atlas
Set-Up: 22-22.5" Centered and a little set back 15 front -6 back

Approximate Weight: Felt a little bit on the heavy side of normal.

Flex: Medium stiff in the tip/tail bordering on stiff in the waist. It's pretty stiff torsionally too. Ride has tweaked the flex these days and the personality of the board is changing ofer the old super damp days. It is still very damp but it has a little more energy and feel underfoot than many Ride freeride boards used to but it is definitely on the damper side of the line these days.

Sizing: The 159 felt just right and it was a perfect fit for my specs listed above. Feels like it's perfect for anyone with an 8 or 9 boot and a 10 reduced footprint boot but even a non-reduced footprint 10 could probably work. As you get to 10 to even a reduced footprint 11 the 162 could work well but then from there, it's time to go wide.

On Snow Feel: I would say it's more on the locked inside of stable and it feels like there is some consequence compared to some ride hybrid camber boards. It's still nothing like camber and it can skid a turn pretty easy for how aggressive it feels. It's still the kind of board that appeals to a more aggressive rider who occasionally rides switch that likes to point it.  Even though it has the Pig name it's got a traditional shape to it that isn't piggish in any way.  If you want to mellow out your ride it won't get cranky on you and it can cruise too.

Edge Hold: Ride boards all seem to have similar grip.  The stiffer flex gives the Ride Mtnpig a little more grip than other boards I tried it against from Ride but it's still missing that confidence inspiring grip in borderline hard snow.  Still many might appreciate the non-disrupted sidecut if you aren't into the extra grab that disrupted sidecuts do have.

Turn Initiation: Pretty quick and it's the kind of board that would allow me to slalom through a tree line a little faster than I normally would.

Turning Experience: The Ride Mtnpig turns really well and I felt it was best with quick edge to edge turns as well as long drawn out S-turns just shy of a straight line. It still turns well across the face of a wide-open groomer but it's not quite as fun as the more bomby style turns.

Carving: You can carve with the Ride Mtnpig pretty well.  The ultra damp feel of this board makes you think there is no camber underfoot until you put some pressure on those edges (in soft snow) and then you feel some spring out of a carve.

Speed: The Mtnpig is happiest when pointing it and it's a very damp ride. The base was not waxed so it's hard to say how well it would do if it was tuned up properly but based on experiences with past ride boards I owned the Mtnpig should glide well if waxed well. It seems like a base that needs a little more wax attention than your average ride board. Nicer bases ride faster when waxed but can ride slower when neglected.

Uneven Terrain: The Ride Mtnpig can hammer through those micro-bumps you see from poorly groomed runs better than most boards, weave through big bumps like a champ and hammer over tracked powder areas to get to the good stuff.  It's amazing for all-day resort riding.

Powder: At a 22.75″ stance width, which is set all the way back, you can set it back 5.5″ back on board which is on the lower end of the freeride spectrum but pretty good for a -19mm set back on board. The early rise in the nose, bigger/longer nose and slightly tapered tail combined with that set back makes it pretty good for directional powder riding.

Buttering: Took a shit ton of work to get it to butter off the tail and almost as much off the nose.

Switch: Much better switch than you would think and like the Warpig, I found myself riding switch a lot more than I usually do with directional boards like this.

Jumps: This can launch and go big if your health insurance policy matches your ball size. My health insurance policy is great but my balls seem to have shrunk in the middle age stage of my life so I kept it safe to ride another day.  You can feel the potential in this board though.

Jibbing: nope!

Pipe: Yeah this is the kind of board I would like to ride the pipe in.  Nice and quick edge to edge and has sufficient drive from wall to wall.  The edge hold is my only concern.

So all in all the Ride Mtnpig is a mostly bomby mostly directional freeride board that will appeal to the mostly straight liner kind of rider but it can work if you need to mellow out your game halfway through the day too. If you want to go balls out all day every day then the Timeless might be the call.
If you can't buy through the links above, you can support the site with: