Prior Spearhead 2020-2022 Snowboard Review
| | |
| --- | --- |
| Riding Style | Freeride |
| Riding Level | Advanced - Expert |
| Fits Boot size (US) | 8-10, 10-12 |
| Manufactured in | Canada by Prior |
| Shape | Tapered Directional |
| Camber Profile | Directional Camber |
| Stance | Setback over 20mm |
| Approx. Weight | Feels Normal |
| Split | No |
| | |
| --- | --- |
| On Snow Feel | |
| Turn Initiation | |
| Skidded Turns | |
Where To Buy
No obligation, but these links & ads support the site.
Prior Spearhead 2022 - 2020 Review by The Good Ride
**Not sure if Prior is still in business so make sure you talk to someone there before ordering from them.**
Prior Spearhead 2021 Snowboard Video Review Fast Forward Markers. 0:00 – Intro 0:46- Summary 2:02 – Sizing 2:33 – Camber/On Snow Feel 3:55 – Flex/Butterability/Pop/Air 4:43 – Speed/Uneven Terrain 5:49 – Edge Hold 6:03 – Turning/Carving 7:08 – Powder 8:47 – Conclusion 9:03 – About Our Reviews
Turn Ons/Swipe Right: Amazing Damp but poppy core personality. Very set back and turny but can still point it rather well. Easy float. Very well rounded directional daily driver.
Turn Offs/Swipe Left: Not much…larger sizes don't travel well.
Summary
The Prior Spearhead is one of those super turny but not twitchy freeride boards that Peter and I both fell in love with. It will be hard to give this back.
Ethics Statement: We don't get paid by the manufacturer to write these reviews and this is our unfiltered opinion. We do make money from the "Where To Buy" links, but this is our best attempt at an honest and objective review from an average riders' perspective.
Prior Spearhead 2020-2021 Snowboard Review- How it rides and who it is for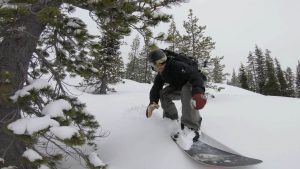 How This Review Happened: We borrowed this for an extended demo and hope not to send it back.
Size: 161
Days: 3
Conditions: Post Covid-19 Shutdown slackountry time with Drift Boards. We scored some abandoned groomers and some wet powder
Riders: James (Size 9, 5'10" 185-190lbs), Peter (Size 8, 5'11" 185lbs)
Boots: Adidas Tactical ADV
Insoles: Sandsole Custom Insoles, F.I.T. Gamechangers
Bindings: Union Atlas, Union Strata
Similar Boards (but not the same): Yes Pick Your Line, Rossignol XV, Lib Tech BRD, Weston Backwoods
Set-Up: 21.5", 21 front -3 back. Close to Reference and Set almost all the way back.
Approximate Weight
The Prior Spearhead felt a little on the heavy side but so well constructed that it just felt good in your hands. Don't know why but most boards don't have a satisfying feel like this.
(We don't put in the exact weight because with wood cores there is no consistency in a boards weight)
Sizing
Here are some ideal US boot sizes for the Prior Spearhead sizes. You can of course go bigger or smaller but these work best for not turning the board slower than it should be and not having the dreaded Toe & Heel Drag.
156: 8-9
161: 8-9
166: 9-10
172: 10-11
178: 11-12
Shape/Camber/On Snow Feel/Ability Level

The shape of the Spearhead is pretty directional, set back and tapered that flirts on being Alternative Freeride but isn't super set back like many snowsurf boards.
The Prior Spearhead has a mellow camber from the tail to a little past the front bindings. It then transitions to a decent amount of early rise before the long nose. This makes for a very stable predictable ride that tracks well in all conditions.
Flex/Pop/Buttering
The Medium/Stiff flex between the feet is softer in the nose and might be a touch softer in the tail. Its pretty easy to butter for its flex but not super easy. It feels very damp and you think it wouldn't pop but the Prior Spearhead sure does pop well. It just has this almost intangible taste to it that both Peter and I had a hard time describing. All we can say is it is this secure delicious rich damp feel underfoot that we both loved.
Speed
Not a bomber like the Fissle or Khyber but really good for this size and riding a good bit set back.  I thought Peter would like the Fissle or Khyber better but he felt the Prior Spearhead was not sacraficing enough dampness at speed to take away how fun it was to turn. The base has really good glide too and kept its speed easy on long flats.
Uneven Terrain
The Prior Spearhead is one of those special all day rides. It can absorb shock really well in all kinds of snow and it doesn't pass any micro bumpy chatter back up into your joints.
Edge Hold
Right on the border of being really competent in ice. It held well there but you just had to dial back your turns.
Turn Initiation
Fast and fun without being twitchy.
Turning Experience/Carving
We never thought the Prior Spearhead would be this much fun to turn and carve with such a mellow camber. I think we both haven't had this much fun on such a mellow camber turner since we rode the Gentemstick Mantaray 156 US version.
Powder
So there are better powder boards but not by a lot. The 161 Prior Spearhead has a lot of setback on board (-5.25″ back from center with a 22″ stance width), a long nose and a very small tapered tail. That makes for very easy directional float but it also has such a fun slashy turn we are willing to give up a touch of float to ride it in the deep deep.
Conclusion
So we both couldn't really find much that was wrong with it except maybe its larger size for people who have bigger boots.
Prior Spearhead User Reviews
Prior Spearhead 2020-2022 Snowboard Review
SKU
UPC
Model
Love it
Mar 28, 2022
by
JW
Ability Level: Advanced to Expert •
Riding Style: Surfy •
Days You Ride A Year: 40+
I only managed to get on the spearhead on late season messy groomers, but I really loved the feel of this board. The board is super solid/stable through the turn and never feels like it will wash out even though it has a small tapered tail. Significant early rise in nose and narrowish waist really helps with quick turn initiation. The amazing construction means, unlike any other boards I ride, there is little vibration and no board chatter regardless of the terrain. I also have a Prior Khyber and it is the same solid feel. I would love to know how Prior does this. Can't wait to get this out in the powder next year.

---
If you can't buy through the links above, you can support the site with: