Prior Fissle 2021 Snowboard Review
| | |
| --- | --- |
| Riding Style | Freeride |
| Riding Level | Advanced - Expert |
| Fits Boot size (US) | 8-10 |
| Manufactured in | Canada by Prior |
| Shape | Tapered Directional |
| Camber Profile | Directional Camber |
| Stance | Setback -20mm |
| Approx. Weight | Feels Normal |
| Split | Comes in split |
| | |
| --- | --- |
| On Snow Feel | |
| Turn Initiation | |
| Skidded Turns | |
Where To Buy
No obligation, but these links & ads support the site.
Prior Fissle 2021 Review by The Good Ride
**Not sure if Prior is still in business so make sure you talk to someone there before ordering from them.**
Prior Fissle Snowboard Video Review Fast Forward Markers
0:00 – Intro 0:28 – Summary 1:01 – Sizing 1:47 – Shape/Camber/On Snow Feel 3:17 – Flex/Butterability/Pop/Air 4:29 – Speed/Dampness 6:14- Uneven Terrain 7:02 – Edge Hold 7:14- Turning/Carving 8:49 – Powder 9:38 – Conclusion 10:06 – Outakes 10:29 – About Our Reviews
Turn Ons/Swipe Right: Big and bomby but still turny. Damp. Really well made old school ride. Fast Base
Turn Offs/Swipe Left: Old school sizing that isn't easy for many snowboard bags.
Summary
The Prior Fissle takes that old school big, damp freeride shape but with some early rise. Its a board that can bomb but also make some pretty quick turns.
Ethics Statement: We don't get paid by the manufacturer to write these reviews and this is our unfiltered opinion. We do make money from the "Where To Buy" links, but this is our best attempt at an honest and objective review from an average riders' perspective.
Prior Fissle Snowboard Review- How it rides and who it is for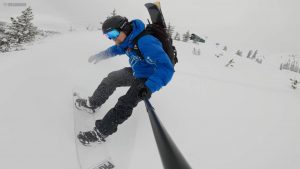 How The Prior Fissle Review Happened:
We borrowed this for an extended demo.
Size: 166
Days: 5
Conditions: Good Groomers, wet spring snow post shut down and some decent powder right before the total Covid-19 shut down time with the help of our Drift Boards.
Riders: James (Size 9, 5'10" 185-190lbs), Peter (Size 8, 5'11" 175lbs),
Boots: Adidas Tactical ADV, Burton Ion
Insoles: Sandsole Custom Insoles, F.I.T. Gamechangers, F.I.T. Gameghangers LP
Bindings: Union Atlas
Similar Boards (but not the same):Yes Pick Your Line,  Burton Flight Attendant, Jones Flagship, Never Summer West Bound, Rossignol XV
Set-Up: 21.5" Wide. 21 front +3 back and 18 front -3 back. Close to Reference and Set all the way back
Approximate Weight:
The Prior Fissle Felt normal for its weight. Not too heavy or light.
(We don't put in the exact weight because with wood cores there is no consistency in a boards weight)
Sizing
Here are some ideal US boot sizes for these boards. You can of course go bigger or smaller but these work best for not turning the board slower than it should be and not having the dreaded Toe & Heel Drag.
166- Size 8-9 is a really good match up and maybe size 10 but as you can see in the video review the tail is very narrow and best for around size 9.
Shape/Camber/On Snow Feel/Ability Level
Tapered and directional but not too directional to feel super washy. It needs more back foot weight on groomers but its not a massive amount. The Camber is mellow but extends from almost the tail to past the front inserts before it rockers up.
Flex/Pop/Buttering
Pretty stiff flex. Buttering is doable but it took some work. The tail lets you wheelie up in powder a little easier though.
Speed
The Prior Fissle is fast and damp. All Prior boards we tried have this super damp cool feel to them that blocks out most chatter.
Uneven Terrain
A champ for powering over uneven terrain. The Prior Fissle powered over bumpy wet snow like it wasn't there.
Edge Hold
Really strong edge hold that borders on being pretty competent in medium hard to hard snow.
Turn Initiation
Pretty quick for the length and we were both ok turning this through the few trees we had.
Turning Experience/Carving
The Prior Fissle is a strong high speed carver
Powder
Really easy float and that early rise before the long nose makes it hard to sink.
Conclusion
There was something Peter and I just loved about the Spearhead but the Fissle is no slouch either and we had a good time on it.
Prior Company Information
Prior Fissle User Reviews
If you can't buy through the links above, you can support the site with: