Nitro Dropout 2022 Snowboard Review
| | |
| --- | --- |
| Riding Style | All Mountain |
| Riding Level | Advanced - Expert |
| Fits Boot size (US) | 8-10 |
| Manufactured in | China |
| Shape | Directional |
| Camber Profile | Mostly Camber |
| Stance | Setback -15mm |
| Approx. Weight | Feels Heavy |
| Split | |
| | |
| --- | --- |
| On Snow Feel | |
| Turn Initiation | |
| Skidded Turns | |
Where To Buy
No obligation, but these links & ads support the site.
Nitro Dropout 2022 Review by The Good Ride
Turn Ons/Swipe Right: Very light, poppy, versatile all mountain board.
Turn Offs/Swipe Left: More on the chattery side. Keep it well under the recommended weight.
Summary
The Nitro Dropout is a bit on the chattery side but is a poppy, versatile a non-tapered all mountain board disguised in a pretty directional shape.
Ethics Statement: We don't get paid by the manufacturer to write these reviews and this is our unfiltered opinion. We do make money from the "Where To Buy" links, but this is our best attempt at an honest and objective review from an average riders' perspective.
Nitro Dropout Review- How it rides and who it is for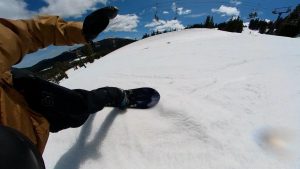 How This Review Happened:
Borrowed this for an extended demo and sent it back. 1 day demo. A few laps at a demo. Liked it so much, asked to keep it (only do this with favorites).  Liked it so much we bought it.  Precious Good Ride dollars were spent to buy this and review it.
Size: 156
Days: 2
Conditions:  Very late spring conditions
Riders: James (Size 9, 5'10" 185-190lbs)
Boots: Burton Kendo
Insoles: F.I.T. Gamechangers
Bindings: Union Atlas
Helmet: Smith Maze
Goggle: Smith 4D Mag
Gloves: Burton AK Clutch Mitt, Burton AK Tech Leather Glove
Similar Boards (but not the same): Korua Otto, Lib Tech Terrain Wrecker, Capita Mercury,YES NSB, Endeavor Pioneer, Jones Mountain Twin, Endeavor Ranger, K2 Manifest, Yes Typo, Jones Frontier, Ride Algorythm, Ride Wild Life, Borealis Tundra, Tahoe Labs Directional Twin
Set-Up: 21.5" Wide. Sance Angles +18/-9. Close to Reference and Set all the way back.
Approximate Weight
The Nitro Dropout felt pretty light (We don't put in the exact weight because with wood cores there is no consistency in a boards weight)
Sizing
I was definitely to heavy on the 156 and should have requested the 159 for demo instead. This is for lighter riders and my 190lbs was too much for the 156. I felt like Chris Farley doing the fat guy in a little coat when riding this 156. So I would for sure stay well under the max weight recommendation.
Here are some ideal US boot sizes for these boards. You can of course go bigger or smaller but these work best for not turning the board slower than it should be and not having the dreaded Toe & Heel Drag.
153: 8-9
156: 8.5-9.5
159: 9-10
Shape/Camber/On Snow Feel/Ability Level

The Nitro Dropout has a pretty directional looking shape but if you cut off the nose/tail and just look at the middle of the board it actually isn't that directional. The tip/tail are the same width and it feels more centered on board. You can weight this however you would like. Drive off the front foot, center weight it, or Back foot weight it and it works well.

There is a mellow camber almost from tip to tail with just a little bit of early rise that increases when you step on it. It makes the Nitro Dropout semi-locked in and more for advanced to expert riders. Its easier than camber to skid a turn but not that easy compared to other hybrid profiles.
Flex Personality
They say the Nitro Dropout model I tired is a 7 out of 10 but it felt more like a 5 out of 10. The 2023 model is pretty much the same but they rate it a 6 out of 10. I'm not sure if they softened up the flex or just re-rated it. My guess would be the latter. Regardless of the rating there is a nice medium flex with good easily accessible pop.
Uneven Terrain
So the Nitro Dropout bucked and bounced me around in the wet messy snow and much more so than the Nitro Quiver Fusion I rode after when the snow was more messy. Even though I was too heavy for this board I think, even in a 159,this lighter poppier construction would still be on the buckier bouncier side.
Speed
This isn't really the kind of board I want to straight line with. The deeper more turny sidecut along with the lighter poppier construction makes for a board that isn't ideal for pointing it. Still it can handle moderate mountain speed no problem if conditions are smooth. The base glide was pretty good but nothing exceptionally glidey. It is what you would expect for this price point.
Edge Hold

There is a very mellow disruption near each binding on the sidecut that helps with the grip for sure. The Nitro Dropout is a competent hard snow ride but what I found is the lighter poppier construction bucks the board out of the line I set on a turn and it looses its grip.
Turning Experience/Carving
The Nitro Dropout is pretty quick edge to edge but once you commit to the turn it really favors circle carves and across the groomer carves. The good thing is the sidecut didn't feel hookey or fight you if you wanted to make narrower longer drawn out S-Turns at moderate speeds. There is good spring out of the turn and when I got a smoother patch I enjoyed carving with it. I had some camera malfunctions but riding this in the wiggle/snake was super fun. I could see how this would be a really good board for banked slalom riding too.
Powder
So when setting the Nitro Dropout all the way back with a 21.25" stance width you can get -2.5" back from center of board. That is really good for a non tapered board. Add the longer nose and a little bit of early rise, this should float well for an all mountain board.
Switch/Pipe/Jumps
Very doable either way even though the Nitro Dropout feels a little different with the smaller tail leading. You can even jib ok with this medium flex. Not that I did. It pops well on an ollie and tracks better into the small natural features I got a little bit of air off.  It was fun to go wall to wall old man style in the soft almost summer pipe too.
Conclusion
So even though I had the wrong size I still feel this is more for lighter riders. If you are light this could be really fun if you want a turny, versatile one board quiver.
If this review helped, we'd appreciate if you:
Nitro Dropout User Reviews
If you can't buy through the links above, you can support the site with: