Nidecker Ora Snowboard Review
| | |
| --- | --- |
| Riding Style | All Mountain |
| Riding Level | Beginner - Intermediate |
| Fits Boot size (US) | Women's, < 8, 8-10 |
| Manufactured in | Dubai |
| Shape | Directional Twin |
| Camber Profile | Hybrid Camber |
| Stance | Setback -10mm |
| Approx. Weight | Feels Normal |
| Split | No |
| | |
| --- | --- |
| On Snow Feel | |
| Turn Initiation | |
| Skidded Turns | |
Where To Buy
80% of outdoor sports products are not listed or sold online.
Our team has relationships with hundreds of local snowboarding and outdoor sports shops.
We'll call the shops and email you a list of stores along with pricing and availability.
---
Not sure what to buy?
Get custom advice from Good Ride editors James and Steph.

Get Advice
Nidecker Ora 2023 Review by The Good Ride
Nidecker Ora Snowboard Video And Written Review
The Nidecker Ora would be a good entry level board for those just learning how to slide on snow. It would be a good board to help someone progress from beginner to intermediate terrain. The Ora comes in a wide array of different sizes, is a directional twin, and has a friendly flex and feel for all mountain riding.
Ethics Statement: We don't get paid by the manufacturer to write these reviews.  No one is perfect and we do make money from the "Where To Buy" links below, but this is our best attempt at an honest and objective review from an average rider's perspective.
How This Review Happened:  We borrowed this for an extended demo and then returned it.
Size: 147M

Sizes Availible: 139N, 143N, 147M, 151M, 155M
Love the size range the Ora comes in. Really something for all different shapes and sizes.
Days: 4+

Snow Conditions: Mostly spring riding conditions. I did get a little snow here and there but overall it was icy in the mornings and slushy in the afternoons.
Riders: Steph
Boots: Vans Ferra Pro
Bindings: Nidecker Kaon-W
Set Up: 21″ Centered 15 front -15 back
Camber Profile
This board comes with a hybrid camber that Nidecker calls Standard CamRock. It has positive camber between the bindings, and rocker on the nose and tail. This is good for stability and control, while still feeling catch free and easy to turn.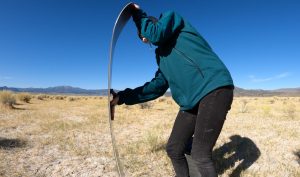 Flex
It comes with a 5/10 flex. This keeps the Ora feeling playful and forgiving. But it also gives it a little stability for faster speeds and somewhat bumpy snow conditions.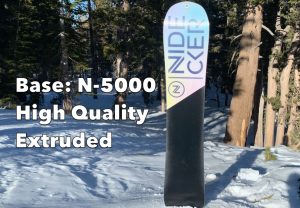 Base
A durable base that doesn't require a lot of maitnence. Good for those riders who aren't worried about waxing their board all the time, and wants a base that is durable too.
Board Personality
The Nidecker Ora is playful and forgiving. It is easy to turn, and doesn't take much effort to maneuver around the mountain. The Ora likes to explore all mountain terrain, mostly at medium speeds. It isn't a hard charging board, and is happy on most begginer to intermediate terrain. This board would be a good beginner board for learing to turn. It would also be good for a rider that wants to cruise around on blue runs all day keeping it pretty mellow.
Edge Hold
It holds an edge on pretty hard snow conditions. I tested it in early morning spring ice and frozen groomers. For your average hard snow, it should do just fine. The positive camber profile and the sidecut do well to keep it connected to the snow. The Ora doesn't come with any sidecut disruption. So if you are extra worried about ice, there are other boards out there that could handle super icy conditions a bit better.
On Snow Feel
The Ora is pretty loose feeling when sliding with a flat board. We rated it as semi-stable. It isn't completly locked in from the positive camber. The rocker zones on the nose and tail allow the board to pivot pretty freely on the snow. This keeps it catch free for learning turns or new skills. But it is more locked in and stable than a full rocker board, or a hybrid rocker board. It holds a more direct line when sliding straight down the hill.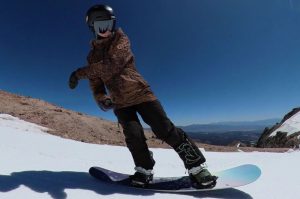 Stability / Speed
The Ora is pretty stable for a beginner/intermediate snowboard. It does well at most speeds but seems to liketo ride medium fast the best. It manuevers easily at slower speeds as well. So for someone just learning, this would work well.
Turning Experience
Pretty easy and quick to turn. The freindly personality makes it very maneuverable. The Ora likes small to medium radius turns best. And it doest best at skidded, low edge angle turns. You can carve a high edge angle turn with the Ora. But it is a pretty mellow carver overall.
Groomers
Fun on groomers. It likes to play around and kind of explore the mountain in a mellow way. Fun to turn and play down the mountain on. Pretty stable at both medium and slow speeds. Medium stable at higher speeds. The Ora has a nice reliable feel on groomers.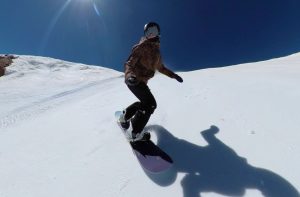 Steeps
It does pretty well on steeps. It is easy to turn, and you don't have to be riding fast to get it to respond. So it would be good for an intro to steeps board for someone just getting into that terrain. It won't want to charge hard down a steep run. Instead, the Ora prefers to turn consistanly down the run.
Off Piste / Bumps
This board is fun off piste. Again, it is a mellow board. So it isn't for charging hard in these conditions. But it is easy to turn and maneuver. So you get easily get it through bumps or tight trees with minimal effort.
Freestyle Personality
The Ora is playful enough to learn some freestyle on. It has decent pop from the positive camber profile and the medium flex. Would be good for small to medium park features. It is also mellow enough to play on some boxes or rails. You can ride switch easily on this board as well. It is only slightly directional, so switch feels almost the same as normal.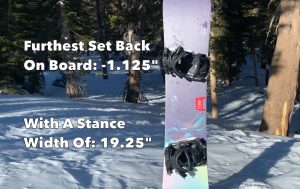 Powder
The Nidecker Ora should ride pretty well on an average powder day. It is slightly directional, and has rocker on the nose and tail that will help with float. You only get about -1.25″ of set back on board with the bindings all the way back. So it would be good for most mellow powder days that are under 12″ of snow. But if you are going to see deeper days, maybe best to have a powder board in the quiver.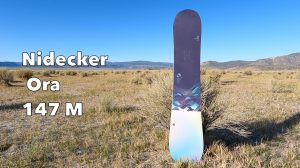 Overall
The Nidecker Ora could be good for a beginner rider. It is friendly enough to learn how to turn on. But it has enough technical ability to introduce some intermediate terrain as well. The Ora has a pretty consistant feel all over the mountain and will do well in a lot of different snow conditions and terrain.
If this review helped, we'd appreciate if you:
Nidecker Ora User Reviews
If you can't buy through the links above, you can support the site with: