Nidecker Odyssey Snowboard Review
| | |
| --- | --- |
| Riding Style | Freeride |
| Riding Level | Intermediate - Advanced |
| Fits Boot size (US) | Women's, < 8, 8-10 |
| Manufactured in | Dubai |
| Shape | Tapered Directional |
| Camber Profile | Hybrid Camber |
| Stance | Setback -10mm |
| Approx. Weight | Feels Normal |
| Split | No |
| | |
| --- | --- |
| On Snow Feel | |
| Turn Initiation | |
| Skidded Turns | |
Where To Buy
80% of outdoor sports products are not listed or sold online.
Our team has relationships with hundreds of local snowboarding and outdoor sports shops.
We'll call the shops and email you a list of stores along with pricing and availability.
---
Not sure what to buy?
Get custom advice from Good Ride editors James and Steph.

Get Advice
Nidecker Odyssey 2023 - 2022 Review by The Good Ride
Nidecker Odyssey Snowboard Video And Written Review
The Nidecker Odyssey is a quick turning, directional freeride board that can handle harder snow coditions as well as deeper powder days. It has a surfy personality that is a lot of fun both on and off piste.
Ethics Statement: We don't get paid by the manufacturer to write these reviews.  No one is perfect and we do make money from the "Where To Buy" links below, but this is our best attempt at an honest and objective review from an average rider's perspective.
How This Review Happened:  We borrowed this for an extended demo and then returned it.
Size: 143

Sizes Availible: 143N, 147N, 151M, 151L, 155M, 158L
Days: 4+

Snow Conditions: Mostly spring riding conditions. I did get a little snow here and there but overall it was icy in the mornings and slushy in the afternoons.
Riders: Steph
Boots: Vans Ferra Pro
Bindings: Ride CL-6
Set Up: 21″ Centered 15 front -15 back
Camber Profile
The Nidecker Odyssey  has a set back positive camber. The camber starts under the front foot and goes all the way through the tail. There is also a slow rising rocker section that starts just outside of the front binding, going all the way through the nose.
The positive camber profile isn't an agressive one. It creates nice connection and control on the snow, and gives some nice energy when turning, carving, or jumping off features. But it doesn't feel catchy at all.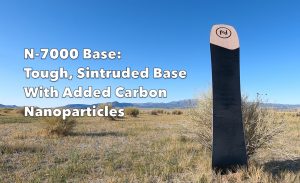 Base
The base is somewhere between an extruded and a sintered base. They call it a Sintruded Base. So you could probably get away with neglecting the waxing from time to time and still get glide. It also has added carbon nanoparticles, that I'm assuming adds to how fast the base glides on the snow. It felt nice for me in some very spring slush conditions.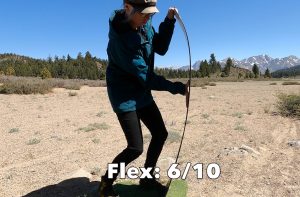 Flex
It comes with a 6/10 flex. I felt it was just stiff enough to keep the Odyssey feeling stable at higher speeds and in somewhat bumpy terrain. But it was also soft enough to give it a fun personality and keep it quick to turn and manuever.
Board Personality
It didn't take too long to figure out how the Odyssey works. This board is a playful freeride board with a surfy/turny side as well. It is a ton of fun to carve, slash, and turn in a lot of different snow conditions.
Steeps
I enjoyed this board in the steeps. It is quick to turn, has nice connection to the snow, and feels predictablie and stable on the way down.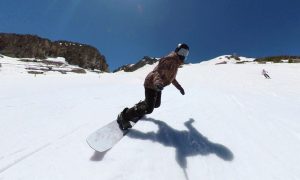 On Snow Feel
It feels somewhat locked in, more than a standard hybrid camber profile. The nose has rocker in it, but the tail stays pretty connected to the snow all the way through the turn. This doesn't make it feel catchy at all, it just adds stability and edge hold through the tail. And is really fun when carving. It is pretty easy to twist the board, so turning is quite quick, but it doesn't feel floppy underfoot when riding at higher speeds. It seems the Odyssey is softer tortionally and a little stiffer along the length of the board.
Off Piste / Trees / Bumps
By the time I got this board off piste was kind of non existant, but I did ride it though bumps and in some choppy spring conditions. I would love to take the Odyssey through some trees at some point. I think it would be a good board for some off piste shredding, especially if there's some fresh snow about.
Groomers
The Odyssey is very fun to turn on some groomers. It also likes to carve. The camber through the tail gives it some nice energy out of the turn, and allows the rider to carve all the way through the back foot if they want. It isn't an agressive carve board but it likes to lay some trenches down on some groomers.
This board can turn at both slow and fast speeds. It isn't the freeride type of board that requires a lot of speed to make it preform. I think this adds to the versatility of the Odyssey and makes it more suitable for more types of riders.
Switch
Riding switch is doable on the Odyssey. It is directional and has a little taper, so switch feels a little strange. But the option is there if needed.
Freestyle Personality
The Odyssey is the type of freeride board that will seek out natural features with you. It is snappy and fun and stable. It would be good for small cliff drops, natural jumps, side hits, or just messing around. The Odyssey isn't ideal for jibbing or things like that. But it is playful and manuverable enough to get creative on.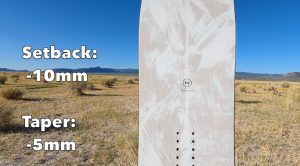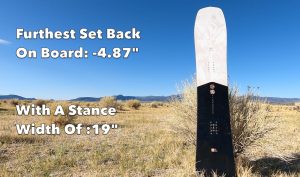 Powder
It comes with -10mm of setback and -5mm of taper. It has a directionally shaped nose and tail. The rocker in the nose will help with float, and the positive camber throughout the tail will keep the board connected to the snow and add stability and precision when needed. If set all the way back you can get -4.87″ of setback on board with a stance width of 19″. (this is on the 143 I rode)
I didn't get to try it in powder, but I have a feeling it would be a ton of fun. This would be a good powder board that also handles really well in hardpack or icy conditions. It isn't restricted to only soft snow conditions.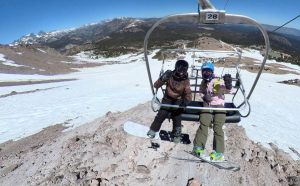 Overall
The Nidecker Odyssey is a fun, surfy freeride board that can handle steeps, ice, carving and powder. It would be good for an intermediate to advances rider. Someone who wants a directional ride that is stable but doesn't require too much effort to turn. The Odyssey preforms well in a lot of different terrain and snow conditions and would be a very fun freeride board option.
If this review helped, we'd appreciate if you:
Nidecker Odyssey User Reviews
If you can't buy through the links above, you can support the site with: