Never Summer West Bound 2019-2021 Review
| | |
| --- | --- |
| Riding Style | Freeride |
| Riding Level | Beginner - Expert |
| Fits Boot size (US) | 8-10, 10-12, > 12 |
| Manufactured in | USA by Never Summer |
| Shape | Tapered Directional |
| Camber Profile | Hybrid Rocker |
| Stance | Setback over 20mm |
| Approx. Weight | Feels Normal |
| Split | No |
| | |
| --- | --- |
| On Snow Feel | |
| Turn Initiation | |
| Skidded Turns | |
Where To Buy
No obligation, but these links & ads support the site.
Where To Buy
80% of outdoor sports products are not listed or sold online.
Our team has relationships with hundreds of local snowboarding and outdoor sports shops.
We'll call the shops and email you a list of stores along with pricing and availability.
---
Not sure what to buy?
Get custom advice from Good Ride editors James and Steph.

Get Advice
Never Summer West Bound 2021 - 2019 Review by The Good Ride
Never Summer West Bound Snowboard Video Review Fast Forward Markers.
0:00 – Intro, 0:14 – Summary, 0:53 – Sizing, 1:25 – Camber/On Snow Feel, 2:02 – Flex/Pop/Butterability, 2:28 – Speed, 2:48 – Uneven Terrain, 3:16 – Edge Hold, 3:23 – Turning/Carving, 4:27 – Powder, 4:57 – Switch/Park, 5:08 – Conclusion, 6:01 – About Our Reviews
Turn Ons/Swipe Right: Fun back foot carver. Good all around directional daily driver. Damp all day ride.
Turn Offs/Swipe Left: Can be loose/auto spins between the feet in harder snow.
The Never Summer West Bound can feel loose in harder snow but shines as a hard back foot turner and has a very fun/slashy personality in powder. that can work with a wide variety of riders.
Ethics Statement: We don't get paid by the manufacturer to write these reviews.  We do make money from the "Where To Buy" links, but this is our best attempt at an honest and objective review from an average riders' perspective.
Never Summer Westbound Snowboard Review- How it rides and who it is for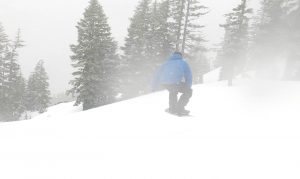 How This Review Happened:  We borrowed this for an extended demo.
Size: 157 and 160
Days:  6
Conditions: Some good groomers, some pretty hard micro bumps on nasty groomers and then some really good powder (1.5-2 feet) on an early morning slackountry run with Drift Boards.
Riders: James (Size 9, 5'10" 185-195lbs), Grant (Size 11 6' 160lbs)
Boots: Adidas Tactical ADV
Insoles: Sandsole Custom Insoles,  Footprint Insole Technology Gameghangers Low Profile
Bindings: Union Atlas, Union Strata, Union Falcor
Set Up: Set all the way back and on reference stance 22" 21 front -6 back
Similar Boards We Like That We Tested This Against: Burton Flight Attendant, Gnu Mullair/Essential Service, Yes Pick Your Line and Salomon Taka Wolle, Jones Flagship, Rossignol XV, Lib Tech BRD,
Approximate Weight
Right in the middle of normal.
Flex/Buttering
The Never Summer West Bound is stiff in the tip/tail near the camber points but a little softer in the middle where the rocker is.  That being said, it butters pretty easy off the nose and even though the tail is a little more work it's still very doable. It  has a lot of pop off the tail despite its damp rubbery feel.
Sizing
The 157 felt about right for me and my specs but the 160 felt a little better for my weight and what I want to do with this board but my size 9's might be a little small for it. Here are some ideal US boot sizes for these boards. You can of course go bigger or smaller but these again are just the ideal sizes.
153: 8-9
155: 8.5-9.5
157: 9-10
160: 9.5-10.5
163: 10-10.5
158x 10.5-11
161x 11-12
165x 11-12
168x 11-12.5
157DF 13.5+
160DF 14+
166DF 14+
Shape/Camber/On Snow Feel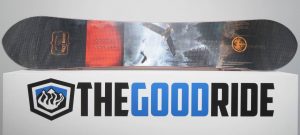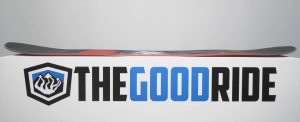 The shape of the Never Summer West Bound has 5mm of taper which isn't too much. You can feel it compared to boards with the same width nose/tail. However, compared to other boards with more taper, like the Shaper Series boards, it doesn't feel that tapered. So it is right on the border of what we call All Mountain and Freeride.
There is a pretty aggressive camber on the tail like their ripsaw camber profile, rocker in the middle and then a very mellow camber in the front end transitioning to rocker before the nose.  Like all NS boards, the tip and tail are off the snow so it's a very forgiving board for just about anyone. That being said it does not track that well in harder snow and feels a little loose/auto spinny but as the snow gets softer it starts to track pretty well. It feels like it wants to ride off the tail more and the stance location feels less washy.
Edge Hold
Same old good NS grip that can do pretty well in harder snow but doesn't grab at all in soft snow. The Never Summer West will not be the best if you see a lot of hard to icy snow but it is competent on those snowment patches you often hit on the way to good snow.
Turn Initiation
Pretty fast for me and it got where I needed it when I needed it. I would have no issues in a steep chute or in a tight tree line.  Grant needed to be on the 161x which would match with his boot size much better.
Turning Experience
The Never Summer West Bound likes to turn. We had fun making everything from short to wide radius turns.
Carving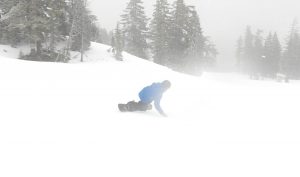 The Never Summer West Bound carves hard and you really feel that camber on the tail. It likes more weight on the back foot so it engages all that camber there.
Skidded Turns
Very easy to skid turns and pretty much anyone can ride this board.  It's always good to have a board that can ride mellow if you want it to but doesn't fall apart on you if you want to go bigger or ride in a more technical manner.
Powder
Very good directional float when setting it all the way back.  At a 21.75″ stance width you can get a 4″ difference between nose and tail and have a 2″ set back on board. That combined with the little bit of taper in the tail, a bigger nose and then the mellow elliptical camber profile in the front transitioning to early rise before the nose you have a good floater.  It was very competent in the powder I had it in.  I didn't feel like I needed to work hard at all on the back foot as you do with some boards in the deeper stuff.
Speed
The Never Summer West Bound might be loose between the feet in hard snow but it doesn't chatter that much. All the dampening properties in the board keep it from passing up to your joints.  As long as the edge is set and it's not sitting flat you can bomb with this pretty well. The base has good glide to it as well.
Uneven Terrain
Never Summer is one of the best in the business when it comes to uneven snow of all kinds.  It can weave in and out of bumps quickly but also power over chunder really well. When it's a messy day on the hill I'd love to be on the Never Summer West Bound.
Switch
Very doable when you are more centered on the board but not like a true twin.
Jumps
The Never Summer West tracks well into a kicker or natural hit. It is a turny board but it can still set a straight line into the air.
Jibbing
Not really a jibber.
Pipe
I had a couple of runs in the pipe on the 157 and it was pretty fun. It is forgiving and had a good drive from wall to wall. Its not ideal for serious pipe rippers. Its great for mellow pipe riders like myself that just get in there to carve the walls and don't ride switch much.
So overall, The Never Summer West Bound is a really fun, forgiving mostly directional ride. It is more directional/tapered than the old West but a little more mellow than the Chairman. It works with a wide variety of riding styles and ability levels and its easy to recommend.
 

Never Summer West Bound Past Reviews
2019-2020 Never Summer West Bound 157 Video Reviews (same board as 2021)
 

Never Summer West Bound Specs
 

Never Summer West Bound Images
Never Summer West Bound User Reviews
If you can't buy through the links above, you can support the site with: