Never Summer Snowtrooper 2015-2023 Snowboard Review
| | |
| --- | --- |
| Riding Style | All Mountain |
| Riding Level | Beginner - Expert |
| Fits Boot size (US) | 8-10, 10-12, > 12 |
| Manufactured in | USA by Never Summer |
| Shape | Twinish |
| Camber Profile | Hybrid Rocker |
| Stance | Setback -15mm |
| Approx. Weight | Feels Normal |
| Split | No |
| | |
| --- | --- |
| On Snow Feel | |
| Turn Initiation | |
| Skidded Turns | |
Where To Buy
80% of outdoor sports products are not listed or sold online.
Our team has relationships with hundreds of local snowboarding and outdoor sports shops.
We'll call the shops and email you a list of stores along with pricing and availability.
---
Not sure what to buy?
Get custom advice from Good Ride editors James and Steph.

Get Advice
Never Summer Snowtrooper 2023 - 2015 Review by The Good Ride
Never Summer Snowtrooper Snowboard Video and Written Review
You have arrived at the Never Summer Snowtrooper Snowboard Review from an average riders perspective.
Update 2023: The Never Summer Snowtrooper hasn't changed since 2022 so this review still stands. 
Turn Ons/Swipe Right: Forgiving, Versatile set back for groomers and powder. Damp yet poppy.
Turn Offs/Swipe Left: Feels loose and auto spiny in harder snow. Not as much pop and carving power as the Ripsaw or Shock Wave Camber Profiles.
Summary
The Never Summer Snowtrooper has been around in Never Summers line for years and remains relatively unchanged. That is mostly good.
The 2022 Never Summer Snowtrooper isn't changing much or at all for 2023 so this review still stands. 
Ethics Statement: We don't get paid by the manufacturer to write these reviews and this is our unfiltered opinion. We do make money from the "Where To Buy" links, but this is our best attempt at an honest and objective review from an average riders' perspective. 
Never Summer Snowtrooper Snowboard Review- How it rides and who it is for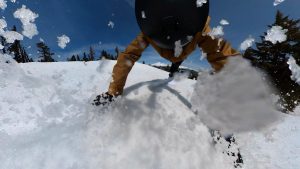 How This Review Happened:
Borrowed this for an extended demo and sent it back.
Size: 156
Days: 1
Conditions: Good spring snow but in the past I've had it in all conditions.
Riders: James (Size 9, 5'10" 185-190lbs)
Boots: Burton Kendo
Insoles: F.I.T. Gamechangers
Bindings: Union Atlas
Helmet: Smith Maze
Goggle: Smith 4D Mag
Gloves: Burton AK Tech Leather Glove
Similar Boards (but not the same): Korua Otto, Lib Tech Terrain Wrecker, Capita Mercury,YES NSB, Endeavor Pioneer, Jones Mountain Twin, Endeavor Ranger, K2 Manifest, Yes Typo, Jones Frontier, Ride Algorythm, Ride Wild Life, Borealis Tundra, Tahoe Labs Directional Twin, Yes Basic Uninc,
Set-Up: 21.5" Wide. Sance Angles +15/-15. Close to Reference.
How It Was Tested
Compared it same day to the Never Summer Ripper with the same boots and bindings on the same runs.
Approximate Weight
The Never Summer Snowtrooper is pretty normal in weight.
(We don't put in the exact weight because with wood cores there is no consistency in a boards weight)
Sizing
The 156 Never Summer Snowtrooper felt just right. In the past I usually rode a 159 but I'm glad I sized down. It handled my 190lbs no problem and was great with my size 9 boots. Never summer is really good at handling people who weigh a little more.
Here are some ideal US boot sizes for these boards. You can of course go bigger or smaller but these work best for not turning the board slower than it should be and not having the dreaded Toe & Heel Drag.
152: 8-9
156: 8-9
159: 9-10
157x- 10-11
160x- 10.5-11.5
Shape/Camber/On Snow Feel/Ability Level

There is a very double ender feel here and its pretty close to being a directional twin. It is a very centered ride but you need to lean far back or forward to engage the camber so it doesn't feel washy. If you center weight it you need to squat out over the camber so the tip/tail engages with the snow. This older camber profile still does a great job at being forgiving. It just doesn't track that well one footing or flat basing but it is super easy to get used to. Just weight one edge a little more than the other and you should be good.

Flex Personality
The Never Summer Snowtrooper is pretty medium overall flex wise. The Hybrid Rocker profile makes the board bend more in the middle than the tip/tail like hybrid camber does. What I love is how the camber helps you finish with good pop on a butter. Speaking of pop this doesn't pop like Ripsaw Camber or Shock Wave Camber with their other boards but it still pops really hard for being this buttery.
Uneven Terrain
What I love about the Never Summer Snowtrooper is how well it handles all day resort riding. Their dampness rating is a bit modest compared to the rest of the industry. This medium flexing/medium dampness board can handle micro bumpy snow incredibly well. When the snow softens and gets messy it does really well there too.
Speed
The base glide of the Never Summer Snowtrooper is upper tier and I wish I elaborated more on this in the video review. When well waxed it is pretty much there mid-tier Jones boards and it keeps its speed really well.
Edge Hold

There is a pretty mellow but effective sidecut disruption in the Never Summer Snowtrooper. On same day tests I felt the Ripper gripped a little harder but this is still a very competent hard snow board.
Turning Experience/Carving
The Never Summer Snowtrooper has a medium to medium fast turn initiation. Once you get it on edge there is a pretty balanced turning radius. You can make all kinds of turns with this and the rocker in the middle makes each turn a little quicker. It does hurry you up through a carve so you have to really lean back into the tail or forward into the nose to engage that camber. I much more prefer the carving power of Never Summer's Ripsaw camber and even more so their Shock Wave camber. That springs super hard but is still pretty forgiving. I would love to see this with Ripsaw camber.
Powder
You have a decent set back from center of board with at -1.875" with a 22.25" stance width. That is about average for the All Mountain peer group. The rocker helps too. This is where you have an advantage over the Protosynthesis for powder riding because that doesn't set back much or at all.
Switch/Pipe/Jumps
Very doable either way when you set the Never Summer Snowtrooper on reference stance. Not like the Protosynthesis but it is close enough. This is a very well rounded park ride too. Like any good all mountain board, it does nothing incredible but everything well.
Conclusion
So overall, it was good to get back on the NS Snowtrooper but I did prefer the Never Summer Ripper a little better for how I ride.
If this review helped, we'd appreciate if you:
Never Summer Snowtrooper Past Reviews

The Never Summer Snowtrooper is the evolution of the SL with blunted tip/tail, a slightly more centered stance, and different sizing. For us, the West was more of our kind of all mountain board but the Snowtroper is not a bad ride either.

Other than a few minor improvements to the top sheet and core, the 2015 to 2019 Never Summer Snow Trooper is very similar to the 2015-2018 models so the old review still stands. In this video, we are demoing the 2015 Never Summer Snow Trooper with a different graphic than the production model but the rest of the board is the same.

In this video, we are demoing the 2015 Never Summer Snow Trooper with a different graphic than the production model but the rest of the board is the same.

Ethics Statement: We don't get paid by the manufacturer to write these reviews.  We do make money from the "Where To Buy" links, but this is our best attempt at an honest and objective review from an average riders' perspective.
2017-2015 Never Summer Snowtrooper Review
Size: 156 & 157x
Days:  5+
Conditions: Everything from soft to pretty hard ugly snow.
Riders: James, Tim, Stephen, Peter, Kyle, Jimbo, Mike,
Boots: Burton SLX, Salomon F3.0, Burton Fiend LTD, Nike Lunarendor,
Bindings: Burton Diode
Set Up:  Close to or centered, approx 23″ wide 15 front -9 back. Centered 15 front -15 back approx 23″ wide
First off I have to start by saying that I like the graphics of the production model a lot better than the demo models.  I normally don't comment on graphics but this was pretty cut and dry. Also the new tip and tail look a lot sexier than the old SL.
Weight: 157 NS Snowtrooper X 6.2 lbs but no board with a wood core weighs the same so take this with a grain of salt.
On Snow Feel:  Same playful semi-stable feel as the SL it replaced that makes it an all mountain board that's mellow and playful.  It feels fine flat basing and one footing in good snow. As the snow get's firm it starts to feel loose like it wants to spin on you. You have to keep it on edge in order for it to track well. So it has a personality that changes as the conditions get hard.  If you want something that tracks better in firmer snow the West is the call.
Turn Initiation: Nice quick and easy for the 156 and it felt just like the SL did.  Snappy fast and fun from a short to wide radius turn. Easy but not super easy and all in all it's not a bad board for turning all day. Nothing super springy and mind-blowing but nothing horrible either.
Skidded Turns: Very easy to skid turns and it's a very forgiving board for beginners or intermediate riders.
Carving: So carving wasn't perfect and it felt a little washy compared to the Cobra and even more so with Ripsaw Camber Profile boards like the West.  It's good enough though to have a little fun and it's fine for the carve/butter/ollie kind of mountain ride that many people like to have. You really have to get your knees wide to get pressure over the tip/tail to hold on more aggressive turns and it doesn't like a surfy carve as much.
Flex:  Usually in the demo's Never Summer boards feel stiffer than the production models but this year it didn't.  It felt soft like the production model of the SL.  It's got lots of butter ability for an all mountain board.
Edge Hold: the Same edge hold that most NS boards have that helps you hold an edge in most conditions you want to ride.  It's not really an ice specialist but it can hold an edge in most hard conditions.  It's not super grabby but it does the job. Never Summers edge hold technology doesn't grab soft snow so it's a very versatile grip.
Powder: We didn't have any powder with the Snowtrooper but have had lot's of days with the SL and it's an easy floating board.  Especially when it's set back. It's not quite as set back as the old SL that was -20mm which was the same as the Cobra but it's still got a good float.  I'd give the nod to the old Cobra but it feels like it might be a little improvement over the SL with the bigger blunted nose/tail. It's about the same as the West and maybe even a touch better because there is less camber.
Speed: You got to love the use of rubber in NS boards because they make a board that should feel much more chattery for the flex.  Yeah the nose and tail flop a bit at higher speeds but it just doesn't feel as bad as other boards that flop like this. The base carries it's speed well. So it's no bomber board but handles better than you would think for it's flex.
Uneven Terrain: Like so many softer flexing NS boards the Snowtrooper handles end of the day weekend resort snow like a champ.  It can also weave in and out of moguls well and provide a forgiving ride. It doesn't get angry and cause problems with your joints like some boards can.
Switch: Same thing as the SL here.  It doesn't feel like it should be as good as it is riding switch.  It's somewhat different riding switch but not as much as you would think. I think it's because this is pretty close to being a twin and the tip/tail is lifted.
Jumps: It's got a nice pop and a pretty playful spring at the tip/tail.  It's also a fun board to hit kickers in the park with. The rubbery feel in the board doesn't feel as snappy as some boards but the result is the same.  It pops just as high.
Jibbing: You know it's not a jib specialist but it's very doable for most small to medium jibs.
Pipe: We didn't get to try the Snowtrooper in the pipe but it felt like it would be fine. Nothing special but forgiving and definitely doable.
Although we prefer the extra camber of the West we still really liked the Never Summer Snowtrooper and feel it could definitely fit a wide variety of riders who want a very playful easy all mountain ride.
Never Summer Snowtrooper Specs
Never Summer Snowtrooper Images

We try to get as many images of the Never Summer Snowtrooper, but forgive us if they're not all there.
2023
2020
2019
2018
2017
2016
2015
Never Summer Snowtrooper User Reviews
Never Summer Snowtrooper 2015-2023 Snowboard Review
SKU
UPC
Model
Never Summer Snowtrooper
Mar 27, 2016
by
Craig
Ability Level: Decent •
Riding Style: All mountain •
Days You Ride A Year: 20ish •
Height, Weight And Boot Size (for Boards, Boots & Bindings): 6' 220 lbs 10.5 boots
Pretty much agree with the Good Ride review. I ride the 162 regular and I am a bigger guy, I would say the flex is more medium than medium soft. For a 162 its really good in the powder. I chose this over the Cobra mainly cause it has less sidecut. I find boards with really deep sidecuts less table at speed. That said its a pretty fast board that has a base that holds wax well. I'm really happy with it. Never Summer makes pretty solid boards. Only regret is that they came out with the West a year later. I ride it with Burton Genesis bindings and Ion boots. Really nice set-up.

---
Very good, almost great-ish...
Nov 26, 2015
by
Chip
Ability Level: Advanced •
Riding Style: All-Mountain/Freestyle/Everywhere •
Days You Ride A Year: 20+ •
Height, Weight And Boot Size (for Boards, Boots & Bindings): 6' 2", 215lbs, US13
This is a really great board for all-over-the-mountain "resort-style" riding. It's better in the park than one might think, it's really easy to press and is on the softish-side, but still has good pop and isn't a noodle (that said, I huge, so there's that lol). Had-pack, groomers, pow, pipe, icy parks, thing just works (could work better as a twin, get to that in a sec).
Honestly, I think it's an awesome board that's as good as nearly anything out there for an "undecided" style, all-over-the-mountain rider... Now, that is except for one huge F'up (IMHO) on Never Summer's part: 15mm set-back, huh? ...and my 164 will only allow for a MAX 24.5" stance width (ok, 24.5" is pretty-wide and I might not ever need more, but it's also what Shaun White rides on a 156, and this is a "big guy's" board in the 164cm length)? WTF!!!!!!! This is a HUGE thing, and arguably a mistake on NS's part because: IT MEANS YOU CANNOT TWIN IT OUT! F**K! - If the set-back was at 20mm it'd be fine or even 25mm to get real-close to a twin if you wanted, but w/ a 15mm set-back you've either got to ride it 15mm set-back, or next 35mm set-back, no twin! If NS fixed this one SUPER ANNOYING spec I'd give this board 5-Stars no problemo.

---
Snowtrooper update
Feb 12, 2015
by
Eric
Ability Level: Intermediate-adv •
Riding Style: Freeride •
Days You Ride A Year: 25
Went out this late afternoon/dusk to purposely find some icy, hard pack snow to test out my Snowtroopers edge hold. Went to Mountain Creek, NJ and was riding my Snowtrooper 159. Conditions weren't pure Ice, but very hard packed, skied off with a dusting of the manmade on top.

I hit every trail at least once and the Snowtrooper never washed out once, heel or toeside. It seems to be the same edge hold as my SL which was great.

---
If you can't buy through the links above, you can support the site with: