Never Summer Harpoon 2021-2023 Snowboard Review
| | |
| --- | --- |
| Riding Style | Alternative Freeride |
| Riding Level | Beginner - Expert |
| Fits Boot size (US) | < 8, 8-10, 10-12 |
| Manufactured in | USA by Never Summer |
| Shape | Tapered Directional |
| Camber Profile | Hybrid Rocker |
| Stance | Setback over 20mm |
| Approx. Weight | Feels Normal |
| Split | No |
| | |
| --- | --- |
| On Snow Feel | |
| Turn Initiation | |
| Skidded Turns | |
Where To Buy
80% of outdoor sports products are not listed or sold online.
Our team has relationships with hundreds of local snowboarding and outdoor sports shops.
We'll call the shops and email you a list of stores along with pricing and availability.
---
Not sure what to buy?
Get custom advice from Good Ride editors James and Steph.

Get Advice
Never Summer Harpoon 2023 - 2021 Review by The Good Ride
Never Summer Harpoon Snowboard Video and Written Review
Welcome to the Never Summer Harpoon Snowboard Review from average but very knowledgeable and objective riders.
Update 2023: The Never Summer Harpoon hasn't changed so this 2021 review still stands. 
Turn Ons/Swipe Right: Soft buttery playful board in a semi-short/semi-wide tapered directional shape. Great pop in the tip/tail and fun to steer off the back foot.
Turn Offs/Swipe Left: Soft flexing center of board can bend too easy in uneven terrain and slow momentum. Rocker in the middle can feel loose and auto spinny in harder snow.
Summary
The Never Summer Harpoon has that trendy semi-wide semi-short super directional shape but with a very soft play flex that matches up with many riders. We mainly got this in good powder but will hopefully get more groomer time when the resorts open again.
Ethics Statement: We don't get paid by the manufacturer to write these reviews and this is our unfiltered opinion. We do make money from the "Where To Buy" links, but this is our best attempt at an honest and objective review from an average riders' perspective.
A Break Down of How it rides and who it is for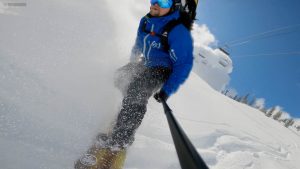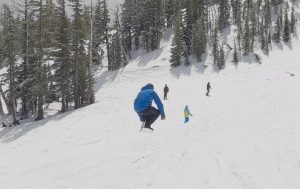 How This Review Happened: We borrowed this for an extended demo.
Size: 152
Days: 4
Conditions: We had mostly slackountry time with Drift Boards during Covid-19 and scored some pretty good PNW Powder but then had a little groomer time late spring in messy warm conditions when the resorts opened up for a few days before close.
Riders: James (Size 9, 5'10" 185-190lbs), Peter (Size 8, 5'11" 185lbs)
Boots: Adidas Tactical ADV
Insoles: Sandsole Custom Insoles,  F.I.T. Gameghangers Low Profile , F.I.T. Gamechangers
Bindings: Union Atlas, Union Strata, Union Contact Pro/Union Superpro,
Similar Boards (but not the same): Gentemstick Mantaray 156, Korua Dart, Yes Hybrid, Endeavor Scout, Jones Hovercraft, Lib Tech Orca,
Set-Up: 21" Wide. 21 front -3 back. Close to Reference and Set all the way back.
Sizing
Stay close to the Never Summer Harpoon's weight recommendations. Here are some ideal US boot sizes for these boards.
148: 7-8
152: 8-10
155: 9-11
159- 10-12
Shape/Camber/On Snow Feel/Ability Level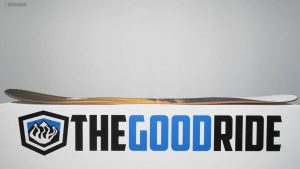 The Never Summer Harpoon has a little shorter/wider tapered directional shape with a lot going on in the camber profile. It starts with their more pronounced ripsaw camber profile in the tail, rocker between the feet and a mellow elliptical camber in the nose with maybe a mellow transition into early rise before the nose. It makes for a pretty loose/auto spinny ride especially when one footing or flat basing. That being said it is very forgiving and super easy to skid turns with. Its personality can change in many ways depending on where your weight is on the board. It can be a lot of fun riding it different ways but we found it the most fun for ourselves with most of our weight on that back foot over all that camber.
Flex/Pop/Buttering
Never summer made the Harpoon with a medium soft middle that goes to medium or almost medium stiff over the camber in the tip/tail. It makes for a board that bends easy between the feet and is super easy to butter. What was really fun is how the tip/tail snap on an ollie or help you pop out of a butter. So where you don't get the stability of most hybrid camber rides you get more pop/energy in the tip/tail.
Speed
Not a bomber. The Never Summer Harpoon is not going to be the first or 10th choice for bombing. That is not what this board is for. They market this as a competitor to the Lib Tech Orca. They share a similar shape and camber profile but the Harpoon just doesn't bomb like the Orca. The Orca doesn't butter and play around like the Harpoon though so they each have different strengths.
Uneven Terrain
The Never Summer Harpoon has that legendary NS dampness in their core technology that makes for such a good board for absorbing that microbumpy nasty uneven snow we encountered in late spring while still not being too stiff and keeping a poppy feel underfoot. That being said it doesn't power over chunder super well mainly because of the softer flex in the middle. It can bend too much if you are caught with your weight centered or with a little more on the front foot. What happens is it seems to sap the boards forward momentum and doesn't drive through bumpy messy turns like some competitors can. It likes to be ridden on the back foot in those situations and then it handles things better.
Edge Hold
Never summer always does a good job with edge hold. It has a very subtle disruption throughout the sidecut that helps keep the edge holding in that snowment you often see on the mountain when riding. It isn't an ice specialist but rides well enough in most snow we want to ride.
Turn Initiation
Pretty quick edge to edge and the Never Summer Harpoon does not feel as wide as it is on the specs. It is perfect for weaving around bumps, trees or navigating through tight spots knowing it will turn when you want it to without much effort.
Turning Experience/Carving
With Covid-19 our groomer time was limited to some pretty bad spring groomers that did not lend well to carving so we'll have to see. Based on our experience with all the other NS boards we tried with similar camber profiles (almost all of them) they drive really well through a hard carve with sufficient weight on the back foot over that healthy bow of camber.
Powder
Such an easy floater. With a set back from center of board of 3.5" with a 20.75 Stance width it has really good directional float. Then you have the 13mm or so of taper along with the big nose it floats almost as well as the Swift. Not quite as good but close.
Park/Switch
So not ideal switch but what a fun to butter and play around with. We wouldn't hesitate to hit the park with this ride. Even though it is so directional it still has such an easy flex that both Peter and I would hit a jib or two with it, ride some pipe and hit some small to medium sized kickers.
Conclusion
So this is a unique board in the sense that it has such a playful forgiving flex compared to most of its alternative freeride counterparts. It is a great board for an intermediate rider that wants a forgiving back footed/alt/freeride/surfy kind of ride. It works just as well for an expert who wants that directional feel but likes to butter and not be on his game all day every day like some mostly camber rides demand of you.
If this review helped, we'd appreciate if you:
Never Summer Harpoon Specs
Never Summer Harpoon Images
Never Summer Harpoon User Reviews
If you can't buy through the links above, you can support the site with: