Lib Tech Short Wide 2021 Snowboard Review
| | |
| --- | --- |
| Riding Style | Alternative Freeride |
| Riding Level | Expert |
| Fits Boot size (US) | 8-10 |
| Manufactured in | USA by Mervin |
| Shape | Tapered Directional |
| Camber Profile | Mostly Camber |
| Stance | Setback over 20mm |
| Approx. Weight | Feels Normal |
| Split | No |
| | |
| --- | --- |
| On Snow Feel | |
| Turn Initiation | |
| Skidded Turns | |
Where To Buy
No obligation, but these links & ads support the site.
Lib Tech Short Wide 2021 Review by The Good Ride
Swipe Right: Accelerates quickly. Carves hard. Old school camber feel in a short wide package.
Swipe Left: Accelerates quickly. Very catchy. The demo model we tried felt twitchy and unpredictable at high speed. Not the worst short/wide but it does buck around in uneven snow.
Summary
The Lib Tech Short Wide is like that little guy who is always picking a fight in the bar. He looks small and unassuming, but in reality, he is an up incoming MMA star who will kick your ass.
So as the story goes, Jamie Lynn tried the Yes 420 and liked it soo much, he then wanted a short wide for himself. From this came a board that is short and wide like the 420 but that is about it. So, it is a very short, very wide, slightly tapered, mostly camber, fast accelerating, aggressive ride that needs you to always be on your game…This is not an everyman's type of ride and it didn't match up well with Peter and Jimbo. Peter had some weird skitches and twitches at higher speed that sapped his confidence. For me I liked how hard this short little board carved but the minute I got off my game the almost full camber and insane acceleration straight up overpowered me. This board is made for always on point, powerful, technical riders like Jamie Lynn who know how to rip stiff full camber rides in all conditions…especially in powder.  If you are that kind of rider then this board is for you.
Ethics Statement: We don't get paid by the manufacturer to write these reviews.  We do make money from the "Where To Buy" links, but this is our best attempt at an honest and objective review from an average riders' perspective.
Lib Tech Short Wide 2021 Snowboard Review Review- How it rides and who it is for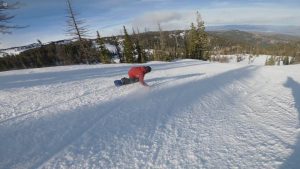 How This Review Happened: had a few laps at a demo.
Size: 150
Days: 1
Conditions: Mainly soft micro bumpy snow that had some hard patches.
Riders: James (Size 9, 5'10" 185-190lbs), Peter (Size 8, 5'11" 185lbs), Jimbo (Size 11, 5'11" 160lbs),
Boots: Adidas Tactical ADV
Insoles: Sandsole Custom Insoles,  F.I.T. Gameghangers Low Profile , F.I.T. Gamechangers
Bindings: Bent Metal Axtion
Similar Boards (but not the same): Prior Legacy, Yes 420 Plus (review coming) & 2021 Yes 420
Set-Up: 21.5" Wide. 21 front -3 back. Close to Reference.
Approximate Weight
Didn't feel that heavy for how wide it was. The Lib Tech Short Wide felt pretty normal.
Sizing
150: 8-11 US boots. You can go wider as it is an Ultra Wide but because of its short length its best to keep it under 11. Also don't go to heavy on this ride. We feel it is best to keep it under 200lbs.
Shape/Camber/On Snow Feel/Ability Level
Pretty much full camber and there seems like there is a debatable bit of early rise before the actual nose. It didn not feel chill and was very locked in. Not really ideal for beginner to advanced riders. It is best for experts that know how to skid a turn with full camber.
Flex/Pop/Buttering
There is pop there and it can pop hard it just needs a strong rider to access it. Same for buttering and none of us could really do it.
Speed
So the Jamie Lynn Short Wide is fast in some ways and sketchy in others. In good to perfect conditions it can feel like its 20 cm longer but this little sidecut can skitch and twitch you out of your line if the snow isn't perfet.
Uneven Terrain
The Lib Tech Short Wide can bounce and buck like most short wide boards do but it isn't as bad as some we tried. Being a little longer than the 148 Short Fat we tried a few years back should help but this isn't the strong point for shorter wider rides like this.
Edge Hold
Not there with most Lib Tech MTX boards. We didn't see any MTX at all and it looked like a sidecut from the early 00's.
Turn Initiation
Even though the Lib Tech Short Wide is short, it is not ideal for weaving through tight bumps. It gets better turning through trees in powder but it still isn't fast.
Turning Experience/Carving
The Lib Tech Short Wide is not an easy turner but this little guy can really spring out of a carve when you lay into it.
Powder
We had a foot to 1.5 feet of pretty decent PNW powder on the 2cm shorter Short Fat model a few years back and it had a good float to it for all that camber. That being said it caters more to the person that likes full camber rides in powder and knows how to handle it. If you are that type of person you will say it floats like a champ. If you are like us, who prefer lots of rocker and minimal camber in powder then it will be good but not unreal.
Conclusion
So all in all we love how the Lib Tech Short Wide springs out of a turn. We didn't like how it would accelerate quickly into a skitch and twitch for Peter or make me feel a little out of control. We didn't have that problem with other hybrid camber yes 420 Plus or the Prior Legacy and they matched up better with our ability level and riding style. That being said, if you like the idea of an old school almost full camber aggressive ride put into a modern short wide package this is the one for you.
Lib Tech Short Wide Specs
Lib Tech Short Wide Images
Lib Tech Short Wide User Reviews
Lib Tech Short Wide 2021 Snowboard Review
SKU
UPC
Model
Meant for One Thing, POW
Mar 11, 2021
by
Taco
Ability Level: Been there done that •
Riding Style: Err thing but no spinning •
Days You Ride A Year: 5-20 depending on the fishing •
Height, Weight And Boot Size (for Boards, Boots & Bindings): 5'7" 170 lbs
Pow pow pow. This thing was built for good amounts of pow and that's it. I've had the pleasure of using this thing in 4 feet of fresh new snow in Tahoe. Floated like a dream and was perfect for navigating through trees. Very stable off of drop offs and did I mention floated like a dream. Very little effort to stay afloat. Now for the bad, it is a beast on groomers and hard to tame. It wants to go 100mph. And it can kick your ass if youre not prepared. Hard big massive carves are your game on fresh groomers, this can do it....but any ice or small bits of powder on ice....nope. I'll keep it in my quiver because it's rare and pow pow pow no problem. Anything else. I'll hang it on the wall because the graphic is pretty.

---
If you can't buy through the links above, you can support the site with: