Korua Otto Plus 2021-2023 Snowboard Review
| | |
| --- | --- |
| Riding Style | All Mountain |
| Riding Level | Advanced - Expert |
| Fits Boot size (US) | 8-10 |
| Manufactured in | Poland |
| Shape | Directional |
| Camber Profile | Directional Camber |
| Stance | Setback -5mm |
| Approx. Weight | Feels Light |
| Split | No |
| | |
| --- | --- |
| On Snow Feel | |
| Turn Initiation | |
| Skidded Turns | |
Where To Buy
No obligation, but these links & ads support the site.
Korua Otto Plus 2023 - 2021 Review by The Good Ride
Korua Otto Plus Snowboard Video and Written Review
Here we have the Korua Otto Plus Snowboard Review from an average rider who loves to carefully carve and is over optimistic on his ollies. I have also ridden most Korua boards and here is my honest and objective opinion. 
Update 2023: The Korua Otto Plus hasn't changed since we reviewd it so this is still 100% relevant in 2023
Turn Ons/Swipe Right: Fast base, light and very poppy.
Turn Offs/Swipe Left: More chattery in uneven terrain than the Classic.
Summary
The Korua Otto Plus is a very light and poppy one board quiver that appeals to riders that are don't weight much or that mainly ride in good conditions.
Ethics Statement: We don't get paid by the manufacturer to write these reviews and this is our unfiltered opinion. We do make money from the "Where To Buy" links, but this is our best attempt at an honest and objective review from an average riders' perspective.
A breakdown of How it rides and who it is for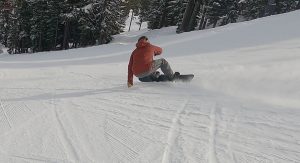 How This Korua Otto Plus Review Happened:
We borrowed this for an extended demo and will sent it back.
Size: 157
Days: 6+
Conditions: Good groomers, some hard uneven snow and an early morning slackountry time in some decent pow with some Drift Boards.
Riders: James (Size 9, 5'10" 185-190lbs), Nick (Size 10, 160lbs, 5'8")
Boots: Burton Kendo, Burton Ion, Burton Tourist, Burton SLX
Insoles: F.I.T. Gamechangers, F.I.T. Gameghangers LP
Bindings: Union Atlas
Similar Boards (but not the same): Korua Otto Classic, K2 Manifest, Yes Typo, Jones Frontier, Ride Wild Life,
Set-Up: 21.5" Wide. 18 front -9 back. 18 front -3 back.  Close to Reference and Set as far back as I could.
Approximate Weight:
Feels very light and it definitely sits on the ultra light side of the spectrum. (We don't put in the exact weight because with wood cores there is no consistency in a boards weight)
Sizing
Here are some ideal US boot sizes for the Korua Otto Plus. You can of course go bigger or smaller as the companies suggest but these work best for not turning the board slower than it should be and not having the dreaded Toe & Heel Drag.
157- 9.5-10.5
Shape/Camber/On Snow Feel/Ability Level

The Korua Otto Plus is one of 2 non-tapered snowboards in Korua's line. The other is the Otto. Coming off other Korua boards it feels like a twin but coming off a twin you feel its shape. The camber profile has a little early rise in the tail and a decent amount in the nose that makes it on the border between being semi-locked in and more stable/forgiving. Skiding a turn isn't out of the question but some boards are for sure easier.
Flex/Pop/Buttering
The Korua Otto Plus is soo lively underfoot and really pops well on an ollie. You can butter it rather well too. The flex feels a touch more soft and a good bit more energetic compared to the Otto Classic. You can really easily butter on the nose. The tail is a little more work but still doable. The pop is pretty easy to access too and you don't have to be as strong a rider as you do with the Otto to generate your own air.
Speed/Uneven Terrain/Dampness
There is such a fast base on the Korua Otto Plus and it is noticeably faster than the Otto Classic. It really picks up speed and keeps its speed well. In perfect conditions the Otto Plus is the faster board but the minute it gets a little bumpy but still fun I would rather be on the Otto Classic. Don't get me wrong. The Korua Otto Plus isn't bad for a Plus/Ultralight board but in same day tests with the Otto 157 and Otto Plus 157 you could really feel the difference dampness wise. If it was just a little more damp I'd go for the plus just because of that easy pop and fast base.
Edge Hold
There is no disruption in the sidecut but pretty solid grip. The edge of the Korua Otto Plus can buck out in uneven snow but in hard smooth snow it is just the same as the regular Otto.
Turn Initiation
Faster than I expected with the Korua Otto Plus and it turns quick for its width. I wouldn't expect it to be as quick as it is edge for my size 9 boots with this 26cm waist width.
Turning Experience/Carving
I love the extra spring out of the Turn that the Koura Otto Plus has. It is a super fun board to turn. It has a lot of appeal to those that like to drive hard off your front foot or keep your weight centered throughout a turn. The tail will not wash out like the other tapered Korua boards. You can still lean back into the tail too if you want. When it comes to the overall turning experience it feels very balanced. It lets you circle carve just as well as it makes high speed long drawn out carves.
Powder
Really good directional float for a board with a non-tapered shape. When set back as far as your stance will allow you to go it has pretty easy float. The Korua Otto Plus doesn't have as much set back on board as the Otto Classic I own but it is still more than most All Mountain boards. You can set it back -2.75″ back from center of board with a 22″ stance width and that is not bad at all for a board with no taper. It did very well in the powder I got it in.
Conclusion
So if you are a lighter rider or ride in good conditions only the Korua Otto Plus is the call because it has so much more pop/spring out of the turn than the Otto Classic and a faster base. I really enjoyed this ride and felt that in some situations I would prefer this over the Otto. If it was a little more damp in uneven snow I would be all over this.
If this Korua Otto Plus review helped, we'd appreciate if you:
Korua Otto Plus User Reviews
If you can't buy through the links above, you can support the site with: